Is Guitar a Band or Orchestra Instrument? (Explained)
Guitars are commonly found in bands of various types, and sometimes even orchestras. But does that mean they are classified as belonging in these instrumental groups?
Let's take a close look at the traditional classification of guitars among other instruments, and also how guitars in the modern age can take on a greater role than in the past.
Is A Guitar In An Orchestra or Band?
Guitars are not considered to be traditional orchestral or band instruments, although they are sometimes played in orchestral arrangements. Orchestras throughout history were not amplified and guitars were too quiet to be heard. If a guitar is used it is typically as a soloist and is normally an electric guitar.
Now that we've said that guitars aren't orchestra or band instruments you're probably thinking "but guitars are in bands all the time". This is correct, however the modern idea of a band may be different to the traditional meaning of a band.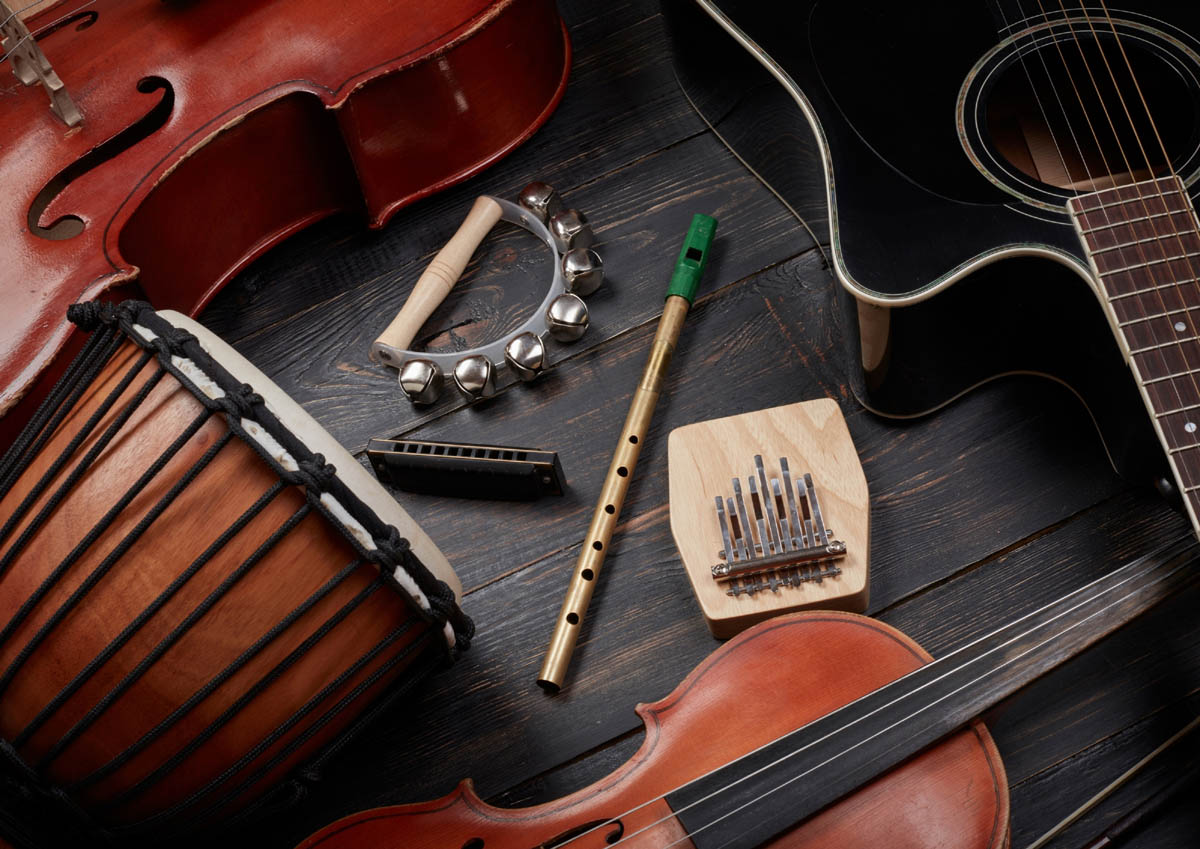 Squidward : OK now, how many of you have played musical instruments before?
Plankton : Do instruments of torture count?
Squidward : No.
Patrick : Is mayonnaise an instrument?
Squidward : No, Patrick, mayonnaise is not an instrument.

…SpongeBob Squarepants
Did you know know that there are guitar orchestras comprised of guitars only? They play classical guitar compositions and are becoming increasingly popular.
If you want to find a guitar orchestra near you, then see our list further down this article.
Bands, Orchestras, And Musical Ensembles – What Are They?
Most people have a clear idea of what an orchestra is, but when it comes to bands the waters get a bit muddy. In order to clear up any confusion we need to look at each type of musical ensemble, and what categories they fall under.
What Is An Orchestra?
Modern orchestras have been around since the 1800's, and by that time were organized into the instruments and number of players we are familiar with today.
Main features of an orchestra are the conductor on a podium leading the ensemble, and anywhere from 75 up to 150 musicians from the four different musical instrument families. If an orchestra has less than 50 people, then it is called a chamber orchestra.
What Instruments Make Up An Orchestra?
Traditionally, orchestras comprise of bowed string instruments, brass, woodwind, and percussion instruments.
Typical Instruments in Each Family:
String
Violin, Viola, Cello, Double Bass, Harp.
Brass
French horn, trombone, trumpet, tuba.
Woodwind
Clarinet, bass clarinet, bassoon, flute, oboe, piccolo, English horn.
Percussion
timpani, xylophone, cymbals, triangle, snare drum, bass drum, tambourine, maracas, gongs, chimes, celesta.
Learn more about guitar classification.
What Is the Difference Between A Band And An Orchestra?
The main difference between a band and an orchestra is normally the type of instruments that comprise the ensemble, and traditionally the setting that they played in.
An orchestra requires a stage for musicians and a podium for the composer, with seating for the audience, and is normally in a concert hall.
In 1806 Attending a concert by guitar virtuoso Mauro Giuliani in Vienna, Ludwig Van Beethoven declared, "the guitar is an orchestra in itself!"
A band (in the traditional sense) comprised largely of brass and percussion, however there are many different types of bands, and guitar features in many of those types.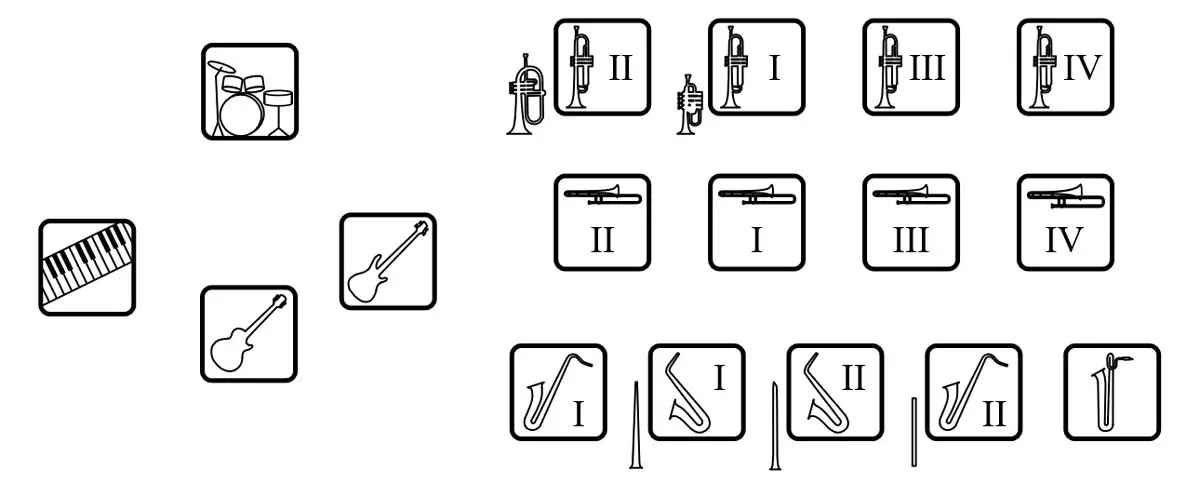 Typical seating arrangement for a 17-piece big band.
By Matthew D. Wilson (LtPowers) – Own work, CC BY-SA 3.0
Bands can perform in almost any setting from a concert venue, to marching along a street, to sitting on a park bench. The notion of a band is wide ranging in modern society, and bands can be a one-man band up to 100's of players.
Discover more about bands, orchestras, and guitars.
Bands That Feature Guitars
Marching bands, concert bands and military/police bands typically do not feature guitars. However many bands do include guitars, and possibly the earliest adopters were the jazz big bands.
There are many bands that include guitar today including jazz bands, rock, pop, reggae, metal and heavy-metal, grunge, indie, and the list goes on.
Given that so many band types do include guitars in their line-up it can be difficult to define whether guitars are band instruments, and really the conversation comes down to whether we are discussing traditional bands or modern bands.
Do Guitars Belong In Musical Ensembles?
A musical ensemble is a group of people who perform together and can be a mix of any instruments or even a group of singers without instrumental backing.
Examples of an ensemble are an orchestra, a jazz quartet, a choir, a wind ensemble, and in modern times rock and pop ensembles (that we generally call bands).
Sometimes a large rock or pop ensemble will feature an orchestral section, big band section, a choir, or any combination of these, who will accompany the main band.
Sting & Polish Radio Symphony Orchestra:
When it comes to defining whether a guitar is part of an ensemble the answer generally would be yes, since an ensemble can contain any combinations of instruments.
Rock and pop band ensembles are a popular teaching method used by many music schools to train students, as this encourages creativity and diversity.
Playing with many different instruments helps develop a guitarists ear to know how their instrument fits into various soundscapes.
Classical Guitar Orchestras
Although guitars are not included in orchestras traditionally due to their low volume, in modern times orchestras comprising entirely of classical guitars are becoming popular.
Writing classical music for guitars is not easy, and requires musicianship (intricate knowledge of the instrument), and so through history most music was not written for guitars.
Some existing examples of classic concertos for guitar are:
Concerto in D Major by Antonio Vivaldi (1730s) – it's important to note that Vivaldi's concertos for "guitar" were typically written for Lute, but arranged for guitar.
Guitar Concerto No. 1 in A by Mauro Giulani (1808)
Concierto de Aranjuez by Joaquin Rodrigo (1939)
Fantasia Concertante for Guitar and Orchestra?, by Heitor Villa-Lobos (1951)
Watch the Sinfonity electric guitar orchestra playing Vivaldi`s Four Seasons: Winter I
Want To Join A Guitar Orchestra?
If you search online for a guitar orchestra in your area you are likely to find a music college, community group, or professional group in your area.
Check out this list of guitar orchestras in various cities, if you're interested in classical guitar then there are many options available to listen to performances or join a group.
The Barcelona Guitar Orchestra
New York City Guitar Orchestra
The Philadelphia Classical Guitar Society
Happy Valley Guitar Orchestra – Northampton MA
Seattle Classic Guitar Society – Guitar Orchestra
Baltimore Classical Guitar Society – Guitar Orchestra
Sacramento Guitar Society – Davis Community Guitar Orchestra
Portland State University Guitar Orchestra
Santa Clarita Valley Youth Orchestra
Orange County Guitar Orchestra
Final Thoughts: Guitars As Band Or Orchestra Instruments
Now that we have discussed the differences between orchestras and bands and also different types of bands, you will have a clearer picture of classifications guitar falls under.
We discovered that guitars are not considered orchestral instruments, and in the case of traditional bands dating back to the 1800's were not included either.
When we look at more modern bands and ensembles in general, then we can clearly say that the guitar can be included in any ensemble where it is required and is therefore an ensemble instrument.
If you are looking to join an orchestra class or school band they will not normally allow guitars as they are not typical orchestra instruments.
If you want more information on classical guitar, then we found these great resources that will point you toward classical guitar societies in many different countries:
Find A Classical Guitar Society
https://www.guitarfoundation.org/page/Societies
https://www.classicalguitar.org/societies/
---
Sources
http://www.differencebetween.info/difference-between-band-and-orchestra
https://en.wikipedia.org/wiki/Musical_ensemble
https://www.connollymusic.com/stringovation/the-emergence-of-the-guitar-in-orchestral-compositions