38 Inch vs 41 Inch Guitars | And 7 Best Choices for Beginners
Just like a pair of shoes, it's important that your guitar fits. You need the arm span to reach down to the first fret. For shorter arms and smaller hands, this can be difficult and uncomfortable. It's also awkward moving your hand up and down the neck. So we often look for alternatives.
Both 38 and 41-inch guitars are considered full sized, but 38" guitars have a horrible reputation of being cheap and poor quality. Most of the time they are. While it is possible to find a decent 38" guitar, you really need to know what you are looking for. 
It's fundamentally less about the overall length of the guitar, and more about the scale length. There are also many options between 38 and 41, so those aren't your only two choices.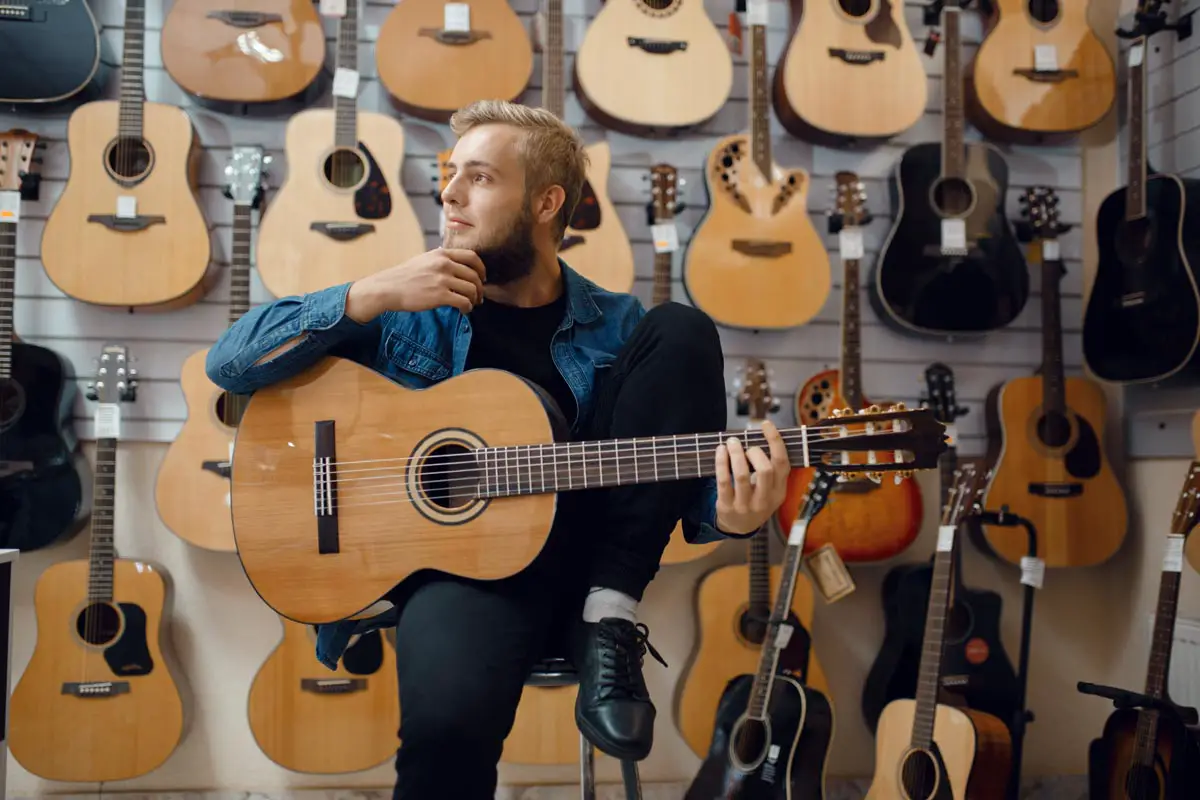 We work with various affiliate programs. If you purchase via our links we may earn a small commission at no extra cost to you.
38 Inch or 41 Inch Acoustic Guitars – Which is Right for You?
Just like almost every other feature of guitars, the length is a matter of personal preference. In general, smaller people prefer smaller guitars. There are, of course, always exceptions to the rule. 
If you're particular about sound, then you should be aware that even though 38" and 41" are both considered full sized, you won't get as much sound from a 38" guitar.
You're also likely to have a lot of damping and dead spots due to their poor quality.
The 41" guitars are louder and have more bass because they have slightly bigger bodies, which provides bigger sound with more resonance. 
38 Inch Guitars
It's customary for 38" guitars to have smaller nut widths making the overall width of the neck more narrow. Those with small hands appreciate this feature, as it makes it easier to stretch your fingers from the first string to the sixth. 
In addition, the frets are closer together making chord formations slightly easier and more maneuverable for those that have difficulty stretching their fingers across the fingerboard.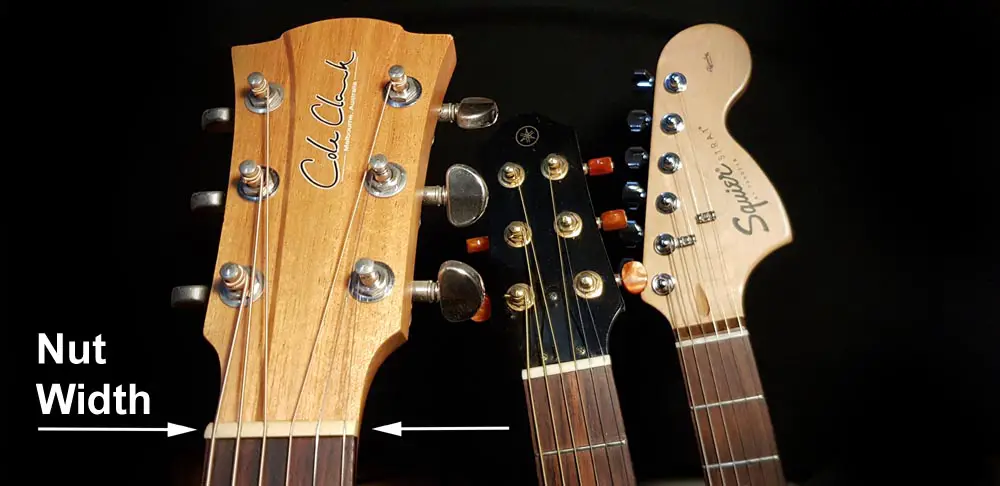 Furthermore, they typically have slightly smaller bodies making the overall playing experience much more comfortable.  
There's a catch though:
A good majority of 38" guitars come with slotted headstocks and almost no bracing inside the body. Slotted headstocks are designed for classical guitars, which means they should carry nylon strings.

When you put steel strings on a slotted headstock and a body without bracing, it's just a matter of time before the bridge snaps. Hence, why most 38" guitars are considered garbage.
Most music stores don't even carry 38" guitars, and the only place you can find them are on places like Amazon and Alibaba.
If you do decide to purchase a 38" guitar, you need to be sure to carefully study the headstock, the type of bridge used, and the bracing to ensure you're getting a decent instrument.
41 Inch Guitars
If you're average to large in stature, then the 41" might be a better fit for you. The nut width is definitely wider, as well as the frets, giving you more room.
For those that have larger hand sizes or chubby fingers, this is most appreciable. You also have a greater chance of getting a quality instrument with solid construction.
You won't have to worry about the tension on your strings or the type of headstock, because chances are you're buying from a reputable brand known for producing quality instruments.
Your Size vs Acoustic Guitar Size
For those with small hands and short arms, playing larger guitars is not only uncomfortable, but it also creates a great deal of muscle tension and poor posturing, particularly in the hand and wrist area. 
It's actually possible to cause permanent damage to your bone and muscle structure if you consistently put too much strain on your hand and wrist.
Therefore, proper sizing is paramount!
Instead of deciding between 38 and 41 inches, you're better off focusing on scale length. Rather than searching for 38", look for ⅞, ¼, ½, or ¾. You'll get much better results.
For example, you can get a ⅞ guitar between 37 inches and 40 inches giving you a smaller quality guitar without breaking the bank.
String Tension – Is a 38 Inch Guitar Easier to Play?
Guitar lengths and scale lengths can be very technical subjects and quite confusing without proper guidance.
Because 38" and 41" guitars are both considered full-length guitars, they can have the same scale length, but it doesn't necessarily mean that they will. 
This is actually a guitar spec you'll need to determine for the particular guitar you're interested in. Full-sized guitars have scale lengths anywhere from 24.8 inches to 26.1 inches.
At any rate, it's actually the scale length that affects the tension on guitar strings, not the overall length of the guitar.  
The higher the scale length, the more tension on the strings.
The more tension on the strings, the harder it is to press and hold. This doesn't necessarily equate to being harder to play, as several other factors contribute to the playability of a guitar including the action and neck relief. 
Assuming that the 38" guitar had a shorter scale length, on paper, it's easier to play because there's less tension.
However, given the reputation of 38" guitars, most come with extremely high action, which makes them anything but easy. 
It's usually high action that's most obtrusive in playability. In addition, with tension over 100 lbs, steel strings on a slotted headstock is downright dangerous.
So, while in theory, a 38" guitar is easier to play, the reality is in most cases it's not. 
What Type of Music You Want to Play?
The scale length of the guitar will have a major impact on the playability and tone of a guitar. It's the direct source of the harmonics achieved by the guitar.
For example, a 25.5 scale length should produce a strong and rich tone with a well-defined bass and sharp, bright upper end. Overall, the strings are longer, so your notes resonate longer, producing crisp and bold notes.
In contrast, a shorter scale length produces a warm, creamy sound and lacks the crisp and bold effect. Since there's not as much tension on the strings, however, they are easier to bend and fret. 
Because scale length is so fundamental to a guitar's tone, it's worth considering what kind of music you want to play before making the final decision on your purchase. 
Best 38 Inch Acoustic Guitars for Beginners
Finding a decent 38" guitar is no easy task. Quite honestly, most guitars that advertise "38-inch guitar" are usually cheap junk, and I don't recommend buying any guitar based solely on its length. 
In addition, quality brands don't typically advertise overall guitar length because it's not an important feature. Scale length is key. 
However, there are a couple of decent 38" guitars on the market that can actually produce an ok sound without being a hazard to your health. 
1) Kmise 38" Beginner Acoustic
Built with laminate mahogany back and sides, Okoume neck, and walnut fretboard, you can find this guitar on Amazon.
Usually packaged as a starter kit with all the extra frills of straps, kapos, tuners, etc., this little guitar features steel strings, which gives it a really pleasant sound so long as you're not playing too far up the neck. 
The Kmise 38" Beginner Guitar at Amazon
If you go up an octave, you're likely to experience some damping and dead spots; but overall, it's not a bad guitar for someone just starting out.  
The action is already set low, but it does have an adjustable truss rod, and it also has a solid headstock. The type of bracing, if any, is unknown, but Kmise is predominantly known for making Ukuleles, so they're at least a reputable company. 
The steel strings offer a deep resonant sound and crisp clear notes in the first position. They use a larger hardwood bridge that can withstand the increased pressure, while still offering good string vibration.
The mahogany back and sides give it a warm, bright sound and the steel strings give it plenty of resonance for its size.
If you're really tight on funds, then this would be about the least expensive option that provides any kind of quality at all.
2) Zager 38" Parlor Acoustic-Electric
At almost $700 this guitar is definitely not cheap, but you're getting what you pay for: quality.
This guitar comes with a mahogany back, neck, and sides. It has a cow bone bridge and nut, abalone rosette, high gloss finish, and built-in Fishman transducer. 
For serious beginner guitarists looking for a quality 38" guitar, this is an excellent choice.
Zager uses custom bracing, necks, and string spacing. The necks are narrow from front to back, but wide enough to accommodate the string spacing, which alleviates buzzing. The bracing system flexes to help make the action soft and easy. 
Best 41 Inch Acoustic Guitars for Beginners
1) Cort AD810 Acoustic Guitar
This is one of the most popular starting guitars on the market and features a dreadnought body with a mahogany back, sides, and neck with a solid spruce top and Merbau fretboard.

Cort AD 810 Dreadnought at Guitar Center
For just over $200, this guitar has naturally bright tones with a strong, warm midrange. 
It has a dovetail neck joint, scooped surface bridge, and open-pore finish facilitating enhanced resonance and sustain.
2) Yamaha FG800
This is one of Yamaha's most popular starting guitars for about $220. It has a laminate Nyatoh back, sides, and neck with a solid spruce top. The neck features a rosewood fretboard; and the body, scalloped bracing that produces a robust tone. 

Yamaha FG800 acoustic guitar at Guitar Center (also at Amazon with an accessories bundle)
The FG800 has a full resonate sound and is great for picking or strumming with nice intonations and a great vintage sound without any buzzing.
It's a quality starting guitar from a reputable company, and for the entry-level price of these guitars you won't find anything with a higher quality build.
3) Oscar Schmidt OG2SMA
This little diamond in the rough is actually made by Washburn. For around $260, you get a full dreadnought guitar with catalpa back and sides, and select spruce top.
It has a mahogany neck with a rosewood fretboard. The action is nice and low without any dead spots.
Oscar Schmidt acoustic guitars at Amazon
It has a nice folksy sound with a full, crisp tone and smooth, rich low-mid. The OG2SMA has a very well-rounded, solid intonation and resonation.
These guitars offer surprisingly good, quality craftsmanship at a very affordable price.
4) Greg Bennett GOM-120RS or ASDR
This is a name you likely don't see very often, but this is a very affordable, quality guitar made by the well-known Samick guitar company. The 120RS is around $200, or you can upgrade to the ASDR for about $500, both of which are very reasonable for a beginning guitarist. 

Greg Bennett 120Rs Acoustic Guitar at Guitar Center
Built with Ovangkol back and sides and solid spruce top, the 120RS offers a full sound with plenty of sustain. It has a Nyatoh C-neck with a walnut fretboard.
The action is very low for soft and easy play and easy movement up and down the neck. 
The ASDR is a very full, rich-sounding guitar with plenty of depth. You also have the option of adding a Fishman preamp with Sonicore pickup. 
5) Ibanez AW54OPN Artwood Acoustic-Electric Guitar
If you like a mellow sounding guitar, then the Ibanez AW54OPN Artwood is a great option to get started on, and is completely made from mahogany, with a solid top that will sound even better over time.

Ibanez Aw54opn Artwood Acoustic Guitar at Guitar Center or Amazon
It's price is well under $250, and it has a modern open-pore finish that gives it a silky feel to hold. People who own this guitar comment on how good it sounds for the low purchase price praising its warm, rich sound.
This guitar is also loved for its more expensive look, and most owners are happy with the string height it comes set up with, making it an easy player.
Maybe the worst part of this guitar is the sticker on the front! This can however be carefully removed in a warm room, and then use some citrus gunk remover to wipe off the glue residue.
Final Thoughts
Do yourself a favor and stay away from cheap 38" guitars. In essence, you get what you pay for. If you're spending less than $100 on a guitar, you'll likely end up with a cheap POS.
Focus on scale length and buy a reputable brand. Look for ⅞ through ¾ sizes for smaller builds with better quality.