Yamaha Pacifica Series PAC012 Electric Guitar
Yamaha Pacifica Series PAC012 HSS Electric Guitar
So you want to learn how to play guitar and want an affordable instrument that sounds great? The Yamaha Pacifica Series PAC012 Electric Guitar is an affordable option for beginners and even more experienced players who are looking for an instrument that will last them for years to come.

The Pacifica Series guitars are designed to give you the best bang for your buck at around the $200 mark, and the PAC012 has a sleek, modern look that will make it easy for you to stand out from the crowd and easily find it in any band.
It features a double cutaway body, a bolt-on neck, and a humbucker pickup in the bridge position for heavy rock and metal tones.
The Yamaha Pacifica Series PAC012 Electric Guitar is a powerful and versatile instrument that can handle just about any style of music. Many people who buy one intending to upgrade to a better guitar later find they are still playing it years down the track.
Let's take a look at what you get.
Body
The body of the Yamaha Pacifica PAC012 is made of agathis, which is often compared to mahogany in terms of sound, and it has a relatively low response rate, which makes it ideal for use on guitars.
Neck
The Pacifica Series PAC012 has a bolt-on maple neck that gives you reliable sturdy construction. The rosewood fingerboard is designed with 22 medium jumbo frets, and is easy to play, providing a smooth playing experience.
Pickups
The guitar features two Alnico V single-coil pickups. These pickups provide a bright, articulate tone with plenty of midrange punch. At the bridge position Yamaha have placed a high output ceramic-backed humbucker to give grunty tones that work well with loads of gain.
Controls
The Pacifica Series PAC012 has master volume and tone controls, as well as a five-way pickup selector switch which provides a variety of sounds and tones that can be used for different styles and genres.
Hardware
The classic 6-screw vintage tremolo allows for creative expression and adds a unique flair to your playing style. The tuners are the covered style, and chrome-plated to give it a polished look.
Colors & Finishes
The PAC012 is available in Black, Natural, Vintage Sunburst, Old Violin Sunburst, and Wine Red finishes.

Extras
The Yamaha Pacifica PAC012 is also available in the GigMaker EG Electric Guitar Pack, which includes:
A 15 watt Yamaha amp for practice sessions.
Instrument cable for amp connection.
Electronic clip-on tuner.
Shoulder strap.
Assorted picks.
Padded gig bag so you can take it with you wherever you go.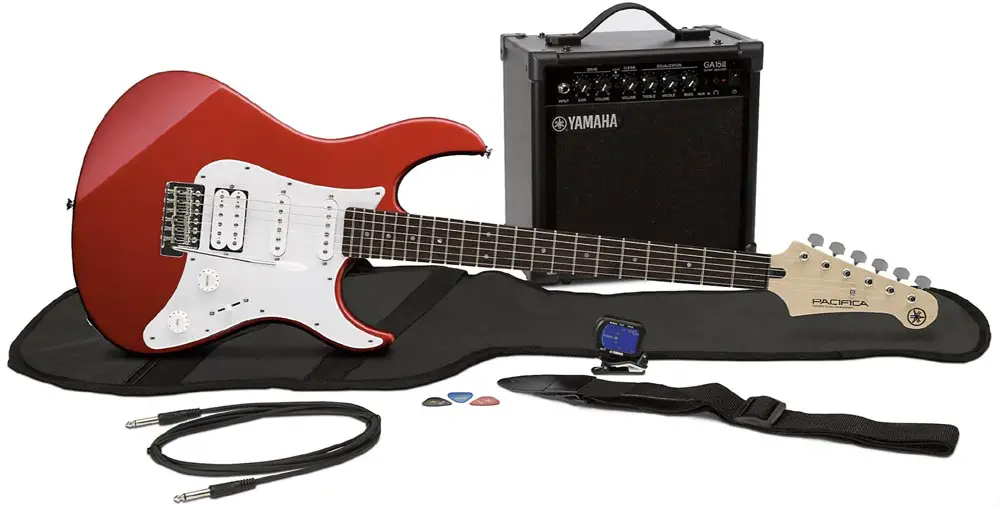 Who This Guitar is Suited To
The Yamaha Pacifica PAC012 is geared more toward beginners to intermediates than to experienced players, and provides basic hardware designed to give you a reliable but affordable instrument.
For players wanting the power of a humbucker and jumbo frets for getting into rock, metal, and learning to shred – this guitar fits the bill.
If you have a limited budget and are looking for a strat-style electric guitar, then it would be hard to look past this model to find anything better at this price.
Reliability & Player Opinions
Yamaha has a reputation for building rock solid guitars at low prices, and you're likely getting a guitar that would cost you more in many other well-known brands.
You will find many players of this model say they have had one for years, and often end up getting additional Yamaha electric guitars on the back of this one being so good.
There are plenty of advanced players who still say this is a great guitar, and with some setup work and possibly some upgraded pickups these guitars can become a long time companion.
Even though this guitar is a good deal, if you are past the beginner level it's worth looking up the range at the Pacifica PAC112 that comes a little more nicely appointed for about $100 extra.
User Ratings
Yamaha.com 4.4 / 5
Guitar Center 4 / 5
Sweetwater 4.8 / 5
Amazon 4.7 / 5