Are Crafter Guitars Any Good? We Found Out!
Crafter guitars are well-known in many other parts of the world, but not so much in the United States. There's been a lot of buzz and debate about whether or not these guitars are worth their weight in value.
If you are wondering whether or not Crafter guitars are any good, the short answer is that it depends on who you are talking to, and which one you buy. For the most part, however, Crafter guitars offer better than expected quality among novice and expert musicians alike.  
Over the years, Crafter has developed quite a reputation within the guitarist community for building good quality guitars at affordable prices.
Several musicians claim that Crafter guitars are capable of producing the same tonal quality as other guitars three times their price.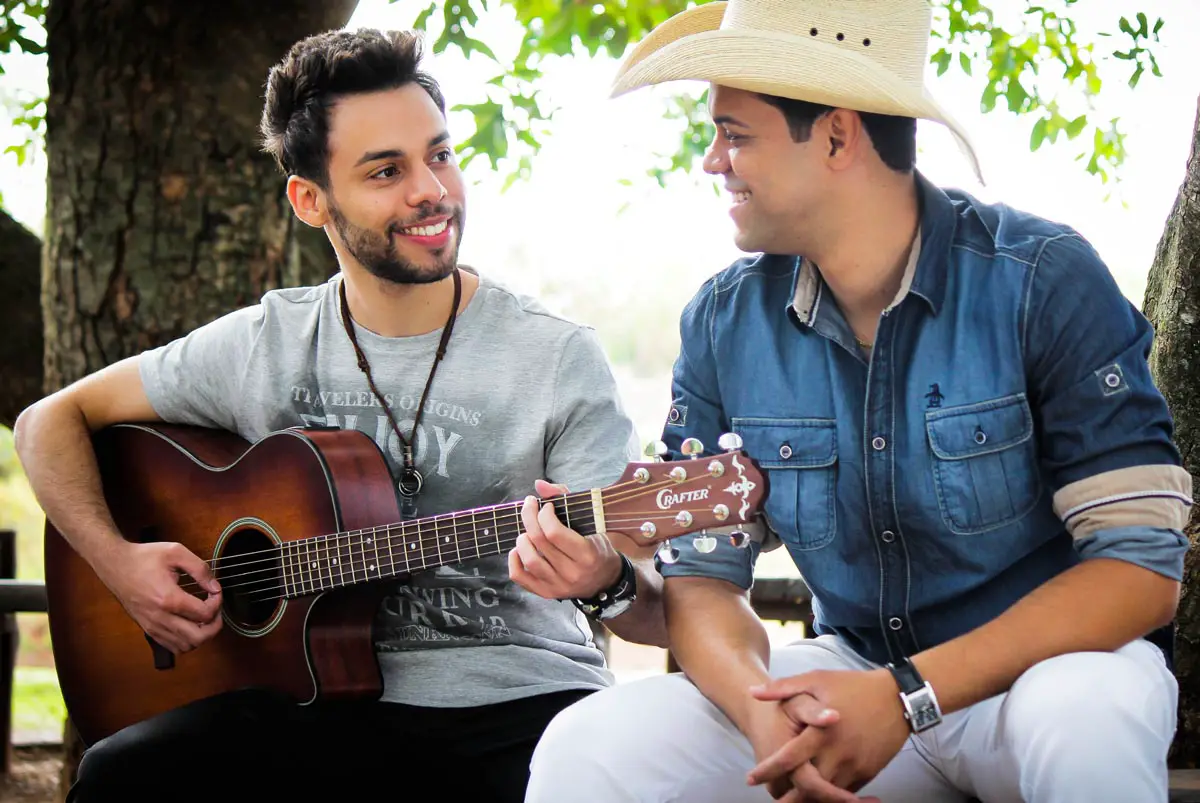 Who Makes Crafter Guitars?
Crafter is a family-owned and operated business that started in Seoul, South Korea. It originated in the basement of HyunKwon Park.
Today, Crafter has a state-of-the-art manufacturing complex that continues to run under the management of HyunKwon's two sons: Injae and Namjae Park. 
Where Are Crafter Guitars Made?
Crafter continues to manufacture the majority of its guitars in Korea. In 2009, Crafter built a state-of-the-art complex in Yang Ju, South Korea, making them a major player in the international market. 
They are currently the largest guitar manufacturer in Korea with the ability to produce around 300 guitars a day. 
How Long Have Crafter Guitars Been Made?
Believe it or not, HyunKwon started his guitar business in 1972 building classical guitars out of his basement. The business was originally called Sungeum Guitars, meaning "accomplishing the sound," which is truly the ethos of the company. 
By 1978, the company had developed such a reputation for excellence among local musicians that they had already outgrown their basement and needed a larger complex. 
When HyunKwon's son, Injae, took over the business in 1986, he sought to take the company into the world market. The company's name was changed to the global brand of Crafter in order to maintain the connotation of high quality and craftsmanship.
Today they are better known for their electric-acoustic guitars. 
What Guitarists Think About Crafter Guitars
There are undeniably a few guitarists out there that are brand name only kind of musicians, and from their perspective, anything less than a major guitar brand means poor quality. 
They argue that for a few hundred more dollars you could have a well-known quality guitar. 
However, many musicians have showcased Crafter guitars against some major brands like Taylor, Martin, Gibson, and Seagull. The results are pretty astounding.  
Crafter guitars consistently performed at least equal to, if not better than some of the big-name players.
Crafter guitars have been touted as problem-free, reliable, good quality guitars that are affordable and reasonably priced. Many guitarists are surprised by their balance and range of tone. 
.
Hearing these guitars first hand, they have a very warm and full, crisp, vibrant sound with superb sustain.
.
Their sound has been described by fellow guitarists as having a "beautiful chime" that's "very resonant and lively with lovely lows" They have a configuration that offers a wide range of nice, rounded, tonal options.
Many guitarists like having a Crafter as their fun guitar for traveling and taking to the beach because they can still get a good quality sound without having to worry about damaging their high-end guitars.
A lot of other musicians like the way these guitars feel. They are known for being comfortable, and guitarists claim they play with relative ease.
Crafters have even been used by professional artists such as:
Alice Cooper
Status Quo
Warrant
Katie Melua
Janell Wheeler (American Idol)
Dario Lorina
Are Crafter Guitars Good Quality?
Crafter guitars that are made in Korea have a good reputation for being focused on sound and playability, as well as design. They truly are good quality guitars for the money.
For an attractive price, they offer good features and phenomenal sound. It has been said that they are one of the best budget-priced guitars on the market with great sound quality.  
How Well Are Crafter Guitars Made?
Crafter guitars are superbly made with solid tops and impeccable inlay work. 
One of their selling features is that they 'book match' the left and right halves of their solid bodies to create a symmetrical look. Not only does this look appealing, but it's also an important contributing factor to the balanced tone that these guitars provide.  
They use a unique bracing pattern to produce a richer resonance. 
Crafter also developed its own 7Bar-Saddle and CR5-Nut to create their best sound balance. This works really well on guitars that have under-saddle bridge pickups because it couples the vibration of the strings to the soundboard, which prevents loss of resonance. 
They also use a two-level bridge system that increases the tension of the strings across the saddle.  
In addition, since their 30th year in business, the company puts out a new decorative anniversary guitar every year. 
Each guitar is sketched, designed, and handcrafted with some of the most beautiful abalone and wood inlays. Some of these are only available for a single year, and some are brought back due to their popularity. 
Since 2022 is their 50th anniversary, I'd anticipate something pretty impressive. After seeing the results of the last 10 years, I'm betting it will be pretty amazing. 
The Most Popular Crafter Guitar Models
1. Crafter TO35 and TC035
This is a solid Engelmann spruce top with rosewood back and sides. It is one of the most popular models made by the company. It has an orchestra style body with a mahogany neck and dovetail neck joint. 
It has an abalone body binding with a soundhole inlay. It's scaled to 25 ½" with 20 frets and a nut width of 1 11/16".  This guitar can generally be found for under $500.
The T035 is the full-bodied acoustic guitar, and the TC035 is the same guitar with a cutaway.
2. Crafter Lite-DE SP and Lite-D SP
The LITE Series comes in dreadnought, orchestra, classical, and travel sizes, as well as right or left-handed. It was an immediate success because of the solid top in conjunction with the lower cost. You can find them with or without a cutaway. 
It has a solid spruce top with mahogany dovetail neck, back, and sides, and has an Indian rosewood fretboard. It also has a scale length of 25 ½ inches with 20 frets, but has a 2 3/64" nut width. This guitar can be found for around $350. 
3. Crafter HiLite-D SP-VTG    
The HiLite Series is a good entry-level guitar for new guitarists. It is popular among students and has surprisingly good quality for the price. It has mahogany back and sides, and the tops can be purchased in spruce or cedar. 
It has an Indian rosewood fretboard and comes with or without a cutaway. It's a 20 fret guitar with a 25 ½" scale length. It has a 1 23/32" nut width. You can generally find this guitar for a little over $300.
Are Crafter Guitars Good Value for the Price?
Crafter guitars offer fantastic value for the price. You can get an exceptional sounding guitar for half the price of a big name brand. 
They make one of the best affordable guitars on the market, and you can find these guitars anywhere from $300 – $1500, sometimes even more, depending on what you are looking for. 
Where Are Crafter Guitars Sold?
Crafter guitars are currently registered in over 40 countries throughout the world.  
You can find them in Iceland, Europe, United States, Brazil, Mexico, Australia, New Zealand, Thailand, Indonesia, Malaysia, China, and Taiwan just to name a few.
Final Thoughts
While they might not be well known here in the United States, they certainly have quite the reputation in other parts of the world. Of course, there will always be the naysayers.  
To find out for yourself, simply find a music store that has one, and then play it side by side with some other well-known brands.
There are also a number of videos floating around the internet that allow you to hear the comparisons that other guitarists have already made.  
The Crafter guitars really do have an exceptional sound.
Main Image Credit:
By Fernando Silva Lins – Own work, CC BY-SA 4.0, https://commons.wikimedia.org/w/index.php?curid=63065240
Sources:
Home | CRAFTER (crafterguitars.com)