How Much Do Good Acoustic Guitars Cost? (Buyers Guide)
Like all instruments, the better the guitar, the higher the price. When you're looking to buy an acoustic guitar that is considered to be 'good', it's important to first define what good means to you.
Even if you're familiar with guitars and are looking to upgrade from your first guitar it can be confusing trying to work out what makes a guitar good, and then to work out how much you should spend to buy one.
Beginners can expect to pay $250 to $600 for a good quality acoustic guitar. Intermediate level guitars generally range from $400 to $1000 depending on brand, build quality, and features. Professionals can pay many thousands for a top quality acoustic guitar.
The price you pay often dictates the quality of the guitar, so let's look at some guitars worth having for beginners and intermediates, and what you should expect to pay for them.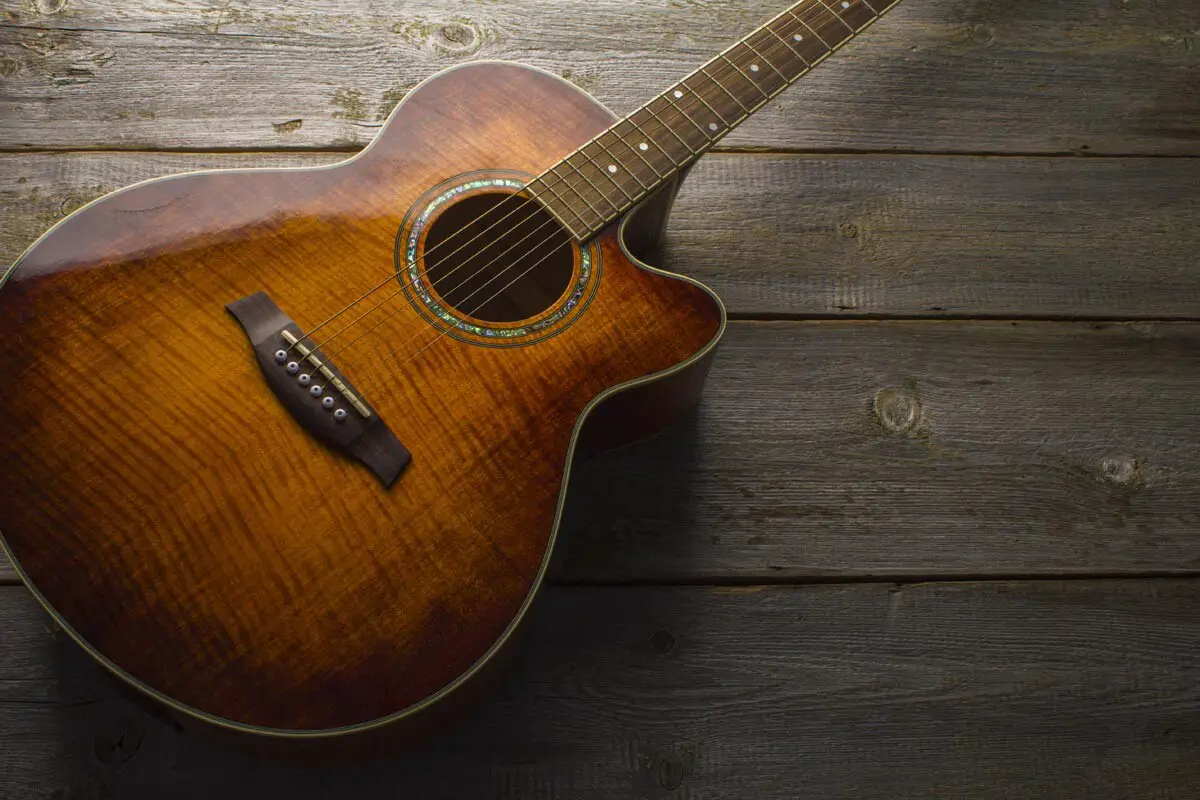 We work with various affiliate programs. If you purchase via our links we may earn a small commission at no extra cost to you.
What is Classed as a Good Acoustic Guitar?
The most important aspects of a good Acoustic guitar can depend on the player but it usually comes down to how good it sounds and how well it plays!
A good guitar can be one that is constructed beautifully from affordable materials. Usually, good guitars use high-quality tonewoods such as spruce, mahogany, koa, and maple. 
You can expect the price of these guitars to be higher due to the quality of the woods, and the amount of labor that goes into crafting that wood into an instrument that looks good and plays well.
Good quality guitars will always be constructed with solid wood tops, which resonate better than plywood tops and allow the instrument to improve it's tone over years of playing.
The most important thing will always be how the guitar is constructed. If a guitar is constructed with care and great materials you are more likely to get a great sound out of it. 
How Much Should You Spend on an Acoustic Guitar?
For a high-quality guitar suitable for a beginner to an intermediate player you will pay somewhere between $250 and $600. 
If you want to get something beyond a beginner guitar you'll probably want to pay somewhere starting around $400 for a mid-range guitar. This is where you start to see guitars with higher quality materials and setups. 
That's not to say guitars at a lower price point are bad! It all depends on what level player you are.
If you've been playing for a while you'll notice how the improvements of a mid-range guitar can help you get more out of your guitar. Such improvements aren't as important to a beginner, or as noticeable. 
Acoustic Guitar Price: Advice for Beginners
If you're just getting started learning the guitar you don't need to shell out for the highest quality guitar you can find. 
What you want to look out for in a guitar at this level are good build quality and a comfortable neck. Having a well put together guitar that won't fall apart and is comfortable to play is all you need to get started. 
You may read about how different woods and methods of construction affect things like tone and volume, but don't get too caught up in worrying about it. There is no point early on spending more on a guitar before you get to know the instrument better, and develop your ear.
A good rule of thumb is:
If the guitar listing mentions what type of wood they're using, then it's probably not bad. Basswood and mahogany are pretty classic acoustic woods to use and laminated wood is fine (in fact it'll make your guitar sturdier if you're taking it out of the house).
Laminated wood guitars are much cheaper than solid wood guitars, and generally not considered to be 'good' guitars. Around the $80-150 range there are a vast amount of these guitars to choose from.
Yamaha F335 Acoustic Guitar
A laminated wood guitar that most stands out (one that I recommend) is the Yamaha F335 Acoustic Guitar which is extremely popular with beginners.
For around $170 you get a solid reliable guitar that sounds ok and plays well, and comes from a trusted name in the music industry. This is the lowest price you could expect for a reasonable 'good quality' acoustic guitar.
The Yamaha F335 comes in a choice of Tobacco Brown Sunburst, Natural, or Black.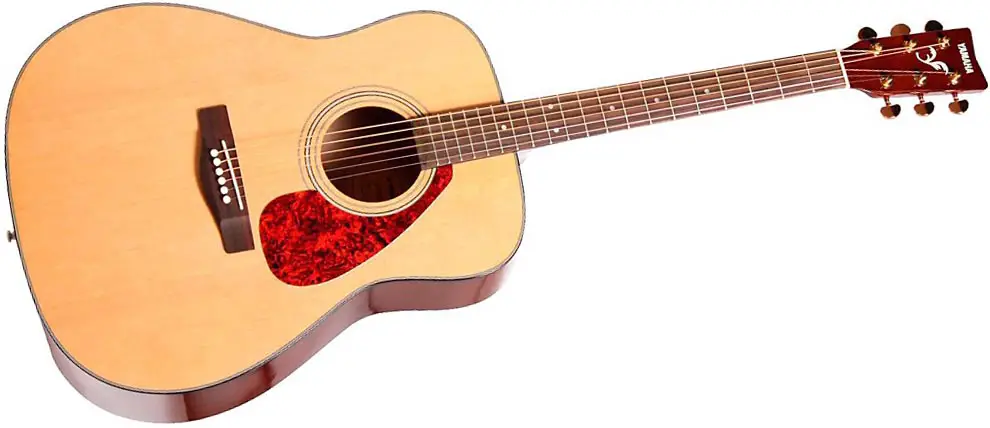 See the Yamaha F335 at Guitar Center or at Amazon
Acoustic Guitar Price: Advice for Intermediates
What you want to look for in a mid-range guitar are features that enhance the tone of the guitar in the ways that YOU want.  Pay attention to what you like and don't like about how your current guitar sounds.
Being an intermediate player probably means you're probably starting to gain an understanding of tone. If you're thinking "I wish my guitar had a stronger bass tone, or perhaps cleaner highs and mids" then look out for guitars that use materials and designs that help with those aspects of their sound.
A mid-level guitar will also bring its focus to the quality of its features over how easy it is to play. While that's still important it's more of a given than with cheap guitars so don't make it the focus of what you're looking for. 
Make sure it's got a solid top as this will give you a huge boost in volume and clarity. The importance of features such as tuners and pegs will also become more apparent. Mid-level guitars will keep in tune better because of this.
Takamine G Series Acoustic Guitars
A example of a good guitar that will satisfy intermediate players is the Takamine G Series Dreadnought, priced around the $400 mark.
These guitars are made in Japan – renowned for their guitar making quality. All the cost goes into the guitar itself, not into onboard electronics like many other guitars at this price.
With a solid spruce top, unique split-bridge for more accurate intonation, high quality tuners, and synthetic bone nut – Takamine G Series guitars are made to sound great for an affordable price.
This guitar comes in a choice of Gloss Natural, or Gloss Black.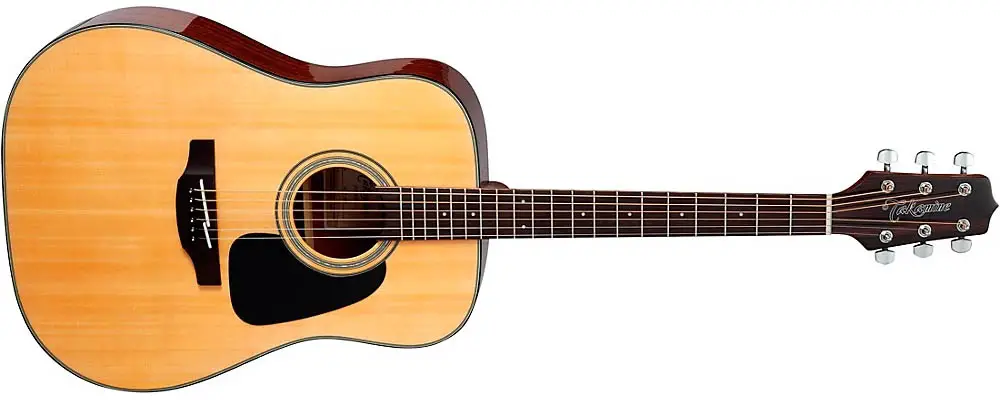 See the Takamine G Series at Guitar Center and Amazon
Can You Buy Good Low-Cost Beginner Guitars?
Times have changed over the past 20 years, and the guitar you'll get today for $200 far surpasses the same priced guitar from many years back. So yes, if you consider $200 to be low cost, then you can buy some reasonably good guitars starting around this price point.
Here are two good options for beginners wanting a good guitar at an entry-level price:
Fender CD-60S Dreadnought V3 Acoustic Guitar
Fender isn't known to make cheap guitars so it might be a surprise to find that they offer a very affordable range of acoustic guitars. The Fender CD-60S Dreadnought is a fully featured acoustic guitar that packs a punch at a beginner price point. 
Featuring a solid spruce top and mahogany back and sides this guitar will give you a great balanced acoustic sound that Fender is renowned for. It's one of the cheapest guitars on the market that uses a solid top which is a good sign that Fender has put care into making this guitar despite its entry-level price. 
The Fender CD-60S also comes equipped with Fenders' 'Easy to Play" style neck that rounds the edges of the fretboard. This makes the neck more comfortable to play on, something that is very important in a beginner guitar.
There aren't any bells and whistles to this guitar, it's a straightforward well made instrument that will last you ages if you take care of it. At this price point, there are a few dodgy guitars around but this one won't fall apart on you. 

See the Fender CD-60S at Guitar Center or at Amazon
The Fender CD-60S Dreadnought comes in a choice of Natural, Black, or Sunburst. Priced around $230.
Yamaha FG830 Dreadnought Acoustic Guitar
The Yamaha FG830 is a great choice for a beginner acoustic guitar if you want high quality materials and a classic design.
When I mention classic design I mean really classic! This guitar is a redesign of their 1966 Yamaha FG180. This design makes the foundations of this guitar as traditional as they come. 
Crafted with rosewood back and sides and a solid spruce top makes this guitar stand out amongst others in its price range. These are high quality woods that deliver the warm and clear mids that Yamaha guitars are known for.
This guitar also features a slim neck profile that makes playing chords and melodies easier when compared to the typically fatter necks found on acoustics.
Thinner necks do sometimes compromise the sound and sustain of the guitar, but that isn't the case here. The neck is built from rosewood, like the body, and this makes up for a lot of the sustain lost with the thinner neck.
The Yamaha FG830 is a great all-round acoustic guitar if a classic design with a modern twist that makes it easier to pick up and play.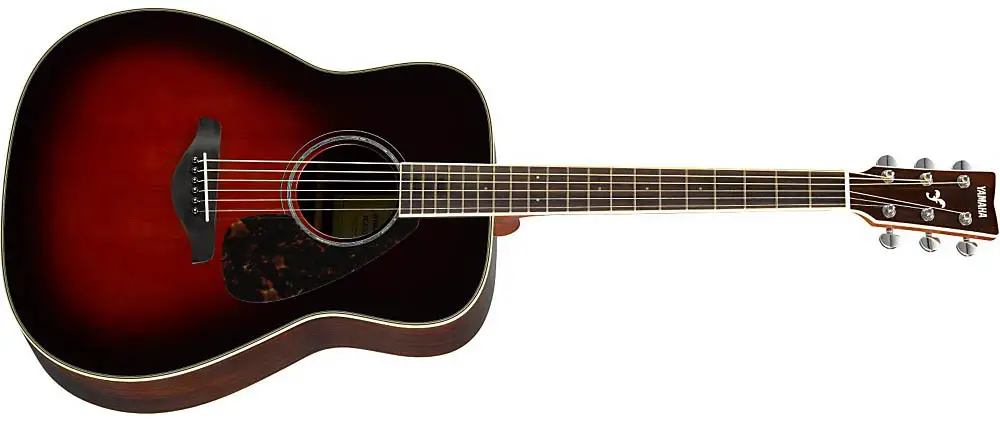 See the Yamaha FG830 at Guitar Center and at Amazon
The Yamaha FG830 Dreadnought Acoustic Guitar comes in Natural, Tobacco Sunburst, or Autumn Burst. Priced around $340.
Midrange Affordable Good Quality Acoustic Guitars
You don't need to break the bank to get a good sounding and well-made acoustic guitar, and here are a couple of great examples of this.
Martin Special Dreadnought X1AE Style Acoustic-Electric Guitar
Martin is a guitar company that has built a reputation for high-end acoustic guitars. To some owning a Martin is a pipe dream due to how expensive their guitars are. The Martin Special Dreadnought X1AE looks to change that!
This is Martin's latest offering in the mid-range market and looks to bring as much of the quality and sound of their high end models to people who don't want to spend upwards of a thousand dollars on a guitar.
The Martin X1AE is made with a very high level of construction quality that you'll find all the way up to their high-end models. This gives the guitar the feeling and sound of a more expensive Martin model. In fact, experienced players have picked up these guitars and been shocked to discover the price tag attached.
The solid spruce top on this guitar is thicker than what you'll usually find on acoustic guitars, and is a Martin cornerstone that gives their guitars a louder more vibrant sound.  
Martin hasn't cut any corners here you can immediately feel the quality of this guitar when you start to play. A lot of care has been put into designing the best guitar or the price tag. So if a classic Martin sound is something you crave then this is a great choice for a second or even third guitar.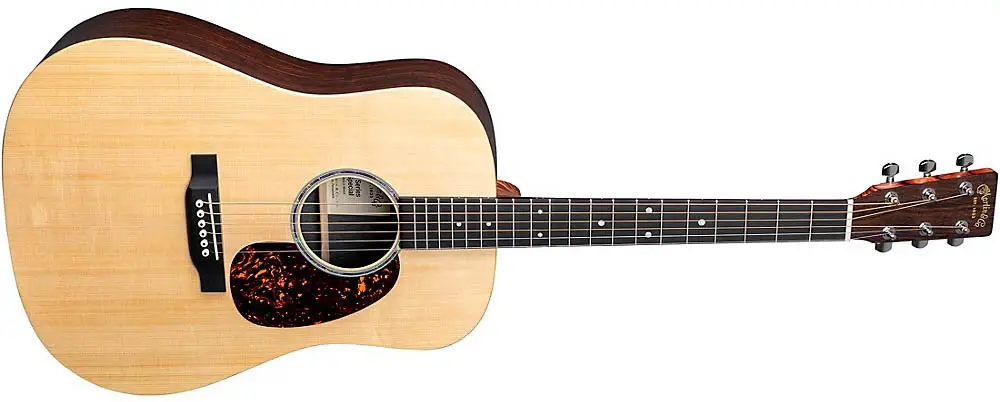 See the Martin X1AE at Guitar Center
The Martin Special Dreadnought  X1AE is priced around $600.
Fender California Malibu Player Acoustic-Electric Guitar
The Fender California Malibu Player is a unique acoustic guitar, and right off the bat this guitar has a very distinctive look to it.
Featuring a smaller scale body than full size guitars, a six-in-a-row headstock tuner, and a variety of metallic painted color styles – under the paint you will find a solid spruce top and mahogany back and sides. 
Beyond its quirky appearance, the California Malibu Player comes with some great build quality improvements such as the high level GraphTech NuBone nut and saddle which give the guitar greater sustain.
It's braced differently, optimized to increase resonance in a body of its size. It also shines with its neck that has a laurel fingerboard and bridge. Being an acoustic-electric, you can also plug it into an amp to add volume or to use with guitar pedals.
This guitar was designed with creativity in mind which poses an interesting opportunity for intermediate players to try something a bit different. Its smaller scale is meant to encourage experimentation with melodies and chords, and is a blast to play.

See the Fender Malibu Player at Guitar Center and Amazon
The Fender California Malibu Player Acoustic-Electric Guitar comes in 6 different colors: Midnight Satin, Aqua Splash, Arctic Gold, Burgundy Satin, Sunburst, and Natural. Priced around $450.

The Final Decision
Obviously there are many good acoustic guitars to choose from in the $400-600 range, and really at this price point you would expect to get something considered 'good' in almost any brand.
Before you buy, ensure you read some reviews and if possible, go to a couple of guitar shops and try a few guitars you are interested in. Sometimes the one that you had your eye on doesn't sound as good as you thought – or a similar priced model in another brand feels more like what you want.