Are Yamaha Guitars A Good Guitar Brand – Worth Buying?
We work with various affiliate programs. If you purchase via our links we may earn a small commission at no extra cost to you.
Although Yamaha guitars have been played by top artists like Paul McCartney and Santana, they have lurked in the background onstage, not gaining the name brand recognition they deserve.
You may be surprised to know that at one point in electric guitar history the Yamaha Pacifica was outselling Fender Stratocasters, and today this series is still very popular.
Yamaha guitars are mostly aimed at the beginner and intermediate market, although they also make more expensive advanced player models. At the entry to midrange level, Yamaha guitars are great value for money, with a build and sound quality that has earned them a good reputation.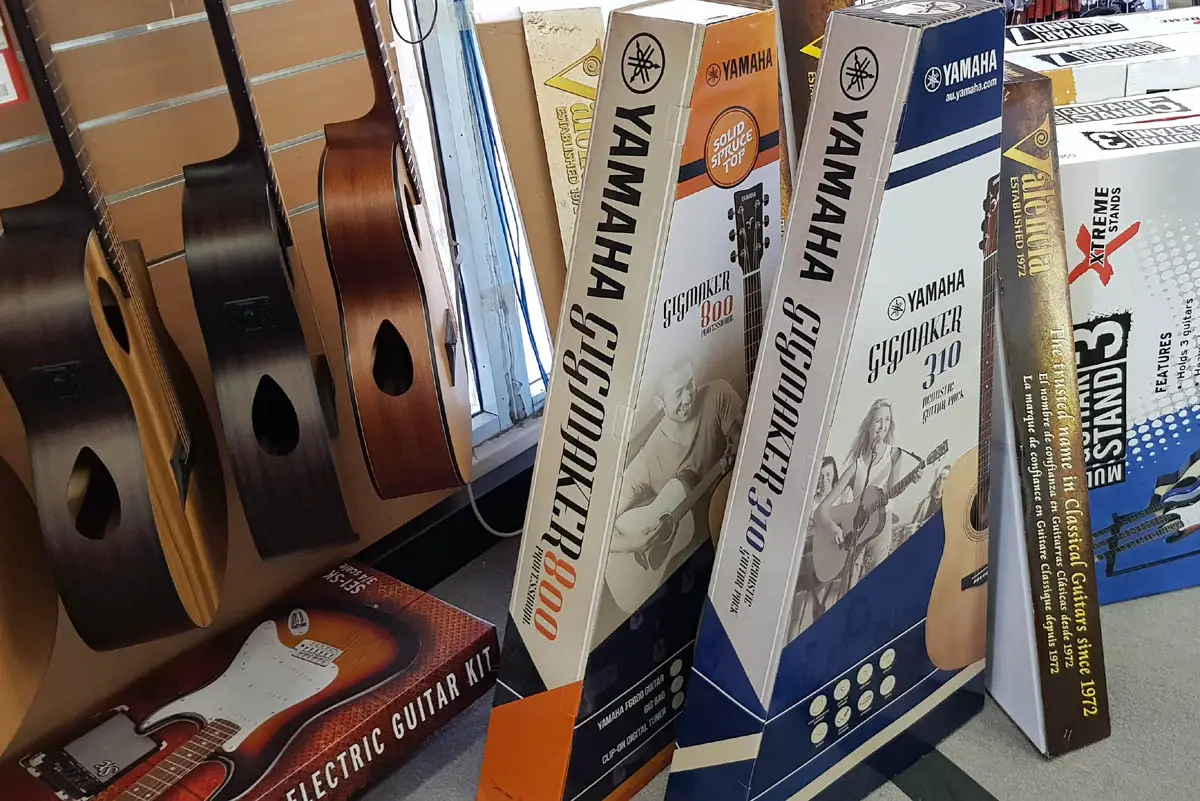 This article will give you a good introduction to Yamaha guitars, particularly if you're a beginner, and I'll cover some more popular models. Let's take a look at their build quality and where they are made. I'll also run though good beginner choices for electric, acoustic, and classical guitars.
Do Yamaha Make Good Quality Guitars?
Yamaha are the largest manufacturer of musical instruments in the world.
If any company has the resources to make quality instruments, then Yamaha would have to be in the top few, since musical instruments are just one part of their giant business.
Yamaha have strict quality control measures, and part of their guitar design process is to stress test their guitars to see how they stand up to regular use.
The Yamaha Quality Support Center "…houses some of the most advanced and sensitive testing facilities for electronic devices available anywhere, plus some tortuous durability tests that push instruments far beyond the limits of normal use".
All their instrument designs are put through environmental testing for temperature, humidity, and vibration. They also test that the packaging their guitars is shipped in will protect the instruments while being transported with drop tests, and vibration tests.
They develop their guitar designs by using sound booths and testing the instruments vibration qualities to find ways to improve the tone.
Yamaha also buy back some guitars from retail shops so they can randomly check the quality of their guitars that ultimately end up in your hands.
Where Are Yamaha Guitars Made?
Originally Yamaha built their guitars in Japan at their Hamamatsu factory, however they now manufacture world-wide in a variety of places like America, China, Indonesia, Malaysia, and Japan.
Their electric and bass guitars are developed at Yamaha Artist Services, which is located in Los Angeles.
Their newest facility was opened in Kanchipuram, India in 2019 , and previously in 2018 they built a musical instrument plant in Bekasi, Indonesia at a cost of $43 million.
Yamaha's custom shop in Japan makes the Yamaha GC82 Handcrafted Ceder classical guitar that sells for $10,000-18,000.
Is Yamaha As Good As Other Guitar Brands?
As we have stated before, Yamaha have never enjoyed the same status as Fender, Martin, Gibson and the likes, however they are known to provide exceptional quality for their asking prices.
Even if Yamaha doesn't spring to mind when thinking of performing instruments, you will commonly see them on big stages. We've seen artists like Bruce Springsteen, Robben Ford, and Santana play Yamaha guitars.
If you look at Yamaha guitars from a quality point of view, then It's doubtful any other manufacturers could have higher standards for the same price.
Their high-end professional grade guitars are made with attention to detail, and even down to their midrange and beginner series you will see quality at least as good as any other popular brand.
Yamaha vs Epiphone – Which brand is best for quality and price?
Are Yamaha Electric Guitars Popular?
If you're looking to buy an electric guitar then I encourage you to pick up at least one Yamaha before you make the final decision.
Did you know?
Yamaha are in the top 10 most searched for guitar brands online in the world.
Many people gravitate toward the big brands like Fender, Gibson, or Ibanez, but it can be more about the perception of their brand value than the sound and playability alone.
The Yamaha Pacifica electric guitar range are very popular right now, as they cater to beginners and intermediates with prices ranging from about $200 – $650.
More recently Yamaha have released a new Revstar line of guitars that use mainly Mahogany or Nato bodies and are around $400 – $1,000 depending on the features.
Major guitar retailers are seeing some Pacifica models generally rating in the top 5-10% of their guitar sales, and currently the midrange Revstar models are around the top 35% of most popular guitars.
Their SG and SGB series have remained one of Yamaha's core guitar models and arguably been their most successful guitar range of all time, with older models starting to become collectible.
Which Yamaha Electric Guitar Is Best for Beginners?
Rather than do some reviews of Yamaha electric guitars here, let's just get down to nuts and bolts and quickly list some popular solid body models at the lower price point that rate highly.
The Yamaha Pacifica PAC012 is the most popular entry level Yamaha guitar, it's made in a modern Strat-style, and you can buy it in different colors for about $200.

The Yamaha Gigmaker is a great beginner option, since it has the Pacifica PAC012 guitar, along with a 15-watt amp, strap, cable, spare strings, electronic tuner, gig bag, and picks. Good value since it's only 80 dollars more than the guitar on its own.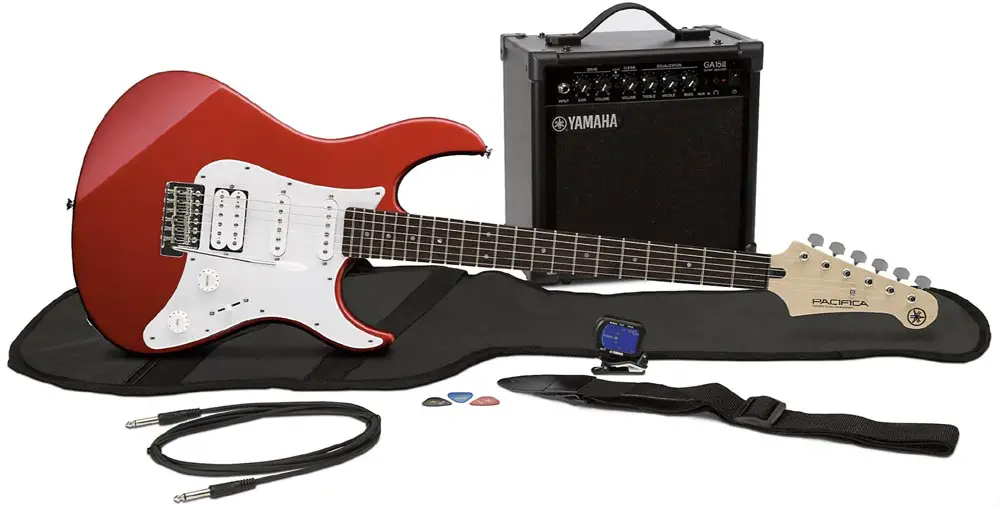 If you want to step up a little for your first guitar, then the Yamaha PAC112v series could suit your needs. They range from around $220 to $330 depending on the style and options.

It's not worth going far beyond this price for your first guitar, and even at this price you will find they have a great sound and play well.
How Good Are Yamaha Acoustic Guitars?
Many guitar players are pleased with the sound of their Yamaha acoustics – for the price.
Yamaha have always concentrated on affordable well-built acoustic guitars, and for this reason they never became as popular as other big brands you have seen famous musicians playing.
Back in the 70's and 80's American guitar producers were making expensive performance guitars, and the big stars made those brands famous.
At the beginner and intermediate level Yamaha make excellent value guitars that deliver good build quality, and a tone as good as any other guitar in the same category.
Once you step up into the top-level guitars Yamaha's offering gets thinner, as this was not a primary focus of their business model.
They still produce some great sounding instruments, but serious musicians are likely to look to other big brands who rightly or wrongly sell their best guitars for big bucks.
Which Yamaha Acoustic Guitars Are Most Popular?
Since affordability is Yamaha's guitar forte, you will find their most popular models in low to midrange prices, and the good thing is they give real bang for your buck.
Time and time again you will hear people talking about the FG800 dreadnought, and that's because Yamaha hit it out of the ballpark with this model (more on this below).

Another extremely popular choice is the FG830 series that is made with premium woods and a solid wood top for improved sound.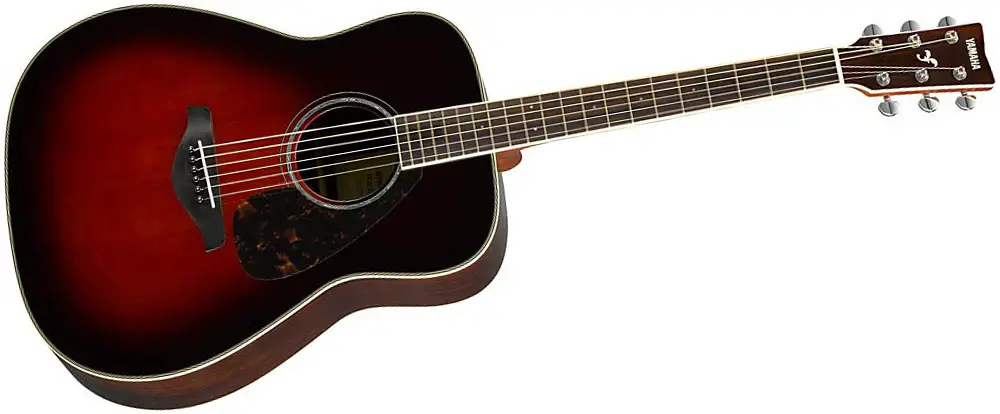 Yamaha's lowest priced steel-string acoustic is the F335, and yes you guessed it, it sells like crazy. However I don't recommend this guitar so strongly, since it has a laminated top which limits the tone of this guitar. A solid top guitar will sound better as it ages, but the price of the F335 might suit your current budget better.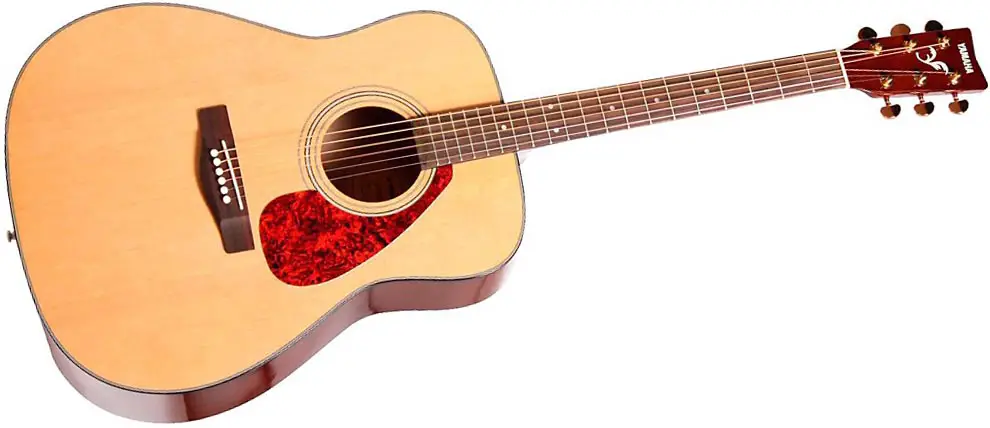 It's usually best to step up slightly from the cheapest guitars, and that way you get a guitar that sounds much better, and so can help you keep going further with your guitar journey.
Yamaha Transacoustic Guitars
If you're after a good acoustic electric guitar that is popular, then take a look at the FG-TA Transacoustic dreadnought.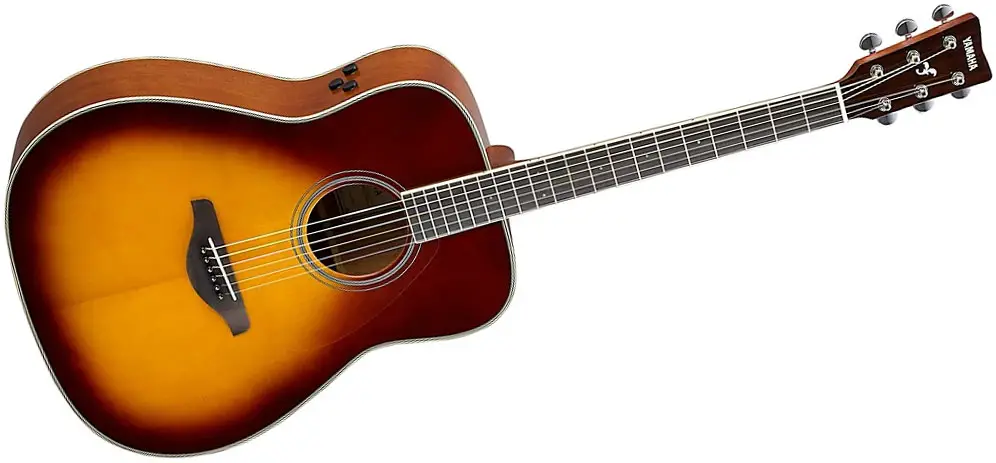 The Transacoustic has a special system built in that is like having an amp inside your guitar, and also has special effects built in. Check it out in the video below.
Which Yamaha Acoustic Guitars Are Best for Beginners?
Again, let's just look at some models with good features for the price, without going into too much detail. This will help you build a mental shortlist without information overload.
1. Concert Body Guitars (smaller size)
Yamaha FS800. This is Yamaha's most popular entry-level concert shaped guitar, and is a great choice for smaller players as it's a little easier to handle than a dreadnought.

This guitar has a solid spruce top, so you will get a good sounding guitar for this price, and they come in a natural finish, or a featured finish called Sand Burst. You can pick this model up for $200.
Yamaha FS820. This is the next model up the range for the concert series guitar and is priced around $280.

Another solid spruce top guitar, this one also has mahogany back and sides, with good midrange and high tones, along with a nicely finished fretboard for easier playing.
2. Dreadnought Body Guitars (large)
Yamaha FG800. This guitar range regularly appears as the best value for money entry level guitar, and it possibly the best of all brands offering a guitar at this level, and you will get one for $200.
Many people comment that the sound projects well, it has a good-rounded tone, and the instrument itself is very well made, often being as good as other brands that sell for two-times the cost.
Yamaha FG830. If you have a little more to spend, you can get this model for $320, and it's a nice upgrade on the lower level FG800.This model comes in 3 choices of finish, either natural or a couple of 'burst' finishes which gives it a really nice look.
It has rosewood back and sides which give this guitar great midrange clarity and clear low tones.It also features scalloped bracing specially developed by Yamaha, which helps this guitar project a strong balanced sound.
3. Acoustic-Electric Guitars (can be amplified)
Yamaha FGX800C If you want a guitar than you can plug directly to an amplifier, then this model is a great first choice.This model is a cut away designed body, coming with the Yamaha System-66 inbuilt pre-amp and electronic tuner, which is a great feature making it easier to tune your guitar.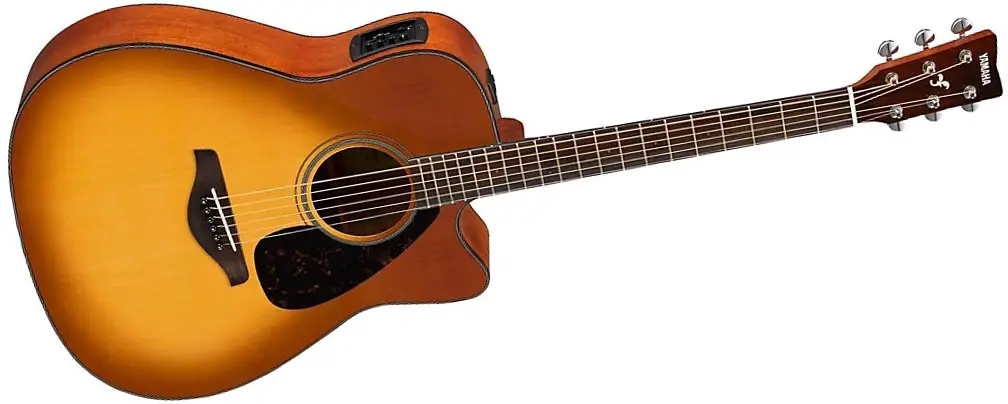 This guitar is likely to stay with you longer on your guitar journey, and it's good value for a solid Sitka spruce top guitar with scalloped bracing, and inbuilt EQ unit.
If you are looking for a good value Yamaha acoustic-electric guitar, then take a look at these five models good for beginners and intermediates.
Are Yamaha Red Label Guitars Good Value?
Yamaha's Red Label acoustic guitar series have been known for a long time to be very good guitars for their price, becoming a signature model for Yamaha.
They were first introduced in the 1960's and were crafted in Japan, a country that earned themselves bragging rights as one of the world's leading quality instrument makers.
The modern FG series are aimed at the intermediate market and feature Yamaha's A.R.E. wood torrefication process which ages the wood to give an authentic played-in tone.
The FG's also have nice upgrades like a bone nut and saddle for increased sustain and clarity, and have solid back and sides to compliment the solid spruce top.
At around $1200 these guitars clearly step out of the beginner zone, so if you are looking for an upgrade these guitars are definitely worth looking at.
For FGX series acoustic-electric version of these guitars they are priced a couple of hundred dollars higher, and you'll get the same quality guitar with Yamaha's Atmosfeel pickup and preamp system.
These guitars are good value for their price range, particularly if you love a vintage look and sound.
Yamaha Silent Guitars (something different)
When it comes to innovation, you'll find they are leaders in the industry with advancements like their Yamaha Silent guitar series that give a classic acoustic guitar sound without any body-resonance feedback when amplified.
Full disclosure – I own a Yamaha SLG110S myself and love the sounds it makes!
If I sound favorable towards them it's because I've played a few, and my friends who have tried them says the sound is far beyond what they were expecting.
Are Yamaha Classical Guitars Good – Worth Buying?
While you don't see Yamaha classical nylon string guitars dominating sales the way Cordoba does, you will always find a few of their models in the top 10, in fact there is always one in the top 3.
These models are usually their cheaper guitars, and they have gained popularity for being well-built reliable guitars with a decent sound. Many schools buy fleets of them for this very reason.
As with all Yamaha guitars you will get good value for your money.
We looked at a few big instrument retailers online and found from 341 reviews of 26 different Yamaha classical guitar models, the average rating was 4.5
What Is the Best Yamaha Classical Guitar for Beginners?
Classical guitars are quite often recommended for young children first learning guitar, so we have included a smaller model in this list.
1. Children & Students
Yamaha ¾ Size CGS103 for around $140.
Yamaha CGS Student model for around $130.

2. Adults & Taller Children
Yamaha C4011 for around $150.
Yamaha CG102 for around $200

For a chart of guitar sizes for children, see this size and age chart.
Are Second-Hand Yamaha Guitars Any Good – Worth Buying?
Buying a second-hand Yamaha is usually a good decision, as long as the guitar is fundamentally in good condition.
Since Yamaha don't have the massive brand appeal of some other guitars many of them don't hold their value well from new, similar to most guitar brands.
The good news about used Yamaha guitars is that for the price you pay you will get a great instrument for way less than a similar quality guitar in a popular brand.
Do Used Yamaha Guitars Hold Their Value?
Depending on the model and wood used in construction, some models will hold their value, however you should do further research before making any decisions.
Keep in mind that any damage or visible repairs to a guitar generally lower the used price quickly.
If you want a collectible Yamaha acoustic, look to the older Red Label guitars, and if you're after an electric look at the SG series.
If you buy a used Yamaha and keep it in great condition, chances are it should hold it's value reasonably well from that point onward.
Sources
https://usa.yamaha.com/products/contents/guitars_basses/difference/qc.html
https://www.indonesia-investments.com/news/todays-headlines/yamaha-corp-to-build-new-musical-instrument-plant-in-indonesia/item7639
https://www.newindianexpress.com/cities/chennai/2019/may/28/yamaha-opens-musical-instruments-factory-in-chennai-1982595.html