Best Yamaha Acoustic-Electric Guitars (5 Top Value Models)
Yamaha have a reputation in the music industry for making good quality guitars, including some great acoustic-electric guitar models, and you can get them for very reasonable prices.
You could argue that the best acoustic-electric guitar is the one that costs the most, but really the best one is the guitar that fits into your budget and gives you a sound that you enjoy listening to.
What is the best Yamaha acoustic-electric guitar?
If we had to pick one particular Yamaha guitar model that is most popular, with quality solid-top tonewood, good pickup with EQ unit, quality amplified sound, and low price – the Yamaha FGX800C would be a great choice for beginners, and even for many intermediate players.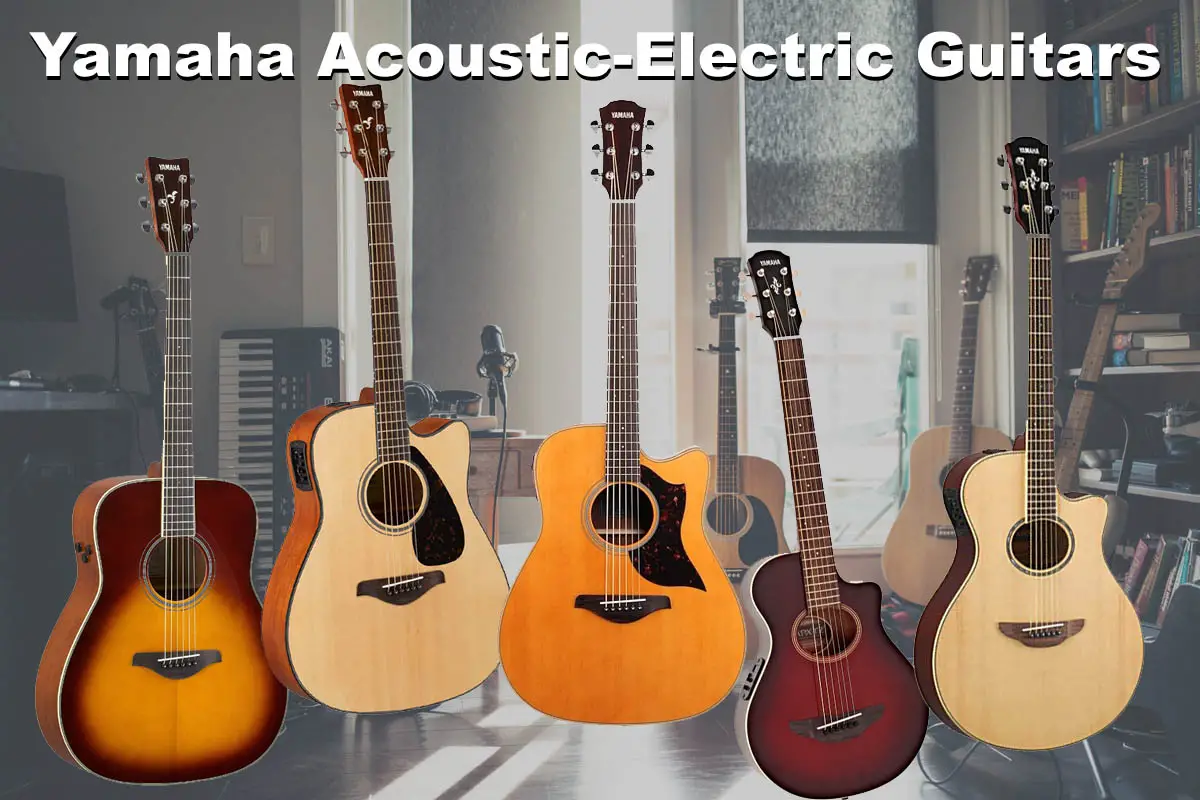 Generally, you are looking at about $200-$300 for Yamaha beginner guitars, and around $500-$700 for intermediate guitars. This will provide a guide on how much you should expect to spend for a good quality instrument at these levels.
You should also consider if you like guitars with a small or large body, whether you want to travel with your guitar, and in the case of one model below – if you want sound effects without needing an amplifier!
Let's take a look at a few Yamaha acoustic-electric guitars aimed at beginner and intermediate players, the features they offer, and what sound quality you can expect.
If you want to find out more about the quality of Yamaha guitars, then check out our article looking closely at whether Yamaha guitars are a good quality choice.
For Children, Small Adults, And Travel
---
Yamaha APXT2 3/4-Size Acoustic-Electric Guitar
For anyone wanting a guitar that is smaller, lighter, and easier to handle, the APXT2 is a great choice.

When you consider that Yamaha have put their A.R.T (Acoustic Resonance Transducer) pickup system in this guitar you'll know that this instrument is good value for money.
Yamaha had great success with their full-sized APX500 guitar, and basically just made a smaller version of the same guitar, with the same design and quality.
With the slim body this guitar is easy for learners to handle, and the width of the fretboard is the same as a full-size guitar which makes it a great option for adults or children.
You won't get an amazing acoustic sound from this guitar since it has a laminated wood body, however the tone is far better than you would expect from a small guitar.
As much as smaller sized guitars suits children, surprisingly many experienced adult guitarists buy this guitar for an easy to handle, fun to play instrument that sounds great.
Like many modern acoustic-electric guitars, this model comes with a built-in tuner that will help beginner's tune-up more easily.
Many adult players have commented that this guitar is well set-up straight from the factory, with the sounds exceeding their expectations of a small slim-body guitar.
When plugged in, I was surprised at the fullness of the sound, and with a little reverb gives a really pleasing tone.
The inbuilt pickup and preamp, gives quite good sound quality for its size, although without an EQ unit sounds a little thinner and brighter than a full-size guitar.
If you're after a travel guitar, the APXT2 is worth a look as it comes at a great price for the quality of instrument and is also comes with a soft gig bag.
Far more than a toy, this guitar is pleasing to listen to, with experienced players commenting that it sounds superior to their Martin backpacker guitars and is much more playable.
The bottom line with the Yamaha APXT2 is that it can easily double as a great way for kids to learn on a good quality guitar, also for adults wanting to learn or just play around with as a fun loungeroom guitar.
The Yahama APXT2 Specs Are:
Spruce top with Meranti back & sides.
Nato neck with Rosewood fingerboard.
43 mm (1-11/16″) nut width.
65-75 mm body depth.
System 68 preamp.
Yamaha APXT2 Cons
There aren't many negative remarks about this guitar, except that the gig bag is not protective enough for traveling, and an Allen wrench is not provided for adjusting the truss rod.
Yamaha APXT2 Price
This guitar usually sells for about $200.
Yamaha Acoustic-Electric Guitars For Beginners
---
Yamaha APX600 Thin Body Acoustic-Electric
In 2018 Yamaha decided to update their massively popular APX500 model, and so the APX600 was born.

Yamaha really specialize in good quality starter guitars, and this model is well priced for its included features.
The APX600 has a distinctive look with its oval sound hole, which is designed to give some more 'grunt' to the bass tones, which helps to balance out the bright sound of the thin body.
This guitar is a good match for younger or smaller people who want to learn on a reasonable sounding instrument, as it is easy to handle with the thin-line body.
Having smaller hands is no problem, as the string spacing is a little closer, which makes it easier to start learning bar chords.
As for looks, this is a nicely finished guitar that comes in five color choices, with a classy looking abalone sound hole rosette.
Although the APX600 isn't the most amazing acoustic sounding guitar, it really comes into its own when plugged into an amp, and the onboard EQ unit allows a good amount of adjustment to the output tone.
Yamaha have put their SRT pickup system in this model, which gives you the ability to blend your sound for a natural tone, and along with the 3-band EQ you will get a pleasing amplified sound.
The Yahama APX600 Specs Are:
Top Material: Spruce.
Body: Mahogany.
Neck: Mahogany.
Fretboard: Rosewood.
Pickup: Under-saddle Piezo.
Yahama APX600  Cons:
Doesn't have a pickguard.
If you have large hands then this may not be the guitar for you, as the string spacing is a little narrow.
Some have high string action and may need a basic setup done to lower the string height and adjust the truss rod.
The acoustic sound can be a bit flat due to the small body, but most beginners are happy with it.
Yamaha APX600 Price
This guitar usually sells for about $300.
If you are looking for a hardshell case for the APX series guitar, then take a look at the Yamaha AG2-HC Acoustic Guitar Case.
---
Yamaha FG Series FGX800C Acoustic-Electric
If you are looking for a full-sized dreadnought cutaway guitar the FGX800C is a great option that will give you a full natural guitar tone,  and an authentic playing feel.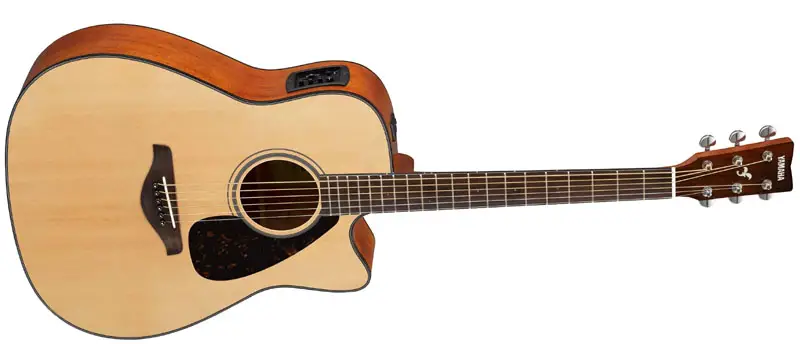 This guitar is likely to stay with you longer on your guitar journey, as it has a solid Sitka spruce top that will sound even better as it ages, as compared to a laminated wood top.
I always advise new guitarists to spend just that little bit more on a solid-top guitar as the improved sound is really motivating, being more likely to keep you interested in learning.
With the cut-away designed body this guitar can take you from beginner to intermediate since it's easy to access the higher frets as you explore more of the fretboard.
A comment I've regularly heard from people who first pick up the FGX800C is "…better than expected!". For the price you really don't expect the sound quality that comes out of this guitar.
One reason for this is Yamaha's scalloped bracing developed for this guitar. This allows the soundboard to resonate more freely, which gives more midrange punch to the sound, with rich overtones blending into the tone.
Like many Yamaha guitars, they have installed their specially designed System66 pre-amp with inbuilt chromatic tuner, and a 3-band EQ unit.
It runs off 2xAA batteries, and they claim it can last up to 180 hours on one set of alkaline batteries, but uses the batteries faster when using the tuner function often.
The System66 works well to hone your sound, as it includes an AMF control that lets you change which part of the midrange the MID EQ control operates on, so it allows you to balance your amplified sound in exactly the way you want.
Honestly, the only reason I placed this guitar in the 'beginner' section is the low price-tag. Many experienced players say this guitar sounds like it is worth much more, and highly recommend it.
If you're after a great choice for a beginner guitar that will keep you happy for a long time, you're an intermediate player who wants a cost-effective option, or you want a good sounding cheaper gig guitar – then I encourage you to try one out.
The Yahama FGX800C Specs Are:
Top: Solid Spruce.
Body: Nato/okume.
Bracing pattern: Scalloped X.
Fingerboard: Rosewood.
Neck wood: Nato.
Pickup: Undersaddle piezo.
Preamp: Yamaha SYSTEM 66 ,3-band EQ.
Yahama FGX800C Cons:
The Complaints you will see with this guitar are mostly the same as other guitars:
The action is too high in some cases, and the truss rod is not adjusted correctly.
Note: Adjusting a truss rod is quick and easy, occasionally needed when seasons/humidity levels change – that's just the nature of wood, and all guitars are the same.
When it comes to the action, if you are buying anything beyond a cheap beginner guitar, I always recommend getting them set-up correctly by a luthier. For around $50 – $75 it will make your guitar play like a much more expensive one.
Some people say the matte finish neck is rough to touch.
This is easy to fix with some fine (600 grit) sandpaper or fine steel wool, and the neck will feel silky smooth when done!
Yamaha FGX800C Price
Selling at about $320 at most retailers, it's really good value for a solid-top guitar.
Yamaha Acoustic-Electric Guitars For Intermediates
---
Yamaha A1R / A1M Cutaway Dreadnought Acoustic-Electric Guitar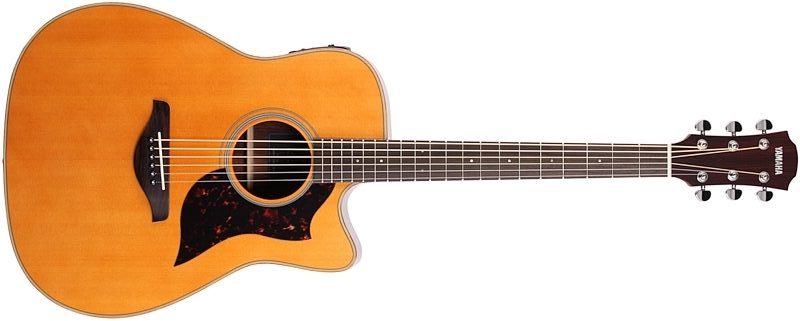 The first thing that stands out with the A1 is the great sound this guitar produces, and it really stands out as a guitar that you can start performing with, which is a big step up from a beginner guitar.
One reason for the punchy pleasing tone of the A1 is the solid Sitka spruce top coupled with the dreadnought body, always a great combination for big volume and depth of sound.
Yamaha have made a great sounding guitar for so little money, and it's a classy looking instrument too, with 3 available finishes – Natural, Black, and Tobacco Sunburst.
Rather than the normal plastic binding common on many guitars at this price point, this model features natural timber binding which really make it stand out in the looks department.
You will find this guitar has great sustain, and Yamaha have worked on this aspect by customizing the scalloped bracing that supports the spruce sound board.
The top has also been treated with Yamaha's A.R.E. (Acoustic Resonance Enhancement) process which simulates playing-in the guitar for a few years, and it seems to work very well in the A1 model.
The sides are made with laminated wood, and that's understandable on a guitar of this price, as solid wood body guitars take you into the $1000+ territory.
The good thing with laminated wood is that it is stronger and more resistant to cracking with humidity changes, and so makes the Yamaha A1 ideal for regular gigging.
The body is offered in a choice of two woods – Mahogany or Rosewood, which gives you further choice over the sound you want, and it's well worth heading down to a music store to try out the different types.
The Mahogany version is the A1M, and the Rosewood version is A1R. The difference you will hear is a deeper bass tone with rosewood vs a more punchy mid and treble with the mahogany.
The neck is a slim-taper profile which is great for rock style playing and for acoustic lead work, and Yamaha go the extra mile to smooth the fretboard edges for a professional playing feel.
When it comes to amplifying the sound, the Yamaha A1 uses their SRT piezo undersaddle pickup designed to pick up the sound of each individual string, and the System72 3-band EQ unit used in many of their other models.
This combination of electronics gives you a balanced sound that extends well beyond the harsh piezo tones produced by cheaper pickup systems. The System72 preamp also offers an inbuilt chromatic tuner.
I'm always amazed at the quality Yamaha produce for the money and have heard experienced musicians happily rate this model similar to their $1000 brand name guitars.
Whether the Yamaha A1 is better is really the opinion of the individual player, but for guitarists to rate this model so highly gives you an idea of what to expect from a good example of this guitar.
If you want to step up from an entry level guitar without draining your bank account, then this guitar should be a serious contender on your shortlist.
I highly recommend that you try one in a music store before buying, or at least buy from a reputable online seller who accepts returns if you have any problems. For this price you should get a solid instrument that plays well.
The Yahama A1M/A1R Specs Are:
Top: Solid Sitka Spruce.
Body: Mahogany/Rosewood.
Bracing pattern: X – Scalloped.
Fingerboard: Rosewood.
Neck: African Mahogany.
Pickup: Yamaha SRT
Preamp: Yamaha System72 3-band EQ.
Yamaha A1M/A1R Cons:
Not everyone likes the open pore neck finish with its grainy feel. You can however smooth the neck with some fine 600 grit sandpaper or fine steel wool quite easily.
When using the tuner, the amplified sound is not muted.
A few players have experienced fret buzz.
Yamaha A1M/A1R Price:
---
Yamaha FG-TA Transacoustic Guitar w/ Chorus and Reverb
This is the most expensive guitar rounding out our list (although still affordable) and was chosen as much for its quality as for its uniqueness.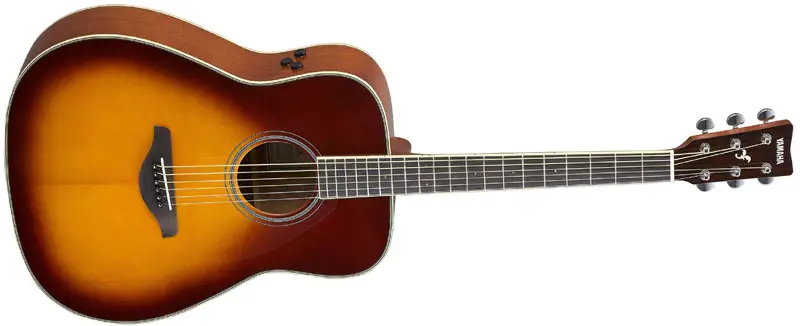 This guitar allows you to cheat a little and can make you sound like a better acoustic guitar player simply by using its inbuilt chorus and reverb.
The Yamaha Transacoustic guitar lines are the only acoustic guitars we know of that can emulate an amplified sound with basic sound effects …without an amplifier!
Yes, you read that correctly …without an amplifier!
Interesting huh? …We'll get to explaining that shortly.
The basis of all good sounding acoustic guitars is firstly the guitar itself, and with the FG-TA being based on the proven Yamaha FG820 dreadnought you get a solid performer.
As with the Yamaha A1 reviewed above, the FG-TA comes with a solid spruce top, and laminated back and sides, which is quite standard for guitars in this price range.
The strong laminated wood body construction along with the authentic inbuilt chorus and reverb make this a great choice of guitar for lugging around to friend's places, or even to a campfire session.
The built-in sound effects are what make this guitar truly unique, and the sound is much like having an amp inside the body of the guitar.
This is achieved with an actuator placed inside the guitar against the back that converts the audio signals from playing into vibrations that are transferred into the guitar body.
The technology was first developed by Yamaha for their pianos, and more recently they miniaturized the transducers making them small and light enough to sit inside a guitar body.
Essentially the actuator turns the guitar body into a speaker that amplifies the sound.
Yamaha's scalloped bracing system help the body to vibrate more, helping to accentuate the sound.
The electronics are nicely understated, all you see are 3 simple control knobs on the side of the guitar and it gives this model a classy natural look – you would never know what was inside.
Even the battery compartment slips in where the strap fits on the bottom pin of the guitar, and a standard cable can also be plugged in here for connecting to an amp.
If you love the idea of rich sound without the hassle of amps, leads, and effects pedals, then the transacoustic is one to try out.
Just keep in mind that you may need to add on the price of a setup by a guitar tech to get the most out of this guitar.
The Yahama FG-TA Specs Are:
Top: Solid spruce.
Body: Mahogany back & sides.
Bracing: Scalloped bracing for louder sound.
Pickup: SRT Piezo Pickup.
Preamp: SYSTEM70 Trans Acoustic.
Built-in Effects: Reverb / Chorus.
Yahama FG-TA Cons:
Doesn't include a gig bag.
Action can be too high from factory and need lowering.
There is no inbuilt tuner or EQ unit.
Yahama FG-TA Price:
Retails for around $650. Other Yamaha transacoustic models vary in price up to about $1080.