Which Guitar is Better | Yamaha or Epiphone? (Find Out)
There are some great value guitars available these days, and it's been argued we are now in the golden age of guitars with unprecedented quality at low prices.
Two big players in the budget to midrange guitar market are Yamaha and Epiphone, and they have become well-known and respected brands.
The question is: 'which one is better – Yamaha or Epiphone?'
Both brands have their strengths, but Yamaha edge out Epiphone in the acoustic guitar department. Epiphone seem to concentrate more on their acoustic electric guitars, with some great jumbo-inspired designs. For electric guitars neither is necessarily better, coming down to a choice of body shape.
Whether you are looking at acoustic guitars or electric guitars both brands have plenty of models on offer, and it can be hard to choose one over the other.
We have divided this article into separate acoustic and electric sections to make it easier to compare different models and prices and find if one really is better than the other.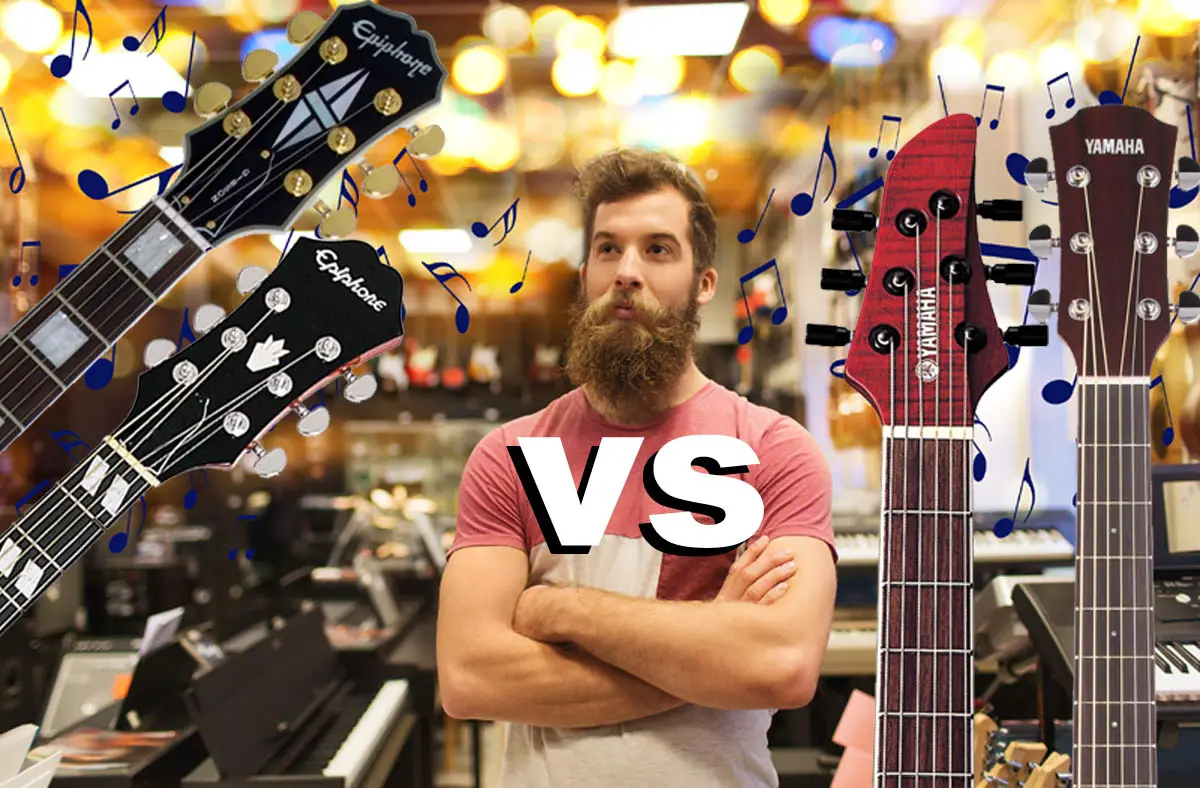 Acoustic Guitars
Yamaha seem to take the lead over Epiphone when it comes to acoustic guitars.
Looking at sales figures alone Yamaha sell much greater volumes of acoustics.
Check out this article taking a deeper look at Yamaha guitar quality.
Although Epiphone is owned by Gibson, they don't enjoy the same high reputation and are less often recommended by other guitar players.
Epiphone still make some good low-priced options, but don't have the variety in their range that Yamaha offer, and have lower sales overall.
Find out more about Epiphone guitar quality in this deep-dive article.
Lowest Price Guitars
Yamaha's cheapest and most popular model is the F335 dreadnought acoustic guitar at around $160, with:
A laminated spruce top.
Meranti back and sides.
Rosewood fingerboard and bridge.
Die cast tuners.
The entry level Epiphone PRO-1 dreadnought acoustic guitar retails for about $170, featuring:
A laminated spruce top.
Mahogany back and sides.
Rosewood fingerboard and bridge.
Vintage style tuners.
At this lowest price-point it's a close call between Epiphone and Yamaha, as they both offer laminated tops, similar construction, and just aim to give you a solidly built guitar to get started on.
The Yamaha could nudge slightly in front here, as it's slightly cheaper and has sealed die-cast tuners vs the Epiphone's vintage tuners.
Entry Level Solid Top Guitars
Stepping up a little you get better sounding guitars with solid wood tops (not laminated), giving you a guitar that will actually improve in tone the more you play it.
At this level Yamaha offer their FG800 dreadnought acoustic guitar for around $200, and it has:
A solid sitka spruce top.
Nato back, sides, and neck.
Rosewood fingerboard, bridge, and headstock overlay.
Scalloped bracing.
Die-cast tuners.
On the Epiphone side their entry level at the $200 mark is the PR-150 dreadnought acoustic guitar (we have seen them on sale for less occasionally). They have:
A laminated spruce top …Since this Epiphone model is still a laminated top, they lose this round.
Epiphone provide a few really cheap models, and for anything better you instantly jump up in price at least $100 from the base models.
Yamaha have done a great job at this price point, and it's no wonder that music shops have a hard time keeping up with demand for the FG800.
Acoustic Electric Guitars
Next let's take a look at entry level acoustic electric guitars (just solid top models).
It's great to have the ability to amp your guitar for playing with a band, or solo gigs like busking.
Another great thing with acoustic electric guitars is that they mostly come with inbuilt tuners.
Epiphone, like Yamaha, offer an acoustic electric below $300, however to get a sound worth having it's really worth the extra few dollars.
Yamaha make the FGX800C dreadnought at around $320, and this gets you:
A solid spruce top.
Nato/okume back and sides.
Die-cast tuners.
Bracing pattern: Scalloped X.
Yamaha System66 preamp with 3-band EQ.
Built-in tuner.
At the same price point of about $320, Epiphone have the AJ-220SCE Advanced Jumbo which features:
A solid spruce top.
Mahogany back and sides
Cutaway
Die-cast tuners.
Hand Scalloped Bracing.
Fishman Presys preamp
Built-in tuner.
So here we see different wood choices for the body. Nato is very similar to mahogany, and possibly gives a slightly brighter sound compared to the mahogany's deep bass.
The bodies of the guitars are different shapes, with the Epiphone having a deeper body and larger lower bout borrowed from their advanced jumbo designs that became so well known for.
The electronics are also a little different with the Yamaha having a newer in-house 3-band EQ design.
Note: If you want a similar Epiphone with the newer Fishman Presys II preamp with 3-band EQ, then take a look at the Epiphone J-45 EC Studio, which is also based on their advanced jumbo design, and is also about $320.
We feel Epiphone has the upper hand here, as their jumbo inspired design gives a deeper, full rich sound and outweighs the slightly more advanced preamp on the Yamaha.
Take a closer look at some of the best Yamaha acoustic-electric guitars for beginners and intermediates.
Here's a couple of videos to hear a comparison of these Epiphone and Yamaha guitars:
Electric Guitars
Both brands have some good choices for entry-level electric guitars, with Epiphone's Les Paul and SG series, and Yamaha's Pacifica strat-inspired series.
The amazing thing these days is that you actually get a decent electric guitar for $200.
Probably the hardest thing with comparing these brands is that they make very different styles of guitars at the entry-level.
The Yamaha Pacifica series are strat-styled, while the entry level Epiphone electrics are Les Paul and SG based designs (Epiphone is licenced to make Gibson shapes, as they are a subsidiary company).
To get both brands in a more similar body shape you need to look further up the range into the range where the Yamaha Revstar is somewhat akin to a Les Paul/SG cross.
Epiphone and Yamaha both cover this part of the market well, so let's compare some of their entry level models to see what you get, and why you might choose one over the other.
$200 Electric Guitars
Yamaha offer a couple of electric guitars for $200, being the PAC012 Pacifica, and the PAC012DLX Pacifica HSS Deluxe. Their features are:
Agathesis body.
Maple Neck
Rosewood fretboard.
Slim C neck
HSS pickup configuration.
6-screw vintage tremolo.
Single volume and tone controls.
There are a couple of Epiphone electric guitars closest in price are $180, being the Epiphone SG Special Satin E1, and the Les Paul Special Satin E1, both selling for about $180. They feature:
Poplar body.
Mahogany neck (Okoume – SG)
Rosewood fretboard.
Slim taper D neck.
Humbucking pickups.
Fixed bridge.
Single volume and tone controls.
As you can see, the two different brands have entirely different specs and making a decision on the winner comes down to personal preference.
Each guitar is made to have individual tonal qualities, using different wood choices, pickups, and neck shape.
All we can say here is that all these guitars are well made (for the price), and if a lower price means everything to you, then Epiphone would win.
$300 Electric Guitars
At this price you just start to nudge into intermediate player guitars, and the features move up a step from the base models.
There is a bit more detail to the bodywork, with better tonewoods, and more output controls for the Epiphone.
Yamaha have the PAC120H Pacifica in this category, and it packs some great features for the price.
Alder body.
Maple neck.
Rosewood fretboard.
Yamaha Alnico V Humbuckers
Master tone control with push/pull.
The Epiphone Les Paul 100 has a slimmer body than the original, and has a classy heritage look.
Mahogany maple-top body.
Okoume neck.
Rosewood fretboard.
Humbucking pickups.
Separate tone/volume controls.
In the looks department we have to give this round to the Epiphone, however with identical pickups to their lower models we wonder why they weren't stepped up a notch like the Yamaha's alnico pups in the PAC120H.
We also like the 3-way switch together with the push/pull tone controls that Yamaha offer here, so if you're into that super-strat look this guitar could be the one.