Epiphone vs Yamaha : Which Guitar is Best?
There are some great value guitars available these days, and it's been argued we are now in the golden age of guitars with unprecedented quality at low prices.
Two big players in the budget to midrange guitar market are Yamaha and Epiphone, and they have become well-known and respected brands.
Both brands have their strengths, but Yamaha edge out Epiphone in the acoustic guitar department. Epiphone concentrate more on their acoustic electric guitars, with some great jumbo-inspired designs. For electric guitars neither is necessarily better, coming down to a choice of body shape.
Whether you are looking at acoustic guitars or electric guitars both brands have plenty of models on offer, and it can be hard to choose one over the other.
We have divided this article into separate acoustic and electric guitar sections to make it easier to compare different models and prices and find if one really is better than the other.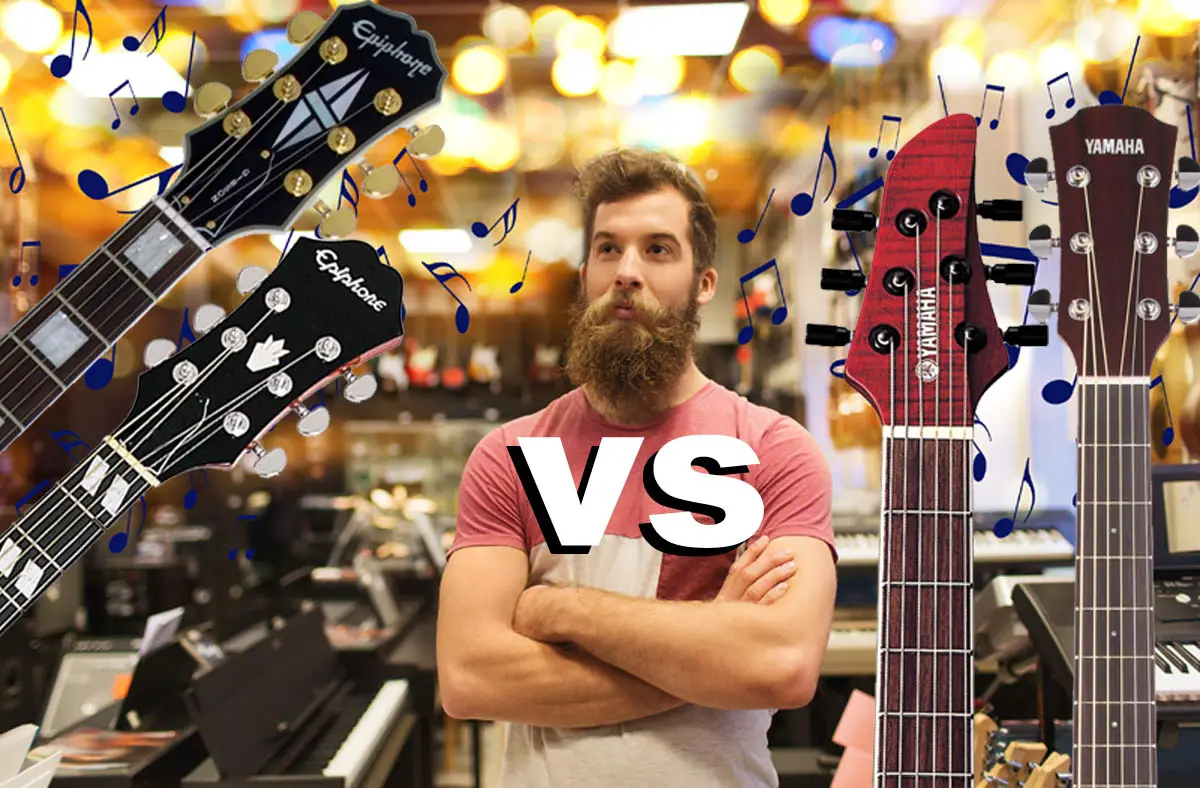 We work with various affiliate programs. If you purchase via our links we may earn a small commission at no extra cost to you.
Epiphone vs Yamaha Acoustic Guitars
Yamaha seem to take the lead over Epiphone when it comes to acoustic guitars; looking at sales figures alone Yamaha sell a much greater volume.
Although Epiphone is owned by Gibson, they don't enjoy the same high reputation and are less often recommended by other guitar players.
Epiphone still make some good low-priced options, but don't have the variety in their range that Yamaha offer, and have lower sales overall.
Entry-Level Lowest Price Guitars:
Epiphone PRO-1 vs Yamaha F335
The entry level Epiphone PRO-1 dreadnought acoustic guitar retails for about $170.

Yamaha's cheapest and most popular model is the F335 dreadnought acoustic guitar at around $160.
| | | |
| --- | --- | --- |
| Features: | Epiphone Pro-1 | Yamaha F335 |
| Top | Laminated Spruce | Laminated Spruce |
| Back & Sides | Mahogany | Meranti |
| Fingerboard & Bridge | Rosewood | Rosewood |
| Internal Bracing | PRO-Prietary™ | Standard X |
| Tuners | Vintage style 18:1 | Die cast Gold |
| Saddle & nut | GraphTech NuBone | Urea |
| Scale length | 24.75″ | 25″ |
| Neck Profile | EZ-PRO "C" | Standard C |
| Accessories | eLessons, Humidifier | Truss rod hex key |
| Available Colors | 3 | 3 |
Epiphone PRO-1 Pros : You get a slightly shorter neck which can make learning a little easier with lower string tension. You also get a pack of free online lessons, and a humidifer which helps maintain your guitar condition in dry environments.
Yamaha F335 Pros : Die cast sealed tuners, comes at a slightly cheaper price.
Which Guitar is Best?
At this lowest price-point it's a close call between Epiphone and Yamaha, as they both offer laminated tops, similar construction, and just aim to give you a solidly built guitar to get started on.
The sound of the Epiphone fitted with the standard light gauge strings is often described as 'Jangly'. This could be improved with thicker strings; although this would raise the string tension making it a little harder to play, and changing strings could be a challenge for new players.
Reasonably well made for the price, the PRO-1 is squarely aimed at making it easier for learners who are just starting their guitar journey, and Epiphone have done a good job with this model.
The Yamaha F335 could nudge slightly in front here, as it's slightly cheaper and has sealed die-cast tuners vs the Epiphone's vintage tuners, making it easier to get tuned up. Also the Yamaha projects a louder sound than the Epiphone PRO-1, and is proven to last many years.
However if the price really matters to you, and you like the idea of some free lessons and a humidifier thrown in, then the Epiphone may appeal to you more.
Entry Level Guitars:
Stepping up a little you can get better sounding guitars with solid wood tops (not laminated), giving you a guitar that will actually improve in tone the more you play it.
Epiphone PR-150 vs Yamaha FG800
On the Epiphone side their entry level at around the $180 mark is the PR-150 dreadnought acoustic guitar (although I have sometimes seen them on sale for less).

At this level Yamaha offer their FG800 dreadnought acoustic guitar for around $220.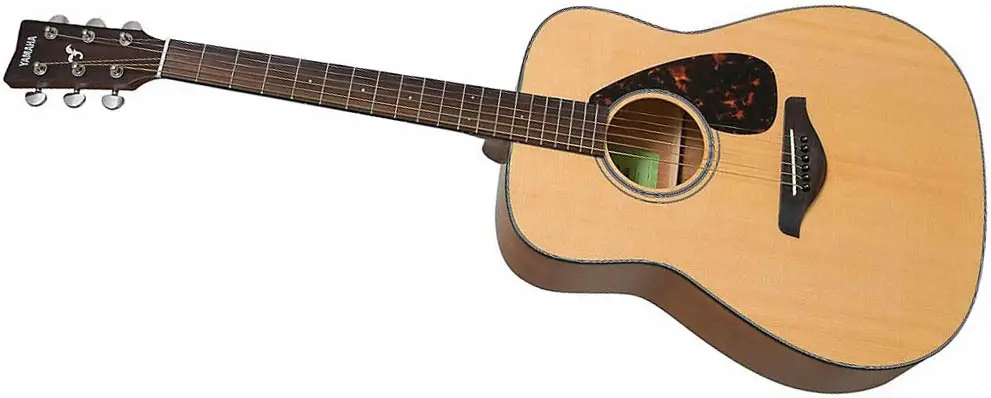 | | | |
| --- | --- | --- |
| Features: | Epiphone PR-150 | Yamaha FG800 |
| Top | Laminated Spruce | Solid Spruce |
| Back & Sides | Mahogany | Nato |
| Fingerboard & Bridge | Rosewood | Rosewood |
| Internal Bracing | Standard | Scalloped |
| Neck | Mahogany | Nato |
| Tuners | Die cast 14:1 | Die cast 18:1 |
| Saddle & nut | Synthetic Bone/Plastic | Urea |
| Scale length | 25.5″ | 25.59″ |
| Neck Profile | Tapered C | Standard C |
| Accessories | none | Truss rod hex key |
| Available Colors | 3 | 4 |
Epiphone provide a few really cheap models, and for anything better you instantly jump up in price at least $100 from the base models.
Yamaha have done a great job at this price point, and it's no wonder that music shops have a hard time keeping up with demand for the FG800.
Epiphone PR-150 Pros: The price is nice and low for this guitar, and beginners will find the tapered slim profile neck easy to get their hands around.
Yamaha FG800 Pros: Having a solid wood top (not laminate) gives this guitar a great sound with more projection and a warmer tone, and the internal scalloped bracing helps the resonance of the top. The 18:1 die cast tuners make tuning the guitar easier than 14:1 ratio tuners.
Which Guitar is Best?
Obviously the Yamaha FG800 is the winner here, and the price does of course reflect the better materials this guitar is made of.
Given that many owners of the Epiphone PR-150 complain of neck problems, sharp fret ends, and high action from the factory, you would have to spend some money to improve your Epiphone guitar.
Rather than buy an inferior guitar and spend money to improve it, the better choice would be the Yamaha that is built with a solid top, with a nicer tone that you will enjoy more as you progress with your playing.
Epiphone vs Yamaha Acoustic-Electric Guitars
It's great to have the ability to amp your guitar for playing with a band, or solo gigs like busking. Another great thing with acoustic-electric guitars is that they mostly come with inbuilt tuners.
Entry Level Acoustic-Electric Guitars:
Epiphone AJ-210CE vs Yamaha FGX800C
Epiphone, like Yamaha, offer an acoustic-electric below $300, however to get a sound worth having it's really worth spending an extra few dollars.
Epiphone have the AJ-210CE Deluxe acoustic-electric dreadnought at the price point of about $350.

Yamaha make the FGX800C acoustic-electric dreadnought at around $320.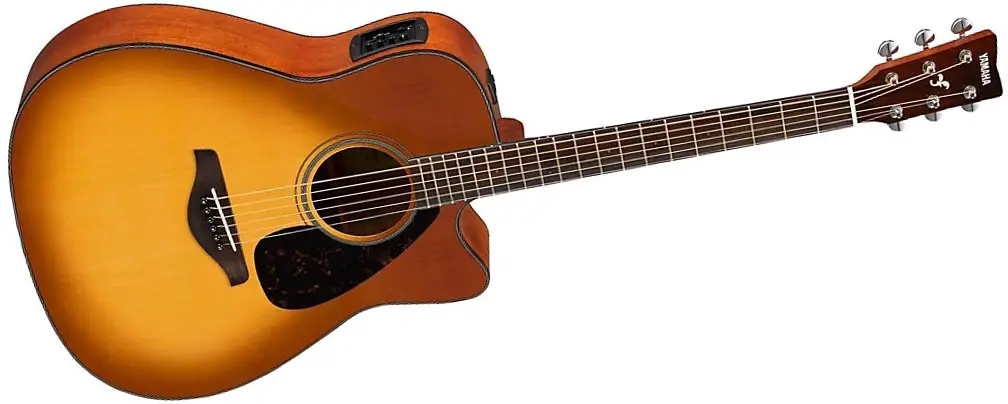 Features:
Epiphone AJ-210CE
Yamaha FGX800C
Top
Solid Spruce
Solid Spruce
Back & Sides
Mahogany
Nato/Okume
Fingerboard & Bridge
Rosewood
Rosewood
Internal Bracing
Standard X
Scalloped X
Neck
Mahogany
Nato
Tuners
Die cast 14:1
Die cast 18:1
Saddle & nut
Imitation Bone
Urea
Scale length
25.5″
25.6″
Neck Profile
Slim Profile D
Standard C
Pickup
Shadow NanoFlex
Undersaddle piezo
Electronics
Shadow Performer preamp
with 2 band EQ
Yamaha System66 preamp
with 3-band EQ
Other Features
Built-in tuner
Built-in tuner
Accessories
Hard shell case
Truss rod hex key
Available Colors
2
2
So here we see different wood choices for the body. Nato is very similar to mahogany, and gives a slightly brighter sound compared to the mahogany's deep bass.
The electronics are also a little different with the Yamaha having a newer in-house 3-band EQ design.
Note: If you want a similar Epiphone with the newer Fishman Presys II preamp with 3-band EQ, then take a look at the Epiphone J-45 EC Studio, which is also based on their advanced jumbo design.
Check out some video reviews of these two guitars:
Epiphone AJ-210CE Deluxe Pros: As with other Epiphone acoustic guitars, the neck has a slim profile featuring a D shape, one of the most comfortable playing shapes. The neck also has a satin finish, making movements up and down the neck easier than gloss finish necks.
Yamaha FGX800C Pros: Scalloped bracing which allows the soundboard to resonate more freely, and gives a good unplugged playing volume. The System66 preamp has and AMF control that lets you change which part of the midrange the MID EQ control operates on, so it allows you to balance your amplified sound in exactly the way you want.
Which Guitar is Best
Both these guitars offer solid spruce tops, and you can expect them to sound better the more you play them. The Epiphone sounds good to play, but has flatter response compared to the Yamaha, which has louder sound projection and greater tonal range.
There are however a couple of negatives with the Yamaha FGX800C, having no Strap button on the top of the guitar, and could do with a string change from the supplied strings to tone down the brightness.
If you like flat picking with more tonal character and greater unplugged volume, then the Yamaha is going to be your choice.

If you're more of a chord strummer who likes a slim neck, and you like the idea of a hard case included with the deal, then Epiphone could suit you better.
No matter which way you go, these are both great guitars for the price, but personally I'll give Yamaha the edge for its superior sound quality.
Take a closer look at some of the best Yamaha Acoustic-Electric Guitars for beginners and intermediates.
Epiphone vs Yamaha Electric Guitars
Both brands have some good choices for entry-level electric guitars, with Epiphone's Les Paul and SG series, and Yamaha's Pacifica strat-inspired series.
The amazing thing these days is that you actually get a decent electric guitar for $200.
Probably the hardest thing with comparing these brands is that they make very different styles of guitars at the entry-level.
To get both brands in a more similar body shape you need to look further up the range where the Yamaha Revstar is somewhat akin to a Les Paul/SG cross.
Epiphone and Yamaha both cover this part of the market well, so let's compare some of their entry level models to see what you get, and why you might choose one over the other.
$200 Electric Guitars Compared
Epiphone SG Special & Les Paul Stain E1 vs Yamaha PAC012
There are a couple of Epiphone electric guitars closest in price to Yamaha entry-level electric guitars, being the Epiphone SG Special Satin E1 and Les Paul Special Satin E1, both selling for about $200.

Yamaha offer the Pacifica PAC012 and Pacifica PAC012DLX HSS Deluxe electric guitars for around $210.

Features:
Epiphone SG / LP Special Satin E1
Yamaha Pacifica PAC012 / DLX
Body
Poplar
Agathis
Body Top Veneer
Mahogany / None
None
Neck
Okoume / Mahogany
Maple
Neck Profile
60's Slim taper D
Slim C
Fretboard
Rosewood
Sonokeling Rosewood
Frets
Medium jumbo
Medium
Bridge
Fixed, Tune-o-matic
6-screw vintage tremolo
Nut Width
1.687″ (42.8 mm)
1.614″ (41 mm)
Scale length
24.75″
25.5″
Tuners
Covered 14:1 ratio / Die-cast 14:1
Die-cast 18:1
Pickups
Dual Humbuckers (HH)
Humbucker/Single/Single (HSS)
Electronics
Volume & tone controls,
3-way pickup switch
Volume & tone controls,
5-way pickup switch
Finish
Satin / Vintage worn
Gloss
Available Colors
2 / 3
3 / 1
As you can see, the two different brands have entirely different specs and making a decision on the winner comes down to personal preference.
Each guitar is made to have individual tonal qualities, using different wood choices, pickups, and neck shape.
Epiphone SG / LP Special Pros: This is a nicely made guitar with good attention to detail for such a cheap price. Having a poplar body makes this guitar nice and light, but still with quite good resonance and sustain.
Both Epiphone models have a great classic satin look, and their necks are also satin finished, making their D-shaped necks nice an fast to play on, with non of the stickiness you can get with a gloss neck.
The hardware on the Epiphone's does the job well, and you get great tuning stability with the fixed Tune-o-matic bridge.
Yamaha PAC012 Pros: This electric guitar is a big favorite with first time guitar players, due to it's comfortable Strat style body, low weight, and easy playing C shaped neck.
With good straight necks, and solid hardware, the PAC012 is a proven performer that is better value than other similar models in other brands. Really, the Yamaha can play almost any musical style thanks to its HSS pickup configuration.
Which Electric Guitar is Best?
If you love grunge, rock, and metal – then the hot pickups and styling of the Epiphone SG and LP Special Satin E1 guitars are more than likely going to be your choice here.
If you're after a versatile guitar that's light and easy for smaller players, and has classic styling, then the Yamaha Pacifica PAC012 would be a good choice. Also if you're wanting a whammy bar, and want that single-coil pickup sound for blues, then this guitar won't let you down.
$300 Electric Guitars Compared
At this price you just start to nudge into intermediate player guitars, and the features move up a step from the base models.
Epiphone Les Paul-100 vs Yamaha Pacifica PAC120H
The Epiphone Les Paul-100 has a slimmer body than the original, and has a classy heritage look.
Yamaha have the PAC120H Pacifica in this category, and it packs some great features for the price.

Features:
Epiphone Les Paul-100
Yamaha PAC120H Pacifica
Body
Mahogany with Maple veneer
Alder
Neck
Mahogany
Maple (satin finish)
Neck Profile
C
Slim C
Fretboard
Indian Laurel
Rosewood
Frets
Medium jumbo
Medium
Bridge
Fixed, Tune-o-matic
Hardtail
Nut Width
1.687″ (42.8 mm)
1.614″ (41 mm)
Scale length
24.75″
25.5″
Tuners
Die-cast 14:1
Die-cast 18:1
Pickups
650R/700T Ceramic dual humbuckers
Alnico V dual humbuckers
Electronics
2 Volume & 2 tone controls,
3-way pickup switch
Volume & push/pull coil split tone control,
3-way pickup switch
Finish
Gloss
Gloss
Available Colors
3
9
In the looks department we have to give this round to the Epiphone, however with identical pickups to their lower models we wonder why they weren't stepped up a notch like the Yamaha's alnico pups in the PAC120H.
We also like the 3-way switch together with the push/pull tone controls that Yamaha offer here, so if you're into that super-strat look but with full humbuckers this guitar could be the one.