Are Epiphone Acoustic Guitars a Good Brand?
Most guitarists know that Gibson owns Epiphone guitars, and Gibson is well-known for its acoustic guitars. Even better, most of Epiphone's acoustics are "Inspired by Gibson," which gives Epiphone a slight edge simply on their name alone.
While they don't make the worlds best acoustic guitars, Epiphone acoustic guitars are a good buy for many people. They are good value for money, well constructed, and have a wide range of options for beginners to intermediates. For advanced players they have a couple of good options that are built to compete on price with expensive acoustic guitar brands.
Epiphone has a reputation for producing good quality acoustic guitars at budget prices, but like all guitar brands some models are more worth buying than others.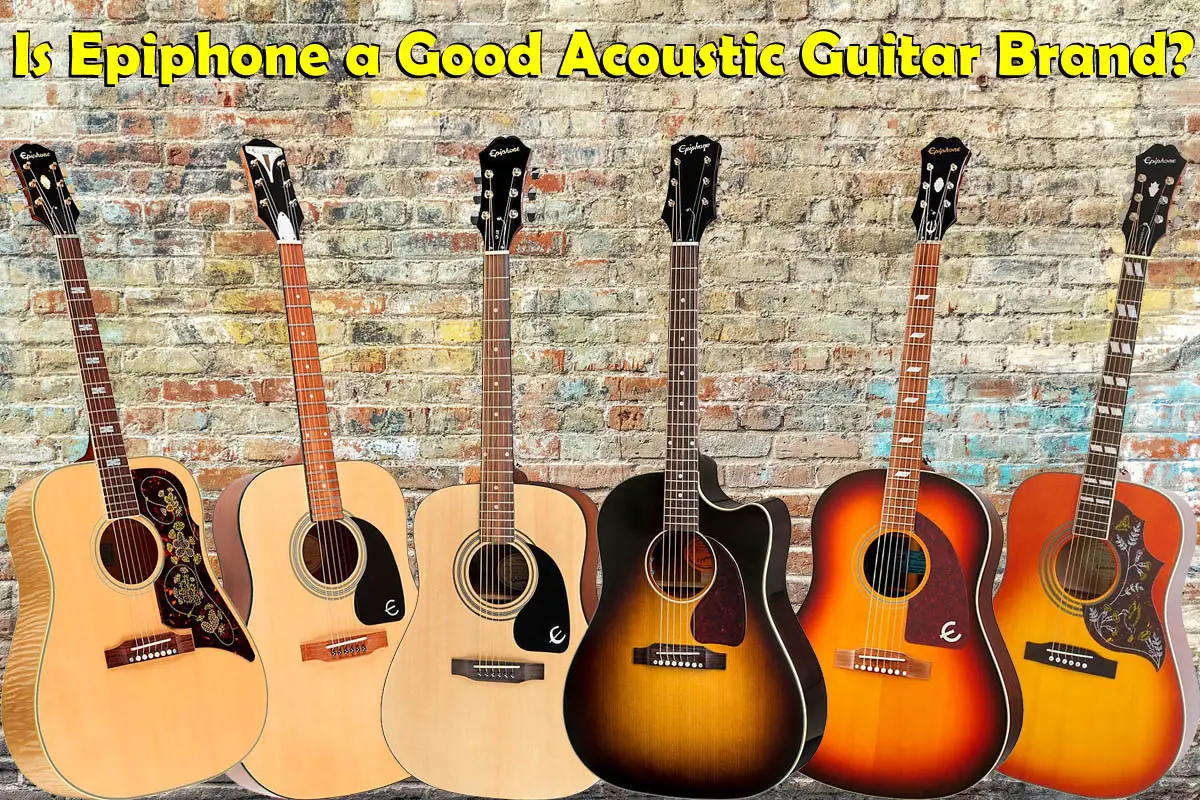 We work with various affiliate programs. If you purchase via our links we may earn a small commission at no extra cost to you.
Are Epiphone Acoustic Guitars Good Quality?
If you look at Epiphone's cheapest entry level guitars, then you won't get the most amazing guitar in the world, but you will get an instrument that plays as well as any other brand in that price range.
Epiphone don't make an abundance of higher priced acoustic guitars, but even from their low-midrange guitars and up you start to see instruments that are well constructed for the price.
Just don't expect that a budget Epiphone acoustic will match a more expensive Gibson guitar. Epiphone makes a good variety of acoustic guitars mainly concentrating on entry to midrange models, and you'll find that the quality is well matched to the price.
At the high end, Epiphone features high quality classic designs with their Masterbilt guitar line.
Are Epiphone Acoustic Guitars Well Made?
On the cheaper end of the line it can be somewhat hit or miss when it comes to the quality of the build. Some players report getting rough edges, sharp fret ends, poor finish with blemishes, and problems with the action (string height from the fretboard).
However, even in the cheap models many players are happy with the quality of their guitar, and honestly if you're after a cheap guitar to learn on they are a great choice.
Even if you have a few blemishes when looking close up, you will still get a guitar that is solidly constructed and will last you a few years. As with all guitars, the more you spend, the better the quality gets.
Epiphone's midrange guitars are really well made, even rivaling the quality of more expensive acoustic guitars.
At Epiphone's top end you have their newer USA series which are solid wood premium guitars completely made in the US.
They are extremely well made, and have an attention to detail that leaves many owners ditching their more famous acoustic brand guitars in favor of their Epiphone.
Do Epiphone Acoustic Guitars Sound Good?
Entry Level
The lowest-end Epiphone acoustic guitars (like many other brands) tend to be a bit boxy and flat, mostly due to the laminated wood the soundboard is made from.
Models in this range include the Epiphone Songmaker DR-100, Epiphone PR-150, and Epiphone PRO1.
However, for a cheap acoustic guitar that you can take anywhere and not worry too much about damage they produce a sound that is quite reasonable. For many beginners they sound plenty good enough to get started on.
Midrange
Moving up the range you start seeing models like the FT-100 with its mahogany body, and the Epiphone J-45 Studio acoustic series. These models have solid sitka spruce tops which give a fuller richer sound, and are more likely to sound better as they get played in more.
Once you start hitting the $500 mark and up, Epiphone starts to offer some really great sounding acoustics that are worth spending a little extra on to make them really shine.
Models in this range are the Epiphone Hummingbird Pro, Epiphone EJ series, and the classic looking Epiphone Dove Studio Acoustic Electric guitar.
Top Level
At the top end you get into Epiphone's Masterbilt acoustic guitars, which have earned themselves a reputation as far better sounding than their price indicates.
With the USA Texan and USA Frontier guitars you get extremely rich sounding and easy playing instruments.
Are Epiphone Acoustic Guitars a Good Price?
Epiphone acoustic guitars really shine when it comes to price, and often beat other brands when it comes to value for money.
The rough price ranges are:
Beginner: $170-$400
Intermediate: $400-$700
Advanced: $700+
What Are the Cheapest Epiphone Acoustic Guitars?
Although cheap, these guitars are worth looking at if you're on a tight budget, or maybe buying a guitar for someone who shows some interest in starting to learn how to play.
Epiphone DR-100 Songmaker
The Epiphone DR-100 Songmaker is Epiphone's most popular and affordable entry-level guitar. Slightly less around $170, this guitar comes in vintage sunburst, natural, or black.

The DR-100 has a 25.5" scale length and nickel hardware. Its body features scalloped, wide-X internal bracing for optimal resonance and volume.
Epiphone PR-150
Moving up in price slightly at around $215, the Epiphone PR-150 is a classic spruce top dreadnought with mahogany back, sides, and neck. It has a rosewood fretboard with chrome hardware.

How Much Are Good Epiphone Acoustic Guitars?
Entry Level Epiphone Acoustic Guitars
At around the $300 mark the Epiphone J-45 Studio acoustic starts you off with a good solidly performing guitar that is worth owning. For $70 more you can get the same guitar with a cut-away, Sonicore pickup, Fishman preamp, and 3-band EQ with a built-in tuner.

The J-45 is really where you want to start if you're after a better sounding Epiphone acoustic, and is a guitar that you'll enjoy playing more than the cheaper boxy-sounding models.
The Epiphone AJ-100CE is also worth a mention, and is around the mid-$200 range. The reason I'll mention this model here is that it comes with a Nanoflex pickup, which means you can amplify it.

This can be great for an absolute beginner who might want to start learning with other musician friends, and would last them a bit longer before needing to upgrade their instrument.
Midrange Epiphone Acoustic Guitars
Looking at the better Epiphone acoustic guitars for intermediate and up players (or beginners who want a better sounding guitar to learn on), you start looking at around the $400-600 range.
Epiphone Dove Studio
The Epiphone Dove Studio is a good entry into the midrange territory, and has a classic country & western look to it.

This model has been around for over 50 years, and is a proven favorite with many players, coming with a classic D shaped neck, but redesigned with a slimmer feel for easy playing.
Featuring a maple body, maple neck,and solid spruce top, the Dove has a punchy bright tone that fingerpickers and country flatpickers will love. Couple this with a soundhole pickup and Fishman preamp, and you've got a classic country guitar that's enjoyable to play.
Epiphone Hummingbird Studio
Next is the Epiphone Hummingbird Studio, which is built with a select spruce top with mahogany back and sides. It also has a comfortable mahogany SlimTaper neck with a rosewood fingerboard and bridge.

Once again, this guitar has a slim profile D neck, which is favored by many guitarists who like playing bar chords, and like to feel a bit of volume in the neck.
The Hummingbird comes fitted with a Shadow NanoFlex pickup system under the saddle for a balanced tone.
This is a really solid performing midrange guitar that won't break the bank, and surprises many people with how good it sounds plugged into an amp.
If you want a good sounding and well-priced intermediate guitar that can really shine with a new set of strings and a basic setup by a tech, this is one to consider.
Top Level Epiphone Acoustic Guitars
Ok, lets get talking about Epiphone acoustic guitars in the range of $700 and above.
Owners of these top level Epiphone guitars are always amazed at the value they get for what is a very modest price compared to many other well known guitar brands.
Guitars like the Masterbilt Texan, Epiphone inspired by Gibson J-45, and the Masterbilt Frontier are Epiphone's flagship models.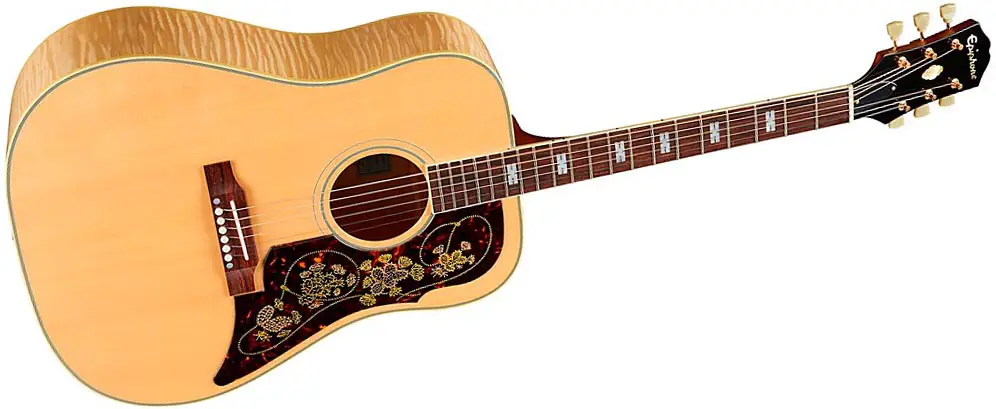 Their truly great guitars are the USA series Masterbilt Texan and Frontier.
Just take note here that Epiphone produce these models in Asia and also USA, and the USA models are the ones to buy if you want the best Epiphone has to offer in acoustic guitars.
Epiphone inspired by Gibson J-45
The Epiphone inspired by Gibson J-45 has a truly classic look to it, and is made to be a vintage recreation of a well-loved Gibson model.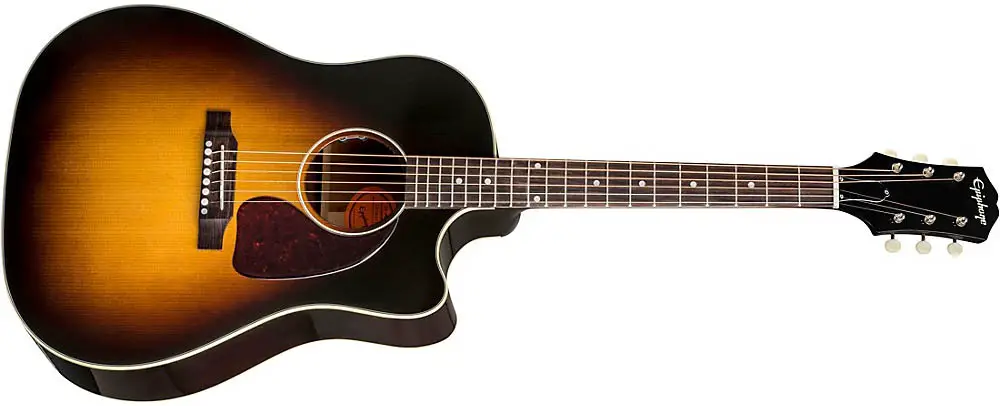 This guitar is pro-quality, and has a high build quality that really makes it stand out from midrange guitars.
Its a solid performer with a good rounded sound, and a setup that means you will get a clean playing instrument that stays in tune.
The J-45 comes with Fishman Sonicore under-saddle pick-up and Presys II preamp with volume tone controls. It has a robust bass with rugged mids for an overall warm tone and good sound projection with plenty of punch.
Epiphone Masterbilt Texan
The Epiphone Masterbilt Texan is a great looking bold statement of a guitar, and unsurprisingly has become a top seller.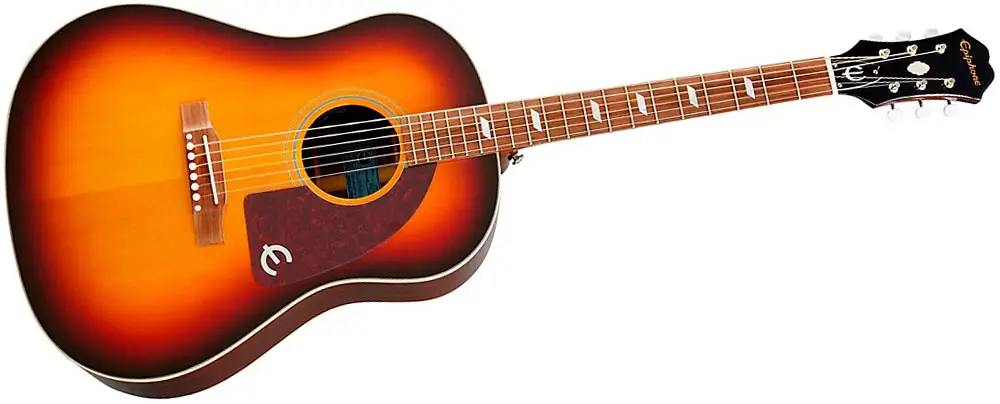 Like other top end Epiphone acoustics, the Texan has a vintage look with nice clean lines. It has a slim taper C profile mahogany neck, and is a well-balanced guitar to play standing up.
This is a guitar you can truly perform onstage with, and has a rich tone with plenty of natural volume. The neck is light and fast playing, making it versatile for any playing style.
Overall – Are Epiphone Acoustic Guitars Good?
You will find Epiphone produce reasonable sounding guitars at entry level, but it's worth stepping up the line a little to get an acoustic guitar that is really pleasing to the ear.
On the whole, Epiphone acoustic guitars are good value for money, with the majority of owners being happy with their purchase.
For a modest amount you will get guitars that are solidly built, and higher up the range, guitars that can sound amazingly rich for prices lower than many competitor brands.