Are Epiphone Guitars Good Quality (Worth the Money)?
Start searching for guitars and the name Epiphone soon comes up on the list. They are a well-respected brand in the music industry, making everything from Les Paul and SG electric guitars to nylon string classical guitars.
Epiphone offer loads of options in the low to mid-price range, which is their area of specialty, and are closely related to the famous Gibson guitars.
Are Epiphone Guitars Good?
With advances in factory processes and their mid-range price, Epiphone produce great quality guitars at very affordable prices. They don't have the finish detail of their high-end Gibson cousins, but dollar-for-dollar Epiphone guitars are good value for money.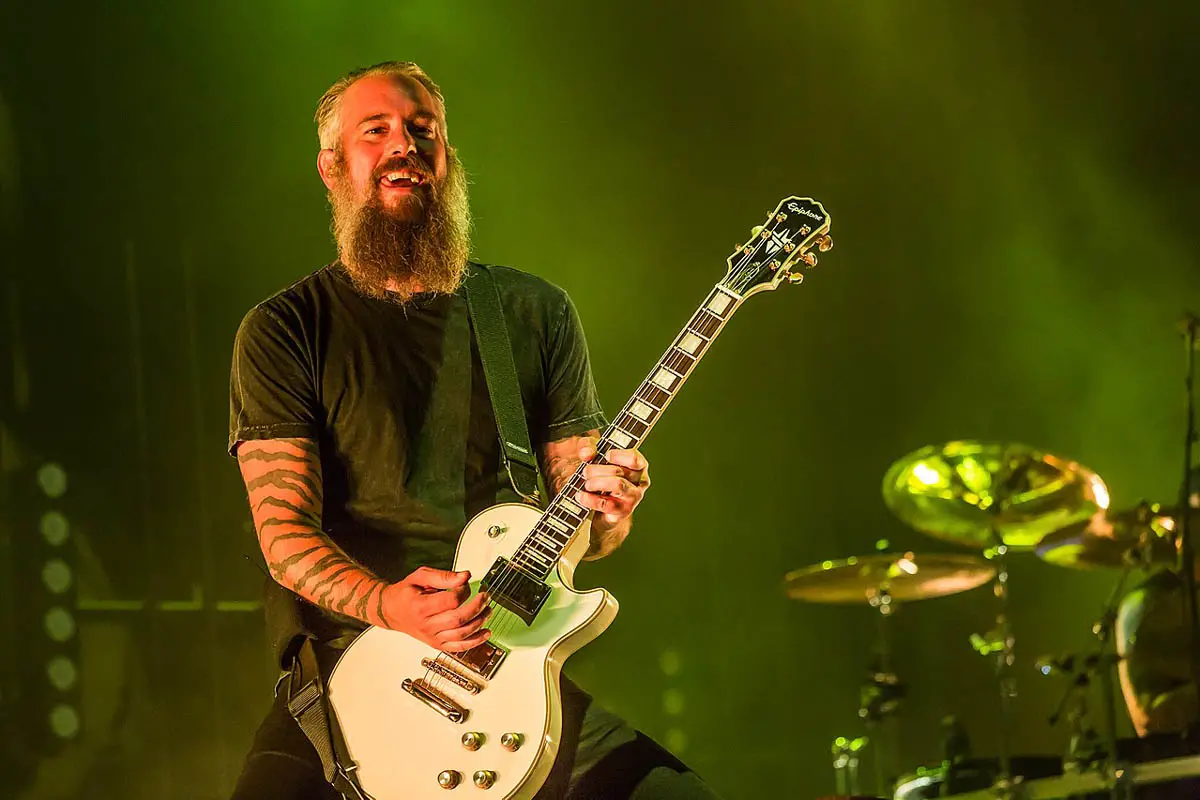 Which Artists Play Epiphone Guitars?
You may not think Epiphone are built for the big stage, especially since they specialize in affordable midrange guitars – but in recent years many famous artists have performed in front of large audiences with an Epiphone in their hands.
Testament to their sound quality, here's a brief list of artists who play (or who have played them)…
Keith Richards – The Rolling Stones
Tom Delonge – Blink 182
The Edge – U2
Noel Gallagher – Oasis
Matthew Followill – Kings of Leon
Dave Grohl – Foo Fighters
Joe Pass – Influential jazz guitarist
John Lennon and George Harrison – The Beatles
Gary Clark Jr.
There are other artists like Joe Bonamassa and Slash who don't play them on stage but do have signature models in their collections.
"The quality control at Epiphone is like superior, I will say. I rate it superior, not excellent – but superior!"
Joe Bonamassa
Are Epiphone Guitars Made From Good Quality Woods?
One of the factors with making cheaper guitars is that to save manufacturing costs you need to use cheaper woods. This doesn't necessarily mean they sound worse, they just won't have quite the same visual appeal as top-graded wood.
Fortunately our eyes don't hear very well, and to most people (in blind tests) they really don't hear the difference between electric guitars made from different quality woods.
Electric Guitar Woods
When  it comes to their electric guitar models Epiphone have regularly used Mahogany for the bodies, laminated with other woods like ash, maple, poplar, sapele, and alder.
The Mahogany they use is not the traditional African mahogany, however has a similar appearance and tonal qualities.
Their Les Paul and SG models, along with most others have 3-piece laminated bodies with a laminated top cap that varies in thickness from half the body thickness down to 5/64 inches (2mm).

Top cap laminates are used in many models to hide the laminated main body sections, and give the guitars a quality looking finish.
The bottom of the guitars is usually a thin laminate also to give a clean finished appearance.

Fretboards are commonly made from Indian laurel, rosewood, ebony, or Pau Ferro.
Some guitar models are finished with wood veneers (thin sheets of wood laminated over the top of the body), giving the visual appeal of an expensive guitar while reducing costs.
Acoustic Guitar Woods
At Epiphone's cheapest entry-level guitars you will find laminated spruce tops, with laminated back and sides – as it is with all brands of lowest price guitars.

Moving up slightly from the lowest priced Epiphone acoustics, you will commonly find solid spruce tops featured on their guitars, along with laminated back and sides. This improves the tone of the guitar greatly over a laminated top construction.
Their acoustic body back and sides are typically maple, spruce, mahogany, and ovangkol, with solid spruce soundboards on top.
Necks can be two-piece maple and mahogany, maple and walnut, hard maple, or most typically just mahogany.
Fretboards feature rosewood, Indian laurel, pau ferro, and ebony.
Epiphone's classical models like their Pro1 Classic use a ceder top with mahogany back and sides, which is a regular choice for nylon string guitars giving a warm sound.
Masterbilt Acoustic Guitar Woods
Epiphone designed their Masterbilt line as homage to the big-band era through to 1960's guitars.
They construct them with similar tonewoods to the original designs, using hide glue rather than titebond woodworking glue commonly used for their other acoustic guitars.
The Masterbilt guitars are a step up from their standard line, with their major selling point being solid wood back and sides (not laminate).
The solid wood bodies are generally made from maple, mahogany, and ceder.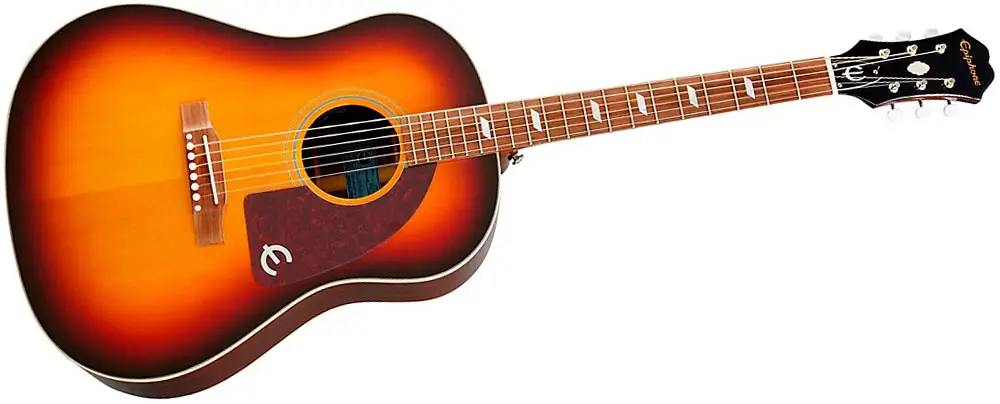 Necks are typically made from the same woods as their other acoustic lines, as well as fingerboards – although we have noticed some fingerboards are made from a torrefied composite.
Do Epiphone Guitars Have Good Quality Hardware?
Tuner Quality
Higher-end guitars feature a mixture of sealed and open tuners, depending on if the guitar is modern or vintage styled, and they are high quality, and high gear ratio.
Regular tuner brands used are Epiphone vintage duluxe, and Grover rotomatic – with locking tuners offered on higher models in their electric guitar range.
Low end guitars tend to have nickel 14:1 ratio tuners, as opposed to the higher quality tuners at 18:1 ratio which make tuning slightly easier.
Nut Quality
Low end acoustic Epiphone's have a cheap plastic nut and saddle, as you would expect for that price.
Moving up to around the $250 range they start offering imitation bone hardware, and from around the $600 models and up you will get real bone.
Mid to higher end Epiphone electrics tend to use  GraphTech Tusq nuts, which is a good quality hard material similar to bone that has self-lubricating properties to help keep strings in tune when using tremolo and string bends.
Electric Guitar Bridge Quality
Did I hear someone say "bridge replacement"? !
The standard Epiphone LP Tune-o-Matic bridges are not known to be fantastic, they get the job done but many people aren't completely satisfied with them.
Forums are full of posts asking what a good bridge replacements is, and for about $30 you can get a superior quality bridge that drops right onto the existing posts. Some models are equipped with the Tremotone Vibrato which gets mixed reactions, many saying it has tuning instabilities, and is best used softly.
Pickups & Electronics Quality
As you would suspect, cheap guitars don't quite have the same quality hardware as expensive models, however they get the job done. At the cheap end the switches are a little clunky, with the volume and tone pots slightly gritty to turn, but they work fine and have plastic knobs that have a nice visual appeal – often very similar to Gibson buttons.
With these cheap pots you'll normally find their taper is not as smooth as more expensive pots, and so you don't get a very smooth transition in tone or volume as you turn the knobs.
As you move further up the line Epiphone start to offer options like push-pull switches with coil-splitting, and pickups with alnico magnets rather than the cheaper ceramic bar pickups. Considering that Epiphone is a subsidiary of Gibson, it's not surprising that quite a few of their guitars feature Gibson pickups like in their Les Paul Tribute guitars.
Across their signature models you will find a good range of well-known pickups like Seymour Duncan, EMG, and Kinman. A more recent Epiphone in-house developed pickup is the ProBucker series which are designed to the same specifications as original Gibson humbuckers – and they sound awesome too!
Acoustic electric models have a range of different pickup systems, but mostly use the ShadowNanoflex under-saddle pickup combined with the Shadow Performer preamp and tuner, or the ePerformer preamp. This pickup is used in other top brands like Taylor, so they give a great sound.
In Epiphone's top-end acoustics they have used Fishman Sonitone soundhole mounts, which are well known for reproducing the true sound of an acoustic guitar much like using a quality microphone.
Do Epiphone Guitars Have a Good Quality Finish?
Considering that Epiphone guitars come for a fraction of the price of their similar Gibson counterparts, you get a good finish quality for the price.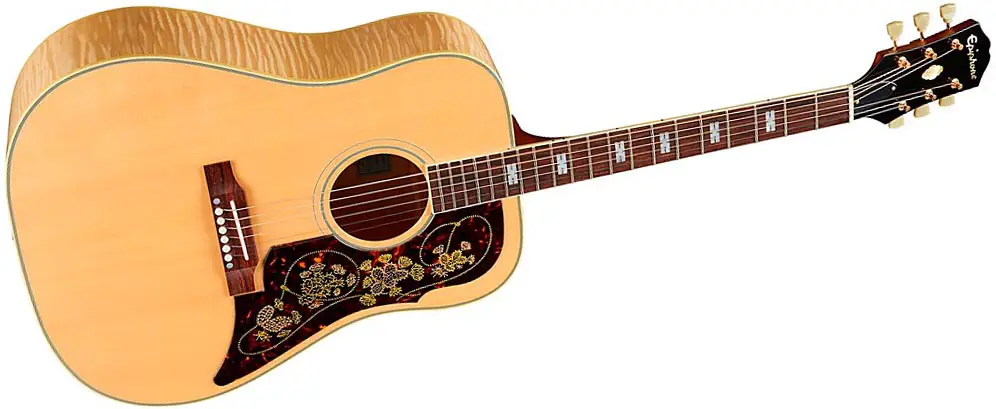 Body Finish Quality
With their low to mid guitar range occasionally you might find some very small scratches or a small crack in the finish around the neck joint or nut, however this does not happen regularly.
Most imperfections require you to look very closely at the instrument, like spotting fine paint outlining next to the neck, and are not noticeable from a couple of feet distance. Epiphone use modern electrostatic painting techniques in their factories, so you'll get a consistent polyurethane finish that protects the guitar well.
All in all, Epiphone do a great job of presenting visually appealing and quite well-finished guitars for such low prices.
Fretboard Finish Quality
This is one area where you may find inconsistency, as many low and midrange models will have a few high frets. Although Epiphone's automated fret installation process is good, to get frets perfectly flat requires more time and work and would drive up the price of their guitars.
Their higher-end guitars have more attention to detail, and don't have this issue since they run a Plek process over the frets to get a perfect finish – however the prices reflect this extra attention.
Quite often on cheaper models you will find the factory have set the action quite high, as a low action would highlight the uneven fret problem.
Where Are Epiphone Guitars Made?
Epiphone are owned and built by the Gibson guitar company.
Gibson seeing that Epiphone had become their strongest competitor made a deal in 1957 to acquire Epiphone and use the brand name for their affordable budget guitar line.
In 1970 Epiphone stopped producing guitars in the US, and moved its factory to Matsumoto in Japan, and for 5 years only produced rebranded Matsumoku company designed guitars.
By the 80's Epiphone had lost their way, and it wasn't until 1986 when three Harvard MBAs bought Gibson/Epiphone that it began to be revived. Production of Epiphone's was moved to South Korea in the 80's where Gibson employed contractors like Samik to produce their guitars.
In 1993, a limited run of Rivieras and Sheratons were produced in Gibson's Nashville factory, with the company's Montana plant also building 250 Excellente, Texan and Frontier flat tops.
epiphone.com/history
From 2002 to 2008 Epiphone produced a range of high quality guitars named the 'Elite Series' made by Terada and FujiGen in Japan, using higher grade woods, bone nuts, and hand-rubbed finishes.
In 2002 Epiphone ceased making guitars in Korea, and presently Samik still make some Epiphone lines such as Masterbilt in their newest Indonesian factory.
Most Epiphone guitars are made in Quingdao, China – where Gibson opened two factories in 2004. Early models produced in China varied in quality, and at that time Korean-made Epiphones  were preferred.
As the Chinese factories improved their processes, they soon came to match the earlier Korean standards, and from around 2006 onward most people agree the Quingdao-made guitars are as good as any.
The main GQ factory has a capacity of around 700 guitars per day, with their staff having an average of 10 years of experience, and their quality control staff around 12 years.
In 2020 Epiphone started making their high-end Texan acoustic guitars in Boseman, Montana – the first U.S.-made Epiphone acoustic in many years.
How Good Are Epiphone Classical Guitars?
Epiphone mostly make cheap nylon string guitars, so if you want a higher quality classical guitar made by Epiphone, you're best looking at the second-hand market for a vintage model.
Generally, you're best looking to other brands like Cordoba for a good range of nylon string guitars.
Are Epiphone Guitars Worth The Money?
You won't find many rock gods playing Epiphone's on stage, but hey they have a bit more cash than most of us, and if you were them you would get the most expensive well-known guitars too!
When you want to play a guitar with looks similar to an expensive Gibson classic, then Epiphone is perfect for filling that space.
Epiphone produces great quality guitars for their low cost, and if you pair them with a good quality amp, they deliver a great sound that rivals more expensive guitars.
Sources
http://www.epiphonewiki.org/index/Main_Page.php