Are Epiphone Guitars Good for Beginners? (Which Models?)
When you are looking for a good guitar to get started on there are plenty of good options, and Epiphone should definitely be added to your shortlist.
Epiphone makes some great electric and acoustic guitar models for beginners, with a price and quality that's hard to beat. They come well set up from the factory, making them instantly easy playing and good sounding guitars that beginners can afford.
The range of both acoustic and electric Epiphone guitars at the entry level means you can pick something that really fits your style.
It's easy to find Epiphone guitars at almost any music store, but with the large range available it's best to have an idea of which models you are most interested in first.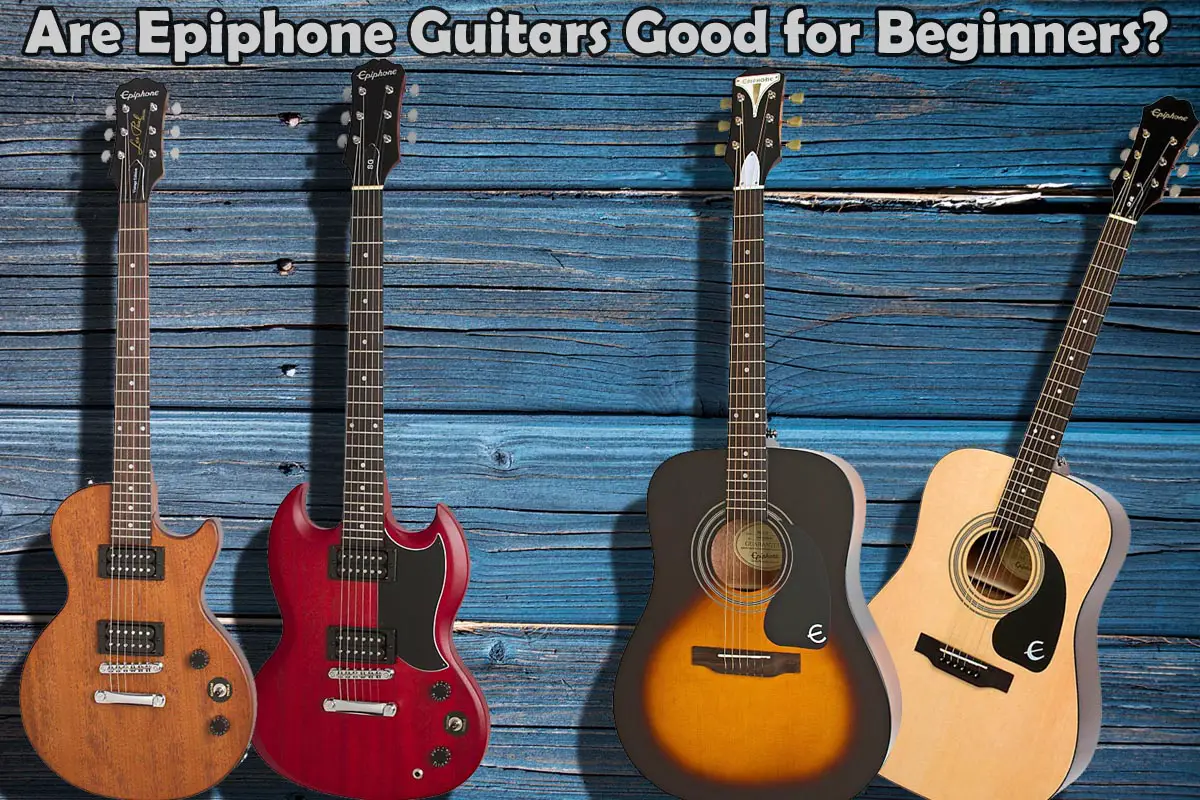 Why are Epiphone Guitars Good for Beginners?
Epiphone mostly makes midrange guitars, but they do have some good beginner options well worth looking at. which are often defined by guitarists as underrated.
Even with good deals available on some other guitar brands out there, Epiphone has a good range of guitars for under $250 that will suit many styles.
1. Price vs Quality
Compared to other budget-friendly manufacturers, Epiphone has a reputation for producing quality products, and does this at prices that all beginners can afford.
Epiphone have been making guitars for many years, and their factories make guitars that are well constructed. You're not going to get an amazing $1000 dollar guitar at the budget end, but you will get one that is playable and a good instrument to get started on.
Budget guitars normally have some minor flaws, usually seen when looking very closely at the paint/lacquer finish, but overall they are finished really well.
You're going to get a laminated wood construction on these guitars, however they still project a good sound, and the good thing is they are extra strong. If you accidentally knock these guitars over
2. Known Brand
Did you know Epiphone is actually owned by the Gibson guitar company?
One great advantage of this is that Epiphone are licensed to use Gibson shaped guitars. So if you like Gibson electric guitars especially, it's a chance to get something that looks almost the same but at a much cheaper price.
3. Sound & Playability
Look on any online store and you will see Epiphone beginner guitars get very good ratings, and it's because new players enjoy the sound of them.
Epiphone beginner acoustic guitars sound as good as any other budget guitar with a layered wood top, and many experienced players are happy with them as a casual instrument also.
Being completely honest, any guitar at the lowest budget has more chance of needing a little work to make it easier to play easier. Quite often the strings are set too high on cheaper guitars, and this happens on every brand including Epiphone.
You can get some good ones straight from the box, but it can be 50/50, so buy from somewhere with a return policy in case you need to swap for another one.
Epiphone's beginner electric guitars are a really good bargain, and they have an amplified sound that any beginner would be happy with.
You can find with any of these cheaper guitars that the fret edges can be a little sharp, but that's fairly standard for cheaper instruments. Just give them a touch-up with a fingernail emery board, and all of a sudden your cheap Epiphone guitar feels great to play.
Good Epiphone Electric Guitars for Beginners
The two models I'll show you here are one step up from the cheapest Epiphone electric guitars, but certainly worth the extra $50 odd dollars.
1. Epiphone LP Special Satin E1 Electric Guitar
First, the Epiphone Les Paul Special Satin E1 Electric Guitar is a classic design

It's a really nice light weight for beginners with its poplar body, and people even comment that it's a good guitar for standing for a long time while gigging.
What's great about this model is the way it plays and sounds, with the standard humbuckers doing a great job of producing a more expensive HB sound.
If you buy one online you could get one that needs some setup work to play really well, so it would be a good idea to make sure it's a reputable store with a return/swap policy.
The satin finish gives these guitars a good look, but it's really about how well this guitar plays.
Even models that come with high action and a few sharp fret ends can be easily adjusted to play better, and many guitarists have done exactly this to become very happy with their purchase.
2. Epiphone SG Special Satin E1 Electric Guitar
Epiphone's other bargain-priced guitar that is actually worth owning is their SG Special Satin E1, and yes at around $200 it's the same price as the LP Special above.

This guitar amazingly comes with a Graph Tech nut, compared to the LP Satin's PVC plastic nut, and really helps tune up, and keep the guitar in tune when playing.
As normal with these cheaper guitars you will probably need to file the fret ends smooth with an emery board, but once it's done the necks feel great to play.
The fretboard is flatter than a Stratocaster, and many beginners find it easier to learn those first few bar chords on it.
The body is a great shape for smaller players too, and is a comfortable weight that children can handle easily. The only downside with the light body is that they are neck heavy, making this a better guitar for playing while sitting rather than standing.
Overall you'll get a great starter guitar  from either of these electrics, and they are cheap enough to get started on to help you decide if you want to continue learning guitar.
Good Epiphone Acoustic Guitars for Beginners
In my opinion, full-shape bodied acoustic guitars are best for beginners, compared to bodies with a cut-away section.
When you start learning there is no need to use frets higher than the 12 fret, and the full body gives you a slightly richer, louder sound.
1. Epiphone DR-100 Songmaker Acoustic Guitar
The Epiphone DR-100 Songmaker is Epiphone's most popular and affordable entry-level guitar. Priced around $170, this guitar comes in vintage sunburst, natural, or black.

Has a spruce top with mahogany back and sides. It also has a comfortable mahogany slim profile neck with a rosewood fingerboard and bridge.
The DR-100 has a 25.5" scale length and nickel hardware. Its body has scalloped, wide-X internal bracing and it's got good resonance and volume.
If I were starting out on guitar again, this would be my pick. It's a great guitar for the price, and is the sort of guitar you would keep for years even after moving on to more expensive guitars.
I've played this guitar with heavier 13-56 gauge strings, and it plays equally well with both heavier or lighter strings.
For beginners I recommend the lighter 12-53's which make it easier to play, or even a set of 11's if you like soft playing and find the heavier strings make your fingertips too sore at first.
2. Epiphone PRO-1 Acoustic Guitar
Next on the Epiphone acoustic guitar list is the PRO-1, which in many ways is similar to the DR-100. The Epiphone PRO-1 is about $20 more than the DR-100, but is it worth it?

This guitar is designed by Epiphone to be as easy as possible for beginners to play, by having a thinner body, jumbo frets, and a shorter scale length.
Having a shorter scale length of 24.75" (almost an inch shorter than the DR-100), the strings have less tension, which makes them easier to hold on the larger frets.
I find though that the thinner body and lighter tension strings really tone this guitar down from the DR-100, with the sound being a bit flatter and the volume not quite as loud.
That being said, smaller players will probably find this guitar more comfortable to play.
There's still great value in this guitar, and you'll find the Graph Tech nut and vintage tuners make tuning easier. Alongside that it has a great vintage look with a classic Epiphone headstock logo.
That's A Wrap!
Epiphone certainly makes some great choices for beginners, and has enough variety to suit most tastes in sound and style.
You get plenty of color choices, and a range of electric guitar bodies that at a glance look like Gibson guitars.
They aren't the only good beginner guitars on the market, but you should take the chance to try some out at a store and see how they feel in your hands, and sound to your ears.