Are G&L Guitars Good? (Great Guitars Others Missed!)
If your idea of a quality guitar is simply one with a famous brand name on the headstock then you may have overlooked G&L guitars.
This brand may be one good example of how we gravitate toward original designs that became household names, and how much branding affects our decision making.
Did you know that G&L was founded by Leo Fender after he sold the Fender company?
That has to make you think, as surely Leo didn't start make making inferior guitars after so much success with the Fender guitar lines?
Do G&L Make Good Guitars?
If you really like Fender style guitars that come with good quality innovative hardware, then G&L guitars fit the bill nicely. Still making some of their guitar models in the US, people often remark how G&L production guitars often rival the quality of custom shop guitars from other manufacturers.
Some people place G&L guitars on a pedestal loving they way they play and sound, while others prefer the traditional look and sound of their Fender predecessors.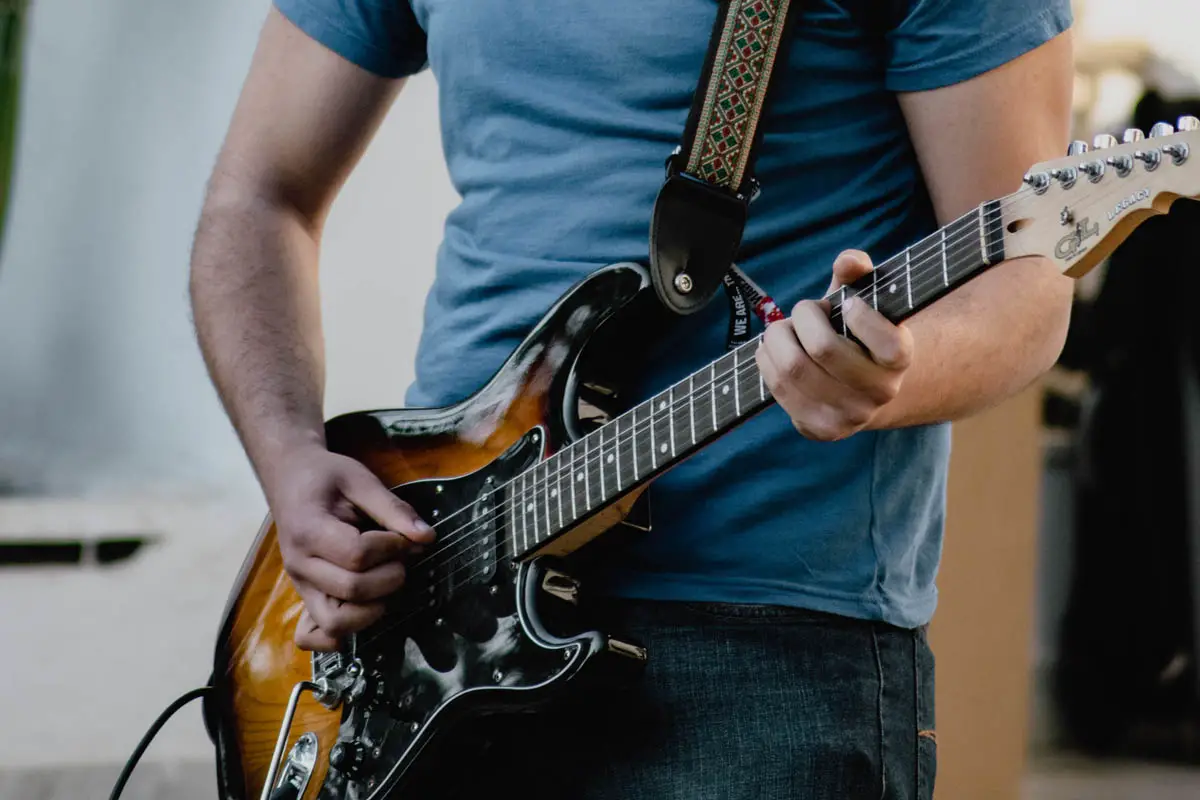 "Forget that's it's made in Indonesia, it's just a fantastic guitar; naturally resonant, perfectly made, gorgeous Ash grain and well finished, responsive, great tone and dynamics from the unique and full range USA handmade MFD pickups. Also forget that, used, it cost me a 10th of my Custom Shop Guitars, it easily keeps up."
TDPRI forum member regarding their G&L ASAT Classic Tribute.
Let's take a deeper look at G&L guitars to see what the story is, why people love or hate them, and if they make good guitar designs with qualities that would make you consider playing them.
Where Are G&L Guitars Made?
In 1975 Leo Fender completed building a series of warehouses on a former agricultural estate on Fender avenue, California.
He moved all his equipment into one of these warehouses, and together with George Fullerton and Dale Hyatt (both formerly of Fender),  ran his business CLF Research there.
Initially he completed his agreement with Music Man to design and make a couple of electric and bass guitar models for them, ending in 1980.
So in 1980 G&L guitars was started, and today they still manufacture their own unique pickups, other hardware, and part of their guitar range there.
The Tribute Rampage Jerry Cantrell Signature, ASAT HB, and Legacy HB are currently made in China.
Other Tribute models, like quite a few well-known brands like Squire and Epiphone, are built in Indonesia by Samick.
The Fullerton G&L factory is quite unique, still using some of Leo Fender's original equipment, and if you want a true USA hand-made guitar you'll find them here.
Their current US made guitars are the Fullerton Deluxe, CLF Research, Special Edition, and their 40th Anniversary models.
Find out where 73 brands of guitars are made in our ultimate guide
What Style of Guitars Do G&L Make?
If you squint your eyes you might think you have seen a guitar from a certain other manufacturer, and it's no wonder with their heritage.
Their body shapes are clearly inspired by traditional designs similar to the big F, and with a unique headstock design that you either love or hate.
Any Fender designs you can think of are reflected in the shape of G&L guitars, however the G&L designs were the next step in development based on earlier ideas.
These guitars are well suited to blues & rock styles, and their Tribute series has plenty of variations like their carved-top model, f-hole, strat-style, and jaguar inspired shape.
Versatility is a word that describes G&L guitars well, and they will suit most playing styles outside of metal and shredding.
Leo was always pushing to improve on earlier designs, and after his death G&L have maintained his philosophy continuing to innovate and improve on earlier ideas.
For this reason, you will find some technological advances on their guitars that make them unique.
Who Plays G&L Guitars?
G & L boasts a long list of artists who play their guitars. These include:
Art Alexakakis (Everclear)
Joey Allen (Warrant)
Robert Alter (Blue House Band)
Deano Brown (Tim McGraw Band)
Duncan Cameron (Sawyer Brown)
Jerry Cantrell (Alice in Chains)
Wayne Eagles (Prominant jazz artist)
Peter Frampton
There are three main points that seem to divide people for or against G&L, being the neck, the tone, and funnily enough – the headstock shape.
Players who want this style of guitar usually fit into the Fender or G&L camp, however many players have both brands in their collection.
How Popular Are G&L Guitars?
These guitars are somewhat of a hidden gem in the guitar world, and although you don't see them gracing big stages, they have a strong following amongst guitarists who really know their guitars.
There are websites and forums dedicated to talking about G&L guitars, and you'll find plenty of conversation about them which is mostly positive.
G&L certainly don't enjoy the popularity of the big brands, and in some part that's due to their limited production which makes it harder to find them in music shops which are normally swimming in endless versions of their big sellers.
Another point that comes up in conversations is that Fender parts don't fit G&L's, and since many players love building their own partscasters they prefer Fender's for their compatibility and wealth of available parts.
When it comes to sound G&L guitars have their own unique tone, and while they still sound great they don't quite sound like vintage Fenders that you hear on countless recordings.
Many players are purists, wanting the same tones they know from their favorite songs, so G&L aren't on so many people's radar.
"Guitars, much like cars, are emotional purchases."
Thinlizzy73 from strat-talk
Despite G&L producing guitars for over 40 years and having a founding father who started arguably the most famous guitar brand in the world, G&L are usually far down most people's 'want' list.
People are highly susceptible to brand power, purchasing based on perception rather than a balanced and informed decision, and G&L never had the advertising power of the big brands.
Have a listen for yourself and see what you think…
Do G&L Guitars Have Good Quality Construction?
This is one area where people normally praise G&L guitars saying that many of their production models have the same quality as custom shop guitars from other makers.
Although the Asian made tribute series have good quality CNC machined parts that give tight-fitting neck pockets and produce good sounding guitars, the US made guitars are a step up again due to their diligence in hand finishing their guitars.
Many players rate the G&L Comanche series highly with their unique Z-coil pickups, and being made in their US factory also get a Plek setup done on the frets by default before hitting the retail floor.
This final attention to detail along with the fret job really brings their guitars up to high standards that you won't find with mass produced guitars often selling for similar prices.
Search a few forum posts online and it won't take you long to find people praising the quality of G&L instruments for the low selling price.
Negatives
One area of complaint we've heard is that the fretboards rising at the body, meaning a fret job would need a heavy-handed approach on higher frets.
In the past it seems G&L necks could be hit-or-miss as each neck was  hand-crafted, resulting in variation from the specs.
So you could get a neck thicker or thinner, narrow or wider depending on the day of the week and how many beers the luthier had the previous night.
This may have been the case with some older G&L's, but now with new factory machining and the Plek process run in the US factory it's far less likely to see this on new models.
Again, that is not an issue with current models, as parts are accurately cut with advanced machinery, and G&L guitars have consistently good necks now that factory processes have improved.
What Woods do G&L Guitars Use?
Like other manufacturers G&L use select woods that they age themselves, also having a policy of exploring substitutes for endangered traditionally used woods.
Body Woods
On their current models you will find ash, swamp ash, alder, pine, empress, basswood, nato, mahogany, or mahogany with maple top.
Custom G&L guitars also offer okoume, or roasted ash, also the option  to have a flamed maple or quilted maple top.
Neck Woods
Necks commonly come in hard rock maple, and nato, with maple featuring most regularly.
The G&L custom shop offers extra choices of quartersawn hard rock maple, and high-grade flame maple.
Fingerboard Woods
There are a few choices of wood, and you will usually see rosewood, cherry, Brazilian cherry, maple, and occasionally Caribbean rosewood.
Again, their custom shop has some more choices of Indian rosewood, ebony, and caramel ebony.
G&L Innovation and Hardware
Leo Fender never stopped innovating, always wanting to improve guitar and amplifier technology right up to his passing in 1991.
His developments are still used on G&L guitars today, and include the following:
Neck
Early models in the 80's had a 3-bolt neck to body connection with a tilt neck mechanism built in.
Bridge
Dual Fulcrum Vibrato
Has two pivot points that fix the bridge via brass inserts into the body. The vibrato unit floats, giving a smooth vibrato that vastly improves on the original Fender design.
Saddle-Lock Bridge
Allows the strings to be inserted from the rear of the bridge instead of through the body of the guitar.
This bridge sits locked hard on the body and has a protruding section that fits snugly in the routed body pocket, increasing the vibration from the strings into the body.
There is also a locking pin that binds the saddles together so that less string energy is lost due to saddle movement compared to other bridge designs. This improves sustain.
Pickups
Z Coils
A unique design that acts like a humbucker and has 2 coils with 3 poles in each coil. So you end up with a noiseless pickup that sounds more like a punchy single coil.
Some people say they sound sterile without much flavour, yet others love them for their clean sound which they can manipulate through their amp.
These coils respond well to height adjustments, giving different tonal qualities.
Magnetic Field Design (MFD)
These were designed by Leo Fender to produce more output from a quieter pickup, without the spiking problems that strong magnetic fields of alnico magnets can produce.
They employ a bar magnet underneath and an arrangement that allows individual height adjustment of each pole to fine tune the output of each string.
How Do G&L Guitars Compare to Other Brands?
If you are more interested in a guitar with good construction and innovative features than brand name snobbery, then G&L are well worth looking at.
Since they don't hold value well from new to second-hand, you can pick up a great bargain for a used model that can have the quality of a Fender custom shop guitar for a fraction of the price.
There are plenty of guitarists online saying they have owned G&L guitars for years and would never part with them, preferring them to other top brand guitars they have owned.
Being a small guitar company with their attention focused on a narrow guitar range, you get a high-quality guitar with unique hardware and pickups at a friendlier price than many other guitars.
You might not get the name, and you won't get that original Fender headstock, but bang for buck G&L deliver quality guitars with great stock pickups and a tremolo system that is silky smooth.
Sources
https://glguitars.com/about-us/
https://www.streetdirectory.com/travel_guide/31407/music/a_brief_history_of_g__l_guitars.html