Are Suhr Electric Guitars Better than Fender? | Better Value?
John Suhr went from fixing guitars in the boiler room of Rudy's Music Shop in New York to being hired as the master builder for Fenders Custom Shop in Los Angeles before he started his own company. 
He aimed to improve upon the designs of Fender and fix the problems found after years of working with Fender guitars.
Today Suhr is one of the most prestigious guitar manufacturers on the planet with players far and wide praising them for their expert craftsmanship and build quality. 
But did Suhr manage to succeed at making better electric guitars than Fender?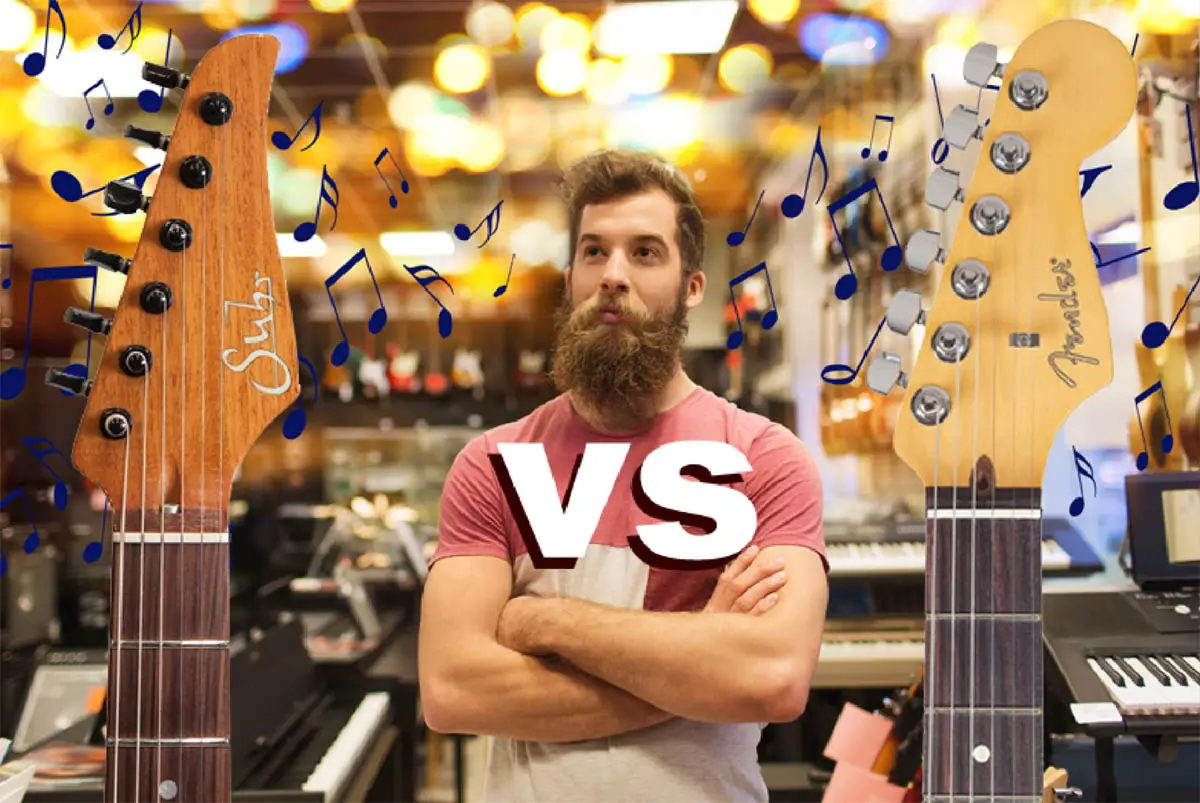 Suhr vs Fender – What Guitar Players Think
When it comes to the debate of Suhr vs Fender, the guitar community is divided. While some praise Suhr for fixing the problems present with Fender guitars; others are keen to proclaim their loyalty to the legacy of the original designers of the Stratocaster. 
One thing you will find people unanimously agree on is the build quality of Suhr guitars. Even the most devoted Fender fans will tell you it's difficult to find a Suhr guitar that doesn't feel amazing to play.
Suhr fans don't give Fender the same mutual appreciation. 
A common point of debate amongst guitarists isn't whether Suhr makes some of the best guitars around; to most that is a given. It's whether the high price tag is worth it to you personally.
If you're a casual player the usual price tag of $3000+ might not be the best investment for you when that money could be spent on other things to improve your playing.
Who Plays Suhr Guitars?
Suhr Guitars are mainly played by professional guitarists or advanced hobby players that are a few guitars deep into the collection. Many renowned session musicians choose Suhr for the accuracy of play achievable on these guitars due to the construction quality.
Some notable guitarists that play Suhr's are metal guitarist Reb Beach, and Jazz Fusion guitarist Scott Henderson. Both of these players make the most out of the fast action offered by Suhr Guitars.
A lot of advanced hobby players buy Suhr's after outgrowing their other guitars. It's not uncommon to see people discuss how they 'sold their old Fender' to make way for a brand new Suhr Guitar custom made to their custom specifications.
Suhr vs Fender Build Quality
Let's have a look at what Suhr and Fender offer on their guitars, and whether one excels over the other in overall build and finish quality.
1. Suhr vs Fender Tonewoods Used
While some people will claim that the Tonewood used to build a guitar bears about as much significance to tone as your choice to use a cloth or leather strap to play; guitar experts have debated for years the best tonewoods to use for different genres.
Suhr Guitars are built from a range of different tonewoods depending on the series of guitars you are looking at.
Basswood (modern plus, SUHR Modern Plus)
Chambered Mahogany
African Okoume
White Limba
Alder (classic Sm classic s antique)
Lightweight Alder
Paulownia
Roasted Alder
Swamp Ash
As an example, Suhr's most popular guitar, the Classic S is built using Alder. Alder has been the most popular tonewood since Fender started using it in 1956. It's used on a lot of Stratocasters due to its ability to produce a full-bodied sound favored by players of blues and rock.
Image : Suhr Classic S – Stratocaster Style
Their most popular Telecaster style guitar is built using Swamp Ash.  Swamp ash is known to produce more resonance for greater sustain with more prominent highs than other heavier woods.  
Image : Suhr Classic S – Telecaster Style
And finally, the Suhr Modern uses Basswood. Basswood is John Surhs' favorite wood as it offers a light body capable of very even tones. Making it one of the most versatile tonewoods when it comes to playability. 
Image : Suhr Modern
Read about the Pros & Cons of Basswood Guitars
Except for a few custom models, two kinds of wood have been used throughout Fender's history; Alder and Ash.
Unlike Suhr who use a variety of woods for their off-the-rack designs; If you buy an off-the-rack Fender today you'll more than likely get a guitar built from Alder.
This wood is known for its ability to create great tones for rock and blues sounds while also being the most affordable wood on the market. 
Fender does still build guitars using Ash from time to time but is typically reserved for their high-end models. 
Their most comparable model to Suhr's most popular guitar is the relatively new Fender Ultra Stratocaster. This guitar can be bought with either an Alder or Ash body.  
Image : Fender Ultra Stratocaster
2. Body Construction & Finish Level
One thing you will find people unanimously agree on is the build quality of Suhr. Even the most devoted Fender fans will tell you it's near impossible to find a Suhr guitar that doesn't feel amazing to play. 
The reason Suhr's build quality is famously a step above the rest is that each guitar is the attention to detail they put into each guitar. They are very particular about choosing the materials that are used to build their guitars. Because of this they only make about 1200 guitars a year for each of their models. 
Suhr is also known not to use maple wood on their necks as they believe this wood degrades over time and want to avoid this. Something John Suhr learned over his years as a guitar tech.
How about Fender?
Suhr fans don't give Fender the same mutual appreciation when it comes to build quality and finish. 
Being a mass producer of guitars worldwide means the craftsmanship of Fender guitars varies greatly from model to model.  While a standard Fender model will give you a great quality guitar for your money, you're not doing to get that handcrafted finish that Suhr is known for.
If you look down the line however at some of Fenders' higher-end models you begin to see their guitars getting within reach of their competitor.
Due to Fenders' popularity, even their high-end models are produced on a scale far larger than anything Suhr offers – making defects more common on Fender guitars than Suhr. 
3. Neck Shape & Playability
A guitar's neck shape is perhaps the most subjective aspect of a guitar. What makes a good neck shape for you will depend on the size and shape of your hands. Meaning a neck that feels comfortable to you might be difficult to use for another player. 
Both Suhr and Fender have a huge variety of neck shapes to choose from so both manufactures should have something that suits your playing style.
Suhr Neck Shapes
All of Suhr's standard models are designed with their Vintage Standard C-shaped neck. A neck designed to be comfortably playable to a majority of guitarists. This is a guitar neck shape you're likely to be familiar with as it's been the standard since the 60s.
Some of their more modern designs however feature their Modern Elliptical design. This neck shape is thinner than the classic C-shaped neck to accommodate faster neck movement and deep bends. This is a neck style particularly popular with metal guitarists and other genres that require speed to play.
Fender Neck Shapes
Fenders' current range of guitars features a variety of necks. Amongst their off the rack models you'll most commonly find 3 kinds; 
Deep "C"
Modern "C"
Modern "D"
Their deep C neck is a standard neck that replicates the necks fender have been using on their guitars since the 60s. It's best known for its place on Stratocasters, offering a familiar classic shape and playability.
Their Modern C and D necks are updated incarnations of their classic neck designs. These updated necks are thinner to make the guitars more versatile by increasing the action on their necks. 
A difference with Fender necks that might be something to consider is that they sometimes feature a thicker finish on their fretboards than Suhr Guitars do. This can lead to the neck feeling thicker than it is. 
4. The Bridge & Tuners
Suhr Bridge and Tuners
Suhr uses their custom-made Suhr locking tuners on all of their guitars, making string changes easier and providing an 18:1 gear ratio. 
As for bridges, Suhr uses two kinds.
For guitars with a tremolo arm, they use the Japanese designed Gotoh 510 Bridge. This bridge is used on many guitars regardless of the brand due to its smooth and consistent action. Very rarely will the use of the tremolo arm put your guitar out of tune if you gave a Gotoh 510 installed (a reason so many people sing its praise.)
For their Telecaster designs, Suhr uses the Wilkinson 3 Saddle. This bridge is about as reliable as your going to get when it comes to bridges suited for telecasters. It's been around for over 50 years now continues to be hailed by many as the go-to bridge for telecaster guitars.
Fender Bridge and Tuners
Fender design all of their bridges in-house and has used the same designs for decades, a testament to the quality of their bridge designs. 
There isn't much variety when it comes to bridge selections for the telecaster models, however there is a bit more flexibility with their tremolo arm guitar setups.
Most Fender guitars are equipped with a tremolo arm use a variation of their 2-Point Synchronized Tremolo Bridge.
This is a great bridge setup that has been used by fender since they redesigned their 6 point vintage-style bridge set up in 1986. The redesigned 2 point system is intended to increase tuning stability by reducing the number of friction points from 6 to 2.
5. The Pickups
Suhr offers 2 types of pickups on their guitars – Humbuckers and Single Coil. There are variations of each but all feature some similar characteristics. 
The way Suhr winds their single-coil pickups attempts to replicate the hand-wound pattern found in the single-coil pickups of the 60s. They also use the same magnets from the era. This method gives their single-coil pick-ups a warmer sound in the mids and clearer highs. 
Suhr also fits a lot of their guitars with SSCII, a silent single coil system that helps reduce the 60 cycle hum of your guitar. It is installed inside of the body of the guitar to give it a cleaner sound without impacting the tone of your playing.
Fender has a far greater variety of guitars when Suhr does and that variety comes with a lot more choice for pickups. Let's have a look at their high-end single-coil pickup for comparison. 
Fender has a response to Suhr's silent single coil system with their Ultra Noiseless Vintage Strat pickup.
Instead of building a system into the guitar's body to reduce hum, Fender eliminates 60 cycle hum with the use of 5 Alnico magnets that don't compromise on the vintage tone of their single-coil pickups. These pups are reserved only for the very top of the Fender line so be prepared to pay a premium for a guitar with these fitted.
As for your choice of pickup switch, both Suhr and Fender are very similar in that they offer 3 way and 5 way switch options. 
How Expensive Are Suhr Compared to Fender Guitars?
Suhr Classic S $2,999USD vs Fender Player Stratocaster $1,549
These two guitars are the most popular Stratocasters sold by Suhr and Fender. Both are visually very similar except one is near twice the price!
The Fender Player Stratocaster is a great guitar, and is the ultimate standard for Strats.
What you getting for the extra money with the Suhr is a higher build quality that is assembled by hand in the USA, as well as a few modern improvements. The Classic S comes equipped with the SSCII system to reduce 60 cycle hum, Suhr locking tuners, and their vintage style single-coil pickups.
Both of these guitars are made from Alder and both play and sound great, but the playability and build quality you'll find from Suhr is a leap ahead of the Fender Strat. 
As for Telecasters, the same comparisons can be drawn between the Suhr Classic T and the Fender Player Telecaster. Both of these are the baseline models for these guitar shapes but the Suhr comes once again with a higher build quality and finish.
Fender has recently introduced a new series of guitars called the Player Plus Series. These guitars bring with them specs that are a lot closer to that of a Suhr, but without the price tag.
With the addition of hum-canceling pickups and modern neck shapes to the already classic designs; this series is great value for money if you're looking for a Fender that is on the high end without breaking the bank. 
If your looking for a Fender that gets as close to the quality of a Suhr your best bet is their Ultra series. These guitars are sometimes even more expensive than Suhr but their specs are on par with a typical Suhr guitar; including high-end hum cancellation and tonewoods to give Suhr a run for their money.
Comparing Suhr and Fender Sound Quality
Comparing the sound of a Suhr and a Fender will come down mainly to personal preference.
The consensus on their differences, however, is that Suhr makes the most accurate sounding guitars while the sound of a Fender has a bit more of that vintage personality or 'mojo'. But that may just be an effect of the Fender headstock bringing up visions of Hendrix!
Suhr Guitars are often described as having a brighter sound than their Fender counterparts. This may be a result of the stainless steel fretting fitting to Suhr Guitars. 
What Musical Styles are Good for Each Brand?
As for what music styles are most suited to each of these brands. 
Suhr Guitars are mostly favored by jazz, classical, and metal players; genres that require fast hand movements. This is due to Suhr guitar necks usually being thinner than Fender.
Fender guitars on the other hand are nearly impossible to shoehorn into a specific genre. It wouldn't be a stretch to say that every genre ever has at some point been mastered on a Fender guitar.
It's common to see nearly any variation of rock being performed on a Fender guitar and that versatility is hard to attribute to any other manufacturer of guitars on earth.