Are Breedlove Guitars Good Quality? (Value for Money?)
Breedlove guitars have become known for their rich-sounding guitars, and over the past few decades have become sought-after instruments for true musicians.
They build finely crafted guitars with a bold body design, featuring a soft cutaway that gives Breedlove guitars a unique appearance. 
Breedlove was started by two experienced luthiers who had innovative quality design at the top of their list right from the beginning. Even with their move to partial manufacturing in Asia, they have managed to keep quality standards reasonably high, making some great-sounding affordable guitars.
If you look toward their US-made guitars the price increases significantly, but so does the deep tonal qualities of their instruments, and the flawless finishes.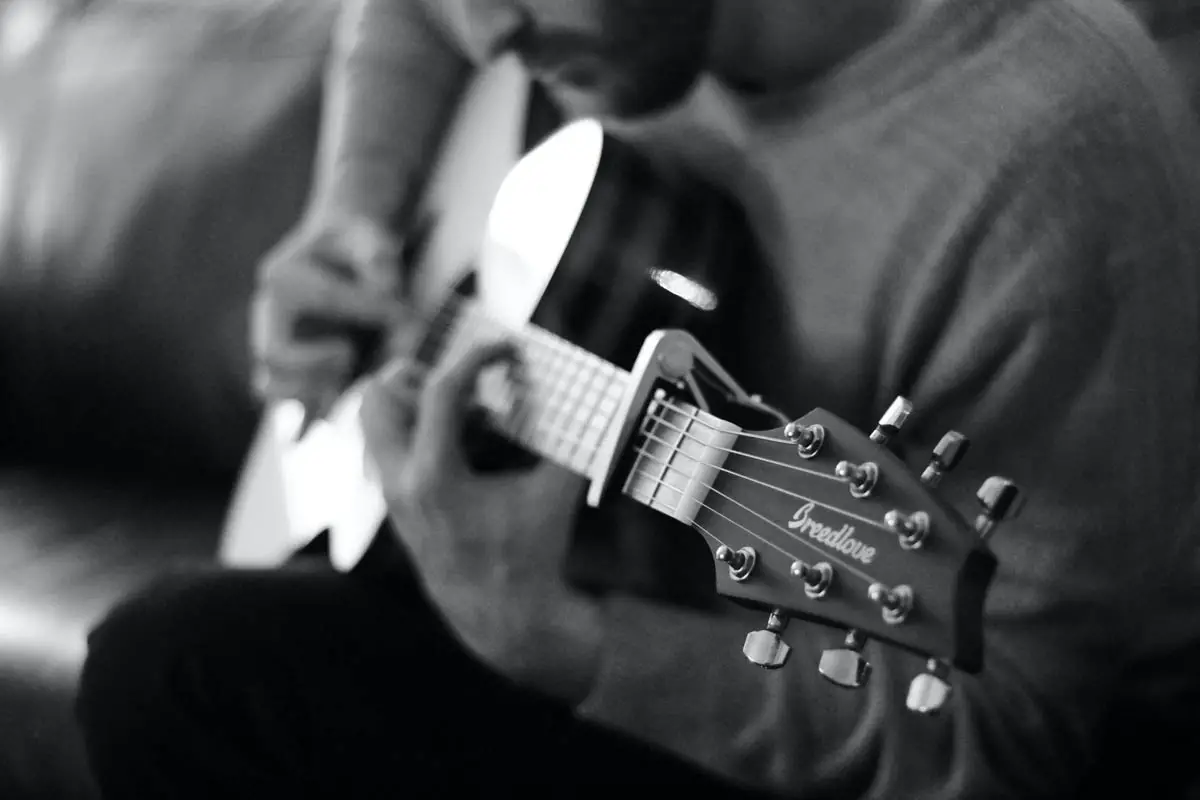 Where Are Breedlove Guitars Made?
Breedlove was founded in 1990 by Larry Breedlove and Steve Henderson, both long-time experienced luthiers from Taylor guitars.
Their first designs were made in Tumalo, Oregon (near Bend) – where they worked on creating new designs.
In late 2012 a new 20,000-square-foot facility and custom shop was opened in Bend, where Breedlove still manufacture their USA-made guitars today.
All Breedlove guitars were made at their Bend facility until 2003, when they branched out to start making parts of their guitar line in Asia.
Breedlove now make guitars in South Korea, Indonesia, China, with their high-end models still made in Oregon, USA.
Where Are the Different Breedlove Models Made?
While most models are made in a single country, The Pro & Roots series have all their woodwork handcrafted in Korea, with all the finish work completed in the US.
The Atlas series is wholly produced in South Korea, while the Solo, Organic, Discovery, and Pursuit models carry the designation 'Designed in Bend' and are made in China and Korea.
The manufacturing of their 5 highest-end models, Oregon, Premier, Legacy, Signature, and Masterclass are all crafted in the USA and carry the designation 'Made in Bend'.

How Good is Breedlove Quality Control?
Breedlove guitars pride themselves on quality, founded with a focus on technical innovations not yet seen in the guitar-making industry.
They were joined by Larry's brother Kim, already a master luthier and banjo maker, who helped mastermind each breakthrough including the new trademark Breedlove body Shapes.
Each USA-made guitar is individually handcrafted by one of eight highly experienced artists/craftsmen whose periods of service with Breedlove have ranged from 10-29 years.
Each guitar builder is also a dedicated musician, and this can make a difference with the end product compared to instruments made by general process factory workers.
However, as companies become larger there is always pressure on the manufacturing line, and so there have still been a few comments regarding a lack of quality.
Breedlove in an effort to produce lower-cost guitar models now makes many models in Asia, and although most people are happy with what they get for their money, there are more complaints than with their Oregon-made guitars.
Their Asian-made imported guitars have their final QC done in the US, but sometimes it seems imperfections are accepted to a certain level based on the value of the instrument.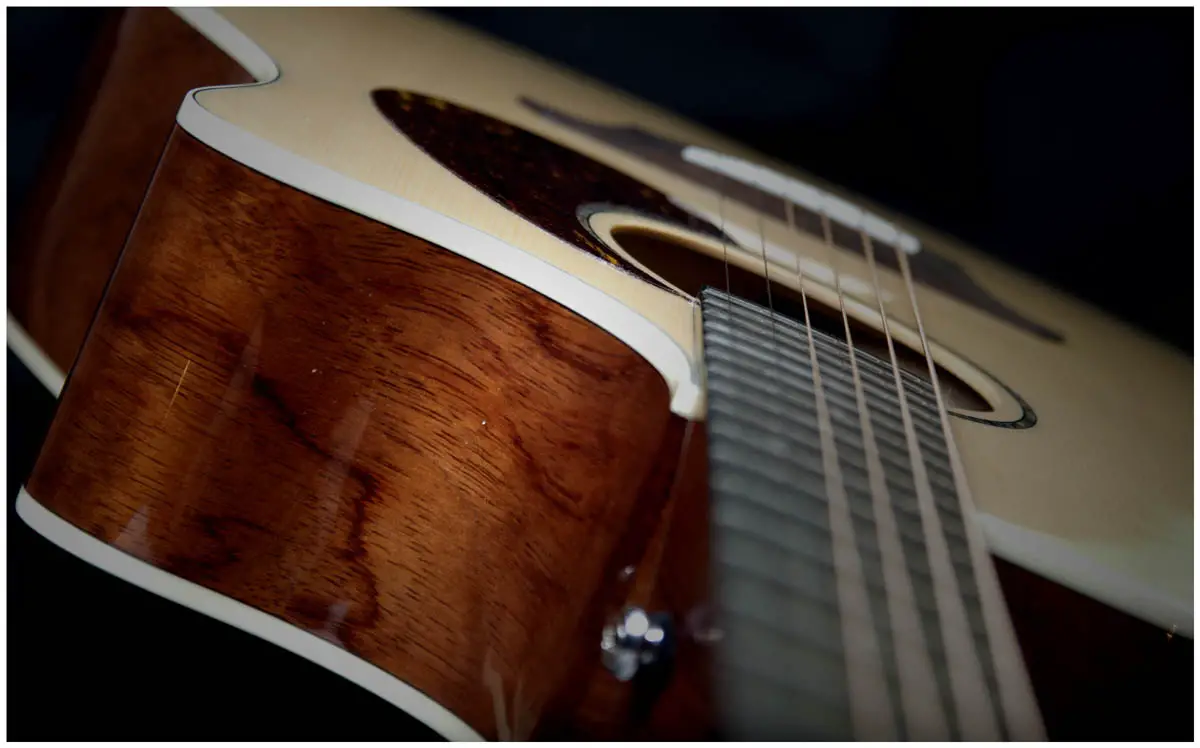 What Players Think of Breedlove Guitars
Breedlove guitars have more popular over time, and aside from looking at the advertised quality of these guitars, it's important to look at what regular guitar players think to get a more balanced opinion.
Here are a few comments we found from some experienced Breedlove enthusiasts:
"The Breedlove Solo Concert is a sturdy, well-made acoustic guitar. It's a great guitar for any intermediate to advanced players who primarily finger-pick and need a workhorse instrument to serve as their main acoustic either on-stage or in the studio." -Jeremy, Merely Music.
"I bought my Breedlove Concert CE about a year ago (electric, redwood face and mahogany back with cutout) and I could not be more pleased. I have been playing for over 55 years and this has among the richest sounds I've ever heard". -Anonymous, YouTube.
There are plenty of observations like this, but not everyone is completely happy with their guitar.
We've found that the import guitars can vary quite a lot in their tone, with some sounding very dark and boxy, while others at the same price point can really be stand-out instruments.
It seems that for the most part, Breedlove's QC may slip a little on their imported guitars, but most issues are quite minor and could easily be resolved.
One example of this was from a guitar player with rough frets on a Korean-built instrument, requiring a little extra work to polish them to an acceptable level.
1. Breedlove High-End Guitars
If you want top-quality, then be prepared to pay top dollar and Breedlove US-made guitars will deliver on your expectations.
It's been said that Breedlove's build quality is at least on par with Martin, and that they at least rival any other guitar in their price bracket; including the Korean-made models.

2. Breedlove Budget Guitars
When you're looking at a solid budget option Breedlove still stands up and honestly, most people are happy with their guitars.
When you look at the innovation behind these guitars (being designed in the US), even if you find some minor imperfections, you will still get a great rich sounding guitar for the money.
As one player comments: "I didn't see a problem with build quality on the Korean guitars. In fact I think they would hold there (sic) own against many American guitars. It's the final setup and QC that may be lacking."    
3. Breedlove Guitars – Unique Shape
This is one area that has polarized players, and to put it simply some people prefer traditional shapes over newer designs.
Described as a "lightning-bolt" shape, some people just don't like the shape of the original bridge combined with the unique cutaway section of the body. After 2014 Breedlove changed to a more traditional shaped bridge.

Another thing that splits players is the asymmetrical headstock shape, however it doesn't appear on all models. Other players comment that the necks are too thin, or that the neck feels a bit hollow.
Preference is a great thing, and so for guitarists who don't mind something new, and enjoy the ease of a smaller neck – these guitars are well received.
4. The Breedlove Sound
Some experienced players have found that high-end Breedlove's didn't really meet their expectations, and that the midrange models gave greater value for money.
Every guitar sounds different, so it can really come down to the combination of a guitarists and the guitar they are holding.
Some players are blown away by the sound of a Breedlove with massive attack, overtones, and sustain, but other players with the same guitar say the sound doesn't suit their playing style.
Most players agree that Breedlove guitars excel at being great fingerstyle guitars, partially due to the tone they produce, but also because of the neck size and shape. This may apply more to the older design than their Revival design, made for more power and punch.
Love or hate the sound, you really need to play a few Breedlove's before you can decide for yourself.
Does Breedlove Make Good Beginner Guitars?
Honestly, Breedlove does not specialize in making low-budget beginner guitars, aiming more at the low midrange to high-end guitars.
Even so, if you have some more money to get started, want a guitar that sounds good and will last you many years, you can get some great options in the $450–700 range.
The Breedlove Discovery S Series is touted as a "beginner-friendly" design, and at Breedlove's lower end of the scale still delivers a great sound. You will get a guitar that will see you through to more advanced levels of playing, with a tone that will inspire you to play and learn.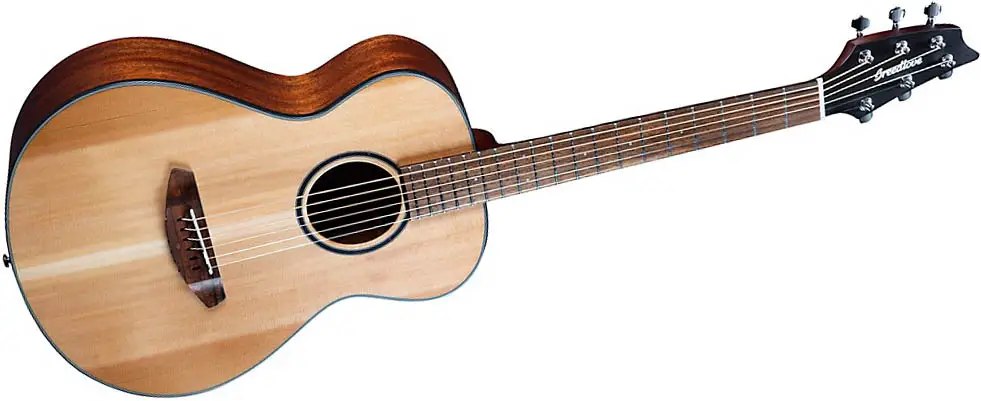 The attraction of the Discovery S for many beginners is its size. The Companion model is a traveler size ideal for younger students, and is promoted as a traveler's guitar with a large body sound.
Adult players still love these guitars as they are highly portable and still pack a great tone for their size and being a little smaller makes them easy for beginners to handle.
The Discovery S series comes:
In a variety of wood configurations.
With or without a cutaway.
Right and left-handed models.
With or without an electronic pickup.
What Woods Do Breedlove Guitars Use?
The top, back, and sides of each model are crafted with these most popular combinations: (Top / Back and Sides)
Sitka Spruce/African Mahogany
Red Cedar/African Mahogany   
African Mahogany/African Mahogany
Myrtlewood/Myrtlewood
Red Cedar/Myrtlewood
Koa/Koa
Sitka spruce and African Mahogany are the most prevalent.
For clear punchy sound, Sitka spruce is the "go-to" wood, with Mahogany back and sides balancing out the soundboard's tone.
Their all-Mahogany guitars are rich and mellow sounding but will have a sound too dark for many players depending on their musical style.
Koa is a sustainably grown Hawaiian tonewood with dark richly colored grain, giving a bright punchy sound with earthy undertones and good projection.
Breedlove recently posted on their website:
"All Breedlove guitars starting June 25, 2021, are made from sustainably-sourced exotic and native tonewoods. No clear-cut trees are used in these instruments. Breedlove uses salvaged and individually harvested timber and has deep relationships with responsible suppliers around the globe."
We think it's great that they have made this commitment and are setting standards for other guitar manufacturers to follow – helping to keep guitar making sustainable.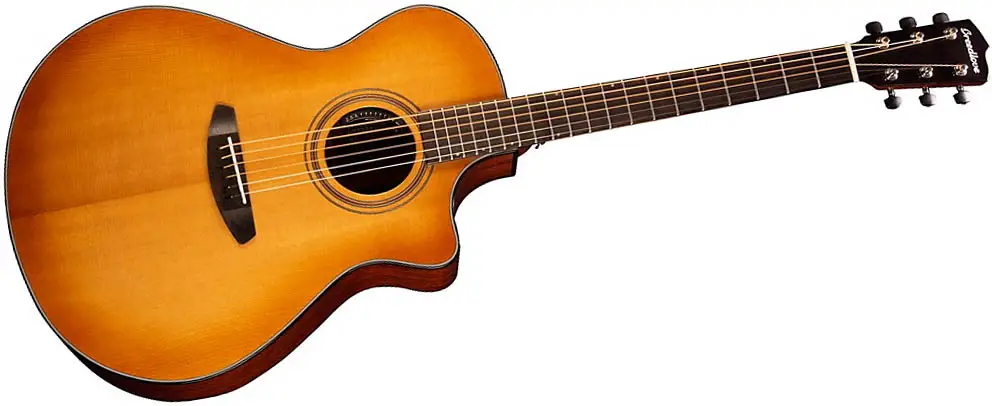 How Good Are Breedlove Hardware & Pickups?
Breedlove guitars come fitted with Gotoh 18:1 tuners made in Japan, known well for their reliable tuning abilities.
There are a number of Pickups available used on Breedlove guitars, and the common theme is that proven, reliable electronics have been used.
High-End Guitars
LR Baggs Anthem TRU-Mic: The microphone is created to re-create a studio-mic'd sound for a live performance. It mounts to the underside of the bridge plate. The sound reproduction is very natural, and every nuance (including mistakes!) can be heard clearly.
Mid to High-End Guitars
LR Baggs EAS VTC: A thin film Piezo Pickup for steel-string guitars, designed to reduce the 'quack' of traditional piezo pickups and give a natural sound. It comes with an Endpin preamp. The volume and tone control is invisibly installed in the soundhole.
Low-Midrange Guitars
LR Baggs EAS: Uses an under-saddle piezo transducer, and soundhole-mounted mini volume control.
Concert, Concerto & Concertina Guitars
Pursuit Exotic S & Discovery S
Fishman Presys I

Fishman Sonicore pickup.
Onboard anti-feedback control.
Bass, Middle, Treble, and volume controls.
Built-in tuner/LED display.
Control for tone-shaping.
Are Breedlove Guitars Good Value for Money?
In general, you will get good value for money with most Breedlove guitars, but it really pays to try out a few before making a decision.
If you're just starting your guitar journey, then with a less developed ear you will probably love your Breedlove guitar whether it's a 'special' one or not.
As you develop more knowledge of guitars and tone you may become specific about your wants, and find some Breedlove's too strong in the midrange, or too boxy in sound.
For guitarists who want a good-sounding but not-to-expensive gigging guitar, Breedlove's import guitars are a great choice. They are built with innovative internal bracing, are strong enough for the job, and it's not so painful if they get damaged compared to a high-end guitar
At the top-end, you are likely to get a guitar that delivers strongly in playability, sound, and finish – giving you satisfaction for the price.
Breedlove makes some great guitars, and if you want an instrument that you'll be truly happy with, there is no substitute for taking your time and trying out as many as you can – you're sure to find a winner.