Are PRS Guitars Better than Fender? (Find Out!) 
Comparing PRS guitars to Fender guitars can be a bit challenging due to the entry price of PRS guitars. An entry level PRS guitar is substantially higher than that of Fender's but cheaper than its iconic Fender Stratocaster.
Beginner guitarists will prefer Fender Squier guitars over PRS due to their wider range of entry-level guitars at lower prices. At the higher range, PRS have unrivaled quality and a smooth sound, while Fender's Player series are arguably more comfortable to play, with the classic Fender sound.
To discover if PRS guitars are any better than similar Fenders, let's compare PRS entry-level guitars to their Fender equivalents. We'll analyze the PRS 24 SE Standard, the PRS SE Custom 24, the Fender Player Stratocaster, and Fender's Squier Stratocaster. 
Then we'll compare the dollar-for-dollar Fender Stratocaster and the PRS Silver Sky for a well-rounded opinion.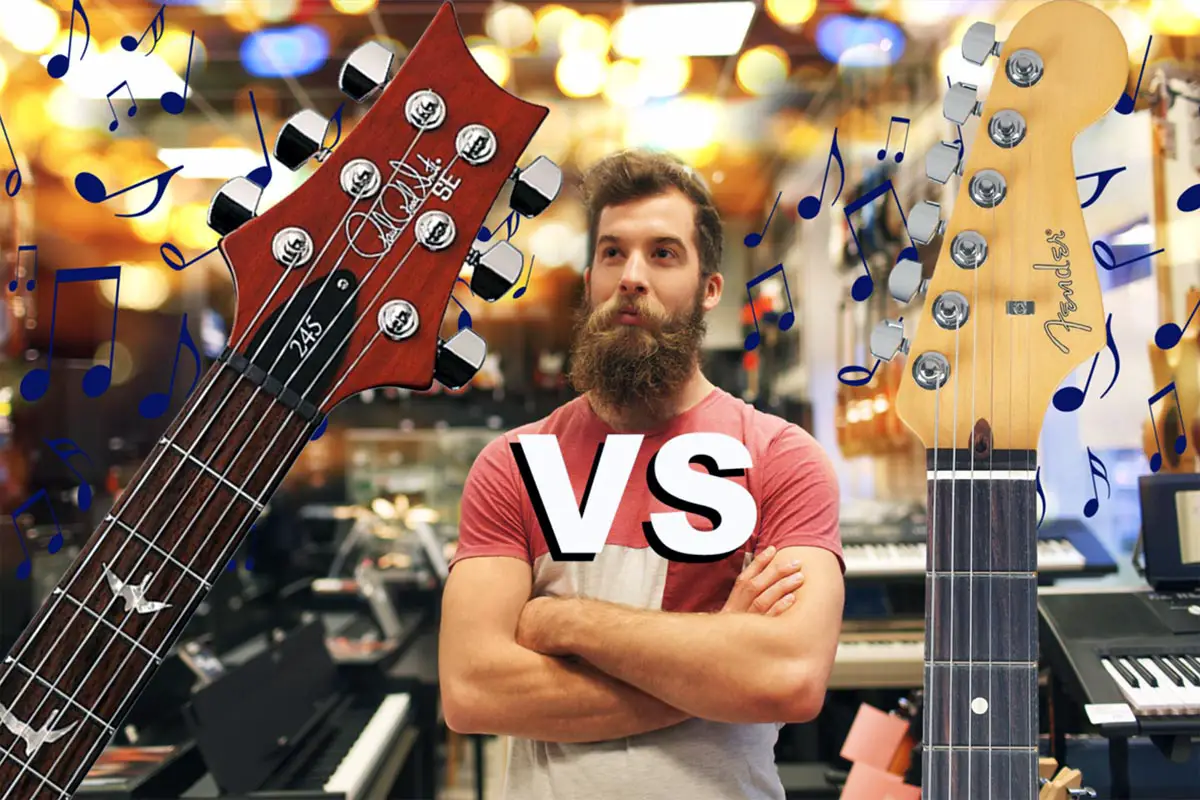 PRS vs Fender – What Do Guitarists Think?
PRS has a well-established reputation for high-quality guitars. They've intentionally designed their guitars to combine the two most iconic legends on the planet, the Les Paul and the Stratocaster.
Many guitarists claim PRS are the absolute best on the market, and their guitars have been used by the likes of Carlos Santana and John Mayer.
Their guitars are aesthetically pleasing to the eye, and their attention to detail is phenomenal. PRS offers glossier paint jobs and more elaborate inlays, whereas, Fender sticks with its original vintage design.
On the other hand, Fender is known for being one of the world's leading guitar makers secondary to the reputation of the Telecaster and Stratocaster.
Fender have a world-renowned reputation and a loyal and faithful fanbase, in conjunction with faces like Eric Clapton and Jimi Hendrix behind their name.
Playing Comfort
Both brands produce lightweight and comfortable guitars, but Fender offers a slight edge in this area. Fender nailed it from the beginning with their near-perfect ergonomic design.
PRS guitars feature a flatter back and a curved front. The Standard and Custom guitars also have a bit of a lip around the edge of the body, which can cut into your strumming forearm.
The longer you play, the more noticeable it becomes.
PRS guitars are slightly lighter than Fenders giving them more resonance. The lightness of the PRS also becomes more noticeable over time.
PRS guitars have gained popularity due to their wide-thin necks and flat fretboards that facilitate low action and easy access. The Custom and Standard models have a uniquely beautiful carve.
PRS vs Fender Sound Comparison
PRS uses coil Humbucker pickups, which generate warmer tones that provide greater distortion. They do well utilizing high gains and the double humbucker pickups offer more dynamic tones.
PRS guitars have balanced midrange with a fully warm, rounded tone. The pickups can generate bright chimey snaps to thick sustains.
Fenders are legendary for their tonal dexterity. The single pickups generally produce brighter, sharper tones and better sustains.
The Fender Squier is a knock-off of the Stratocaster at a much more affordable price. It's designed to mimic the classic Strat as a more affordable option. It produces the classic bright, sharp sounds with lots of clarity.
Fenders are designed to be low output and work better in genres that prefer bright and clean sounds. PRS does better with hard rock and metal, also producing a creamy rich sound good for clear smooth melodies.
PRS vs Fender Build Quality Comparison
PRS guitars are known for top-end performance and quality construction. Their attention to detail is unmatched, but their entry-level is high.
Their most affordable guitar is the PRS SE 24 Standard for around $650. Manufactured in South Korea, it uses cheaper materials to lower the cost without sacrificing quality. PRS professes rigorous quality control ensuring no dead spots.

The PRS SE 24 Standard is a 25" scale guitar featuring an exquisite paint job in translucent blue, tobacco sunburst, or vintage cherry with a double-cutaway body and top-notch tremolo.
The PRS 24 Custom is a step up around $850 with an all-mahogany body, maple neck, and rosewood fretboard. It too is a 25" scale with 24 frets.

The Fender Squier is Fender's entry-level model designed to mimic the Strat. It has the classical Stratocaster design with white pickguard and knobs. Made in China, this 25 ½" scale guitar can be purchased for around $250.
The Fender Player Stratocaster features new Alnico 5 pickups and upgraded bridges to provide better sustain. Made in Mexico, this 22 fret, 25 ½" scale guitar can be purchased for $850.

By design, the Silver Sky is PRS' version of the Stratocaster. Offered at the same price, the Silver Sky is a 25 ½" scale that features 22 frets, 3 single-coil pickups, and a 5-way switch.

Tonewoods & Build Quality
Both PRS and Fender have double-cutaways.
Made with all mahogany, the 24 Standard generates a rich, warm sound with added sustain.
Also made with mahogany, the 24 Custom features punchy tones and sustains with a maple top and a "violin" style body. This emits a low-velocity transmission allowing for less clashing of overtones.
Neither the Custom nor the Standard utilizes a pickguard.
Fender Squier uses a pine body, which many argue provides greater resonance and sustain. Stratocasters use ash or alder which have an open smooth, airy sound with a wider midrange.
Both Squier and Strat have 3-ply parchment pickguards.
The PRS Silver Sky features the familiar Stratocaster body using poplar, providing a complexity of tones from not too bright to not too warm.
Neck Shape & Playability
PRS' Standard 24 and Custom 24 feature 24-frets with wide-thin, maple C-necks that provide strong sustaining, bright tones.
The signature wide-thin neck makes it easy to wrap your hand around but also has a wide face on the fretboard for easier transition and playability.
Both Standard and Custom provide rosewood fretboards known for their open and warm sound. The necks display bird inlays and have a set neck joint with a 10" radius and 1 11/16" nut width.
They have medium-jumbo, nickel silver frets and PPS plastic nuts with a gloss finish.
Both the Squier and Stratocaster are constructed with bolt-on maple C-necks. Both have a 25 ½" scale length with a 9 ½" radius and a 1.65" nut width.
Squiers feature 21 frets with narrow-tall nickel-silver frets and a plastic nut, whereas the Stratocaster has 22 frets with medium-jumbo frets and built-in bone-nut.
Both also have maple fretboards giving them precise and bright tones with tight low-ends.  
The Stratocaster, however, can also be purchased with a rosewood fretboard giving it a much softer sound since it can mellow an otherwise bright and snappy guitar into a sweet and warm sound.
The Silver Sky is also 22 frets with a 25 ½" scale length featuring a maple neck and rosewood fretboard with a synthetic bone nut.
It has a bolt-on neck with bird inlays, but only an 8 ½" radius leaning towards the vintage side, and a slightly more narrow 1.625" nut width.
Bridge & Tuners
The PRS Standard 24 and Custom 24 use molded tremolos, and floating bridges with bridge integrated tailpieces. They have proprietary PRS nickel-designed tuners that lock from the top. The floating bridge and brass saddle use the double locking system to increase tuning stability.
Fender Squier uses a 6-saddle vintage-style synchronized tremolo bridge with a bridge integrated tailpiece and vintage-style tuners.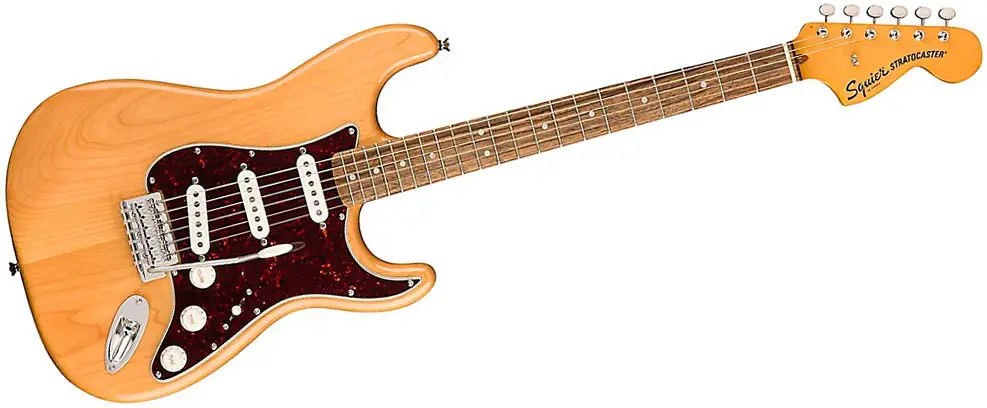 The Fender Strat has a floating bridge with a single locking system, which causes diminished tuning stability, but the floating bridge allows for more bravado effects. It has a 2-point synchronized tremolo with bent steel saddles and features standard Fender cast sealed tuning machines with chrome hardware.
The PRS Silver Sky uses a 2-piece steel tremolo with vintage-style non-locking tuners.
Electronics
Both PRS Standard and Custom feature two sets of signature 85/15 "S" humbuckers giving them clear resonation with a greater range in frequency.
With patented molded tremolos, they use coil tapping electronics using one master volume knob and one master tone knob with push / pull tone control.
They both have 3-way blade pickup switches providing full bridge, full neck, or bridge and neck together.
The two humbucker system produces more of a thick, mellow sound. However, PRS also offers the push / pull split function that allows you to obtain a single-coil sound providing much more versatility.
The Squier uses standard electronic 3 single-coil pickups, one master volume control, and two master tone controls. One for the neck and middle pickups, and the other for the bridge pickup. It also has a 5-way blade pickup switch, which gives you more tone options when compared to the PRS.
The Stratocaster has 3 single-coil pickups with brighter, sharper sound, which can be distorted by tweaking your gain.
The Strat also features a 5-way blade pickup giving you the option of bridge alone, bridge and middle, middle alone, middle and neck, or neck alone options.
The Silver Sky mimics the Strat with 3 PRS 635JM "S" Single-coil pickups, one master volume, two tone controls, and a 5-way blade switch.
The Silver sky has the ability to achieve fully rounded tones with glassy highs and charming harmonics.  Their pickups are far superior to the Player Series Stratocasters and simply have more oomph.
PRS or Fender – Which Is The Best Value For The Money?
To say which of these guitars is the best value for the money really depends on what you're trying to achieve.
PRS guitars are arguably inaccessible for beginning guitarists. So if you're looking for a budget-friendly option, then Fender Squier offers the best value.
However, if you look at PRS guitars from the perspective of an intermediate player or someone looking for a second guitar, then PRS certainly offers a bit more versatility and they have a great line of truly good quality guitars.
If you're just looking for the best deal on a traditional Stratocaster, then it's absolutely an outright draw. The Fender Player Stratocaster and the Silver Sky are near identical and it's just a matter of sound preference and fanbase loyalty.
At exactly the same price, the Silver Sky is lighter and more boisterous, but the Strat is definitely more comfortable and unmistakably authentic.
Final Thoughts
When comparing PRS to Fender, playability, and ergonomics are actually more alike than they are different.
If you prefer a lot of gains, then the humbucker pickups will be more suitable for your needs. Fender's wheelhouse includes clean, bluesy, classic rock sounds that are all synonymous with the Strat "quack."
If you want a little bit of both, then PRS does offers the split function single-coil sound, albeit not as clean as a traditional Strat.
Excluding PRS' lack of true entry-level guitars, both brands offer good quality, affordable guitars and personal preference will be your deciding factor.