Are PRS Electric Guitars Good Quality Worth Buying?
PRS was founded in 1985 in Maryland USA. Started by Paul Reed Smith who had started building and repairing guitars in his attic at home 10 years earlier. Smith build his guitars around the principles of playability and looks and took it on himself to get his guitars into the hands of artists in the company's early days.
He would take his guitars to music events and get himself backstage to get the opinions of artists he hoped would one day play his guitars. Fortunately, his idea worked and PRS Guitars started becoming a common sight on the stages of huge bands.
Since then the PRS name has become associated with high-end custom finish guitars accessible mainly to people who have a fair bit of spare change to pick up PRS guitar.
But do their guitars actually live up to the hype and build quality they are known for?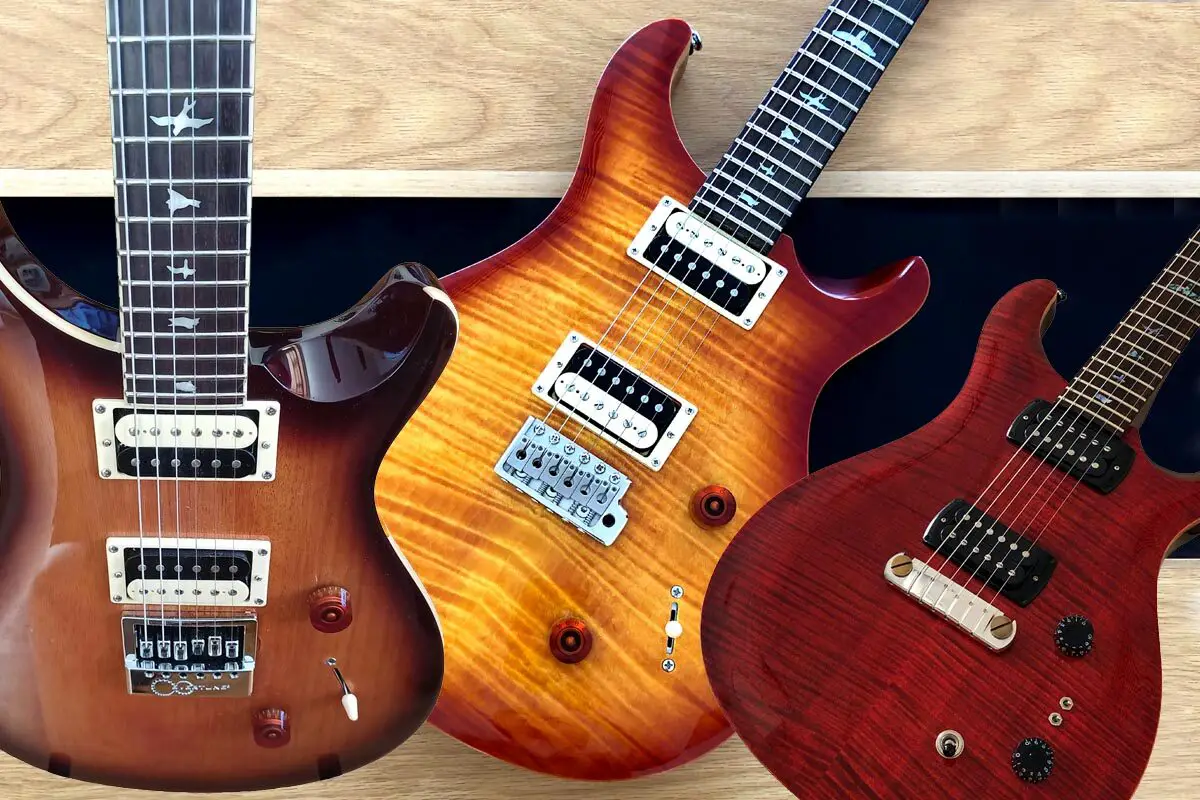 How Good is PRS Guitar's Build Quality?
The build quality of PRS is undeniably good. Out of the box, you will rarely have to do anything to a PRS guitar to get it playing to its maximum potential. This is because the quality control at PRS is world-class.  
This is especially apparent in their USA mainline series guitars. I have played them myself and could find nothing to fault them on, and I have also searched far and wide from fellow guitarists to the depth of the internet… and still not a single complaint.
But what about the build quality of their made in Korea SE series guitars? 
While there were a few blunders when they first started shipping them out in the 90s' it would seem that most of that is behind them. Since at least 2018 something changed with their SE series that brought build quality to a level that made them nearly indistinguishable from their made in USA guitars, at least in regards to build quality. 
The way these guitars are put together is top-notch even if the materials themselves aren't on par with their high-end counterparts. 
The main issue with their SE series seems to come down to the hardware inside them and the materials used being more prone to wear than the expensive tonewoods used in their American factory. But this has no impact on the build quality itself.
Are PRS as Good as Other Guitar Brands?
PRS is a world-renowned brand whose guitars are often mentioned in conversation next to guitar giants like Fender and Gibson. 
The guitars they make are some of the best you can buy so they definitely deserve their place in the discussion of the best guitar manufacturers around. A PRS guitar can go riff for riff with any high-end guitar on the market.
PRS are renowned for their high standard of quality. This makes them very popular with guitar stores as it's said PRS never ship out a dodgy guitar. 
An answer that supports the quality of PRS guitars is from the Martin Music store in Memphis where they stock over 50 PRS guitars at a time. When asked about PRS in comparison to one of their contemporaries Gibson, they spoke highly in favor of PRS. 
Martin Music gets their Gibson guitars straight from the factory and when they arrive inspect them in the store. Quite often they send Gibson guitars straight back to the factory because they aren't perfect.
When asked why they said…
"If PRS can send us perfect guitars, every time, and they're almost the same price as the high-end Gibsons, why would we keep an imperfect Gibson".
This is a testament to just how much care is put into the construction and design of PRS guitars.
What Guitarists Think of PRS 
You'd be hard pressed to find a guitarist that doesn't respect the craftsmanship of a PRS guitar. The main complaints you'll hear about them have mostly to do with the price tag as these guitars will cost you a fair bit.
What seems to draw a lot of intermediate and advanced players to PRS guitars is their unique setups.
They do a great job of taking the best parts of different guitars and making something completely new out of them.
A common story of why people buy a PRS guitar is that they liked aspects of 2 or 3 different guitars but couldn't settle on one… that's where PRS comes in.
An example of this is someone who couldn't get enough of the dual Humbucker tone of a Les Paul but didn't like its heavyset body and thin frets.
Instead, they preferred the look and playability of a Fender Stratocaster. Luckily for them, the PRS Custom 24 offered the perfect combination of the two.

Some people just don't like PRS guitars though.
PRS only make guitars with rather flashy finishes on them, making them look like hair metal guitars of the past. This puts a fair few people off as they don't sell any guitars that blend well aesthetically with more indie or modern genres of music. 
This has given them the endearing title of "middle aged dentist guitars" or the "lawyers guitar". 
But even people who poke fun at PRS for this will still agree that the guitars are fantastic.  
How Popular are PRS guitars?
PRS guitars are most popular with intermediate guitar players or players who want a guitar that is of the utmost quality. 
This has limited their widespread popularity as they haven't made much of an attempt to build any beginner-level guitars. You'll probably find more people that praise the quality of PRS guitars than people who actually own one!
Are PRS Guitars Good for Metal?
Although not specifically made for metal, they became popular back in the 2000's with metal bands combining them with Messa Boogie amps, a combo now well known for great metal and hard rock sound.
The cheaper PRS SE range are used by many metal players, and you will frequently see comments about their wide tonal range making them extremely versatile for covering all bases.
Often the PRS SE Tremonti comes up in conversation as a great metals guitar that people have held onto for years, and the PRS Baritone 6 is also a great option for getting great heavy metal chug.
Although PRS can work great for metal, they are really versatile instruments not specifically made for this genre, and you can play just about anything on them and get the sound you're after.
Who Plays PRS Guitars?
There are some iconic artists that play PRS guitars, and a few of them have close ties to the company through collaborative signature series guitars. Some of these artists are:
Carlos Santana
John Mayer
Kevin Wilson
Kurt Ozan
Rhonda Smith (Prince)
Brad Delson (Linkin Park)
Connor Kennedy (Steely Dan)
Danny Lohner (Nine Inch Nails)
Gerry Leonard (David Bowie's Guitarist)
Where Are PRS Guitars Made?
All of the mainline PRS guitars are made in the U.S.A at the Paul Reed Smith factory in Maryland. This has been the case since the company started making guitars in 1985. 
In the 90s' PRS introduced a mid-range line of guitars aimed at a more affordable market. These guitars were built in Korea and continue to be built there to this day. Since then their affordable guitars are either made in Korea or Indonesia.
How Good Is PRS Guitar Finish (Appearance)?
This is where PRS really shines, as their attention to detail on every guitar is second to none.
Do PRS Guitars Use Quality Woods?
PRS takes their tonewoods very seriously. In fact, they have a whole space in the factory that they have named the 'Wood Libary'.
Here they have racks of the finest quality woods on display and ready for use and they encourage guitar dealers to visit in order to inspect and specify the types of woods they would like on their next run of PRS guitars.
Guitar Body
PRS make their guitar out of the highest quality woods you can find including; maple, mahogany, korina, rosewood, and swamp ash. 

The finish used by PRS is also very high-end and are sure to turn some heads. They are all very vibrant and colorful so they might not be for everyone, but they sure give the guitars an expensive look to go with their expensive price tag. 
Necks & Fingerboards
The same attention to detail found on the body of a PRS guitar also applies to their necks and fingerboard. You will most commonly find rosewood, maple and mahogany on their necks and they're are know not to wear down with time.
Their SE series on the other hand can be a bit lacking in their choices of materials for the fingerboard.
Some people have reported that the nickel used on the fret inlays is of a lower quality than comparable (but more expensive) made in USA guitars. This softer nickel will wear faster than it would on a guitar made of higher quality materials. 
Do PRS Guitars Have Quality Hardware?
Pickups
Like most of the hardware on PRS guitars, all are made in house and designed by PRS themselves.
There are a lot of different options to consider when it comes to which pickups will come with your PRS guitar. Most of their different series come with their own specific pickups that PRS believe best complement the guitars they're fitted to.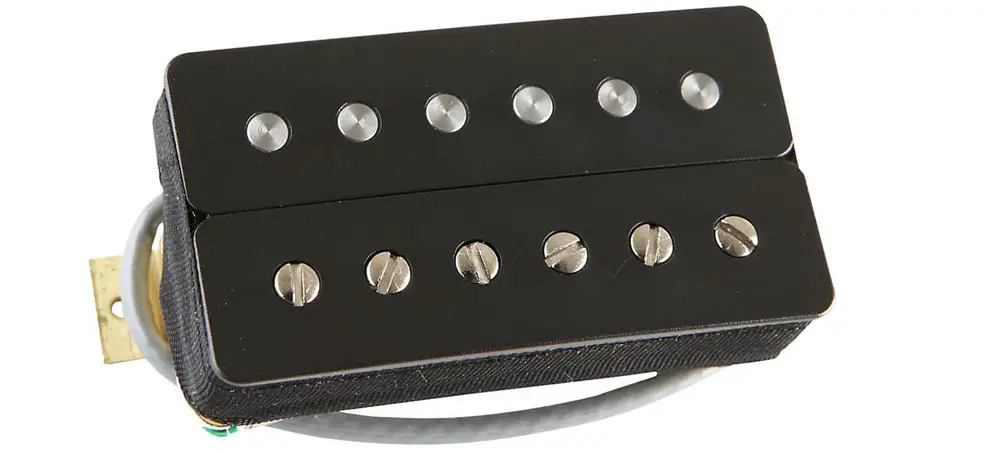 A few popular ones include their new 85/15 pickups which are a great pair of pickups for balanced sound. Whereas their Tremonti pickups deliver a high output sound that can pair great with overdrive effects and harder genres.
Bridge
PRS guitars come with their PRS Stoptail bridge that was first designed in 1991 and has been a staple of their guitars ever since. This bridge is designed to take advantage of the resonance of their guitars by delivering string vibrations directly to the body of the guitar. 
The Stoptail bridge is also straightforward to adjust making it easy to set up your guitar if you know how you want it set. 
This bridge can be best described as a modernized take on the classic Fender bridge design. What is does better is greater comfort for your strumming hand when resting on it and better tuning stability. This should be great news if you're a fan of using the tremolo arm!

Tuners
The latest upgrade to PRS tuners came a couple of years back with the release of their SE locking tuners. The opinion from PRS enthusiasts and people purchasing their first PRS guitar alike is that these tuners are next level. 
They offer some of the best tuning stability around, so good in fact people are upgrading their high-end PRS Guitars with them. They're also super easy to install which has made them very popular with people that like to customize their guitars.
In The End
Most people praise PRS guitars for their amazingly high build quality, however they are not for everyone. Some people find them too flashy, and others don't like the feel of them to play.
No matter which way you look at it, the quality of PRS guitars is second to none, and if you like the look of them you won't be disappointed to own one.
Whether you like the feel of them to play is another matter, and I'd advise anyone interested in them to pick up a few and play them before deciding to hand over the cash.