Should A Beginner Buy the Cheapest Fender Acoustic Guitars?
Picking your first acoustic guitar can be a stressful process. It's a big investment and the first step on your guitar journey!
You may be wondering should you buy the cheapest Fender acoustic guitar you can find, or should you buy one that will last until you are an advanced player?
Along with many other beginner guitar brands, Fender have a range of entry-level acoustic steel string and nylon string guitars aimed at first time guitar buyers; but are they really worth the price they ask – and are they the best choice for you?
We're going to take you through some basic models for beginners, and help you decide if any of these cheapest guitars in the Fender acoustic range are the right (or wrong) choice for you.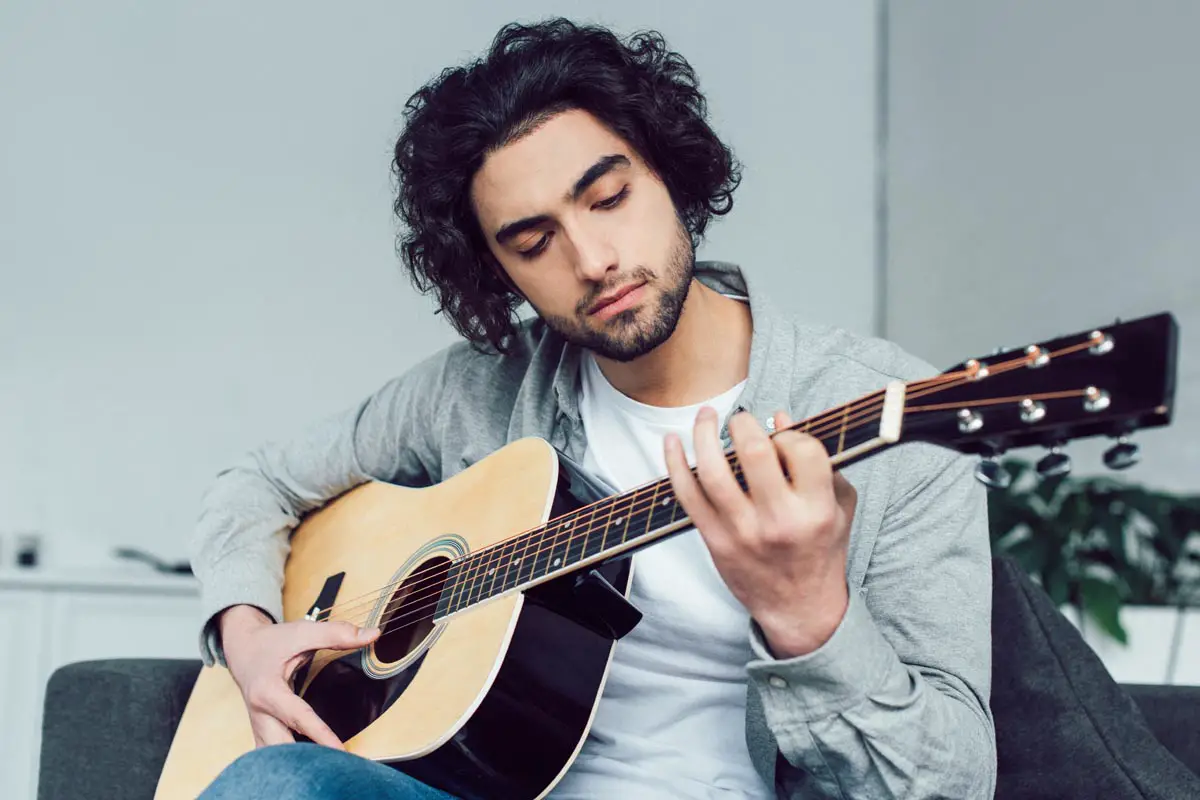 How Much Should You Spend on Your First Guitar?
Your first guitar should be easy to play and reliable. You don't need anything too fancy as you are just starting to learn the instrument. Sometimes more expensive guitars come with bells and whistles that can just complicate things as you learn.
For your first acoustic guitar, you should look to spend somewhere between $150 – $300. There are plenty of guitars in this price range that provide excellent build quality from reliable brands such as Fender.
Spending anything more will get you a better guitar, but the benefits of spending more won't be noticeable or necessary as you get started playing guitar.
Should You Spend More And Get A Solid-Top Fender Acoustic?
During your research, you may have heard about Solid-Top guitars. Solid-Top refers to the soundboard of the guitar, which is the surface at the front of the guitar (the part people can see while you play, and where the soundhole is).
Unless advertised as a solid top, most cheaper acoustics are made up of thin sheets of wood glued together (laminated wood), which looks solid wood on the face. 
The benefit of a solid top acoustic is that they offer greater volume and tone. You'll get a louder and richer sound out of a solid top even if the rest of the guitar is laminated wood. This is great if you're going to be playing in bigger spaces. 
Finding a guitar with a solid top also lets you know the guitar you've bought has that extra level of build quality put into it.
The downside of a solid top guitar is they need to be more carefully handled, as the solid top will dent more easily, and can crack if the wood becomes too dry or changes temperature too quickly.
You will also have to fork out a few extra dollars than you would be for an all-laminated wood body.
Should You Spend More for An Acoustic-Electric?
An Acoustic-Electric guitar will allow you to plug your acoustic guitar into an amplifier. This is a great feature if you're hoping to get more volume, as well as perform with other musicians or by yourself in a live setting such as a bar or cafe.
While this feature might seem like it would cost u a pretty penny, you can find some rather affordable acoustic-electric options. Fender offers some acoustic-electric guitars that will only set you back an extra $50 or so on top of what you'd spend on a similar non acoustic-electric guitar.
If you see yourself getting into performing live, or if your goal with learning guitar is to start performing, then the acoustic-electric option is highly recommended. 
By getting an acoustic-electric off the bat, you are giving your guitar greater longevity right from the start for a relatively small price, compared to buying a whole new guitar down the line. 
Some people might prefer to get an acoustic without all the electronics and here's why:
Unlike an electric guitar, an amplifier isn't necessary to get a loud and full-bodied sound out of your guitar. At the end of the day, you're buying an acoustic guitar for both its iconic sound and the convenience of being able to pick it up and play whenever, and wherever you want.
The extra money spent on getting an acoustic-electric guitar could be used to buy a slightly nicer guitar or some accessories. That's before I even mention the fact you'll also need to buy an amp to make use of your guitar's electrical abilities.
Cheapest Fender Acoustic Guitars Made For Beginners
Fender FA-135CE Concert Acoustic-Electric Guitar
The Fender FA-135CE is an acoustic-electric guitar designed and aimed at a beginner player. Designed to be comfortable sitting or standing for practice sessions and live performance, this guitar has been built with a light body that is easy to handle.

This guitar has a laminated spruce top with basswood for its back and sides. While not some of the more expensive woods Fender use, these woods make the guitar light to hold and give it a great balance of high and mid-range tones.
This concert-sized guitar has a smaller body than dreadnought acoustic guitars, and is a great choice for smaller players.
Why Beginners Would Like This Guitar
This Fender guitar is part of their CD series which is Fenders budget series of guitars. You can pick up a Fender FA-135CE for around $250 new, and sometimes found on sale even cheaper than this. The features you get at this price point make this a great beginner's guitar.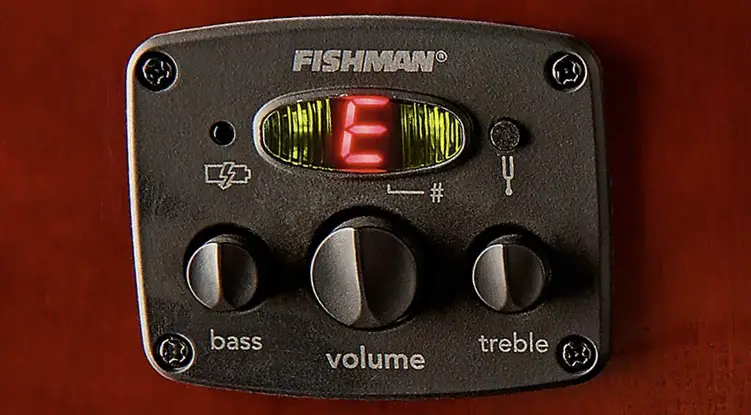 Being an acoustic-electric means that this guitar has a built-in tuner and pre-amp. This one in particular comes with a Fishman ION-T preamp and tuner. Fishman makes some of the best acoustic-electric pick ups on the market so you're in good hands here. 
One of the most frustrating things about learning guitar can be getting the guitar tuned. When your start off it can be hard to tell if the guitar is in tune… or if you're not playing the song right!
Having a tuner built in means you don't need to worry about learning how to tune by ear and saves you the money you'd have to spend on a standalone tuner. 
What you're getting here is more or less the same setup as some of Fender's more expensive mid-range guitars at a beginner's price. The reason it's cheap is because of the woods used to make the guitar.
For a beginner, this guitar will introduce you to the classic feel of a steel string acoustic with the added benefits of its onboard electronics. If you are looking to eventually perform live or with friends, its ability to plug into an amp means your first guitar should last you a while without having to upgrade it.
Fender FA-125 & Fender CD-60S Dreadnought Acoustic Guitars
Now for some straight acoustic options. Fender has two good choices for beginners in their acoustic guitar series. Both guitars offer great playability for new guitarists and will provide you with that classic Fender sound and feel.
The Fender FA-125 and Fender CD-60S Dreadnought cost around $200 and $230 respectively. So, what do you get for the money, and what does each model offer?

Like the FA-135CE earlier, the FA-125 is built with an all laminate wood body conspired of spruce and basswood. This will give you a bright and punchy tone despite not using the most expensive materials.
The CD-60S on the other hand ups the ante slightly with its construction.
The CD-60S comes with a spruce solid top unlike the laminated spruce on the FA-125. It also uses mahogany for its back and sides which give it a more balanced sound than basswood. Focusing on highs and lows, it produces a more classic wooden guitar sound. 

The solid top on the CD-60S also means it's more capable of projecting the guitars' sound further meaning the different tones of your playing will be clearer from greater distances. Useful if you're hoping to play in larger spaces. 
Why Beginners Would Like These Guitars
If you want your first guitar to be as classic as they come both of these guitars will fit the bill.
Both of these guitars are great for beginners as they both feature necks that are designed to be easy to play. The CD-60S does come out on top slightly for new players as it features Fenders 'Easy to Play' shape neck that uses rolled fretboard edges. This makes getting your hands around the neck easier for playing chord shapes. 
If you pick up either of these guitars to learn on you can't go wrong. It comes as a surprise to some that Fender themselves are the manufacturers of their entry-level guitars and not Squire like they do for their electric guitars. 
Despite not being professional level guitars they're still made by Fender and will sound great if you're just starting out on your guitar journey. If you're a beginner that wants a guitar that is suitable for a newbie but doesn't compromise on staying true to Fender's classic acoustic designs, then the FA-125 and the CD-60S are fantastic choices.
Fender Small Acoustic Guitars (For Travel or Kids)
Fender FA-15 3/4 Scale Steel String Acoustic Guitar
Learning guitar as a child can be difficult if you have to get your arms around a full size guitar. That's where Fender's small scale guitars come in. 
The Fender FA-15 is a 3/4 scale guitar suited for kids or adults that want a more portable guitar option. While it's not full size it is fully featured… size doesn't matter here!

The FA-15 is the steel-stringed model in this series, and for around $180 you're getting a great all-round player. Deciding between steel and nylon strings is an important decision to make as different strings have very different a sound and feel.
Why Beginners Would Like Them
A lot of 3/4 guitars come with Nylon strings (we'll talk about those next) but this one comes with steel. Steel strings are a bit harsher on the fingers than nylon but they'll give you a more versatile sound! When you think of what an acoustic guitar sounds like it's likely a steel string sound that comes to mind. 
That makes the FA-15 a great option for a child that wants to get to know the feel of a steel string without the extra difficulty of learning on a full size guitar. 
Another reason this is a great choice for a child to learn with is its volume. It's not a very loud guitar. It's still loud enough for a small group of people to get together for a singalong but not loud enough to be obnoxiously loud if played behind a closed door.  
A guitar's volume is dependent on the size of the body. More room for the sounds to reverberate = more volume!
The FA-15 series also come in some funky colors, making them a great choice to entice kids to play, or just to stand out in your living room.

Fender FA-15N 3/4 Scale Nylon String Acoustic Guitar
For brand new guitarists the FA-15N might be the best choice for you or your child. This guitar has nylon strings which are easier to play than steel strings, and I mean way easier I can't emphasize this enough. 
Why Beginners Would Like This Guitar
Steel strings require you to toughen up your fingers in a bit and can be a little uncomfortable to play at first. Nylon strings on the other hand feel light and gentle on the fingers. For this reason, they are the best choice for kids that want to learn guitar.
The trade off with nylon string guitars is that they aren't as versatile as steel strings, and the volume won't be as loud.
When people think of nylon strings they usually think of classical and flamenco style music. While nothing is stopping you from learning rock and blues, the tones a nylon string guitar produces aren't as suited to those styles.
This shouldn't put you off buying a Fender FA-15N especially if you have smaller hands or you're buying it for a child. The combination of its small scale and nylon strings makes the learning curve on this instrument easy to overcome. You don't have to get used to steel strings or struggle with a full size guitar!
Full Size Fender Nylon String Acoustic Guitar
Fender CN-60S Nylon String Acoustic Guitar
Now for a full size nylon-string guitar! The Fender CN-60S Nylon String Acoustic guitar was designed to combine the best of both nylon and steel-stringed guitars making it an appealing instrument for beginners and intermediate players alike.
The body of the CN-60S is made of laminated mahogany making it a sturdy instrument with the welcome addition of a spruce solid top. These woods give the guitar a rich and iconic classical sound.
This guitar is a step up from the smaller FA-15N, and is well priced at around $230.

Why Beginners Would Like This Guitar
Full size nylon string guitars are usually built with a wider 'classical' style neck. The wider neck on these guitars means that the strings are further apart from each other along the frets. This isn't ideal for beginners or players that want their guitar to be more versatile than just a 'classical' guitar. 
The CN-60S brings a steel string style guitar neck to a nylon stringed guitar. Steel-string guitars have a thinner neck profile placing the strings closer to each other. This makes getting your hands and fingers around the neck easier when learning to play chords. 
Combine that with its nylon strings and you've got a guitar that is a breeze to play.
It also features the same 'concert' body shape as their popular steel-string acoustic series of guitars. The body size isn't overwhelming and the guitar is light so you can play easily without getting tired of holding the guitar in place.
The comfort of a steel string design paired with gentle nylon strings makes it hard to imagine a full size guitar that's more ideal for a beginner than this one is.
Due to the unique design of this guitar, it was worth considering how well it was set up out of the box. Sometimes a good guitar needs a bit of tweaking to become a great one! Fortunately, this guitar is set up perfectly out of the box and plays very comfortably for someone used to a steel-stringed acoustic.