Yamaha vs Fender Electric Guitars – Which Are Better?
Fender and Yamaha have been building electric guitars since the '50s and '60s. Fender's Stratocaster design has had a massive influence on guitar building and style.
Yamaha has been on the cutting edge of guitar technology for decades and is committed to keeping quality high across all their models.
Although they may not have the history and reputation that Fender boasts, you can be sure that Yamaha guitars are as good as many of Fender's competing models, if not better.
We've compared some popular models from Yamaha and Fender so that you can easily compare side-by-side what each brand offers, along with their playability, and popularity with guitarists.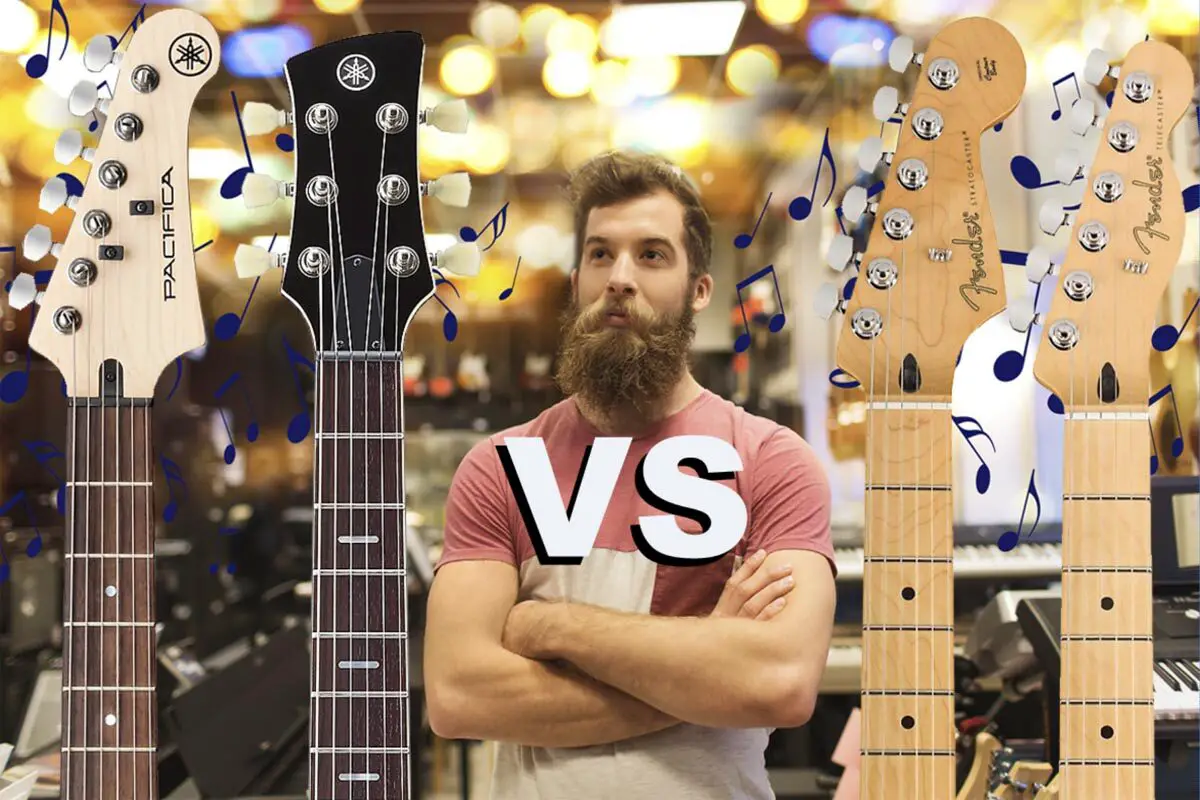 Is the Yamaha Pacifica Better Value Than the Fender Player?
Looking at the most comparable lines from Fender and Yamaha, you have the relatively new Fender Player series and the ever-popular Yamaha Pacifica series. 
Yamaha Pacifica
Guitarists have favored the Yamaha Pacifica for over two decades. They are built to a high standard of quality and produce excellent tones.
The Pacifica was designed in Yamaha's California custom shop, yet they are produced in Indonesia. This shouldn't be a cause for worry, however, because Yamaha has ensured the quality of their guitars is consistently high regardless of where they are manufactured.
The name Yamaha is certainly less glamorous than Fender, but this may also play to Yamaha's advantage in value for money.
Fender Player
Some say the Player series is Fender's new entry-level lineup. You might find this misleading, however, because Fender Players pack rich tone and exceptional playability.
The Player series includes all the iconic guitar models that Fender has made over the years, but adds the modern processes and technologies to keep quality high and costs lower. This makes the Player one of the best value-for-money guitar lineups Fender has released.
All Fender Player guitars are made in their Mexican factory, which is known to produce well-made instruments.
Yamaha vs Fender Price Guide
Of course, you can't talk about value for money without directly comparing price.
Ranging from a mere $200 up to just over $2000, Yamaha's guitars appeal to musicians looking for a quality instrument in many price brackets.
Fender has a reputation for excellence, and for the most part, they live up to it. That doesn't mean they're cheap, though. Fender doesn't offer anything below $750 and offers guitars that cost up to $2900. 
Two of the most similar priced guitars in Fender's and Yamaha's lineups are the Player Stratocaster and the Pacifica PAC612.
Fender Player Stratocaster VS Yamaha PAC612
There are many variations of the Player Strat and several of the PAC612. However, the only significant differences are variations in the bridge and pickups. 
For the sake of comparison, both guitars in this example will be HSS (humbucker in the bridge position and single coils in the middle and neck positions) and have standard Stratocaster-style tremolo bridges.
Fender Player Stratocaster (around $880)

Tonewood:
Body: solid alder with a gloss finish (nice and light, nothing left to be desired).
Neck: bolt-on maple with a modern C shape and satin finish (very comfortable except the boxy, retro neck joint).
Fretboard: your choice of maple or pau ferro. 9.5-inch radius, 22 medium-jumbo frets.
Hardware:
Bridge: two-point Fender tremolo with bent steel saddles (very nice except for the screw in tremolo bar).
Nut: "synthetic bone" or in layman's terms: plastic.
Tuners: Fender sealed cast tuners (nothing special, but excellent nonetheless).
Electronics:
Pickups: Fender Alnico II humbucker and two Alnico V single coils (replicating the late '50s and '60s Fender pickups).
Controls: one volume, two tones, and a five-way switch.
Despite a couple of mild deficiencies, the Player Strat is a superb guitar. Most people consider it to be great value for money and even compare the quality and features to that of the 2008-2012 era American Standard Stratocasters.
Yamaha Pacifica PAC612 (around $680)

Tonewood:
Body: solid alder (nearly identical to the Strat).
Neck: C shape bolt-on maple with a gloss finish (and the same boxy neck joint).
Fretboard: rosewood with 22 medium frets.
Hardware:
Bridge: Wilkinson vibrato (very good. A bit harder to set up, but it does have a pop-in tremolo bar).
Nut: Graph Tech TUSQ (certainly a step up from the plastic nut on the Fender).
Tuners: Grover locking tuners (top-of-the-line tuning machines, some of the best out there).
Electronics:
Pickups: a Seymour Duncan Custom 5 TB-14 Humbucker in the bridge and two Seymour Duncan SSL-1 Single-coils in the middle and neck positions (great pickups, built with Alnico V magnets and designed to emulate the pickups of the '60s. Not dissimilar to the Fender).
Controls: volume, push-pull tone for humbucker coil-split, five-way pickup switch (no second tone but the coil-splitting function is very nice).
The Yamaha PAC 612 is an excellent guitar. Some have even said it is worth a couple of hundred dollars more than it sells for. Compared to the Fender Player Strat, you are getting more features and better quality for a smaller price.
What do Real Guitarists Think?
Fender fans are very happy with the Player line, and it's easy to see why. 
The made-in-Mexico Strats, Teles, Leads, and Mustangs are a worthy alternative to the prestigious American-made versions. And for anyone looking for the classic Fender look and tone, it doesn't get any better for the price.
Yet many guitarists still prefer the Pacifica. The quality is outstanding for such a cheap instrument. You can have a similar look, tone, and feel to the Fender for hundreds of dollars less.
When comparing the brands generally:
Yamaha is definitely associated with high quality for excellent prices (several form posters mentioned Yamaha's exceptional quality control). And players like the unique looks and variety of models and shapes offered.
Fender is seen as a gold standard of guitars. The only thing that players don't like about them are the prices. Many forum posters pointed to the fact that much of the price comes from branding rather than from simple quality.
Fender is undoubtedly a legendary brand, and there are many good reasons why, but many players think that if you are talking only about price and quality, Yamaha has the better deal.
Yamaha vs Fender Build Quality
Both Yamaha and Fender do an excellent job in designing and building guitars. They take care to use quality parts and woods in general. That said, they each have cut some corners.
Take a look at some strengths and deficiencies commonly found in Fender and Yamaha guitars:
Body
Fender and Yamaha craft strong, beautiful bodies from alder. 
Fender tends to leave the alder as the top wood, although they occasionally put a flamed maple top or veneer on for a different look.
Yamaha commonly decorates their guitars with figured maple veneer. Although of lesser quality than a proper maple top, it looks identical in most cases and helps them keep production costs low.
Neck Shape & Playability
C shaped necks are prevalent on both companies' guitars, although Fender makes their necks slightly thinner and calls it "modern C." 
The other most noticeable difference between the necks is the width. Yamaha makes their necks slightly narrower on occasion (41 mm at the nut versus the 43 mm like Fender).
Satin necks are often thought to have superior playability to necks with a gloss finish. Although both manufacturers use several types of neck finishes, Fender favors satin while Yamaha finishes a majority of their guitar necks with gloss polyurethane.
Both companies frequently use boxy neck joints which have inferior playability to the rounded neck joints you might find on an Ibanez RG.
Bridge & Tuners
Yamaha uses die-cast tuners on their lower-end models but once you reach the $600 range, they start using locking tuners (sometimes even Grover branded locking tuners) which is a significant upgrade over Fender's tuning machines.
It isn't that Fender's tuners are bad, they are high quality in their own right, but they don't have the sought-after locking capability of the Grovers.
Yamaha vs Fender Wood Choices and Tone
Alder is a popular choice of wood for solid guitar bodies because it's fairly lightweight and has excellent tonal qualities. Fender and Yamaha both use alder on their electric guitars, with few exceptions.
Rosewood is a classic tonewood for the fretboard of guitars. Yamaha still uses it almost exclusively whereas Fender has shifted to using pau ferro (similar to rosewood, and even better in some aspects, but doesn't have the reputation that rosewood does).
Maple is a great choice of tonewood for various reasons. It is very consistent, strong, and acoustically transparent, which means it changes the sound fairly little. Fender and Yamaha use maple necks almost exclusively.
Yamaha vs Fender Electronics
Pickups
Some of the most iconic pickups in history are Fender-built. And for good reason. Fender used high-quality magnets and wire in the creation of their pickups. 
The new pickups Fender builds are no different. Consistently using Alnico magnets to replicate the classic sounds Fender owners typically seek.
Yamaha's pickups are great on most of their guitars. As mentioned before, the Pacifica 612 line even uses Seymour Duncan pickups that are very similar to Fender's pickups.
Controls
Fender and Yamaha electric guitars sport many of the same controls. That said, you are more likely to find a push-pull tone knob for a coil tap on a Yamaha than the dual tone knobs typically found on Fender guitars.
Something to note is Yamaha's occasional use of miniature instead of full-sized potentiometers. You won't hear a difference, but miniature potentiometers are known to have a shorter life span.
Final Thoughts
Whether you purchase a Yamaha or a Fender, you can be sure that the quality is high. The main differences are in the styles and shapes of the guitars.
That said, you may end up paying more for a Fender than for a similar quality Yamaha.