Cort Earth Mini vs Baby Taylor (Is the Taylor Really Better?)
Cort Earth Mini and Baby Taylor guitars are frequently referred to as travel guitars, although they can be a good choice for a fun little instrument, or for children.
The Baby Taylor is a great little guitar, and I have a friend in the music industry who keeps one on their lounge as a daily player, and loves the way it sounds bigger than it is.
You will pay more for a Baby Taylor than a Cort Earth Mini, but are they really worth the price tag, or does this little guitar ride on it's big brand name?
Before you rush out to get a Taylor just because it's a Taylor, you should compare it to the Cort Earth Mini which is a well appointed little guitar.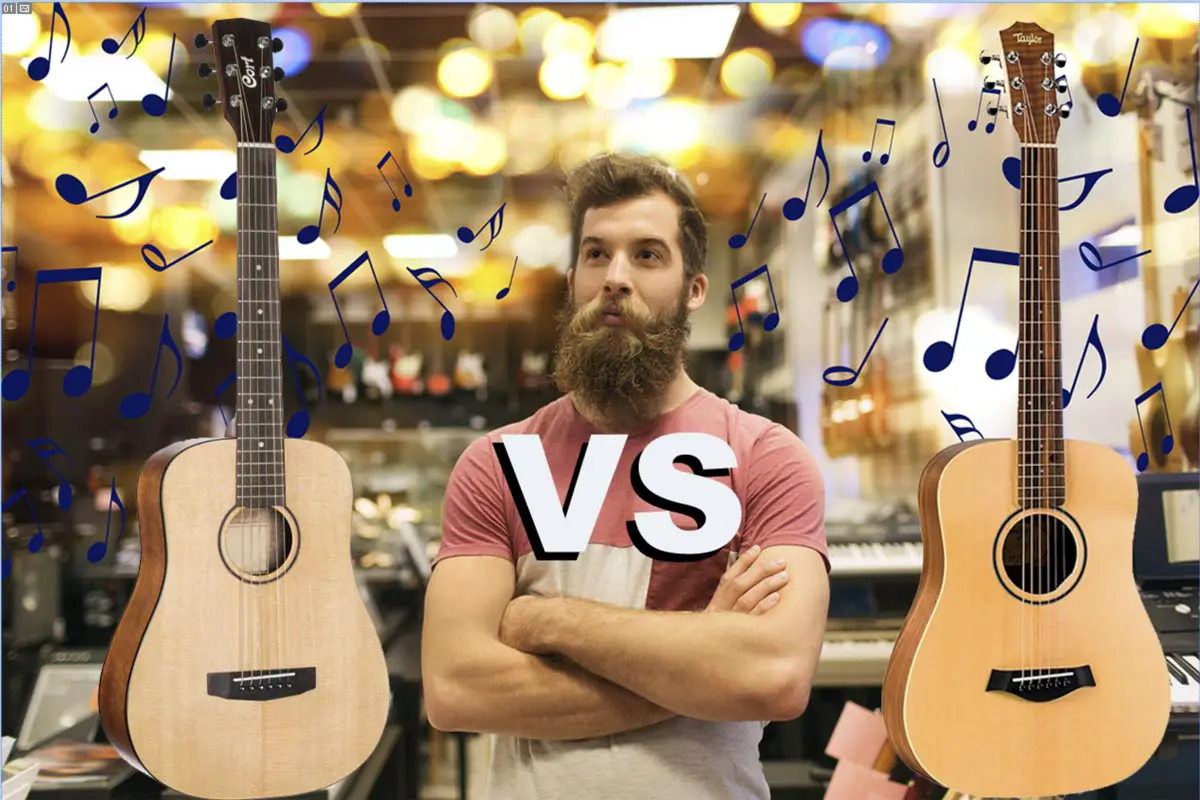 How Good is the Quality of Cort Earth Mini's vs Baby Taylor's?
Both guitars are ¾ size, 20 fret dreadnought bodies with a 1 11/16" nut width, and neither sport a pickguard nor have any binding. 
The Earth Mini has a scale size of 22.8" and the Baby Taylor 22.75", and both are sold with their own gig bag.
The Cort Earth Mini exhibits an open pore finish that not only enhances resonance but also reduces the weight. Taylor has a Matte 2.0 finish, which also enhances the sound at the outset, but the finish eventually glosses up over time.
What Type of Wood They are Made From
Both guitars use laminated back and sides, just different wood types, which affect sound quality more than structural quality.
Cort Mini bodies are made with laminated rounded mahogany back and sides. Mahogany is known for delivering strong and warm midrange with a clear focus, and the rounded back generates a bigger sound from a smaller guitar. 
Taylor provides options in sapele, walnut, or koa. Sapele is very similar to mahogany, just the slightest bit brighter on the treble end. Walnut is known for being a midrange tonewood, and koa produces a rich, resonant, well-rounded sound.
Cort features a solid Sitka spruce top, whereas Taylor features a choice of three solid tops: spruce, tropical mahogany, or Hawaiian Koa. Spruce emphasizes bright treble frequencies, while mahogany produces a meaty midrange. 
Necks, Bridge & Saddle Materials
The Baby Taylor neck is made of sapele and features an Ebony fretboard designed to be snappy with fewer overtones, while Cort uses mahogany and a rosewood fretboard featuring warm, bright tones. Both offer slim C-neck profiles. 
Cort Mini uses a rosewood bridge with plastic saddle, nut, and pins, which dampen string vibrations. The bridge is routed around the pinholes, which slightly increases the tension of the strings.
The Baby Taylor has an ebony bridge with a Nubone nut and saddle, which creates more volume and tone.
Both use chrome tuners, but Cort encapsulates theirs with black rubber.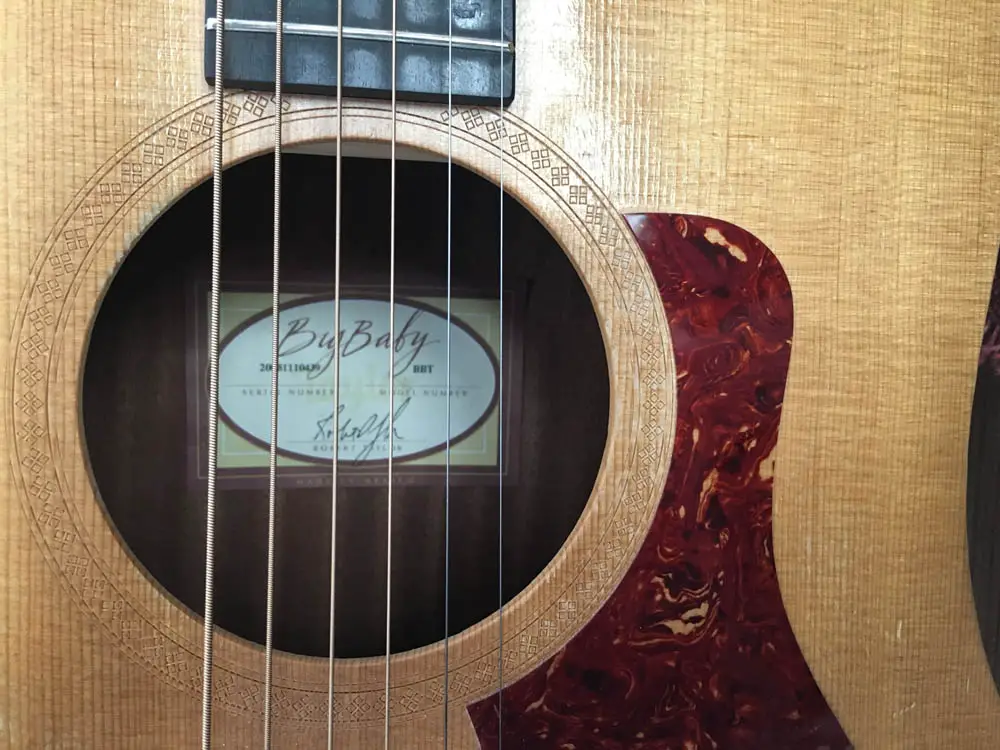 How Are They Constructed?
The neck construction is the first big difference between these two guitars.
The Cort Earth Mini uses a traditional dovetail neck joint, but the Baby Taylor uses a bolt-on neck. While there are pros and cons to each style, most guitarists agree that the dovetail is more structurally sound giving the Earth Mini a slight edge at this point.
Experts also indicate that dovetails hold their value better over time.
Another big difference in Cort's favor is the bracing and kerfing. 
Cort uses advanced X-bracing with a tone bar, which not only adds extra support to the bottom of the soundboard, but it also produces rich midrange and bass.
The

Baby Taylor uses standard X-bracing without a tone bar. 
Another impressive upgrade by Cort is their kerfing, which adds extra reinforcement inside the body to add strength and stability where the top and back meet the sides.
The majority of travel guitars, including Taylor, don't have these at all. 
What Extras Do They Offer?
While structurally, Cort appears to outshine Taylor, the Baby Taylor offers a slew of additional options and upgrades that Cort does not.
Not only can you get the Baby Taylor in three different tonal woods as mentioned above, but you can also have any of them upgraded with an ES-B pickup with a built-in digital tuner.
Neither of these guitars is made for studio use, but both are lightweight and built well enough to take on your next travel adventure.
However, the Cort Earth Mini has a booming sound that you'd never expect for such a little guy.
How Well Do Cort Earth Mini's Play vs Baby Taylor's?
Don't let the size fool you. Earth Minis pack an impressive punch for their size. They hold a surprising amount of bass, which is typically lacking in small-sized guitars.
This guitar holds its own on the bottom end, and also has a natural sustaining and resonant midsection.
If you're a strummer, then you'll love the Cort Earth Mini, but these little guitars do well for flatpicking and fingerstyles too. They're just an all-around great take anywhere guitar.
That's not to take anything away from the Baby Taylor.
They have quite a reputation for themselves as well, and the Baby Taylor is a decent little guitar with a lot of different options. It has a nice warm tone, but it certainly doesn't carry that same fullness that the Earth Mini does.
The Baby Taylor exhibits resonating crisp and clear single notes and is much better for picking, in my opinion. If you like to play riffs, barre chords, or do a little fingerpicking, then you might prefer the Baby Taylor.
One thing to be aware of, though, is that the Baby Taylor is very head-heavy secondary to the lightness of the body. This gives the guitar an overall unnaturally balanced feel, and can be uncomfortable for some.

Which Guitar Plays Best out of the Box?
Most guitars normally need some adjustments out of the box. If it's been packed properly then the strings should have been loosened to release the tension on the neck in order to prevent warping.
So the first thing you'll have to do to either one is tune it. 
If you're buying from a brick-and-mortar music store, then a set-up can be done for you right there in the shop, but if you're ordering by mail, then you may have to do a couple of other things also.
With the Cort Earth Mini, there are some reports of having to adjust the truss rod and action. If you are uncertain how to do this on your own, you'll need to have it done by a professional.
With the Baby Taylor, there are reports of having to adjust the neck prior to playing, as well as filing down the saddle to lower the action.
None of these is considered an uncommon adjustment when purchasing new guitars, so it's really just luck of the draw.
How Much Does a Cort Earth Mini Cost vs Baby Taylor?
Made in China, the Earth Mini can be purchased for just under $240, but a true Earth Mini isn't easy to find these days. Cort however make the Cort Ad Mini Op Standard 3/4 Size Dreadnought Acoustic Guitar, which is essentially the same guitar with a different name.

Made in Mexico, the Baby Taylor can be purchased for around $400 without electronics and $500-$600 for the acoustic-electric upgrade.
Given the current world scene and drastic inflation as of late, if you're in the market for one of these guitars, you'd be wise to buy now rather than later. These current prices are very likely to increase in the near future.
Is the Cort Earth Mini Better Value Than the Baby Taylor?
There are a lot of guitarists that rave about the Baby Taylor, and it's certainly a good guitar. It certainly has a lot more options than the Cort.
But when you consider the advanced X-bracing with tone bar, the added kerfing, and the dovetail neck, then yes, I actually think the Cort Earth Mini is a much better value.
Not only do you get a better guitar, but you get it for half the price.
Final Guitars
To say that the Cort Earth Mini is a better guitar is not to imply that the Baby Taylor is bad. There are plenty of guitarists who are very fond of the Taylor. Both of these guitars are fine instruments, and you'd do well with either one.
With that being said, the Cort just has such an impressive low-end spectrum, that I prefer the fullness of its sound over the Taylor.
When looking at the desirables of travel guitars, both are easily portable and both have good quality sound, but the Cort Earth Mini is much fuller. In addition, the added structural integrity of the Cort makes it a more durable companion, and it comes at a much lower price.