Are Cort Acoustic Guitars Any Good? (We Found Out!)
If you are looking at budget friendly guitars then Cort has probably popped up on your radar. I've come across a few Cort guitars in my years of playing and can say that in the past different models were a mixed bag.
In the past, many cheap Cort guitars sounded average and were often hard to play. Now Cort guitars are well built, having features that give good value for money.
While Cort produce some cheap 'getting started' guitar packs like their Earth Pack that comes with a bag, strap, tuner, and picks – they also make quite a few models further up the range with good quality solid tops.
Let's take a look at the best Cort acoustic guitars in each price range, followed by a look at their build and hardware quality to help you decide if they are actually worth owning.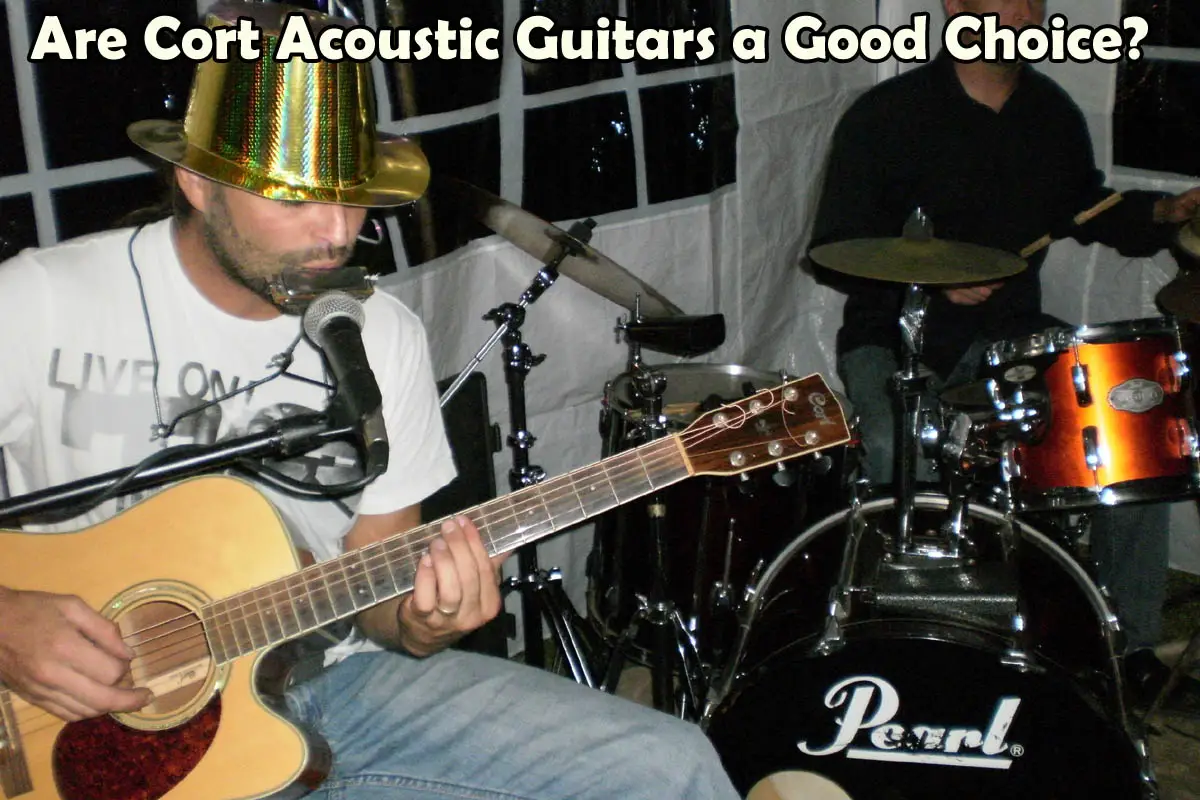 We work with various affiliate programs. If you purchase via our links we may earn a small commission at no extra cost to you.
Are Cort Guitars Good Value for Money?
Cort Earth Series
The Cort Earth series comes in a variety of guitars such as the Earth50, 70, 80, 100, 200 & 300 models.
They also have the Earth Grand, Earth Mini, with many models coming in a choice of woods.
The Cort Earth series is available from around $200 up to $500, and they all come with solid wood tops, which is good value for their low prices.
Some models include pickup systems for plugging into an amplifier, are available in left-handed models, can have red spruce tops (Adirondack), and also come in ¾ size.
Considering the low price, there are loads of available features and woods, and with solid wood tops you will get a guitar with a pleasing tone that should keep you happy well beyond the beginner stage.
---
Cort GA Cutaway Series
Moving up the range you can get a guitar that sounds good enough to gig, and is still affordable for a beginner who wants a little more from their first instrument.
A couple of popular choices are the Cort GAMY-BV and Cort GAPF-BV Grand Auditorium models.
These both come with solid spruce tops, which is the most popular tonewood choice for quality guitars, and also have inbuilt pickup systems.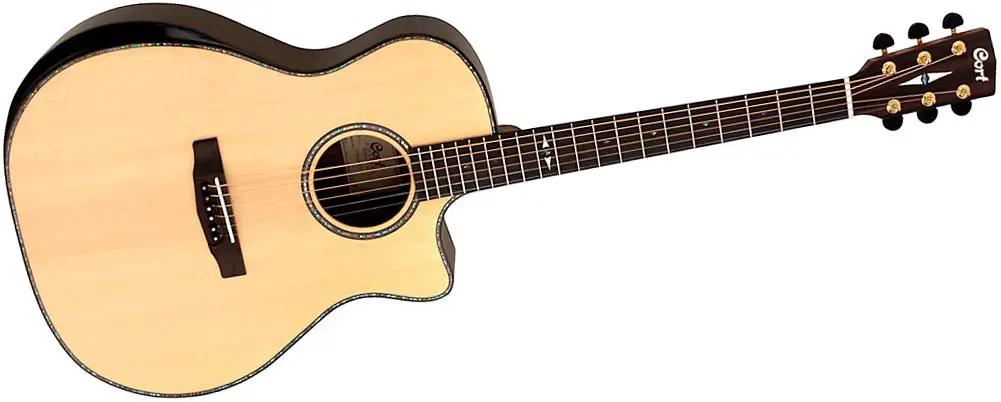 The GAMY-BV has the interesting choice of Myrtlewood for the back and sides, while the GAPF-BV has more commonly used Pau Ferro back and sides.
Both these guitars are cut-away designs, and what makes them even more interesting is the beveled armrest which makes them way more comfortable to play.
---
The Cort AD810
One of the most popular Cort acoustic guitars right now is the Cort AD810 OP dreadnought.
This guitar is nice and simple without a cutaway or pickup, which allows Cort to concentrate on the build quality while keeping the price low.

Cort's AD810 has a spruce top with mahogany back and sides, which is a classic wood combination often used in guitars.
You will find this guitar for about $130, which makes it highly affordable.
---

There are far too many Cort acoustic guitars to list here, but they have the same theme throughout their range of providing maximum guitar for the best price. For this many features in guitars of that price you won't be disappointed at the quality of instrument you get.
What Is the Best Cort Guitar for Beginners?
When you are just starting your guitar journey you probably won't have any gear yet, and for that reason I normally recommend the Earth Pack, as it comes with most of the basics you will first need.
The only extra thing you could use to go with the pack is a guitar stand, which is really useful to keep you interested – as your guitar will be visible (see guitar = play guitar!).
Cort Earth Pack
The Earth pack comes with the Earth60 acoustic guitar, gig bag, clip-on digital tuner, picks, and even a pack of spare strings.
Cort Trailblazer
Cort also offer another package called the Trailblazer, and it includes the Cort AD810 OP Dreadnought acoustic guitar (which you can buy on its own for about $130).
Like the Earth Pack, the Trailblazer starter pack has a bunch of stuff with it, but it comes at a slightly cheaper price of $175.
The main difference between the Earth60 and the AD810 is that the Earth60 has a solid spruce top vs the AD810's laminated spruce top.
Personally, I recommend spending a little extra for the Earth Pack, as a solid top guitar sounds a whole lot better than a laminated top, so you will enjoy playing it more.
Cort Earth70
If you have a few extra dollars burning a hole in your pocket, and you don't need the accessories, take a look at the Cort Earth70 usually selling for less than $350.

It's a step up from the Earth60 and would keep you happy well into intermediate territory.
The Earth70 is another solid sitka spruce top model, and you'll notice it has greater attention to detail than lower models.
The rosette around the soundhole, and the binding around the edges are more detailed, and along with the fine grain of the spruce give the guitar a visual lift.
Cort MR710F Acoustic Electric
Finally, if you are more interested in a guitar that can be plugged into an amplifier (maybe you're planning to join a band?) then I recommend the Cort MR710F Acoustic Electric.
You will have to pony up some extra cash to get this guitar, as it sells for about $550 (with a hard case).
Guitar shops report this as one of their best sellers, as it's a great price for a guitar with a Fishman pickup/preamp/tuner and solid top.
Are Cort Guitars Good Quality?
Cort guitars (Cor-Tek) is based in South Korea, and if you've ever traveled there (as I have a few times) you will know how proud Korean's are of the quality of their products (think Samsung).
If you look back at the early days of Cort guitars from the 70's – 90's their acoustic guitars were mostly average, and they had a reputation as cheap boxy sounding guitars. In many ways we expected that type of guitar for the price as guitars were all handmade, and so labor costs were offset with cheaper materials.
The quality these days has improved considerably, and while most Cort guitars won't blow your mind they are good value for their price tag.
The sound quality is high enough at each guitar level to more than satisfy your ears, and they compete well against other similar brands.
If you look at Cort's highest end guitars they are made with master grade AAAA European spruce and Myrtlewood, and visually they look like quality instruments.
How Well Are Cort Guitars Made?
These days guitar parts are quickly and accurately cut with CNC machines allowing very accurate tolerances and greater consistency.
Along with improvements in manufacturing of other components like the die-cast tuners, and electrostatic paint systems, cheap Cort guitars are much higher quality than many years ago.
Cort have their own wood storage facility where the cut sheets of wood for the bodies and neck blanks are stored for several years.
When the headstock and heel joint are glued to the neck, they store them in a climate-controlled area for a further four weeks to season them.
The routing for inlays is done with a precision CNC router which gives a perfect fit for the inlay material.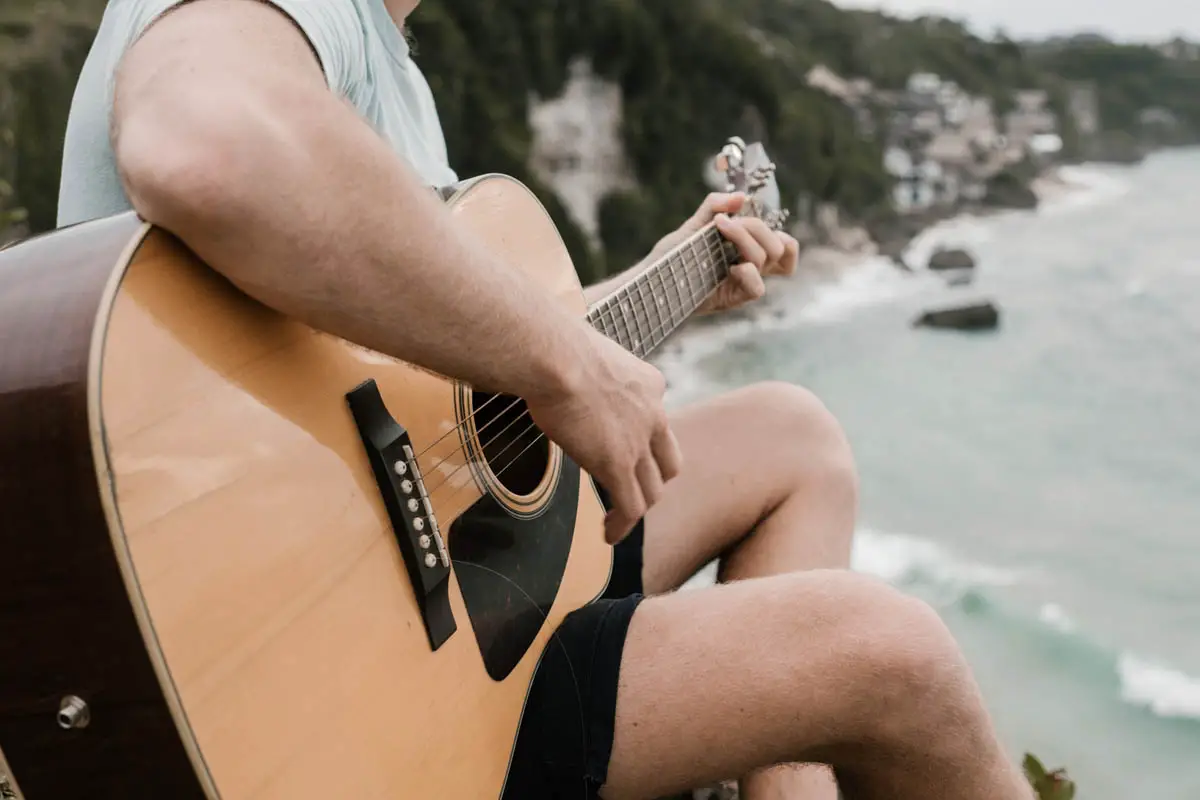 "Every section of the guitar is pressed together with exactly the correct force while the glue sets by using hydraulic jigs. The correct pressure, time, and glue combine to make the bond stronger than the wood itself."
The bodies are sanded perfectly flat with specialized box sanding machines to ensure the top and back will be a perfect fit.
The polyurethane finish is applied using a special electrostatic spray system, applied with specific curing times between coats that takes around one week.
All the finish work on the guitars is done by hand, including staining, sanding, and setup.
How Good Are Cort's Pickups and Electronics?
Cort uses mostly Fishman electronics, and they are well known in the industry for making high quality instrument pickups for orchestra and concert instruments.
Cort's oldest acoustic series, the Standard Series features the Cort CE304T Preamp, which has a built-in tuner and 3-band EQ.
The Earth series is inspired by vintage guitars, and has the Fishman Presys 3-Band EQ, with phase control and built-in tuner.
Some of Cort's Classic Series (classical guitar) feature the Fishman Presys II Preamp with a 2-band EQ, and the Sonicore pickup.
The Gold Series was designed by Cort to be their top range guitars, and they come with the Fishman flex blend system, that lets you control the tone and phase, as well as an inbuilt tuner.
How Much Do Cort Guitars Cost?
If you decide you like Cort guitars and want to get better models in the future, then they have a decent range of guitars. Since Cort are aimed at budget friendly guitars, even the most expensive ones are quite affordable.
Cort offer a good number of starter choices in the $150-350 price range, and above this their midrange lines are normally around the $450-550 mark.
At the upper end of Cort guitars you will find they sell from around $800 and upward for models like their Cut Craft series at anywhere up to $1500.
The Cort Gold A6 Grand Auditorium Acoustic-Electric Guitar is one of their top-of-the-line model, and you can get it for about $800 (see the video below).
Does Cort Make Custom Guitars?
Like many other well known guitar makers, Cort does have a custom shop.
Once you get into custom Cort guitars the tone is fantastic, and certainly rivals other guitars in the same price range.
They aren't so easy to get hold of, so if you're after on then try looking on the second-hand market, or looking online for a guitar shop in China or Korea who has an association with the Cort factory.
Sometimes you will find them listed on Reverb.com, and with a price tag north of $2000 you should expect to get a great quality guitar (if you're happy to spend this much without the chance to play the guitar first!).
Cort NTL Custom Shop:
Does Cort Make Other Guitar Brands?
You might think Cort only make Cort-branded guitars, however they have made guitars for Ocean basses, G&L, Ibanez, Squier, and more.
Cort's main focus is not Cort-branded guitars, as they take on contracts for other brands to make their guitar designs.
So this gives you some idea of the weight Cort has in the industry, they are not just a random Asian factory pumping out cheap guitars.