Fender vs Cort – Which Guitar is Better Value for Money?
When you only have so much to spend on your first (or next) guitar purchase it's important to get maximum value for your hard-earned money.
You will commonly see Fender and Cort guitars hanging on guitar shop walls, and they are both popular choices, especially Fender's electric guitars – but which brand gives better value?
Entry-level Fender acoustic guitars don't offer the same value as Cort, while midrange acoustics are good from both brands. Fender's Squire electric guitars are great value, with features besting similar Cort models. With midrange electric guitars, you'll get more value for money from Cort.
Rather than spend too much on a guitar you're unhappy with later, we're going to compare some specific models so you can see exactly what you'll get for your money.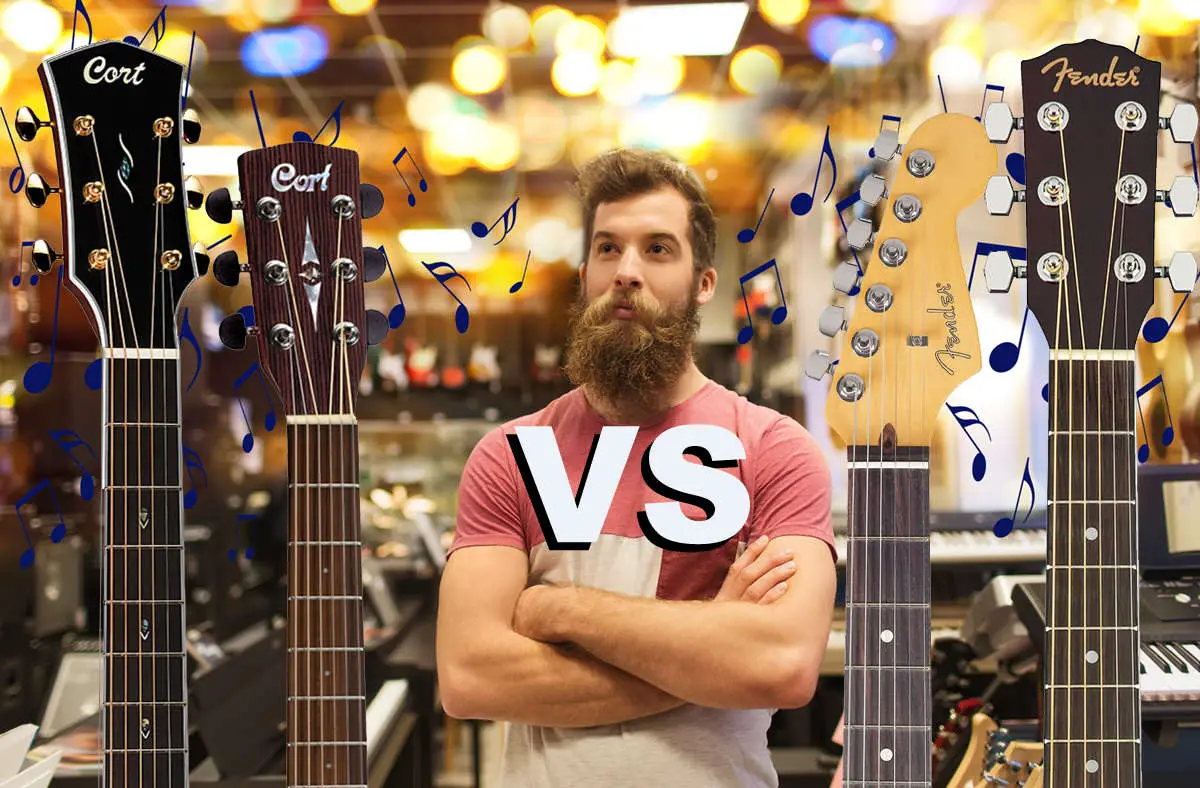 We work with various affiliate programs. If you purchase via our links we may earn a small commission at no extra cost to you.
Fender vs Cort – Who Makes the Best Value Acoustic Guitars?
Unlike electric guitars whose sound can be manipulated through amplification, acoustic guitars rely solely on their own 'voice,' which is determined by a number of things including tonewood and craftsmanship. 
While Fender acoustic starter guitars are okay, there are several manufacturers that are better, including Cort. Many guitarists feel Fender has really dropped the ball when it comes to the quality of their acoustic guitars. 
Cort guitars go through a rigorous quality assurance undergoing 17 different inspections from start to finish, and it shows in the quality of their instruments.
Fender & Cort Budget Acoustic Guitars
Fender has a very small starting lineup of entry-level guitars. Their "Beginner's Hub" features the CD-60, the CD-60CSE, and the Redondo Player, which would be better classified as a midrange due to its high price. 
Fender's cheapest guitars include the FA115 and FA125.
Cort's oldest and cheapest entry-level lineup includes the Standard series, which includes the AF510 OP, but their most popular version is the AD810.  
Almost identical to the Fender CD-60 is the Cort Earth 70 OP. 
Cort is known for their affordable pricing in conjunction with solid performance; but sadly, Fender's reputation in the acoustic department falls short with many guitarists. 
Don't get me wrong. If you're looking for an affordable acoustic guitar for under $200, then Fender is a viable option. But dollar for dollar pitted against Cort, you're going to pay more and get less. 
Let's compare the FA115 to the AD810, and you'll see what I mean. 
Build Quality & Tonewoods
They are both entry-level dreadnought guitars with laminated spruce tops and mahogany back and sides. They both have a 25.3" scale length with 20 frets. 
Arguably, they have the same nut width at Fender's 1.69" versus Cort's 1 11/16" (1.6875). That's about the extent of their similarities. 
Features & Finish
Fender touts X-bracing, walnut fingerboard, and tone-enhancing bridge with compensated saddle and gloss finish, plastic nut and saddle, and covered chrome tuners. 
Cort features a scooped surface bridge, open-pore finish, advanced X-bracing, dove-tail neck joint, Merbau fingerboard, and die-cast tuners. 
The FA125 is only a notch up sporting a Viking bridge and reasonable quality strings, enhancing sound and intonation only slightly.

Sound Quality
Out of the box, Fender's strings are reportedly high, and many say their fret ends are extremely rough. Around the rosette are a cheap sticker decal and a cheap pickguard. This is simply not the quality you would expect out of a name like Fender. 
Being partial to Fender, myself, I find it rather disappointing.  
Once adjustments are made and the action is set, the guitar plays just fine. It has soft, warm lows, blended mid-range, and prominent highs.
It's considerably weak for a dreadnought though, and it lacks any kind of tonal depth, but this is not uncommon for starter guitars.  
Cort's AD810 is playable right out of the box. It has a well-rounded blend with noticeably heavier bass and better resonation.

The highs are much softer and not as ear piercing, and don't sound as thin and tinny as the Fender. Although, it can be a bit twangy at times on the upper end. 
For the $20 difference, not only is Cort cheaper, it just outright sounds way better; plus, you alleviate the hassle of having to make all the extra adjustments that many guitarists complain about with Fender. 
There are many who believe that the Cort AD810 is one of the best starter guitars on the market, and claim that it sounds as good as a solid top guitar with quality precision. 
Cort AD810 vs Fender CD-60
If you upgrade to Fender's CD-60, you get a decent laminate top model with a dual-action truss rod, offering a balanced tone with the volume you'd expect from a dreadnought body. It features the same 25.3" spruce top, mahogany sides, and walnut fingerboard.  
It upgrades to scalloped X-bracing, a 1-ply pickguard, and Graph Tech NuBone saddle and nut. They even throw in a hardshell case.
The CD-60SCE is identical to the CD-60, except it offers a solid body, spruce or mahogany top, rosewood fretboard, and a cutaway. 
Sound Quality
The Fender CD-60 has a well-balanced, but soft, thin sound and warm lows, but without the resonation that you'd expect from a dreadnought. The mids are forefront with nice intonations, but then the highs are especially chimey. 
The CD-60SCE has a much fuller sound than the CD-60. It has a solid, clear, and crisp sound; but there's still a great deal of contrast between the highs and lows. 
The electronics give it much more resonance and a better blend between the highs and mids, but still overall very weak for a dreadnought.
Cort's AD810 is superb enough to give the CD-60 a run for its money, and there's a substantial difference in the price tag between these two guitars. 
The AD810 produces the typical volume that you'd expect from a dreadnought guitar. It nails the full body sound, although a bit muddier than Fender. The CD-60 does have nice sound quality, albeit muffled and boxy.  
For the price, you just can't beat the Cort AD810. It's exceptional quality for an entry-level guitar.
Fender & Cort Midrange Acoustic Guitars
In the midrange category, we'll compare the Fender Redondo and Cort Earth 70. While Fender considers its Redondo in the starting lineup, its price range places it a step up in my opinion. 
The Redondo is by far the best of the entry-level guitars, but it comes with a higher price tag. 

The Cort Earth 70 is another one of Cort's popular guitars offering much higher quality than the AD810, with a substantially lower cost when compared to the Redondo. 
Build Quality & Tonewoods
Fender's Redondo has a slightly sloped shoulder body with:
Solid Sitka spruce top.
Mahogany back, sides, and neck.
Walnut fretboard.
It's slightly longer with a 25.6" scale length, but still 20 frets and a 1.69" nut width. 
It has scalloped X-bracing, and a unique Stratocaster neck and headstock giving it an electric feel with an acoustic body. 
Cort's Earth 70 has a dreadnought body, and similarly features:
Solid spruce top.
Mahogany back, sides, and neck.
Ovangkol fretboard.
The Earth 70 is the Standard 25.3" scale length with 20 frets and a 1.69" nut width. 
It features advanced scalloped X-bracing and a dovetail neck joint. 

The Redondo is a well-made guitar, with a good level of finish giving it a look unique amongst acoustic guitars. Although made in Indonesia these guitars are really well constructed, and are built with modern day highly accurate machinery.
The Earth 70 is another Indonesian-made guitar, and for build quality it would be hard to rate one above the other.
Features & Finish
The Fender Redondo features Graph Tech NuBone nut and saddle, a modern Viking bridge, a Fisherman Pre-amp system, and a 3-ply pickguard. It also has sealed nickel tuning machines, a 2-ring rosette, dot inlays, and aged white binding with a Satin Finish.  
The Cort Earth 70 displays Ovangkol scooped surface bridge, plastic pickguard, black/white rosette, and dot inlays with ivory binding.
Looking at the finish quality of these two guitars they really adhere to the same standards, with the Cort keeping a more traditional style. If you're looking for a modern take on the classic Fender look, then it would be hard to look past the Fender.
Sound Quality
The Fender Redondo is about the only Fender acoustic that I like in the low to mid-range categories. Being a Strat fan, I love the neck on this guitar as it has a familiar feel.
The sound is big and rich, and it has a fully rounded, well-balanced tone even without the added amplification. 
When plugged in, it quite enhances the natural tone of this guitar giving it that good quality sound that you'd expect from a Fender. 
While it might seem unfair to compare an acoustic-electric to a straight-up acoustic, it showcases Cort's exquisite quality in conjunction with its remarkably affordable pricing. Without the amplifier of the Redondo, these two guitars are actually more similar than they are different.  
The Cort Earth 70 isn't as big as the Redondo, but it still packs a punch with solid tone and enhanced sustain that produces a wonderfully balanced, beautiful sound.
It has a warm, but strong mid-range with enhanced resonance. It has a clear and focused, resounding tone that can compete with the biggest brand name guitars.
You could add your own pick-up for much less than the cost of buying a Redondo, and could be a good option if you decide it's something you need after playing it for a while.
Fender vs Cort – Who Makes the Best Value Electric Guitars?
Although many may argue otherwise, Squier electric guitars are essentially Fender, having their designs licenced by Fender, and also as their parent company.
So with that in mind, let's include Squire guitars here, since Fender branded electric guitars are rarely found under the $800 mark, making them aimed at a different section of the market to Cort.
Keeping in the dollar-for-dollar range, Fender Squiers are the entry-level guitars for beginners. For Corts, it would be something like their X Series. 

Which Brand Has The Most Options?
Fender has a leg up when it comes to electric guitars. It's what they do, and they do it well. They offer a slight advantage in options, as Cort really only has a couple of entry-level electrics, primarily the X-Series. 
Fender has both the Affinity and Bullet series, which have a variety of options within each model. 

Looking further up the range there is a crossover section between Fender and Cort electric guitars around the $800-$1000 mark.
Fender offer their traditional designs which are well known for good quality versatile guitars, while Cort aim more at the hard rock and metal market with their midrange models.
If you're purely looking based on dollar value, then it's hard to beat Cort's offering for the money, and you will get great quality instruments for a fair price.
For less than $1000, Cort produces some very nice guitars like the X700 which is one of their most expensive electrics.

Tonewoods & Build Quality
Comparing Cort's X-Series and Fender Squier, Fender uses poplar bodies with maple necks, whereas Cort uses Meranti bodies with maple necks.
They're both 25.5" scale length with bolt-on C-necks and standard truss rods.  
Cort offers 24 frets, whereas Fender only offers 22. Cort uses a Jatoba fretboard, but Fender uses an Indian laurel fingerboard. 
Features & Finish
Cort uses a six-point tremolo vibrato bridge, and Fender uses a fixed hardtail saddle bridge.
Both use diecast tuning machines. Cort uses a Satin finish; Fender has gloss.
Electronics 
Cort uses two high output Humbucker pickups with a 3-way switch, but Fender uses HSS pickups with a 5-way switch.
If you're into heavier musical styles, then Cort should be a serious contender for your next guitar purchase.
Sound Quality
The double humbuckers obviously give Cort more edge and higher gains, but with the right amount of tweaking, you can achieve a similar sound at a lower output with Fender. 
The X series sounds decent enough, especially if you like shredding. It's a solid choice and plays really well. 
Between Squier and X Series it's a preference in sound. Do you want humbuckers or single coil?
Final thoughts
In the acoustic arena, Cort wins hands down. Cort produces affordable quality guitars that are great options for beginners.
On the electric side, Fender offers better options at the entry-level, but it's a toss-up at midrange and above. It really comes down to the preferred sound.