Cort vs Yamaha Acoustic Guitars – Which is a Better Choice?
Cort and Yamaha are two brands you will see in guitar shops all the time, and both have a good reputation for making good quality instruments.
They both produce acoustic and electric guitars at various levels, and you may be on the fence when it comes to choosing the guitar with the best quality and sound.
Yamaha have a much wider range of acoustic guitars than Cort, and can give you more options when looking for your perfect guitar. That doesn't mean Cort are worse as a brand, and they have a few models that have rivaled Yamaha for popularity.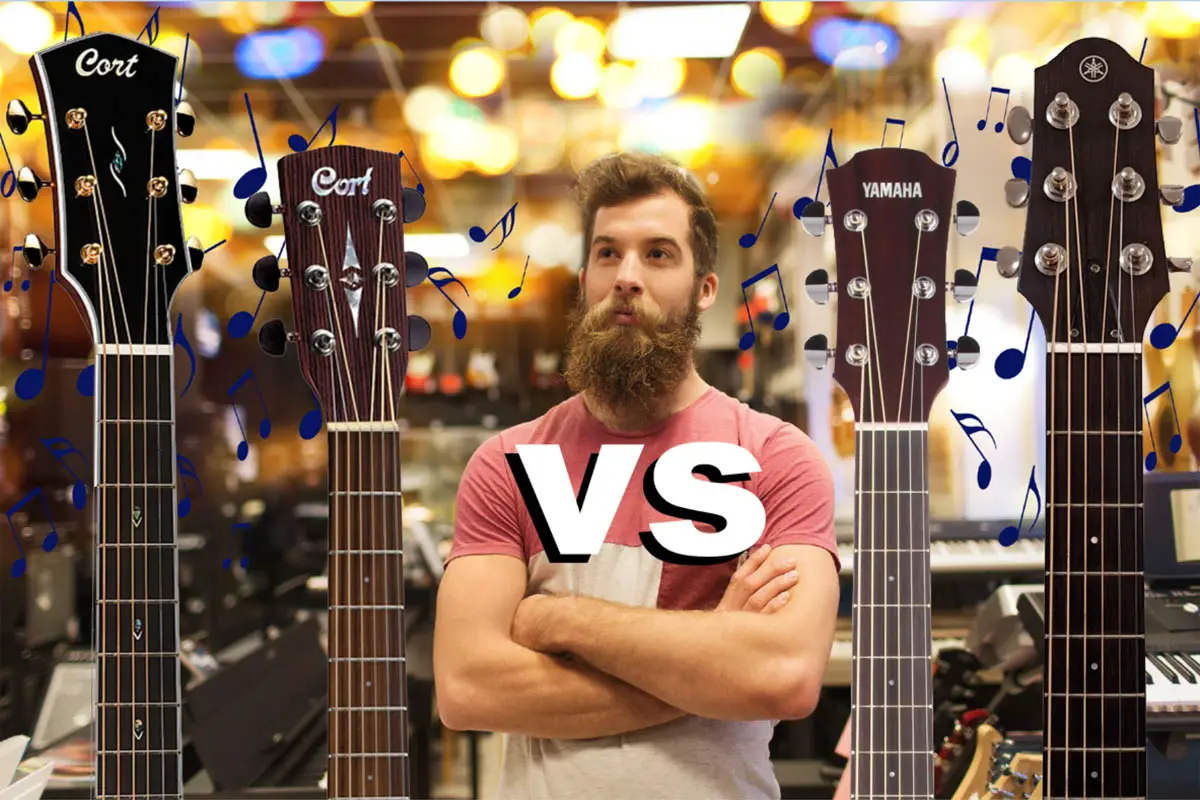 We work with various affiliate programs. If you purchase via our links we may earn a small commission at no extra cost to you.
Is Yamaha More Popular than Cort?
Yamaha started producing guitars in 1940 and later Cort in 1973, giving Yamaha a huge foothold in the guitar world before Cort even started.
Even today that trend has continued, and as one forum commenter said – you could walk into five-guitar shops and would realize that four out of the five shops have more Yamaha guitars on sale than Cort.
Shops stock more of some guitar brands than others, usually because of the popularity of those brands – after all, they need sales to make profits.
So if you're seeing more Yamaha's hanging on a few guitar shop walls, it's a good sign that they are generally more popular than Cort.
Does Yamaha Make Higher Quality Acoustic Guitars than Cort?
So we can see that Yamaha is generally more popular than Cort when it comes to sales numbers; but does that mean that Yamaha has better guitars, or is it the other way around?
First, I'll take you through a few direct guitar comparisons side-by-side, and then look at how well each guitar plays, along with body sizes & shapes, and neck profiles of each brand.
Cort Standard Series vs Yamaha F325D Dreadnought Acoustic
These are two guitars around the same price point, and are well suited to beginners due to their sturdy build quality, and laminated tops which make them more resistant to knocks and bumps, as well as changes in humidity.

| | |
| --- | --- |
| Cort Standard Series | Yamaha F325D |
| Concert body | Dreadnought body |
| Laminated Spruce top | Laminated Spruce top |
| Mahogany Body | Merit back & sides |
| Mahogany neck | Nato neck |
| Merbau fretboard | Rosewood fretboard |
| Price guide $180 | Price guide $170 |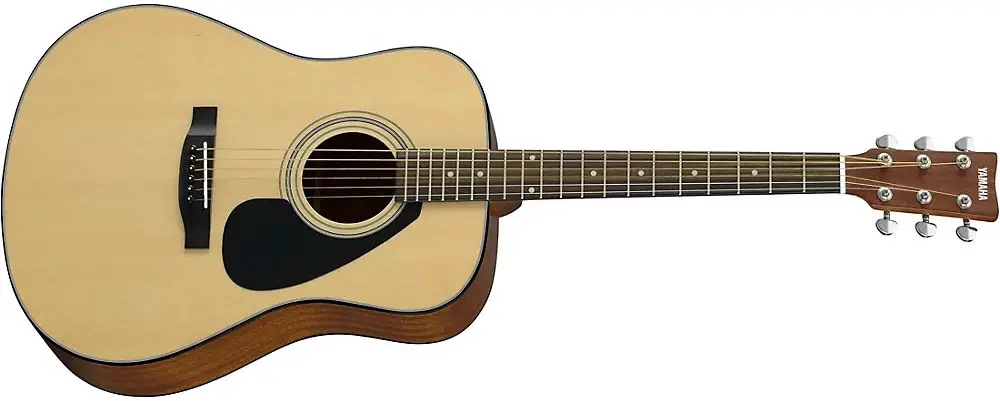 People often comment on entry-level Cort's saying they are well built, and the Standard Series is no exception – especially at such a low price. That being said, Yamaha have built a reputation for quality even down to their base level of guitars, and so I would have to say that these two guitars are a match for quality.
You can play both fingerstyle and strumming on these guitars. Though some argue you will be more comfortable using the Cort Standard given that it has a smaller and easier to handle concert body.
As far as tuning goes, you will find that both guitars will go out of tune a little after some playing or changes in temperature, and this largely comes down to the same entry-level tuners and plastic nut on these models.
Really, these two guitars are much of the same quality, not surprising for the low price, and your choice will more depend if you feel more comfortable with a smaller concert body, or larger dreadnought body guitar to get started on.
Cort Earth 100 vs Yamaha FG800
Both guitar brands are a popular choice for beginner players and have quite similar features.

| | |
| --- | --- |
| Cort Earth 100 NS Acoustic | Yamaha FG800 Acoustic |
| Solid Sitka spruce top | Solid spruce top |
| Mahogany back and sides | Nato back and sides |
| Mahogany neck | Nato neck |
| Rosewood fretboard | Rosewood fretboard |
| Scale 25.3″(643mm) | Scale 25.6″ (650mm) |
| Price guide $255 | Price guide $220 |

See the Yamaha FG800 at Guitar Center
General Opinion of Guitar Players
Some guitarists state the Yamaha FG800 has higher action than the Cort 100 NS, challenging beginner players. This can vary from guitar-to-guitar, and some may need a little setup work done at a guitar shop to make them easier to play.
The tone quality and fretboard smoothness of the Yamaha FG800 give it an edge over the Cort Earth, as well as the lower price for a guitar that performs well.
On average, most guitarists agree the Yamaha FG800 BL ranks higher than the Cort, and the main reason is durability. Many guitarists argue that the Cort Earth 100 NS doesn't hold up well in the long run.
Yamaha seems to have slightly higher build standards than Cort as you move higher up the range, and you will find they generally hold up well to many years of playing.
Yamaha FG830 vs Cort Earth70
The Yamaha FG700S and the Cort Earth 70 have similar features, but they both have their own unique sound qualities. With these two guitars you move more into intermediate models, and you can expect them both to be quite good guitars.

See the Yamaha FG830 at Guitar Center
| | |
| --- | --- |
| Yamaha FG830 | Cort Earth 70NS |
| Solid Spruce top | Solid Spruce top |
| Nato back & sides | Mahogany back & sides |
| Nato neck | African Mahogany neck |
| Dovetail neck joint | Dovetail neck joint |
| Rosewood fingerboard | Ovangkol fingerboard |
| Price guide $340 | Price guide $340 |

See the Cort Earth70 at Guitar Center
The woods used are very similar for construction, and so you would think they sound the same, however the exact sound comes down to the internal bracing and other small build details.
The Cort has an open pore finish, where as the Yamaha has a more traditional gloss finish with a smooth satin neck. The finish contributes to the sound of these guitars.
The Yamaha FG830 succeeds the earlier FG700 series, and has become a favorite by many guitarists, and maybe this fact alone gives it an edge over Cort?
Honestly, when comparing these two guitars you couldn't say the sound is definitively better on either, as they both produce a satisfying rich tone. Yamaha make the FG830 in 6 different colors, so that could be the decider for you if you want a color-tone or black acoustic guitar.
Do Yamaha Acoustic Guitars Sound Better than Cort?
Let's check a few Cort and Yamaha guitars to get a better idea, so we'll start with the same two guitars we looked at above so you can get a rounded view of them.
Yamaha F310 vs Cort AD810
Sometimes the best way to compare sounds is to listen yourself rather than rely on the opinions of others.
If you listen to the two guitars side by side you'll notice the Cort has a bright clear sound, and the Yamaha has a slightly deeper, richer sound. For that reason I would have to say the Yamaha F310 is the winner here.
Do Yamaha Acoustic Guitars Play Better Than Cort?
How a guitar feels is a key factor determining the type of guitar a player chooses.
If a guitar feels harder to play, learners especially will experience challenges handling it and producing clear sounds.
Body Size and Shape
Guitars come in different shapes and sizes; and from big to small they mostly include:
Jumbo guitars.
Auditorium & Grand Auditorium guitars.
Parlor Guitars.
Classical Guitars.
Small 1/2 and 3/4 size, and Travel guitars.
Both Yamaha and Cort brands have a variety of guitars in all of the above sizes, and some general opinions of players are:
In some cases, a Yamaha guitar in the Jumbo size ranks higher than a Jumbo Cort guitar.
The Yamaha APXT2 travel guitar ranks higher than the Cort Little CJ Walnut OPH. 
The Cort NDX50 NT B stock has more positive reviews than the Yamaha LJ 16 A.R.E NT B Stock
Guitarists have stated that most people go for looks and feel when choosing a guitar, Assuming both guitars had the same feel, and one had a more appealing look – three out of the five players would go for the guitar that looks best regardless of the brand.
For example, if 5 guitar players were to choose between a Yamaha FG830 and Cort Earth70, most would choose the Yamaha simply because they offer so many color variations. This is clearly shown in sales numbers, and why the Yamaha FG830 is so incredibly popular.
There's no clear winner for body size and shape, and the best way to find which brand and model suits you best is to try a few out first.
Neck Profile
Generally, guitars come in three neck profiles.
U shape neck profile – good for players that do not mind their thumb on the side when playing
V shape neck profile – mainly found on the old school guitars, the shape is ideal for players who like their thumb on the fingerboard edge.
C shape neck profile – the most common neck profile as they have a relaxing oval profile that supports many playing styles. However, not as deep as the V and U neck profiles, they are easier to handle for beginners.
Cort and Yamaha produce guitars with various neck profiles. Cort, however, has a solid reputation for making guitars with smooth feeling necks.
Some of the Cort guitars with the best feeling necks include:
Cort AD Mini Open Pore Acoustic Guitar
Cort AF510M – Open Acoustic Guitar
Cort AD810 OP Acoustic Guitar
Cort JADE1EOP Electric-Acoustic guitar
Yamaha has also become well known for its slim profile necks, particularly when you start moving up from the bottom of their range, and with a low string action make playing comfortable and easy.
Therefore, it would be wrong to claim that either guitar brand has a better neck profile.
What matters is how you feel when you hold a certain model, as people have varying tastes and preferences.
Who Makes the Best Budget Acoustic Guitars?
You may not know that Cort makes entry-level guitars for some of the world's leading guitar brands.
These brands include Fender, Ibanez, G&L, Parkwood, and the PRS SE line. These guitar brands contract Cort to produce their guitars due to the lower cost of production.
Thus, Cort has immense experience in producing high-quality pocket-friendly acoustic guitars.
Even so, Yamaha offers quality guitar brands in all the price ranges available.
Finally, before buying either a Yamaha or a Cort guitar, you must test both. Then choose the one you feel plays best for you for both brands produce quality guitars.
Discover more about Cort & Yamaha acoustic guitars…
Who Makes the Best Range of Electric Guitars?
Let's take a very brief look at Yamaha and Cort Electric guitars also, and we will look at this topic in more detail in a later post.
The Yamaha Pacifica 112V and the Cort X100, the best electric guitars for each brand.
Yamaha Pacifica 112V
The Pacifica has been in the market for more than two decades and has evolved to become among the most loved guitars.
The guitar's older body contours, deep cutaways, and perfectly finished C-shaped neck make it an ideal beginner guitar.
Cort X100
With 24 frets, a sturdy maple neck, and powerful humbuckers, the Cort X100 is a powerful and reliable guitar.
The guitar has deep flowing contours that make it a perfect fit for shredding.
As you may have seen, both Yamaha and Cort produce quality electric guitars.
Nevertheless, the Cort X100 would be the best choice in terms of sound quality, but the Yamaha Pacifica 112V wins overall reliability and popularity with guitarists.
Sources