Are Ovation Guitars A Good Choice (Worth The Money)?
Ovation guitars have had a long and interesting history. Based out of New Hartford, Connecticut their guitars were first designed by aerospace scientists. 
For decades they were the unchallenged kings of the acoustic electric guitar. Now their place in the guitar hierarchy is questionable. 
Ovation guitars were once played by everyone from those on the bar circuit to arena rock royalty, but have they become a brand that only worthwhile for entry to mid-level players?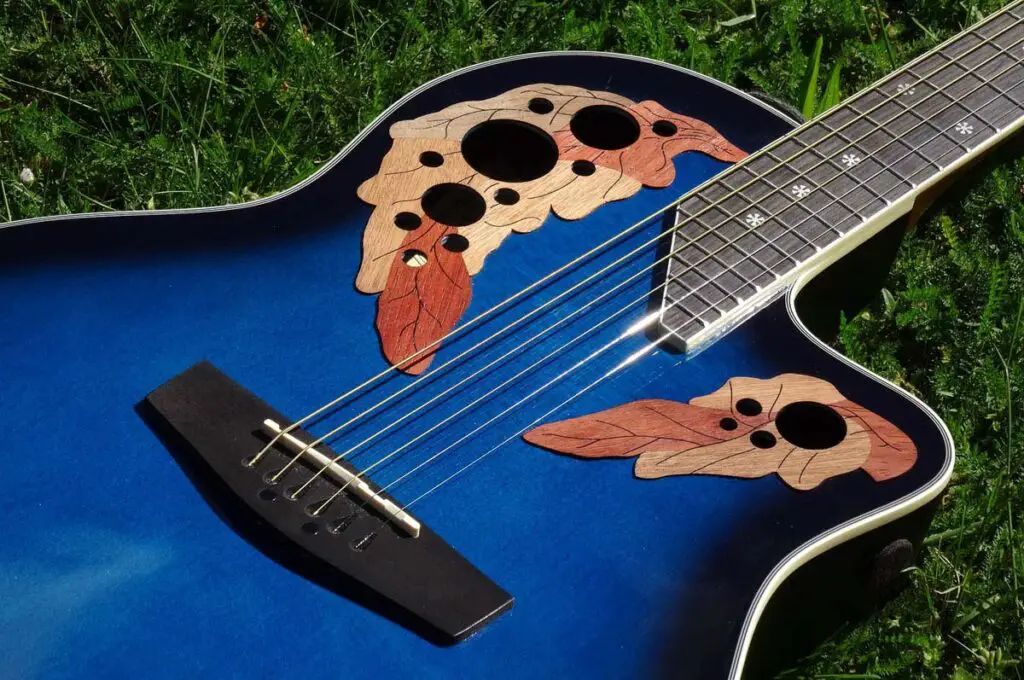 How Long Have Ovation Guitars Been Around?
Ovation guitars have been around for about 56 years. Founded in 1965, Ovation was a subsidiary of an aerospace company called the Kaman Corporation. 
The company moved into building guitars when the president of Kaman, who was a guitar player himself, decided their aerospace technology could be applied to the designs of guitars. 
After over a year of experimenting the scientists at Ovation came up with a totally new shape to build guitars with. The shape they came up with is the roundback shape that Ovation guitars use to this day.
The reason their guitars have this shape is because they believed it produces a fuller, richer sound due to the way vibrations traveled through this new bowl shape. 
Ever since then, Ovation guitars have retained their roundback body; some people love it while others find it impossible to play with.
Are Ovation A Popular Brand?
Ovation reached the peak of their popularity in the 70s and 80s. At the time they were one of, if not the only affordable quality acoustic electric guitar on the market that you could simply plug in and play.
Until Ovation started building their acoustic electric guitars the only way to amplify an acoustic guitar was either to stand by a microphone the entire set or retrofit a pickup into a standard acoustic guitar.
Ovation built their guitars with amplification in mind, you could simply plug their guitars into a PA system, and off you went. 
This revelation in amplified acoustic guitars made them a front runner in a market with next to no competition. They were the go-to for artists of all statuses from stadium performers to people gigging at bars.
Their popularity began to fade in the 90's. However, when major brands started to release their own acoustic electric guitars, matching and building upon what Ovation had done. 
These new guitars were more affordable and in some cases had better pickups. In their time at the top, ovation hadn't upgraded their technology and started to fall behind in the eyes and ears of guitar players. 
In response, Ovation started to develop more affordable guitars but this meant moving away from their strictly American built past.
The final nail in the coffin for Ovation elite status came when they were sold to Fender in 2008, after which Fender lost interest in the brand and shifted all of their production out of the USA, ending their high-end lines of guitars.
However… Ovation Is Making A Comeback!
Ovation is making a comeback though. After being acquired by Drum Workshop in 2015, production of their once popular high-end guitars has resumed in the USA, and endorsements from professional performers are again becoming more common.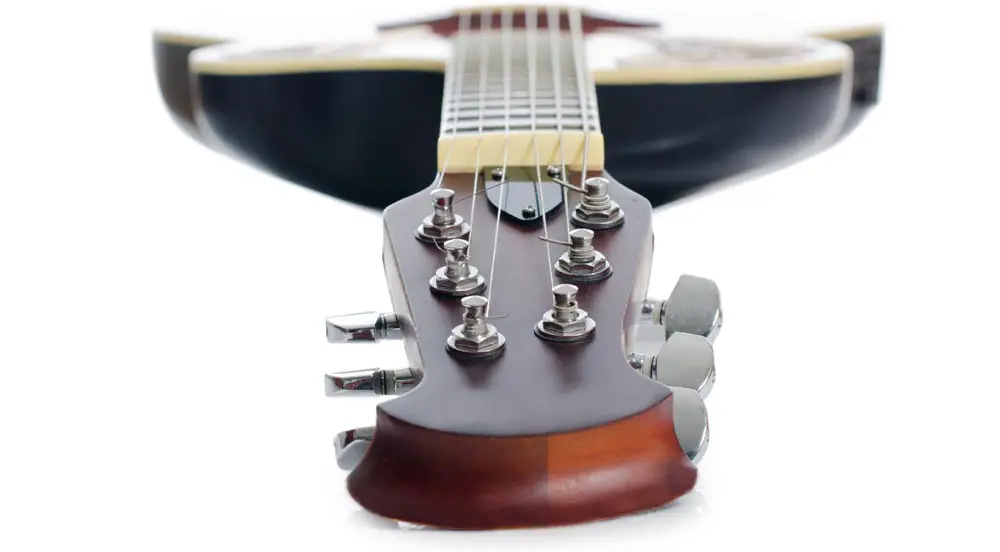 Who Plays Ovation on Stage?
Throughout the year's Ovation has had some big name endorsements especially during their prime in the 70s and 80s.
Their most prominent advocate was Glen Campbell who sang their praises throughout his career. There's even a Glenn Campbell Signature Ovation guitar.
Their current roster of endorsed musicians includes rock and roll hall of fame members and members of chart topping bands such as:
Benjamin Burnley (Breaking Benjamin)
Dave Amato & Kevin Cronin (Reo Speedwagon)
Eric McFadden
Ian Ethan Case
Kaki King
Melissa Etheridge
Mike Massé
Rachel Platten
Richie Sambora
Sean McKee
Over the past 50 years, many professional and famous musicians have used Ovation guitars either live or in the studio including:
Cyndi Lauper
Bob Marley 
John Lennon
Steve Vai
Neil Diamond
What Makes Ovation Unique?
To this day the most unique aspect of an Ovation guitar is its roundback body shape. It's also the most common deciding factor of whether someone loves or hates Ovation guitars.
Why have a round back?
Ovation guitars roundback design is meant to replicate the shape of an orchestra shell or a human ear. This shape was found to create a sound that was consistent in tone regardless of how hard or soft your playing is.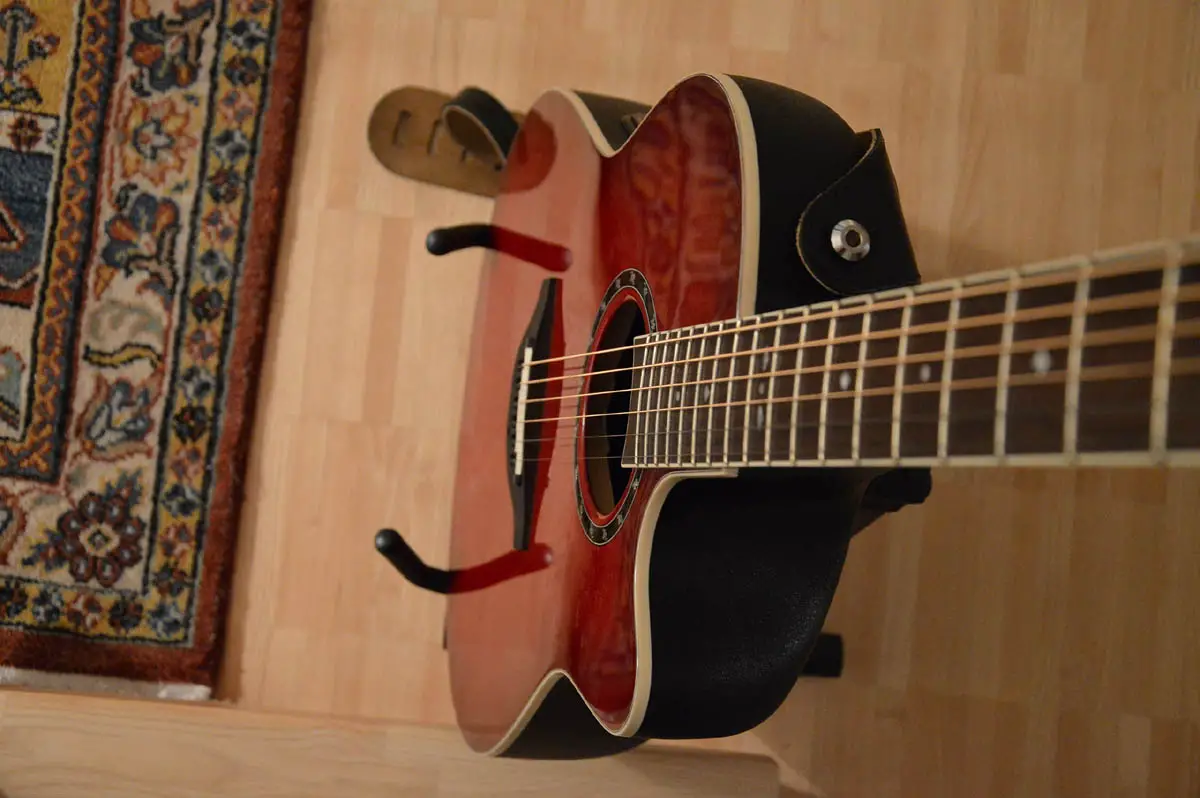 This shape also makes Ovation guitars feel smaller to play due to the shallower bodies. Doing away with the typical flat edges of an acoustic guitar body presents a unique problem for some as the bowl shape at the bottom of the guitar can make it awkward to play sitting down. 
Early Use of Preamps
Another unique feature of Ovation guitars is that they have built-in preamps. This means that you can plug the guitar directly into a PA system without any further amplification.
While this was specifically unique to Ovation for a good part of the last 50 years, the 90s saw other brands such as Fender and Fishman start to include built-in preamps. 
Multiple Soundholes
Something that is quite common on Ovation that you don't see too often is their use of multiple soundholes.
Using multiple sound holes can change the shape of the sound coming from your guitar so that less feedback is created. The positioning of these multi-port holes can also change the balance of sound, making for clearer highs and steadier bass.
Thin Neck Design
Another unique feature of Ovation guitars are their necks which are a lot thinner than most other acoustics. In fact, the neck of an Ovation guitar could be compared more to the neck of an electric guitar than of an acoustic. Some find this to be a huge draw towards Ovation.
Are Ovation Guitars Good Quality
Ovation makes great quality guitars, especially since being bought by Drum Workshop who have been moving Ovation production back to the USA.
Their made in the USA guitars are mainly their high end models and are known to be some of the most durable guitars on the market. This is especially true of their Lyrachord body guitars.
Their Celebrity line of guitars is also known to have great build quality (above others at its price point) despite not being built in the USA. They remain sturdy even in places that can often cause trouble with acoustic guitars such as the neck. On the rare occasion you need to adjust the neck they snap right back into place. 
Ovation also has a reputation for great customer service and warranty if something does go wrong with your guitar.
For example, someone told me they were having trouble with the pickup on their guitar. 
First Ovation sent out a brand new pre-amp to try to fix the issue.
When this didn't work Ovation paid the shipping cost to get the guitar to their workshop where they found an issue with the pickup itself and replaced it free of charge. 

Are They Good Value for Money?
If you're looking for a high end acoustic electric guitar, Ovation does have some excellent offerings but you might find better options from other brands. Especially now that so many guitar companies make electric acoustic guitars with onboard electronics. 
Where the real value for money is with Ovation comes from their entry and mid-range guitars. In particular, their Celebrity model is a step above most guitars around its price range. 
The build quality on this guitar is great and it comes with all of what Ovation are known to do well. It comes with a piezo pickup, internal preamp, and their iconic multi-soundhole design. 
This budget friendly guitar is a great choice for someone looking for that perfect hybrid between electric and acoustic. Because of this, it's also a great choice for someone looking to start performing solo gigs on the bar circuit. 
If you're looking for a high spec acoustic electric guitar the offerings from companies such as Martin, Taylor, Yamaha, and Fender might get you more for your money. All of these companies now do what Ovation was in the 70s and 80s and are doing it arguably better.
What Level Players Are Ovation Aimed At?
The current lineup of Ovation guitars is geared towards entry to intermediate level players and very experienced players. Unfortunately, Ovation doesn't have much to offer to experienced players that perhaps don't want to shell out thousands on an acoustic electric guitar. 
Their entry to intermediate level guitars are a fantastic choice for this level of player. They offer build quality that is nearly unmatched by any other brand at the price point a beginner would be willing to pay.
Ovation still makes a fair amount of guitars aimed specifically for high level players. Perhaps this is because of their history, being the go-to acoustic electric guitar for the 'elite' players they serviced in their heyday. 
Their high level models feature a great standard of craftsmanship, with high quality electronics and exotic woods.
Unless you're getting paid good money to perform, or have been playing for years and want the best of the best they're possibly not for you. These guitars are aimed towards a very specific niche of guitarists.