Are Yamaha Acoustic Guitars Really Better Than Fender?
Although Fender may have the more dominant name amongst guitar brands, Yamaha is considerably a more popular choice when it comes to acoustic guitars, especially in the low and middle price ranges. 
Yamaha makes high-quality acoustic guitars for decent prices. They use quality woods even on their cheaper models and build their guitars to last, focusing on making instruments that sound good and play well, even for budget guitar shoppers. Fender's entry-level acoustics have a reputation for poor sound and build quality.
Despite this, Fender still make some decent acoustic guitars that have a different voicing to Yamaha acoustics, and some people don't mind paying a little more to have the Fender logo and headstock on their guitar.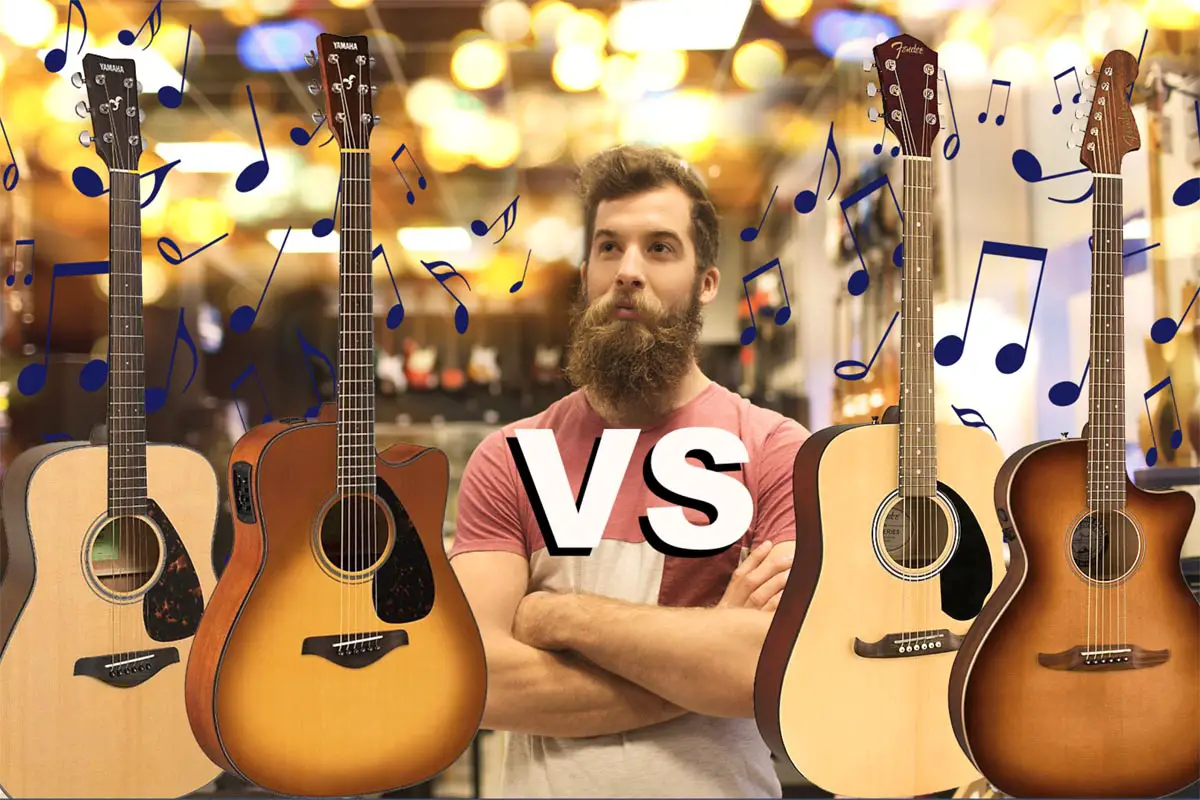 If you want to be an informed guitar buyer who makes the right choice, then this guide will reveal exactly how these two acoustic guitar brands stack up for sound, quality, and dollar value.
Which Acoustic Guitars are More Popular?
On large musical instrument retailer sites, both Yamaha and Fender acoustic guitars consistently rank as top sellers. That said, Yamaha tends to have a few more top-ranking models than Fender.
This may be because Yamaha has nine different series of acoustic guitars (excluding mini and travel-sized guitars) versus Fender's three. The greater variety in Yamaha's line-up helps them appeal to more players.
But that's not the only reason Yamaha guitars are more popular than Fender:
What Guitar Players Think 
The debate over which is the better brand has supporters on both sides. However, there are more who side with Yamaha. 
It seems that Yamaha has earned the trust of the guitar community through consistency in quality and high value for money.
Several forum posters commented: "I've never heard a bad word about Yamaha's guitars. On the other hand, I have heard some negative comments about Fender acoustics" (paraphrased). This same attitude is evident in many forum posts.
So it's clear that Yamaha is the winner regarding popularity, but is that popularity justified? How do Fender and Yamaha acoustic guitars compare in terms of sound quality?
Yamaha vs Fender Acoustic Guitar Sound Quality
When it comes to tone and the individual sound of an instrument, preferences and opinions come in all shapes and sizes. 
Despite this, it's safe to say that Fenders and Yamahas are voiced differently.
Although it varies from model to model, the general opinion is that Fender guitars are very bright. They have decent mids and exceptional highs but are lacking in the low end. This is perceived as a more "modern" sound. 
Some people complain that Fenders, although somewhat louder, have a duller sound compared to similarly priced Yamahas.
Yamaha guitars are likely to have a more balanced sound, with a nice bass response and clear mid and low ranges. This "vintage" tone is often preferred to the modern sound of the Fenders.
How Do Yamaha & Fender Compare on Price?
Both Yamaha and Fender offer guitars in many price ranges. The most noticeable differences occur in the low-end guitars offered by each manufacturer.
As an example, compare the Fender CD-60 and the Yamaha FG800. Both guitars are similarly priced around $225.
The Fender has a laminated (plywood) spruce top and laminated mahogany sides.

The Yamaha, on the other hand, has a solid spruce top and solid nato (similar to mahogany) sides. This alone is enough to say the Yamaha is of far better quality.

But that's not all: the Yamaha has a rosewood fingerboard while the Fender has walnut, a much cheaper wood. 
On the higher-end models offered by the companies, the differences are slightly less apparent.
Comparing the Yamaha Transacoustic Dreadnought and the Fender California Redondo Special (both in the $700-$800 range), you can see the differences are much less noticeable.
Both have solid spruce tops with mahogany backs and sides. Both use similar quality woods for the neck, bridge, and fingerboard (nato and rosewood versus mahogany and pau ferro), and both have built-in preamps so you can plug them into an amplifier. 
Yamaha vs Fender: Which Acoustic-Electric Guitars Are Best?
Fender and Yamaha alike offer acoustic-electric models at affordable prices. Here is a comparison between the Yamaha FGX800C and the Fender CC-60SCE:
Yamaha FGX800C Acoustic-Electric Guitar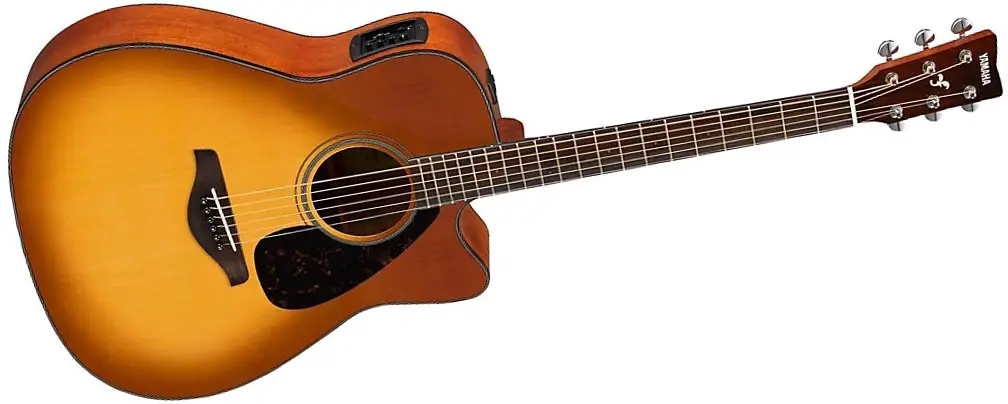 Price: about $340.
Top wood: solid spruce.
Back and sides: nato.
Neck: nato.
Fingerboard and bridge: rosewood.
Tuning pegs: die-cast.
Saddle and nut: urea (a hard plastic).
Pickup type: under-saddle piezo.
Electronics: three-band EQ, AMF (Adjustable Midrange Frequency) controller, and tuner.
Fender CC-60SCE Acoustic-Electric Guitar

Price: about $350.
Top wood: solid spruce.
Back and sides: mahogany.
Neck: mahogany.
Fingerboard and bridge: rosewood.
Tuning pegs: die-cast.
Saddle and nut: plastic.
Pickup type: soundhole mounted magnetic.
Electronics: two-band EQ and tuner.
The difference between the tonewoods and hardware on these guitar models is fairly small. Mahogany and nato, although unrelated, have very similar sound qualities and looks. 
Where the real difference lies is in the pickups:
The Yamaha boasts an under saddle piezoelectric pickup. Piezo pickups work by creating an electrical current when vibrated. This means that they are resistant to feedback and replicate the acoustic sound fairly accurately.
The onboard three-band equalizer and AMF controller allow you to optimize the sound to best match the actual tone of the guitar, or to get a particular sound you are looking for.  
The magnetic pickup of the Fender is much more likely to make it sound like an electric guitar. The onboard controls only include treble and bass equalization, so finding the perfect sound may prove to be more difficult.
There may be some people who prefer the sound of the Fender. In general, however, you are likely to be better off with the Yamaha.
Yamaha vs Fender Acoustic Guitar Build Quality
Build quality refers to the materials and methods used in the construction of an instrument.
The build quality of an acoustic guitar has an enormous influence on its longevity, sound, feel, and playability.
What Tonewoods are Used?
It could be that Yamaha's typically preferred sound comes from their consistent use of quality tonewood, even on lower-end models. 
Spruce is the most common tonewood for the top of a guitar because it produces an even and nice sound. Yamaha uses solid spruce on many of their guitars.
They also use mahogany tops on some acoustics to get a warmer, deeper tone.
Fender also uses solid spruce and occasionally mahogany on many of their guitars. However, on the cheaper models in Fender's collection, you will find that they are using laminated wood for the soundboard, which can make the guitar sound dull or flat.
The soundboard isn't the only wood that influences a guitar's tone, however. The wood used for the back, sides, fingerboard, and bridge also contributes to the overall sound of the instrument.
Fender uses conventional, but high-quality, mahogany for the backs, sides, and necks of many of their guitars.
Yamaha on the other hand uses less expensive nato/okume wood. Although more affordable, nato is very similar to mahogany in most aspects, making it an excellent alternative.
So Yamaha's choice of nato shouldn't turn you away from choosing one of their instruments.
When it comes to the bridge and fingerboard, even the most affordable Yamahas are built with rosewood. Rosewood's density and aesthetic characteristics make it an ideal choice for acoustic guitars.
Fender tends to use walnut or even "laminated hardwood" on their low-end models. This may contribute to them sounding so bright and lacking low end.
Acoustic Body Build Quality
As mentioned before, Fender has the nasty habit of using laminated wood for the tops and sides of their low-end guitars. But they aren't the only ones.
Yamaha does offer two guitars with laminated tops. It's their two cheapest full-size acoustics, priced at about $170. Still, the F335 and F325D are built with quality rosewood bridges and fingerboards. You don't see anything like that from fender in the same price range.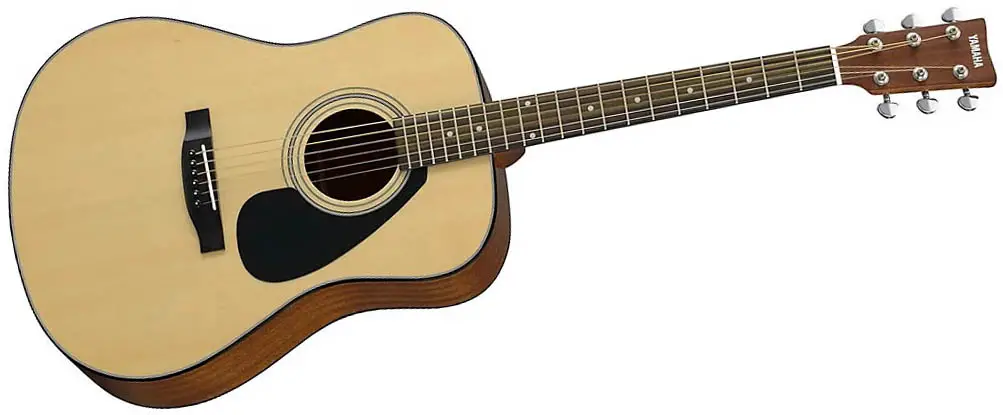 Other than the F335 and F325D, Yamaha consistently uses solid tops, backs, and sides on all of their guitars. This makes for a much livelier sound and better-quality instruments.
Fender Bridge Problems
Particularly on low-end models, Fender has been known to glue the bridge onto the body after applying the finish to it. This results in a weak glue joint that can lead to the bridge separating from the body over time.
Neck Shape & Playability
Fender and Yamaha have both taken steps to make their guitars easy to play and feel good in your hands.
Fender's modern-C neck shape is certainly comfortable. It's thinner than typical Yamaha necks, and combined with a moderately tight fingerboard radius, it may be slightly easier to play chords on than the thicker neck and flatter fingerboard of a Yamaha.
That said, Yamaha likes to use a satin finish on the necks of most of their guitars, helping your hand move freely and smoothly up and down the neck. They also tend to "roll," or round off, the edges of the fingerboard, making it comfortable to hold.
Although Fender typically uses a gloss finish on the neck, they also roll the fingerboard to improve comfort while playing.
Internal Body Bracing 
The bracing pattern and thickness affects the way a guitar sounds. It also affects the instrument's longevity.
Both Fender and Yamaha commonly use the "X" bracing pattern on their low and mid-range guitars, and occasionally use scalloped bracing; thinner bracing that allows the soundboard to vibrate more freely, making the guitar sound louder and more vibrant.
Although common, X bracing doesn't properly support the bridge which can lead to deformation of the soundboard over time.
Final Thoughts
Yamaha and Fender make quality acoustic guitars. And in the end, the best sounding and feeling guitar will be different from person to person.
Still, Yamaha has taken steps that Fender hasn't to build acoustic guitars with consistent quality for a more even and vintage sound.