Yamaha Silent Guitar Review – SLG200S vs SLG110S
Yamaha Silent guitars are unique in the world of guitars, and if you've never picked one up then you could be mistaken for thinking they are just a gimmick.
I own two of these guitars, and both of my Yamaha SLG200s and SLG110s silent guitars were pristine when I got them. I've had some time to see how they age as I play them, along with their good and bad points.
Here's my side-by-side Yamaha Silent Guitar review of the SLG200S and older SLG110S steel string silent guitars. If you're after an honest review with plenty of photos, then I've got you covered.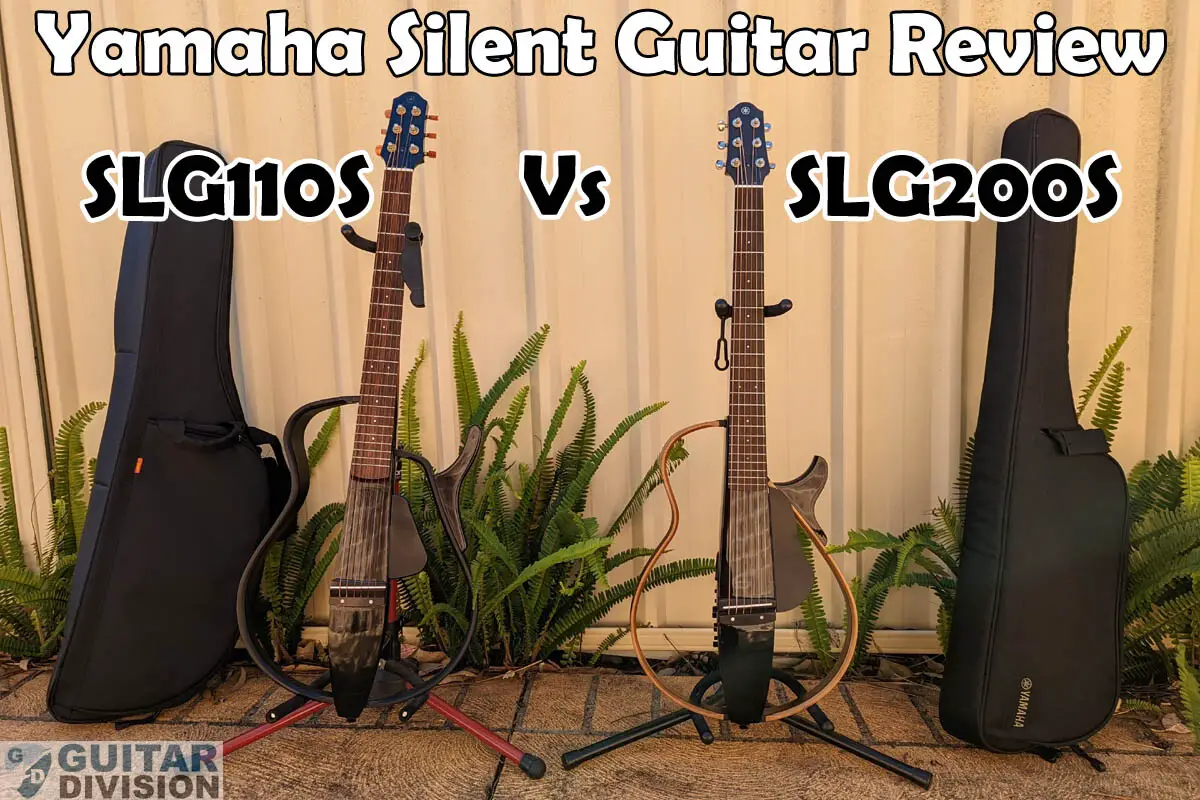 How Well Are Yamaha Silent Guitars Made?
Yamaha are well known for the quality of their instruments, and their silent guitar range is no exception. Both models are really well made for their price, made with quality woods, and mostly great hardware. They have held up very well to many hundreds of hours of playing and traveling also.
The Yamaha SLG110S Build & Design
This was the first steel string silent guitar I picked up a few years back, with the idea being that it would be a great travel guitar that I could play quietly in hotel rooms at night.
Honestly, the materials this guitar is made from are good quality, but the actual design is definitely a few steps behind the newer SLG200S.
SLG110S Paint & Finish
The lacquer is quite thick gloss all over the body and neck, including the horn, and is a rough gritty durable texture on the frames.

The quality of paint finish is very high, and even after years of being bashed around the finish on the neck and body look almost as good as new.
SLG110S Neck
The neck has a nice solid acoustic guitar feel to it, with the fretboard flawlessly molding its way onto the body. The frets themselves are quite thin, so you get more of a refined electric guitar fretboard feel combined with the acoustic guitar neck feel.

The neck joint is invisible, and to the eye the neck and body look like they are the same piece of wood that flows from one shape to the other, giving it a real neck-through guitar feel.
Unfortunately it comes with a plastic nut and saddle, so on mine I replaced them with bone and now get slightly better sustain. 
The tuners are good quality gold-colored sealed units, and this guitar stays in tune very well. I do wish Yamaha had put gold tuning knobs on them instead of the plastic rose-pearl ones they chose though!

SLG110S Body & Frame
The frame of the guitar is steam-bent wood, although I did wonder if it was a hard plastic for quite a while until a little paint wore off on some edges. It kind of has a plastic feel with the grainy paint surface applied to it.
Probably the worst point I have found with this guitar is where the removable frame joins the body. There are two thumb screws that double as strap pins, and you find yourself tightening them occasionally during playing to keep it tight.
The newer SLG200S has much better connection sockets for the frame, not surprising as products always get better with each new version.
SLG110S Other Parts
The electronics are in a plastic molded housing that forms part of the body, and while it certainly feels and looks like plastic, you really don't notice it visually from the front, and there is no rattling when you play.
There is a plastic pickguard that you can adjust about one inch back or forth, and while it's perfectly functional and looks ok from the front, it looks like cheap injection molded plastic from the back.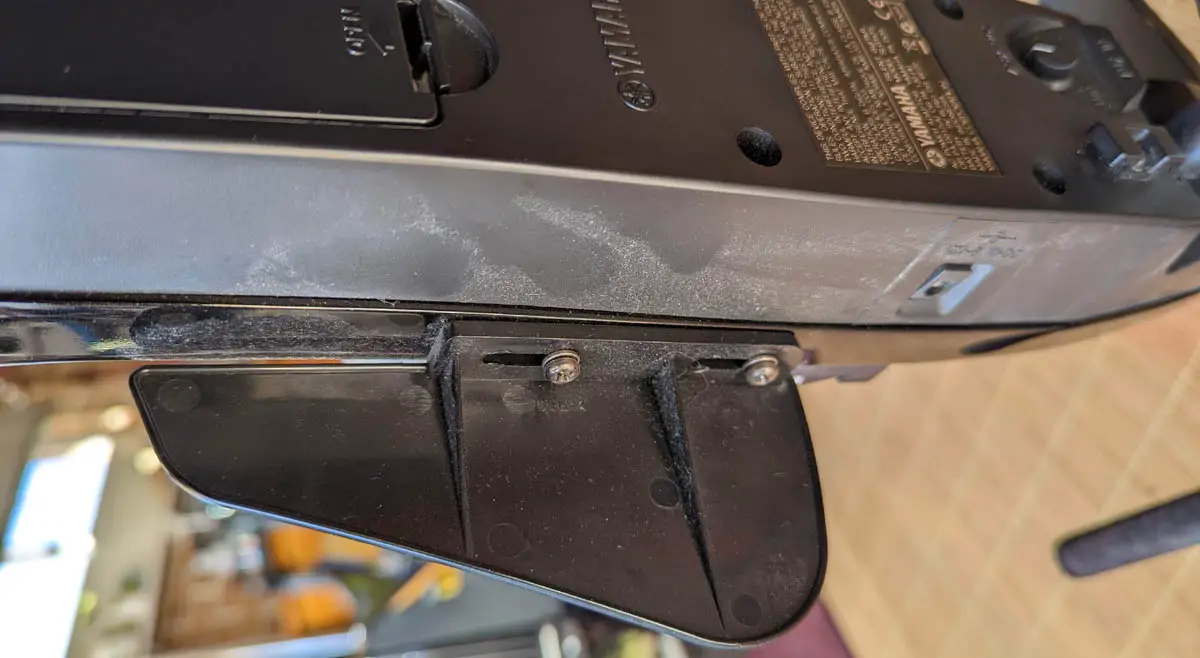 There are a few screws holding the horn on the bottom of the frame, and the electronics housing on the back, and I really thought Yamaha could have done better here by at least covering the screw heads.
Looking at the overall construction of the SLG110S, it is a great package that really grabs people's attention when they see it, and is very visually appealing.
The Yamaha SLG200S Build & Design
When I first picked up the SLG200S I wasn't too sure, but that guitar grew on me really quickly! It's a great quality build, and you can really see and feel how Yamaha have developed it further from the original SLG110S design. 
The first series of silent guitars was made in Indonesia, and the new series is now made in China, and I would have to say the quality is the same from either plant based on my experience.
SLG200S Paint & Finish
My SLG200S has a trans black finish body, with a dark stained natural maple frame and gloss finished rosewood horn. Rather than the thick lacquer finish of the earlier SLG110S, it has a nice thin satin finish on the neck and frames, but keeps the thick protective lacquer on the main body.
The SLG200S has a satin open pore neck finish from the heel to the top of the headstock, with a smooth darker stained front, which gives the neck a nice earthy feel.
SLG200S Neck
The fretwork is accurate with no sharp ends, and the open pore finish on the neck gives it a faster smoother feel than the gloss lacquer of the SLG110S.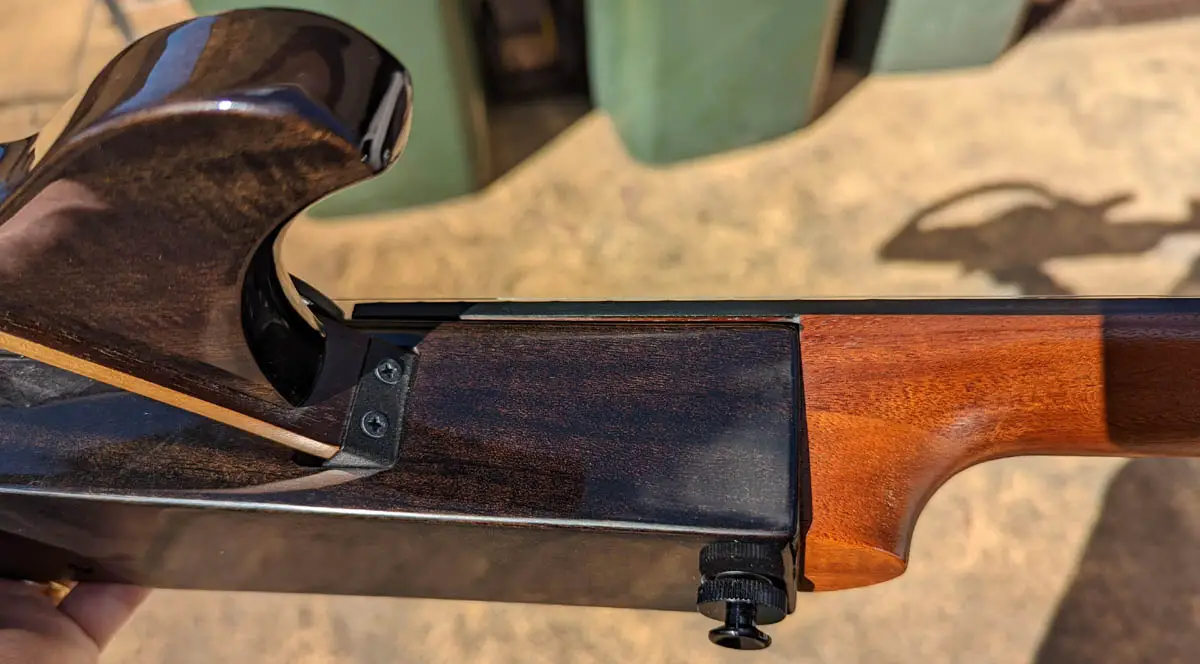 The neck joint on the SLG200S is designed differently to the SLG110S, and has a more traditional looking acoustic guitar heel that joins onto the body section. The joint is flawless on mine with no cracking after a number of years.
The fretboard rides up over the body with about a 3/32" (3mm) gap between the fretboard and body. It's an interesting design, and I think the neck joint continues well into the body to form a really solid connection.
SLG200S Body & Frame
The style of this newer design is certainly more refined, and you can see that Yamaha have made it a little less futuristic, and gone for a little more natural look, and it looks great! The re-designed lower frame and horn shape give it a more classic line.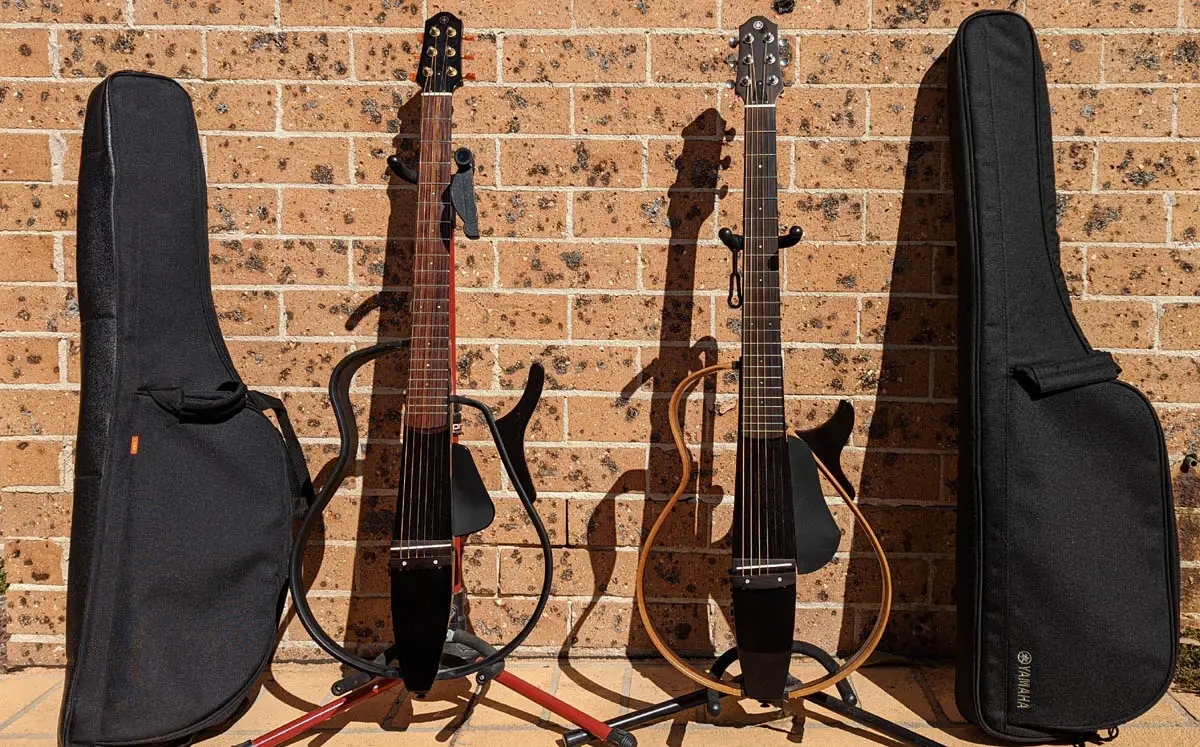 The sockets where the frame attaches to the body have been beefed up from the earlier SLG110S, and the connection is much more positive and solid.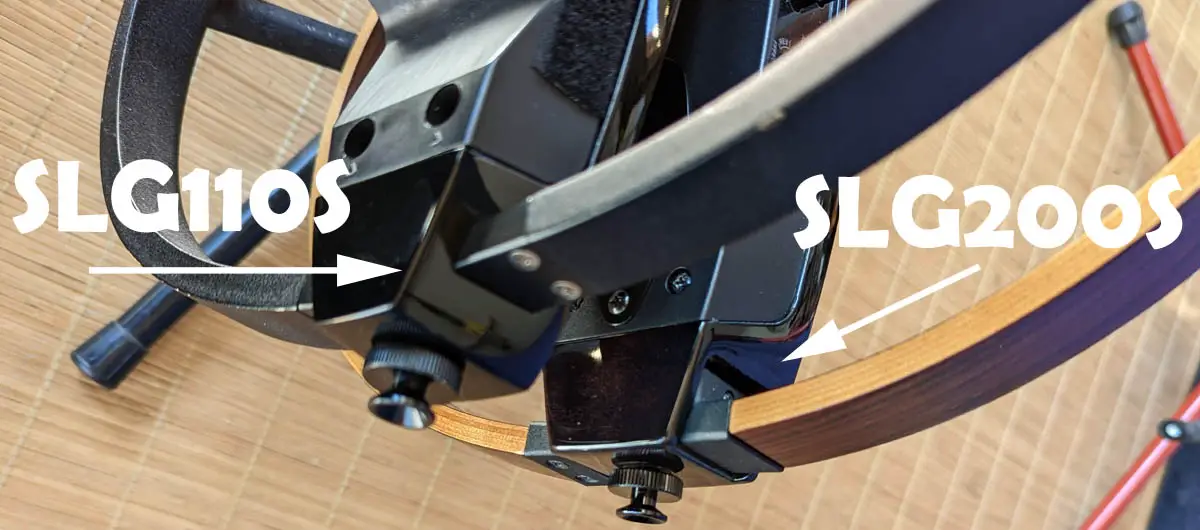 With the SLG110S I would occasionally hear some light cracking sounds from the frame, but this doesn't happen on the SLG200S. I also find the thumb screws stay tight, probably due to less wobble in the larger connector.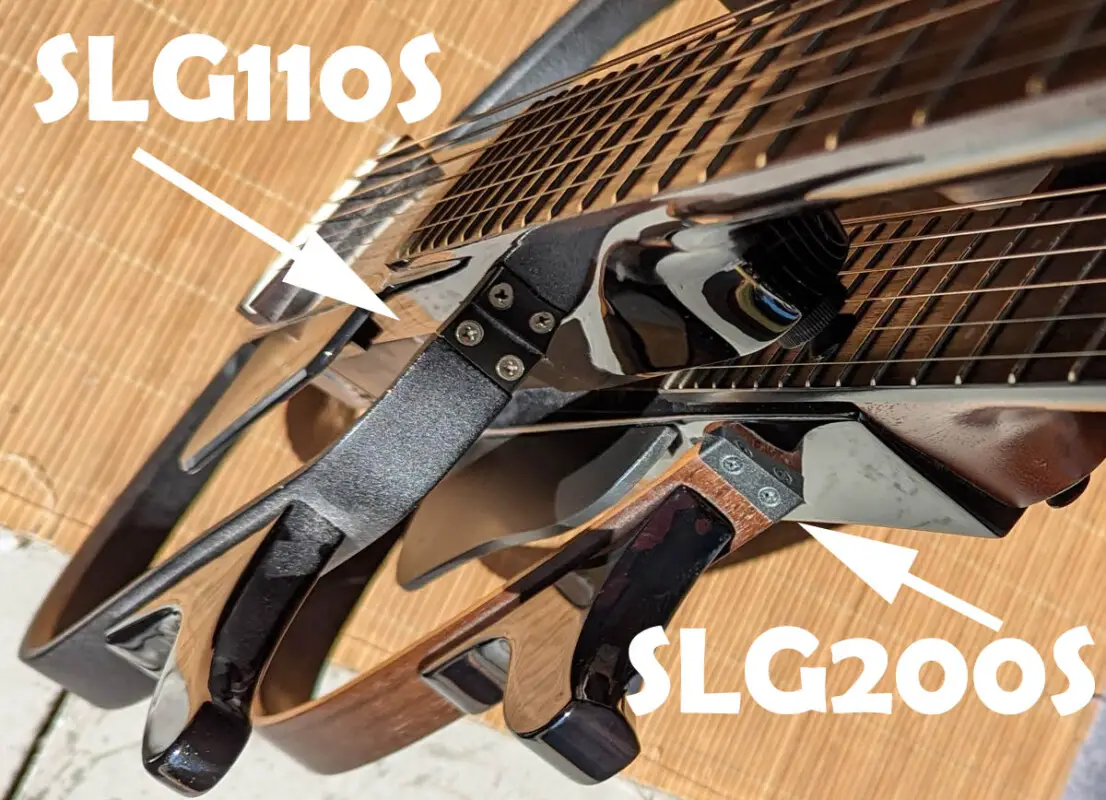 The central body section of the SLG200S is much beefier than the SLG110S, and it really makes a difference giving this newer model much greater resonance than its predecessor.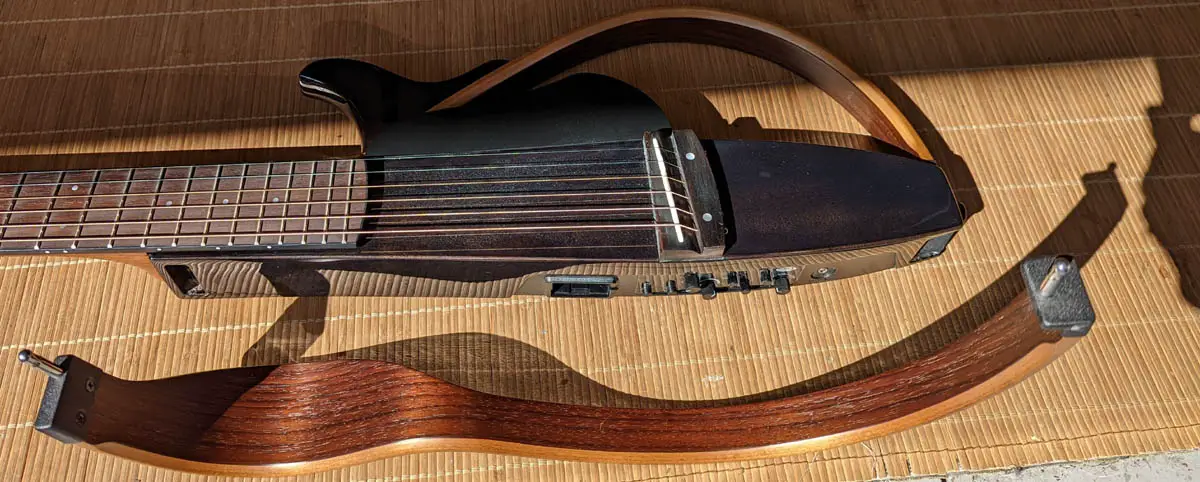 SLG200S Other Parts
Like the SLG110S, the pickguard/ finger rest is just a tin piece of plastic, and while it does the job fine, I think it looks a bit cheap on a guitar of this quality.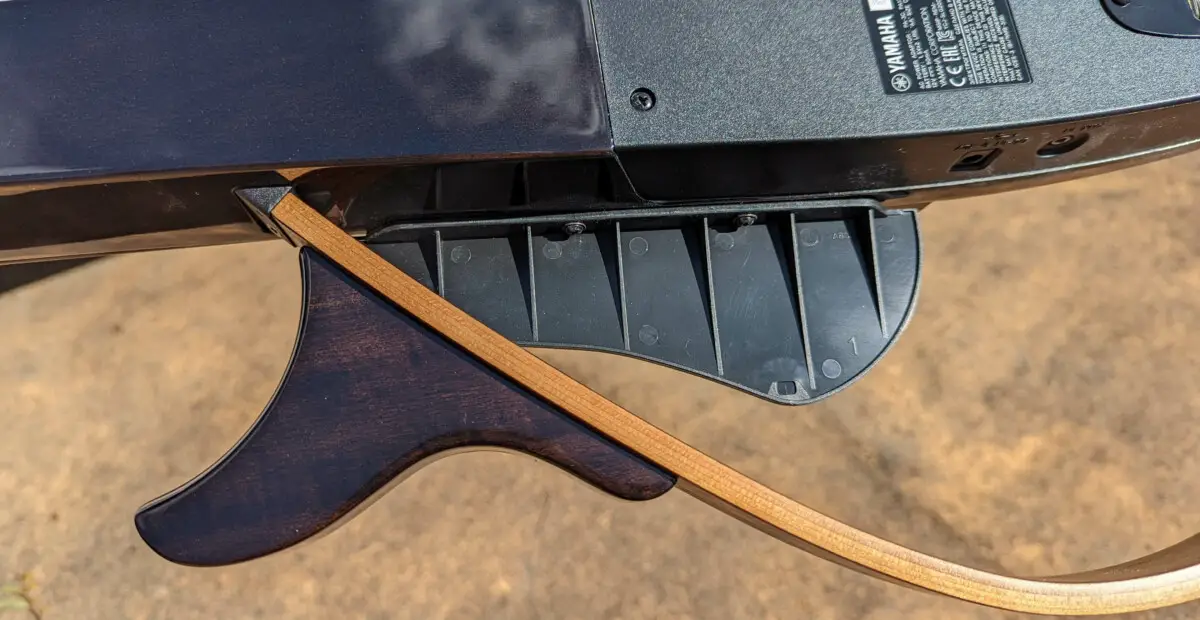 The nut and saddle are a hard plastic on this guitar (like the SLG110S), with the only change being a compensated saddle. This is one area where I believe the guitar could be improved with higher quality components.
Overall, the SLG200S is a refined and beautiful guitar to look at, and is constructed with a quality that matches its looks.
Yamaha Silent Guitar Design and Build Problems
There's not a lot wrong with these guitars, but they can certainly be improved with a good set up.
I found on both models that the action is set way too high, making them not so playable right out of the box.
I had to file the saddles down quite a bit to get a good action at the 12th fret, and the nut slots also needed filing lower to stop low fretted strings sounding sharp. Going lower on the action you will find a few frets can also need leveling to remove high spots.
On my SLG110S I had to file down the saddle so far that it only sits 0.06"(1.5mm) above the bridge on the high E string. The bridge is barely low enough to set up the guitar with a good action, but just sneaks it in.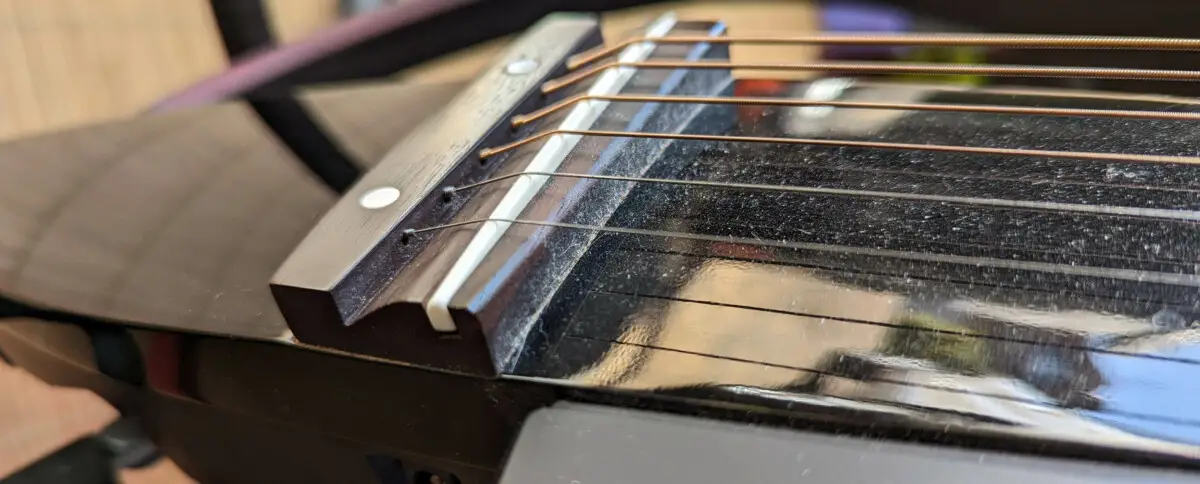 A problem I found after playing with a strap (on both guitars), is that the twisting action tends to loosen the frame-locking thumb screws, and I had one end of the frame fall out on one occasion when i picked my guitar up by the frame.
This problem means if you want to gig with these guitars, you should check the thumb screws regularly between songs. Luckily my frame didn't break when this  happened, but it has slightly bent the other frame connector.
What Do Yamaha Silent Guitars Feel Like to Play?
Holding and playing a Yamaha Silent guitar for the first time is an interesting experience. Experienced guitarist friends of mine have all been surprised that these guitars actually feel like quality instruments to play.
Yamaha have done a great job to make these guitars feel solid in your hands, and they are a truly playable guitar that gives you good haptic feedback and a satisfying playing experience.
Both models are almost identical in weight at just under 4.4 pounds (2kg), and feel just heavy enough to make it feel like you are holding something solid.
Both my SLG100S and SLG200S stay in tune really well when playing, even when bending strings or strumming hard.
They are the best of both worlds, where you get to play an electric guitar that feels acoustic, and an acoustic that has the slim-line feel of a solid body electric.
The Neck
The gloss on the older SLG110S neck is fine to play, but in more humid conditions can feel a bit sticky. After sanding it off lightly with fine emery paper the duller finish lets your thumb glide easier on the neck, and personally I like it much better.

Although I wasn't sure of the open pore satin neck of the newer SLG200S, it grew on me quickly and gives a great feel that is grippy enough for playing, without slowing down your thumb movement on the back.

The profile of the neck on both models is almost identical, and is a really comfortable C shape. When it comes to string spacing the SLG200S has just a little more room to move than the earlier SLG110S, giving it a slightly more acoustic guitar fretboard feel.
Reaching higher frets on the older SLG110S is a little easier than the SLG200S, as the body is cut away on a slope where the neck joins the body. The SLG200S still has a cutaway section, but the body is a very square shape directly after the neck joint.

The Body
Sitting down to play, both guitars sit on your lap nice and comfortably much like a Stratocaster style electric guitar.
The thin bodies combined with acoustic strings and neck make these guitars feel like a real hybrid between playing electric and acoustic guitar, something you won't get with any other guitar.
Although there is only a frame and a central body, the main center of the instrument resonates really well and gives your body quite good feedback, with the SLG200S being the better of the two.
These are both really comfortable guitars to play with the top frame giving you a similar playing arm feel as an electric solid body guitar.
Other Playing Factors
As I've already said, Yamaha Silent guitars give a truly unique playing experience, and nicely combine the feel of both an acoustic and electric guitar at the same time.
I have found them great for general strumming, along with fingerpicking and flat picking styles, and would be enjoyed by anyone who loves the feel of heavier acoustic strings on a slim body guitar.
One problem I have found with these guitars is that they are prone to neck dive, not so much a problem when sitting, but not as good when standing.
If you have a nylon strap that slips easily on your shoulder, you need to use your fretting hand to hold the neck up. I'd recommend using a leather strap with these guitars, as the extra grip over your shoulder helps keep the guitar in place.
Are Yamaha Silent Guitars Acoustic or Electric?
Take your pick! When plugged into an amp they give an authentic acoustic sound, but on the other hand you can use the onboard sound effects.
I tend to think of both my Yamaha Silent guitars as more acoustic than electric, and this is based on how they sound, and how they feel to play.
Having acoustic steel strings and a thicker neck than many electric guitars gives you a solid acoustic guitar feel.
How Loud is a Yamaha Silent Guitar?
Of course I need to specify that we are talking about unplugged volume here. If you plug a silent guitar in they can be as loud as your amp will go.
Playing the older SLG110S acoustically is around the same volume as playing an unplugged solid body electric guitar, the sound is different and I'll talk about that later.
The design improvements of the Yamaha SLG200S Silent guitar make it quite a bit louder than the SLG110S when unplugged.  Both guitars are definitely loud enough to be satisfying playing on your own in a quiet room, or even with low to medium background noise.
You wouldn't keep someone awake in another room by playing them acoustically, but I think they are certainly loud enough to be partially heard through thin walls (not brick).
To play them in an outdoor noisy space you would definitely want to plug in headphones or amplify them.
Do Yamaha Silent Guitars Sound Good?
Maybe the most surprising thing is how good these guitars sound, and I'm sure you will think the same the first time you try one.
I've read many reviews of Yamaha Silent guitars online and great sound quality is a common theme. Along with my experience with them and other players I know, these guitars are consistent in their sound quality.
Do They Sound Good Unplugged?
Traveling a lot internationally with my silent guitars, I don't always want to plug in headphones to play.
I've often played in hotel rooms unplugged, and found the sound quality quite satisfying, with the sound being much fuller than an unplugged electric guitar.
The older SLG110S sounds pretty good unplugged, with enough bass response to clearly hear what you are playing. However when you pick up the SLG200S and play them side-by-side you can really hear the extra clarity and resonance in the acoustic sound it puts out.
For a guitar that can really help you control late night volume, I think these guitars produce a satisfying, and reasonably full acoustic sound.
Do They Sound Good Plugged In?
Once you plug a Yamaha Silent guitar into headphones or an amp they really shine.
I remember being with work colleagues on Copacabana beach in Rio a few years back, sitting at a cafe up the end where they surf, and listening to some live acoustic guitar.
We couldn't see the player from where we sat, and the sound was really acoustically authentic, rich, and resonant. When I walked past the player to leave I saw he was actually playing a Yamaha SLG200N nylon string silent guitar – and I was blown away!
Later when I bought my own steel string versions, I found these guitars sound just as good amplified. They produce a really authentic acoustic sound that would be hard to distinguish from many acoustic guitars if you had your eyes closed.
You get a better amplified sound from the SLG200S since you can blend between the piezo pickup and the inbuilt body condenser microphone pickup, which helps you to dial in the tone you want.
Through some quality headphones the sound is very satisfying, and adding a little of the inbuilt reverb really brings the sound to life.
How Good are the Pickups & Sound Effects?
Both my guitars have pickups and various sound effects, but they are a little different.
The SLG110S only has a piezo pickup under the saddle, and lacks the amplified range of tone that the SLG200S has, with its combined microphone in the body and Studio Response Technology (SRT).
Yamaha's specially developed SRT system is intended to reproduce a truly mic'd acoustic guitar sound, and is as close as you will get to a true studio microphone setup without actually having one.
SRT works by using a condenser mic that picks up the movement of the air around the strings, and with Yamaha's modelling produces a natural full acoustic sound.
There is a Blend control that let's you decide how much mic vs piezo pickup sound you want, so it really gives you control to get the sound you want, and for the conditions you are playing in.
The SLG110S has 4 onboard sound effects, while the SLG200S has only 3, but honestly I don't think many people would use more than the basic reverb offered on both models.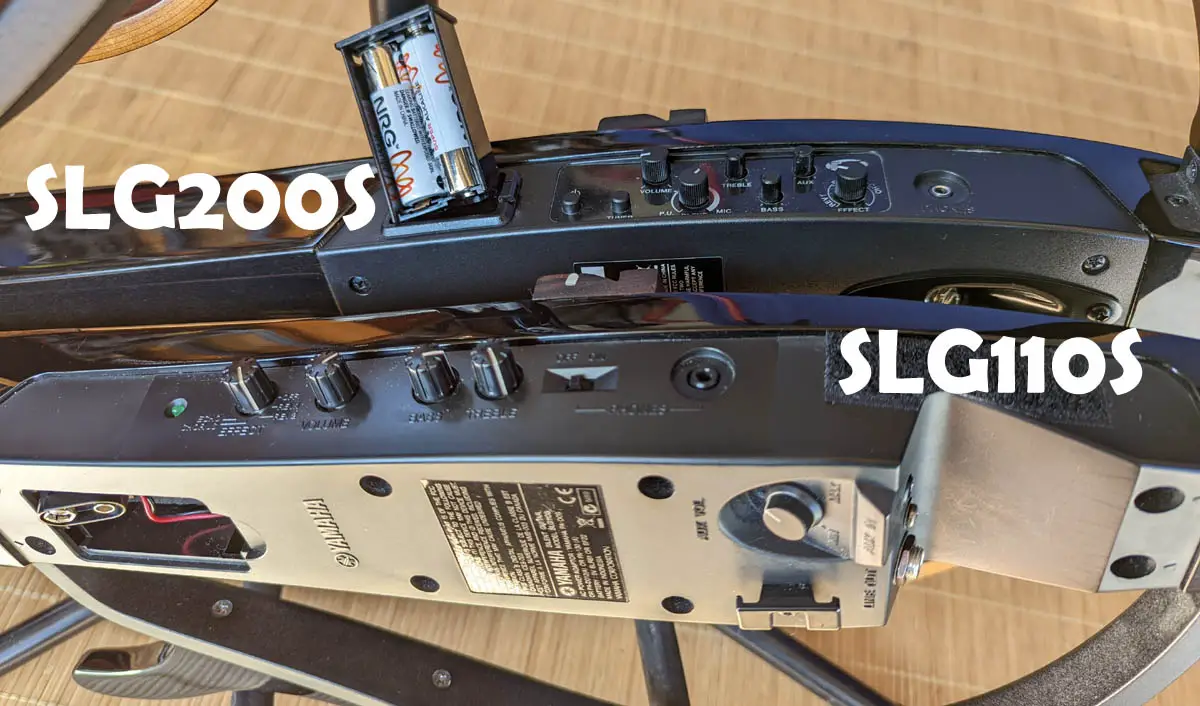 Yamaha's onboard sound effects are decent, but I find the echo and chorus  become a bit tacky when amplified. However the reverb is very controllable and progressive and gives the sound a smooth ambience and full tone on both models of guitar.
An advantage with the SLG200S is that the reverb can be dialed in to the level you want, while on the SLG110S you can only select Reverb1 or Reverb2 fixed settings.

Other Features of Yamaha Silent Guitars
One thing I love about these guitars is the ability to plug headphones directly into them, and there is a separate volume control for this.
Headphones & Backing Tracks
The sound is really good through headphones, and you can also plug in a music source such as an mp3 player or mobile via the aux jack.
So you can control the volume of the headphones independently from the aux, and lets you jam along to backing tracks or songs without disturbing anyone.
Both the SLG110S and SLG2200S have this feature, and it works the same on both of them.

If you're a bit tricky with connections you can even plug in a looper pedal, which I often do when playing alone in a hotel room.
Batteries & Power
Both guitars run on batteries, with the SLG110S using a square 9v battery, and the SLG200S using two AA batteries which tend to last longer before they finally die.
Yamaha have improved the length of time the batteries last with the 2x AA design. The sound slowly drops away as they get flat, compared to the older 9V setup of the SLG110S that reaches a point where the electronics quickly drop dead.
The SLG110S came with a mains adapter, but the cord is so stupidly short it's effectively useless (I cut mine and soldered in a longer wire). 
The SLG200S doesn't come with an adapter, but you can buy a 9-12V adapter to fit it.
Onboard Tuner
The SLG200s comes with an onboard tuner, a feature missed on the earlier SLG110s. It's nice and simple to use, and I've found it as accurate as any other digital tuner I have used.
How Well Do Yamaha Silent Guitars Age?
As I stated earlier, I've traveled everywhere with my Yamaha Silent guitars and they have held up really well.
Even after many hundreds of times removing and refitting the upper frame, the connections are still quite solid, with the SLG200S even better.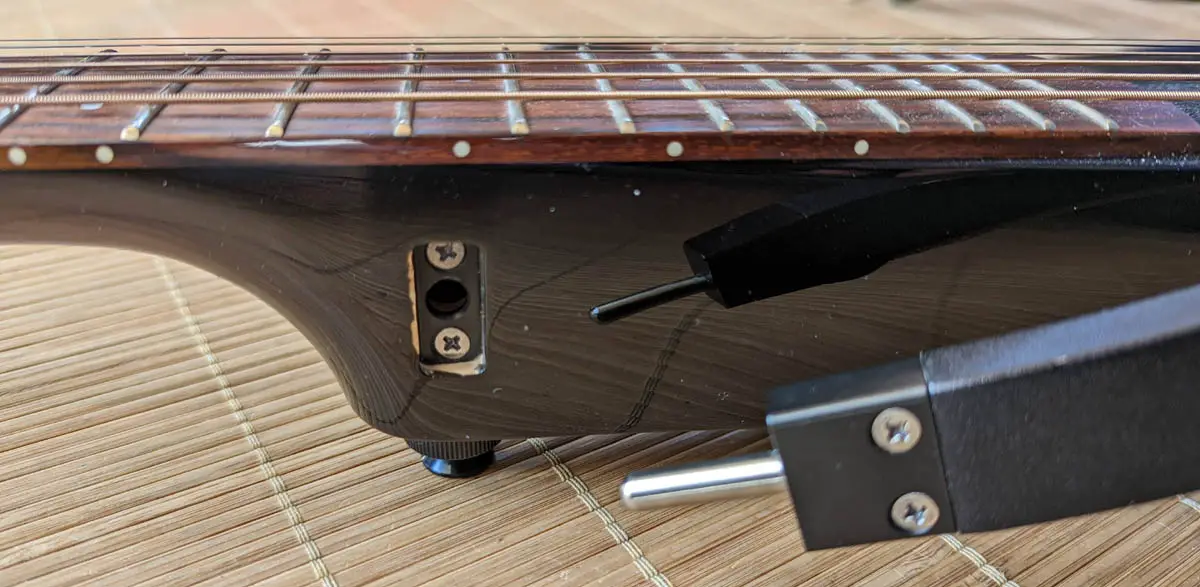 I haven't seen any cracks develop in either of my guitars, and they remain free of rattling or buzzing. 
As for electronics, they have been completely reliable, you just need to ensure you don't leave old batteries sitting in them or you can get leakage that will damage the contacts.
The tuners are still as reliable as when I got these guitars, and the tuning remains stable.
Maybe the worst thing I have found is fret wear under the high strings. I'm due to re-dress the frets for the second time now due to wear, but it's been about 3 years and a ton of playing since I last did it.
How Good Are the Yamaha Silent Guitar Gig Bags?
On the surface both gig bags look almost identical, but there are a few differences.
Both the SLG110S and SLG200S gig bags are well designed, rugged, and have plenty of padding to protect your guitar inside.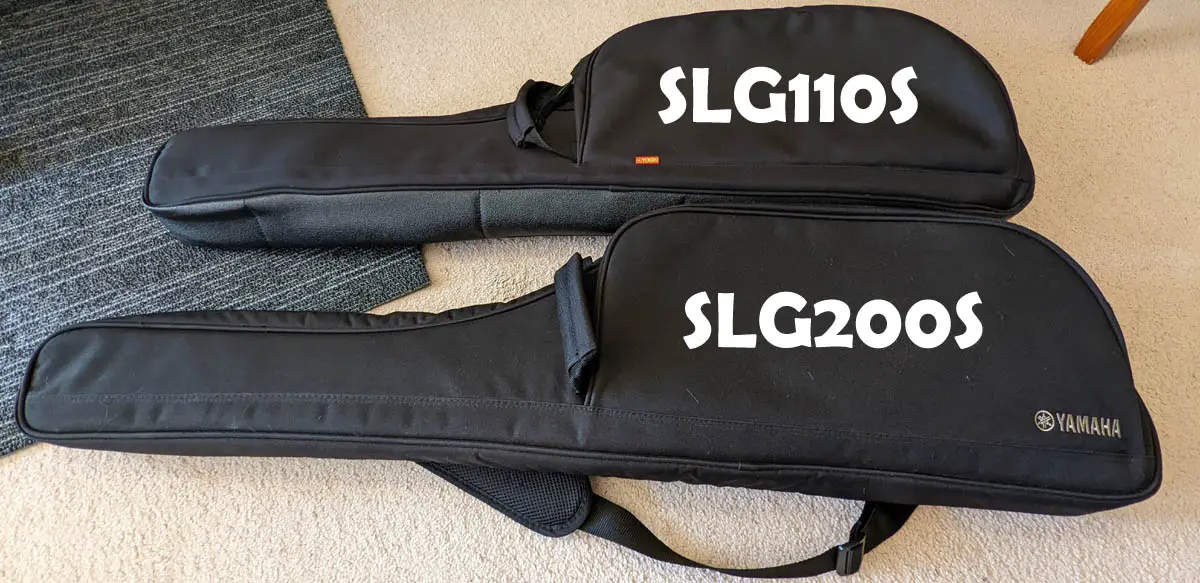 I've had mine in countless aircraft, buses, and taxis, and they are still in great condition. More importantly they have done a great job of protecting my guitars.
The SLG110s cover feels a bit floppier than the SLG200S cover, while the SLG200S cover feels thicker and firmer.

Yamaha SLG110S Cover
Tough nylon outer.
Tough vinyl edge for resting on ground.
Soft felt padded interior liner.
Separate frame pocket.
Strong thickly-padded headstock section.
Thick base pad at bottom.
Separate mains power adapter pocket.
Adjustable shoulder strap.
Front and side carry handles.
Large front pocket.
Length: 39.5" (100cm).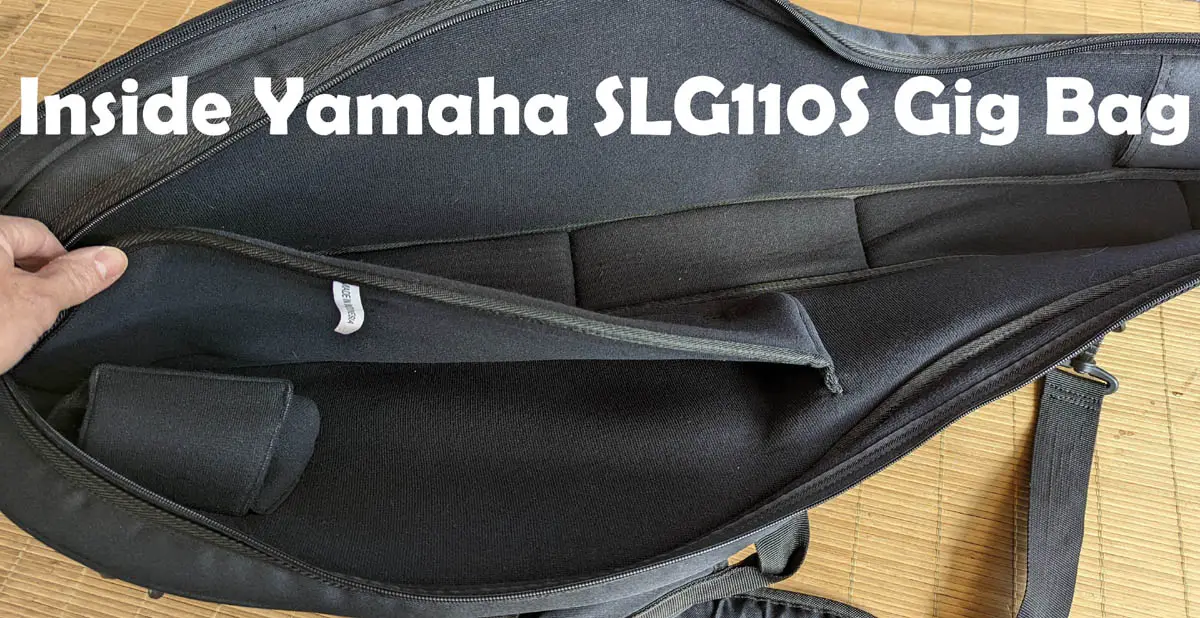 Yamaha SLG200S Cover
Tough nylon outer.
Double layer of nylon along one edge.
Tough water resistant interior liner.
Separate frame pocket.
Strong thickly-padded headstock section.
Thick base pad at bottom.
Adjustable shoulder strap.
Front and side carry handles.
Slightly larger front pocket.
Length: 41' (104cm).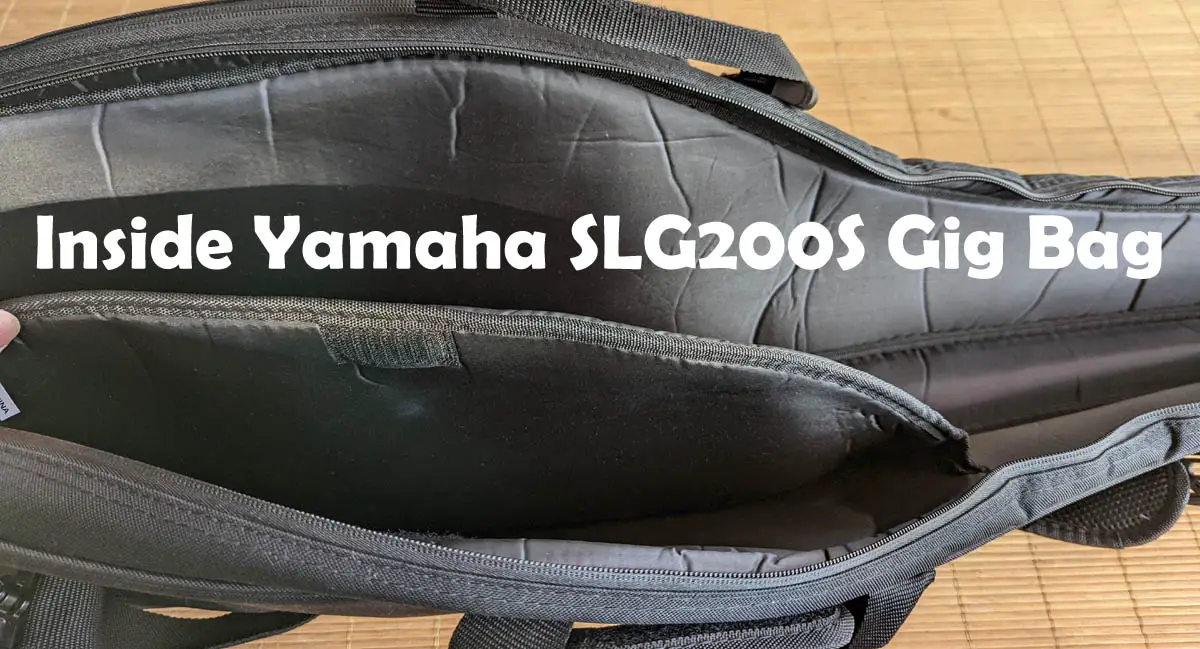 Overall, the SLG200S gig bag seems tougher, and I've found that the front pocket is large enough to fit A4 size folders in, being a little more square-shaped than the SLG110S gig bag.
I do like the vinyl edge on the earlier SLG110S bag though, great for when you have to rest it on wet ground.
Are Yamaha Silent Guitars Good for Traveling?
As far as travel is concerned, these guitars are well suited to travel of all types, but you do need to be a little careful as with all guitars.
Travel on Airlines
The SLG200S gig bag is slightly longer than the SLG110S, but I found both guitars in their gig bags will fit in overhead airline lockers, even in most smaller aircraft.
I've still got into a few heated discussions with airline staff though who were determined to make me throw my guitar in the cargo hold – no way buddy!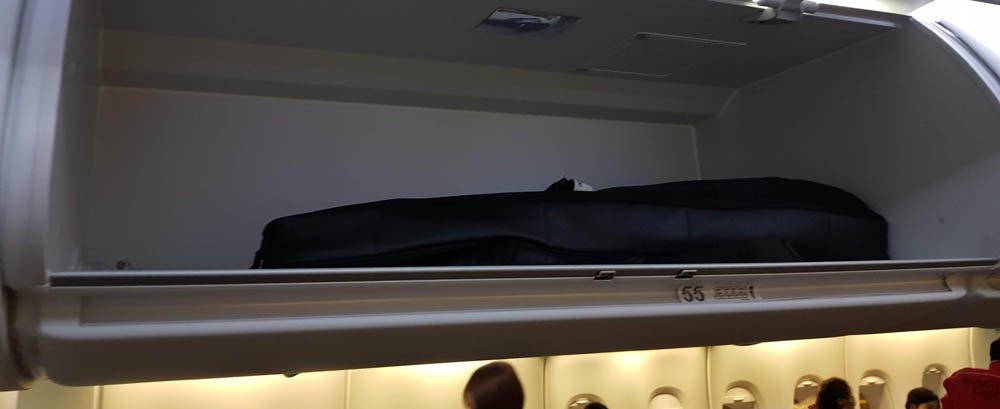 I think it's highly likely you would see damage if you let airline baggage handlers loose on your gig-bagged guitar, so it's worth checking allowable cabin baggage lengths before flying.
I ended up getting an ABS plastic rifle case, and putting my guitars in that when flying on certain airlines to avoid disputes. That way I could just put them through as baggage, and after many flights have never had my silent guitars damaged in them.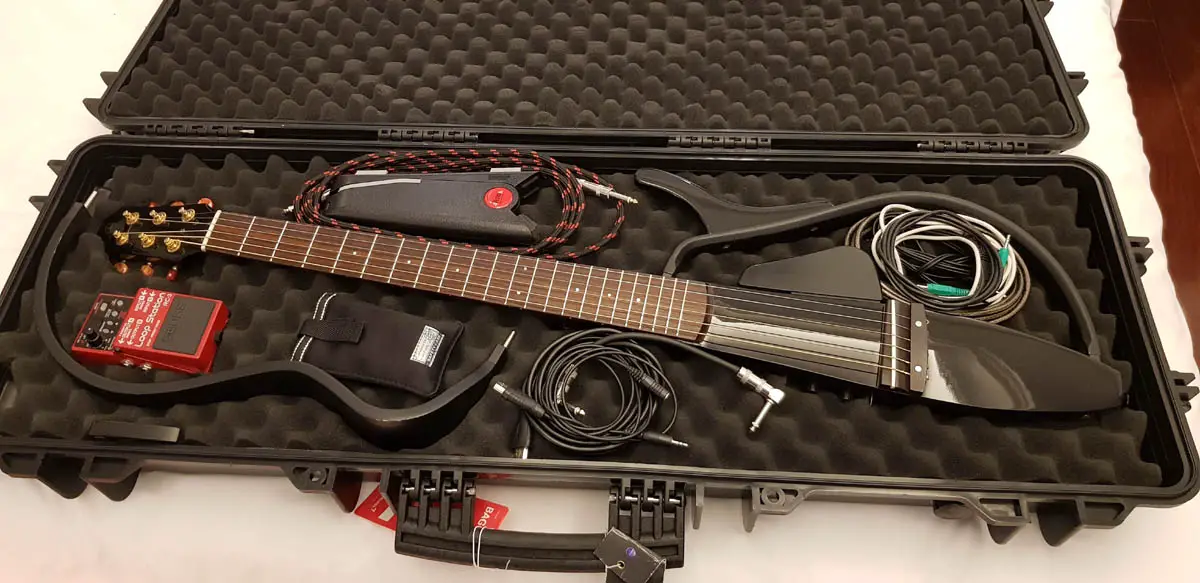 Other Travel Factors
If you are staying somewhere for a while you probably don't want to remove the upper frame and stick your guitar back in its case every day.
I found a great thing with the low weight of these guitars is that you can get a small foldable stand (even a ukelele stand), and it will fit in the front pocket of the gig bag.
These are great for putting in the corner of a hotel room, and you can grab your guitar to play at a moment's notice.
The gig bags are well designed with handles everywhere, and the shoulder strap is comfortable. I can easily have a suitcase in one hand, bag in another, and the gig bag over my shoulder.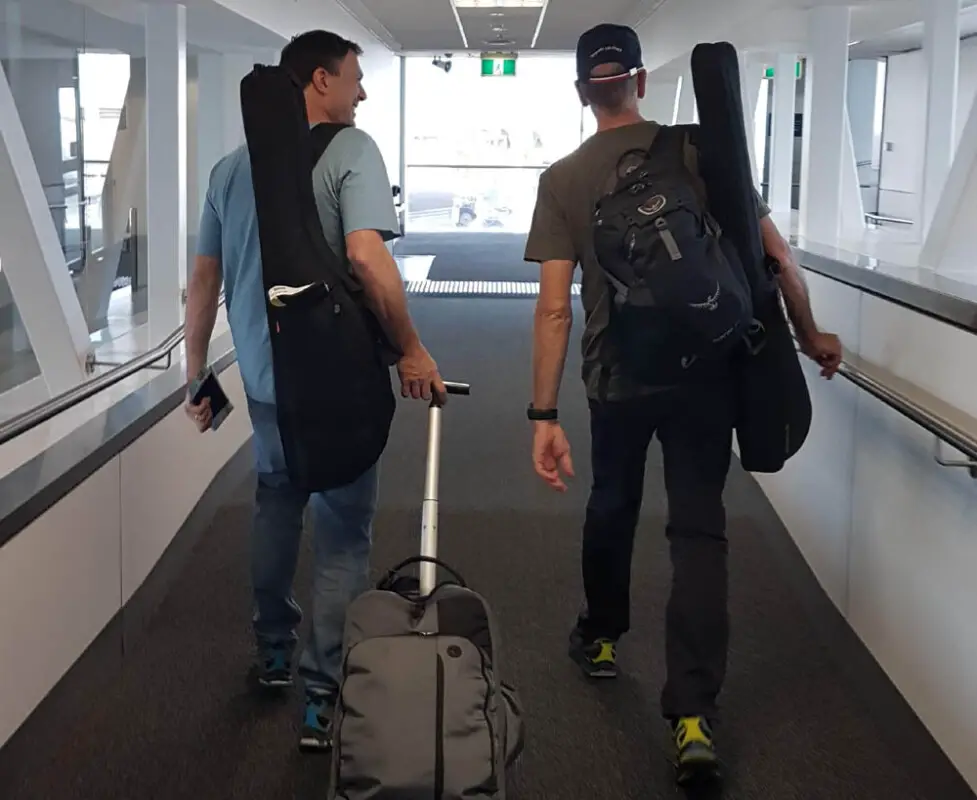 I would recommend if you travel on airlines to loosen the strings a little, and place some cardboard between the strings and fretboard. This way the guitar stays nicely protected from rapid pressure and temperature changes, and the frets from string rubbing during travel.
Once you reach your destination, it literally takes 1 minute to get the guitar out and fix the frame on. Tuning is quick and easy, and I've always found it stable after travel.
What are the Best Headphones for Yamaha Silent Guitars?
My best advice for the cheapo headphones that come with the Yamaha Silent guitars is to bin them. They are not worthy of the instrument.
At the very least, get a reasonable quality pair of earbud headphones, but preferably get some larger quality headphones that cover your ears.
I have a pair of Bose noise-canceling headphones that I fly with regularly (awesome for cutting airplane noise), and my Yamaha Silent guitars sound great through them.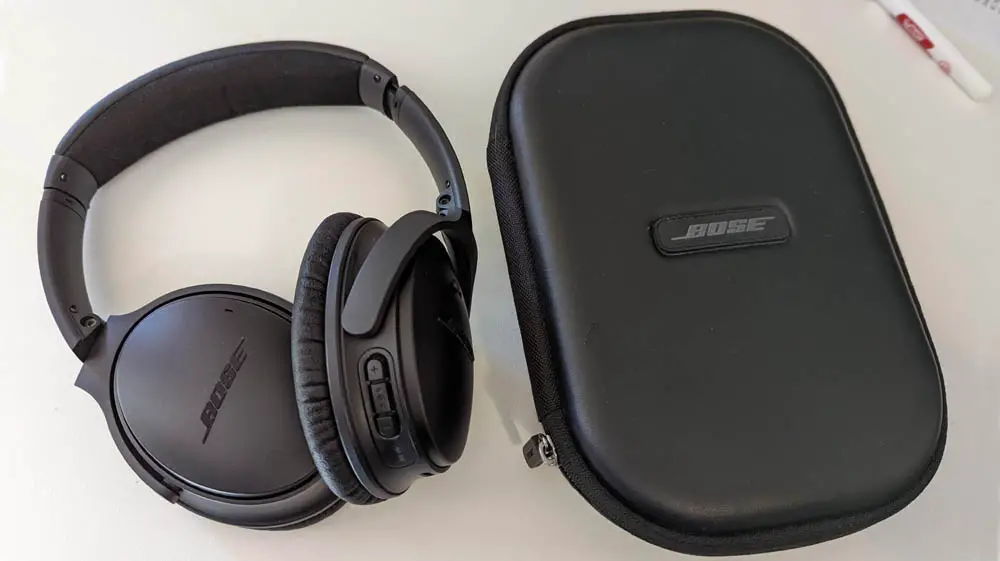 The base response through larger headphones really kicks it out of the park, and in my opinion are well worth the investment.
You don't need to go as pricey as the Bose headphones, but there are plenty of other reasonable quality over-ear headphones that won't cost so much, and will give you a good depth of sound.