What Is A Silent Guitar? Which Ones Are Worth Buying?
It's great cranking the volume on a guitar when you play, but when you don't have a good space to do that, keeping your guitar playing quiet means you can play virtually anywhere you want.
A silent guitar is a name given to guitars with a narrow central solid body, and have a very low acoustic volume similar to an unplugged electric guitar. Many of these are also designed with removable parts that makes them suitable for travel.
Silent guitars are a great solution not only for playing at home, but double as great travel guitars that you can play in a hotel room. I've traveled overseas many times with my Yamaha silent guitars, and they are a life-saver for anyone who can't stand to be without a guitar nearby.
Some models are better than others with some of them being barely more than a toy. We'll go over some worth buying, and which ones to avoid.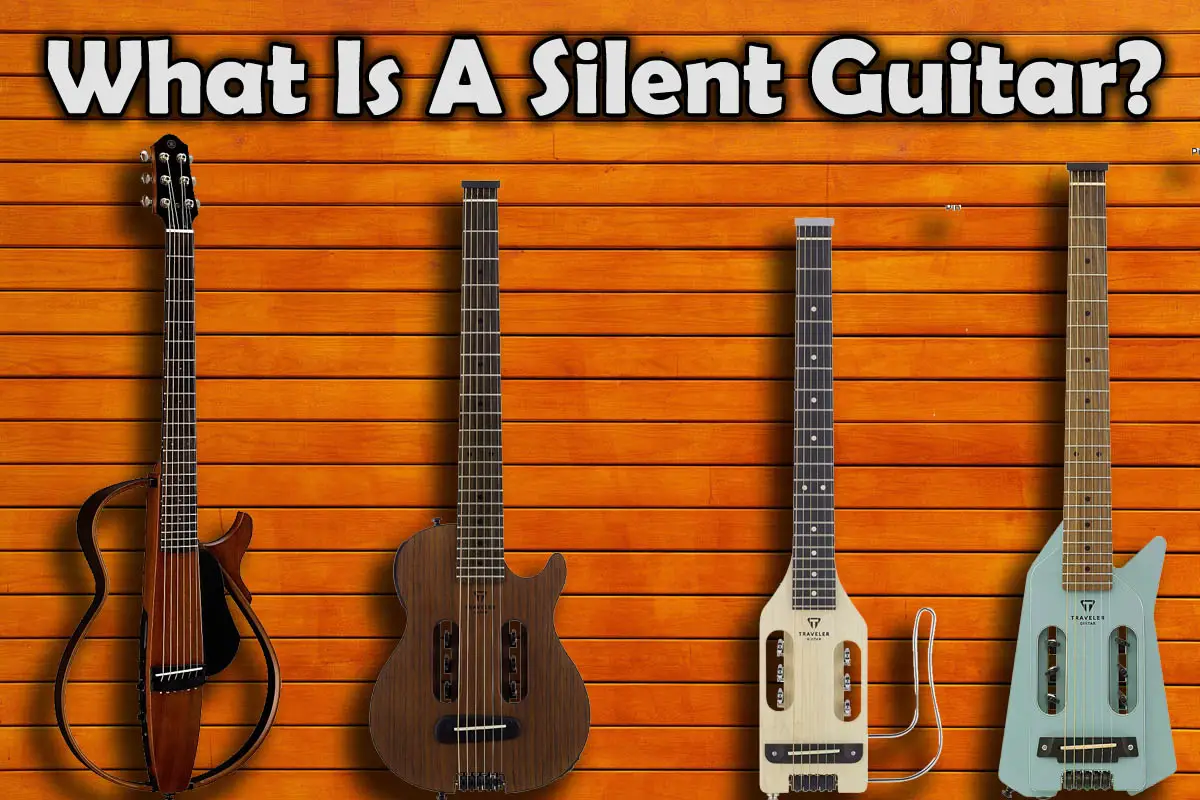 We work with various affiliate programs. If you purchase via our links we may earn a small commission at no extra cost to you.
What Is A Silent Guitar?
Silent guitars come in a few different forms, but the common theme is that they have a slim central body section connected to the neck.
This type of guitar is best defined by Yamaha's Silent Guitar series, who first coined the 'silent guitar' name that many people associate with small quiet travel guitars.
One main difference between a travel guitar and a silent guitar is that a travel guitar is always designed to be compact, while a true silent guitar can still be full sized. Silent guitars can also be defined by being acoustic-electric oriented, rather than headless electric guitar designs.
Commonly, silent guitars are built with a piezoelectric pickup that is found in acoustic-electric guitars. They normally also feature an output jack for amplifier connection, a headphone connection, and some onboard electronics to control the sound.
Unlike many travel guitars which are smaller versions of acoustic and electric guitars, silent guitars have a full scale length, making the neck feel similar to playing a full sized guitar.
How Loud are Silent Guitars?
With all silent guitars, they only have an unplugged volume of an electric guitar. The vibrating strings only move the air around them, and don't have a body designed to amplify the sound like an acoustic guitar does.
While they are dubbed 'silent' guitars, they aren't truly silent, and are still loud enough to be heard in a quiet environment. Yamaha state that their silent guitar's "frame-only construction means the volume of the sound is reduced to 10-20% of that of a traditional acoustic guitar.
I've personally found that silent guitars that come fitted with acoustic steel strings are plenty loud enough to play acoustically when there is low background noise, and retains enough tone to have a pleasing tone.
They are a great option for playing when your intended audience is only you, but you can also plug them into an amplifier and get all the volume of a traditional acoustic or electric guitar.
Listening to the nylon string silent guitar variants they are generally quieter, however can still have a pleasing enough natural volume in quiet indoor spaces.
What Silent Guitars Sound Like
No two silent guitars sound the same, and you will find that even two different models from the same brand will sound different.
This is mostly due to changes in body shape and weight, but also varies between models with electric guitar strings vs models with acoustic guitar strings.
Most silent guitars have a somewhat twangy sounding amplified tone due to their piezo pickups, however I've found that a compressor pedal is a great way to beef up the sound.
Yamaha tackled this problem with their newer SLG200 series, by using a microphone in the body, and using this to drive true acoustic guitar modeled sounds through onboard electronics. This gives a much richer sound, however it still doesn't quite have the live quality of a full-bodied acoustic guitar.
One thing that silent guitars do really well is reduce feedback when amplified. Without a traditional vibrating body, you get a very clean signal which is great in live situations and for recording.
Which Silent Guitars are Best?
For this list I'm going to stick with mainstream models that are readily available.
There have been some limited run good quality silent guitars such as the SoloEtte made by Rosco Wright which are only available on the used market, so I won't include models such as those.
All the guitars listed below are available in steel and nylon string versions, and the list goes from most expensive at the top to least expensive at the bottom.
1. Yamaha SLG200 Series Silent Guitars
Yamaha makes great playing guitars with the SLG200 series of steel string and nylon string guitars.

While not as amazing as a few luthier-made custom silent guitars, the price tag is also lower, and you can find plenty on the used market.
For many players these guitars are more comfortable to play than other cut-down silent guitar shapes, and retain a really pleasing traditional quality look.
Paying more for these guitars means you get a good quality build and electronics, and you will find these guitars hold up to travel really well.
The SRT system on the SLG200 series sets it apart from other silent guitars, as you get truly natural acoustic modeled sounds when amped up or playing through headphones. They also come with an aux port so you can play along to any music you want, and an onboard reverb and chorus control.
Flaws are minimal on these guitars, with the greatest problem being the thumbscrews that hold the frame on coming loose when you use a strap. This isn't such a big deal for some players, but not so great for live performance.
If you're after a silent guitar that has a full guitar look, and plays quite nicely unplugged too, then it's worth looking at the Yamaha series (you could get a good deal on a used model too). 
2. Traveler Escape Series
Traveler Guitar makes a couple of different 'silent' guitar designs, and they are quite popular choices with regular travelers due to their small size.

The Escape Mark III is one of Traveler Guitar's better offerings, priced a couple of hundred dollars below the Yamaha Silent guitar's price
Visually it's a great looking solid body mahogany guitar, reminding you more of an electric guitar shape than acoustic. Nice and small with its headless design, it will easily fit in airline overhead lockers while still being a full scale length playing guitar.
For the normal retail price of around $500 you would expect a decent quality instrument, and although many people say it plays well, there are a few letdowns to be aware of.
The built-in tuner doesn't appear to be very good quality, and you could even find it slightly inaccurate as a few owners have.
The tuning pegs are not great quality, being a bit gritty to turn and only a 14:1 ratio. When you need to restring this guitar the tuning knobs being recessed inside slots in the body can make it difficult to wind the strings on. There is not much room for your fingers, so a string winder would be a good investment for this guitar.
The Nanoflex pickup system is a nice addition to this guitar but if you want a fuller natural guitar sound, then you will need to add an effects pedal or modeling pedal. This is an area where the Yamaha Silent guitar really shines, as you don't need to carry extra pedals around to get a great sound.
This is still a great little guitar that is satisfying to play, and despite a couple of shortcomings is worth looking out for when it is on sale.
3. Traveler Guitar Ultra-Light Acoustic Acoustic-Electric Guitar
The Traveler Ultra-Light acoustic comes in at around half the price of the Yamaha silent guitar, and is an obvious departure from a traditional guitar look.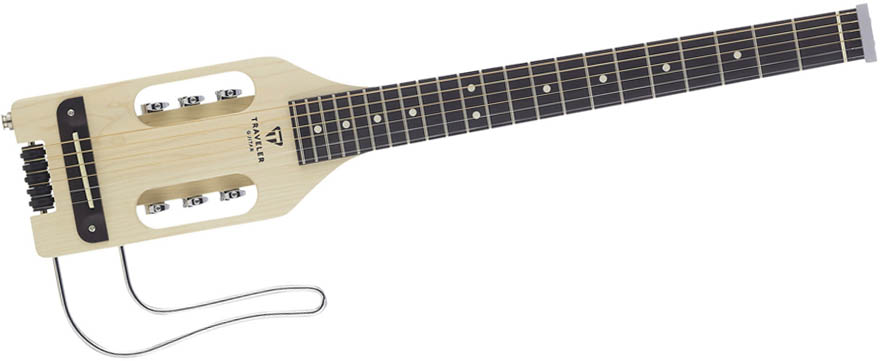 Many owners give this guitar a good rating, especially for its compact portability on flights and storage in small spaces. The Traveler ultra-light also gets points for being lightweight, making it great for people with sore backs.
Across the board this travel guitar has proven it stays in tune well, surprising since the quality of the tuners themselves seems to be quite poor, making tuning up a little difficult for some people.
As far as playing goes, it's a comfortable shaped neck similar to many acoustic guitars, and works well standing with a strap. It's a bit neck-heavy like most silent guitars, and you will find it has a tendency to neck dive if you sit it on your leg using the leg rest attachment.
This guitar has one major flaw that affects the majority of players, and that is the input jack coming loose (even after tightening it), and eventually breaking the wires off the jack.
This could be quite easily fixed by applying some Loctite to the nut under the cover, and tightening up. The Loctite will prevent it coming loose again, but really this should be done by the manufacturer in the factory – not by the consumer who paid good money for it!
Finally, if you buy one of these and want customer service, then you could be out of luck as it seems unfortunately they don't always reply to customer's support tickets.
4. Donner HUSH-I Headless Silent Guitar
The Donner Hush-I is new to the market, so hasn't been road tested as much as other silent guitars on this list. That being said, Donner are slowly proving themselves as a reliable brand of affordable instruments, and the Hush-I seems essentially well constructed.

The sound from this little guitar is nothing extraordinary, but it does give a nice neutral tone that sounds quite acoustic when amplified clean.
For playability, the asymmetrical neck is a nice design feature not added to other silent guitars, and the body design allows for great access to all 20 frets.
One thing I like about the Hush-I solid body design is that you have somewhere to rest an anchor finger when playing, something you can't easily do on the Traveler Ultra-light with its tuner slots in the body.
The electronics are very basic but do the job, and I can't help thinking it would have been better to have an onboard tuner rather than a clip-on that you have to carry with you.
The tuning pegs themselves are functional open style tuners, but can be a bit annoying having to put a hex key in to turn them. This is one area where I prefer the Traveler Ultra-light, as it has sealed tuners with knobs you can tune up with instantly.
The metal frames are a nicely shaped addition when you want a traditional guitar shape, but the design of the lower frame connection could certainly be improved. You need to screw in the frame through a hole in the body into a threaded hole in the frame.
Only having a single screw in the lower frame means that any twisting force on the frame could cause it to become loose by damaging the hole in the guitar body.
Despite the Hush-I having a couple of minor design issues, it's a really solid guitar that is compact, made for the road, and is really well priced for what you get.
Which Silent Guitars You Should Avoid
Basically any silent guitar for less than $300 should signal you that the materials and construction quality will be average at best. These guitars simply don't last long on the market because people stop buying them.
Sojing 020A-U Silent Electric Classical Guitar
The Sojing 020A-U is somewhat of an oddity, being a classical nylon string guitar that looks like it would be right at home bolted to the front of a viking ship.
If you're a hard-rocking metal head who wants a classical silent guitar complete with viking wings (who wouldn't), then maybe you have seen the Sojing?
Finding positive comments on this silent guitar is no easy feat, however some players say they are really happy with the basic amplified sound.
After that, things really go downhill and there are many problems with this (overly) cheap guitar. While it's true that it is less than a third the price of a Yamaha Silent guitar, it still isn't worthy of your hard-earned cash.
Rather than write a thesis on this guitar's poor features, I'll just list them in point form:
Made with cheap components, and breaks easily.
Poor quality tuners prone to breaking.
The action is too high on most models, and the bridge needs sanding down to lower the action far enough.
The wings can be unscrewed, however won't sit on your lap without the lower one.
The frame is very thick and heavy.
The frame ends are small, with a single wood screw securing them, and prone to breaking if the guitar takes a knock.
Simplistic onboard electronics, with only volume and tone controls.
The volume knob is not even, and is only useful for a third of its rotation.
The piezo pickup is encased in resin.
No fret position markers.
Does not disassemble for travel.
No carry case included.