Is Donner A Good Guitar Brand? (Are They Worth Buying?)
Donner is a fairly new guitar and musical instrument maker, and while their starter guitars won't give you the best pick-ups, hardware, or bridges, you can find one that's both decent and affordable.
Donner aim their guitars more at the beginner market, however more experienced players might like them for a cheap casual player instrument for the lounge room or travel.
Are Donner Guitars Good?
New guitar players wanting a cheap instrument to start on will find Donner are a good guitar brand to try. Donner acoustic and electric guitars are quickly earning themselves a reputation as value for money, and for under $250 they are quite well made.
Being a completely Chinese made guitar, Donner compete with plenty of other cheap entry-level guitars, but are their acoustic and electric guitars actually any good?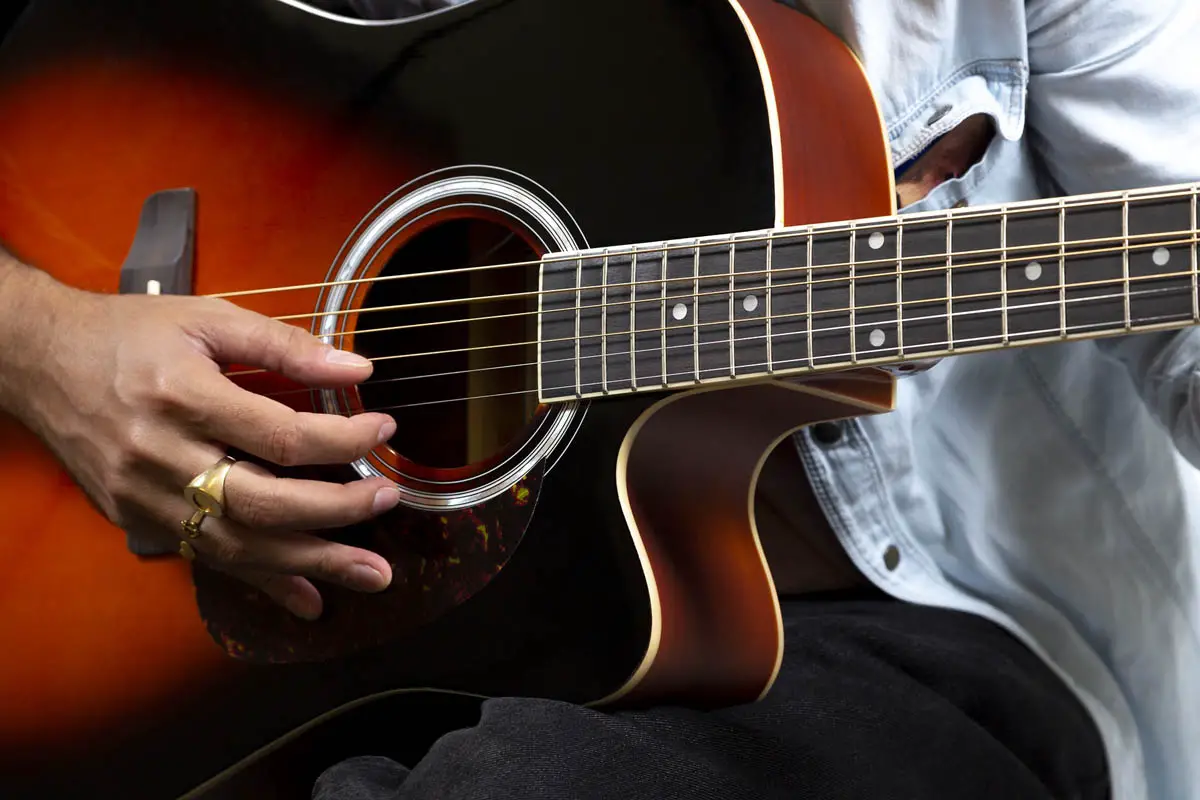 We work with various affiliate programs. If you purchase via our links we may earn a small commission at no extra cost to you.
Are Donner Guitars Good to Play?
Donner guitars play just as easy as any other guitar. While they do have some problems, so do all starter guitars.
The high action is what makes many of their acoustic guitars difficult to play. You have to press really hard to get the string to touch the fretboard. For new tender fingers, this can be quite painful.
The guitars generally stay tuned well with minor slippage. The electric guitar whammy bars sometimes feel a bit stiff and awkward, but again, common for cheap vibrato bridges.
These problems can be fixed if you take it to a guitar tech; but your cheap guitar just got more expensive.
Are Donner Guitars Only Made for Beginners?
Donner's obvious target audience is aimed squarely at entry-level guitarists, but if you want a campfire or cheap jamming guitar that can get bashed around a bit, these guitars can be a great option.
Looking at the price range of their guitars they are quite good value since you get a kit with everything you need to get started, and that can be a big plus for beginners.
How Good is Donner Guitar Quality?
Donner makes a few different versions of electric guitars, which favor the popular guitar bodies: Stratocaster, Les Paul, and Telecaster.
The acoustic versions also essentially come in three models. Two dreadnoughts, one with a Sitka spruce top and matte finish, the other with a solid spruce top and gloss finish. They also have a mini jumbo, which is essentially auditorium sized.
See the Donner Acoustic Guitar Pack at Amazon
Electric Guitar Construction
Donner electric guitars have surprisingly straight necks. Aesthetically, the headstocks are appealing to the eye. Like any starter, the tuning machines are on the cheap side, but they suffice. 
The nuts are plastic, which is customary for starter guitars. The nut slots are cut well, and the nuts themselves flush nicely against the fingerboard edges.
Most are made with maple C-necks, with an occasional African mahogany, and resemble your standard Fender. The frets fit nicely without any protrusions or sharp edges.
The fingerboards are made from tight-grained Peltogyne, known as purple heart. Occasionally, you'll see one with perilla wood, aka Chinese Basil. The bodies are made from African Basswood, with a few being solid poplar.
The Stratocaster versions have the popular Humbucker-Single-Single ceramic-based pickups with dime-sized pots and 5-way switches.
The Les Paul version comes with two Humbuckers and 3-way switch, and the Telecaster comes with two Singles and 3-way. 
In a nutshell – The hardware works, but it's basic. 
Acoustic Guitar Construction
The acoustics come with strap locks already attached. Several models offer black tuning machines, which upgrades the cool factor.
They all come with C-necks, and most with matte finishes. The fretboards use the same purple heart as the electric versions.
Unlike the electrics, the frets tend to have sharp edges that require filing. They are also very thin, which means faster wear.
The majority of the nuts and saddles are plastic; occasionally, you'll find one made from bone
The guitars themselves feel thin and flimsy. If you look closely, you'll see they have substantially thinner tops than other brands, but they do have exceptional bracing.
The action is pretty high out of the box ( ⅛ to ¼"), so plan on filing the saddle. There also doesn't appear to be much relief in the neck, which leads to buzzing.
I have to honestly say I don't like the acoustic version, but I'm just one negative opinion.  There are plenty of positive reviews out there that say otherwise. It's playable and there's nothing inherently wrong with it. 
Do Donner Guitars Sound Good?
The electric guitars don't sound bad at all and could easily be compared to an entry-level Fender Squier. However, I'm not real fond of the acoustic sound.
But it's a starter guitar at a low price, so you can't really expect more than you pay for. 
However, there are still plenty of positive reviews, like this one on Youtube:
Electric Guitar Sound
The electric guitars are comfortable but require a decent set-up and a good set of strings. You can always upgrade your hardware as you gain more knowledge and experience, but strings are an inexpensive upgrade that improves overall sound. 
There's occasional reverb, and the neck pick-ups sometimes sound muddy. With a decent amp, though, it can produce a decent sound.
Overall sound quality isn't bad. For under $200, it's affordable and playable. Like most starters, they come with low-end ceramic pick-ups, pots, and wiring.
Donner's electric guitars are far better than their acoustic version, but to get a decent sound you'll need more than their 3-watt amp.
Acoustic Guitar Sound
Donner advertises their guitars as being bold, warm and vibrant. Many guitarists agree, but I'm not one of them, and this can depend on how well your musical ear is developed.
These acoustics come across as being thin and tinny. I hear mostly top notes with very little bass, which is not what I would want in an acoustic guitar.
With that being said, it's very challenging to find good acoustic guitars for under $200. So if you're willing to sacrifice sound, these guitars still play relatively well.
It's a decent starter guitar with entry-level quality.
Are Donner Beginner Guitars Good Value for Money?
Donner guitars appear to have a decent, albeit low end, quality. I've heard better, but I've also heard worse. For a beginner, especially if you're just learning and haven't made a long-term commitment, they're decent.
There's a lot of 'fix up' work needed to give these guitars solid sound quality. If you don't have the proper skillset, then you'll have to pay someone else to do it, in which case you could spend that extra money on a better guitar.
Are Donner Guitar Starter Guitar Packs Good Value

?

I don't believe that any 'starter pack' is particularly good value because most of what you get is cheap sideshow quality rubbish. The value of all your add-ons is probably less than $30.

The one exception would be your amplifier, but in Donner's case, you get a 3-watt amplifier about the size of a small blue-tooth speaker.

For less than $50 more you can get a better brand and a better amp. It should also be noted that not all Donner's electric "starter packs" actually come with an amp, so be sure to read the fine print.

Most new guitarists ditch the strings, strap, and picks immediately so they can personalize their look and playstyle.  

What value packs do offer is convenience. They allow you to take a guitar out of the box and immediately begin playing, but you're sacrificing quality for convenience. You can still get a good starter guitar and all the add-ons in the same price range, but why not pick something you like.
See the Donner electric guitar starter pack at Amazon
How Long Have Donner Been Making Guitars?
Donner is the new kid on the block. They've only been around since 2012 when they started making foot pedals. They're a bit of a mystery with no real information on who owns the company.
Who Are Donner?
According to Donner, they "pioneered" the mini pedal and worked their way into guitars.
They appear to work within the e-commerce business model, so buyers need to understand they're buying directly from China.
According to their website, Donner's business office is located in Hong Kong, but they do have a warehouse in California. Since their privacy policy mentions working with third parties "like dropshipping," that's probably its purpose.
They post a 24/7 US Hotline: 001 571 3705955; definitely not a US number, which could mean difficulty reaching live bodies. 
How Good Is
Donner's Customer Service?
Donner has accumulated a great many dissatisfied customers since 2012, almost 50% of their online customer base.
From not receiving items, to duplicate charges, to outright ghosting, you've got almost a 50/50 chance of running into problems, which isn't unusual when you purchase overseas.
With e-commerce stores, there are always bona fide risks.
Buyer Beware

!

While you will find Donner guitars listed on websites like Walmart and Amazon, Donner posts a disclaimer stating they are the only authorized dealer in the US. So if you purchase a guitar from one of these sites, Donner states they are "not responsible" for any problems that may result.

If you're going to buy Donner, be sure to only buy from donnerdeal.com.
Final Thoughts
So are Donner guitars good for beginners? While they are certainly doable, I think you could do much better.
If you have the opportunity to hold one, and you like the way it plays and feels, then it's a decent starter guitar. If you can't find one in a music store, then find another option in the same price range that works. It might even be better.
Sources:
Donnerdeal Reviews | Read Customer Service Reviews of www.donnerdeal.com | 9 of 9 (trustpilot.com)