Guitar Starter Packs: Are They Worth It? (Or Buy Separately?)
Deciding whether or not to purchase a starter pack is a tough choice to make, especially if you're not really sure what you're looking for, and you have little knowledge of quality brands.
Obviously, a starter pack will not give you top quality, but you certainly don't want cheap rubbish either.
Guitar starter packs can be worth buying, but you should at least be aware of areas for concern. The main advantage of starter packs isn't so much quality, but affordability and convenience. Your budget and the type of guitar you're after are the primary factors in your consideration. 
Starter packs give you the opportunity to begin playing right away without having to make excessive decisions or shop a variety of items.
However, with patience and resourcefulness, you might be better off buying your gear separately. I'm going to show you why, and also discuss a few starter packs that are worth buying if you're still not sure about buying each item by itself.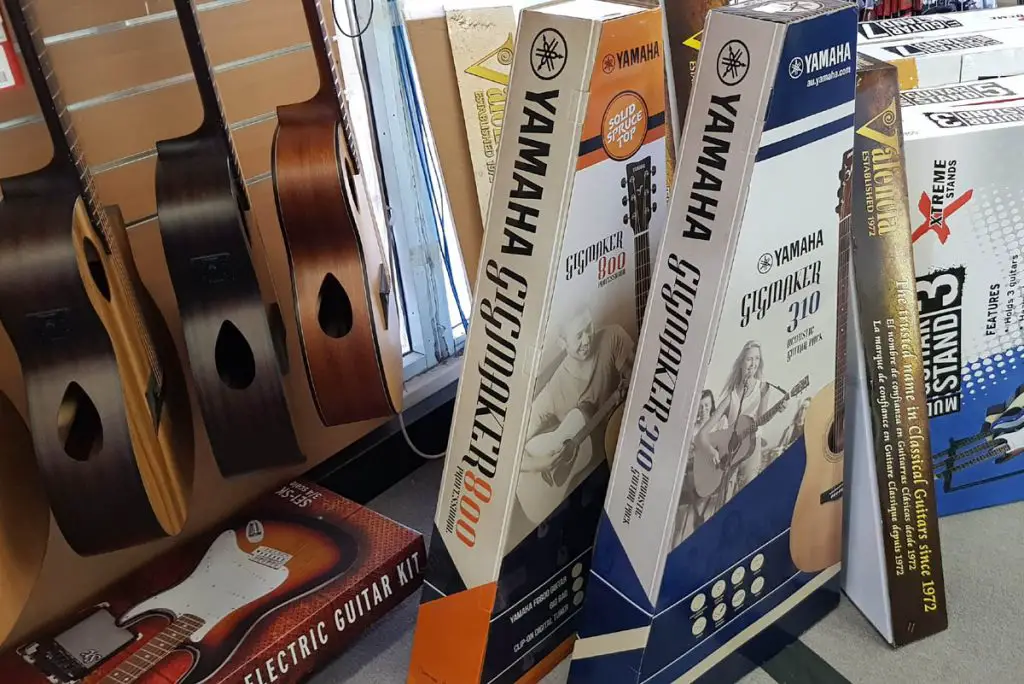 We work with various affiliate programs. If you purchase via our links we may earn a small commission at no extra cost to you.
How Good Is The Quality Of Guitar Starter Packs?
You can't expect top-notch when buying a beginner guitar, especially in the acoustic arena. Depending on whether you are looking for acoustic, acoustic-electric, or electric will also have a significant impact on the quality. 
You know you're getting low-end merchandise going into the deal, so the big question is how low-end? Acoustics are the biggest area of concern because the quality can be pretty shoddy depending on what you buy. 
Electric guitars are much more forgiving not only because of how they are constructed, but also because you have the advantage of sound manipulation. 
Acoustic electrics will fall somewhere in between.
Almost all starter packs come with a gig bag, a tuner, a plain black, nylon strap, and a few picks to get you started. Occasionally, you may find one that offers a spare set of strings, and maybe even a capo.
With electric and acoustic electric guitars, you'll also get an amplifier and cables in most cases. Many starter packs will even offer a subscription of sorts, or a few guitar lessons. 
You have to decide how much extra you really need, and how personalized you want to make it.
Acoustic Guitar Pack Quality
Acoustic starter packs are the area where you're most likely to get ripped off. 
Not only do manufacturers cut corners by using cheap laminate tops, but they also sacrifice structural stability as well, so there's more at stake. 
It's one thing to use cheaper materials to lessen the cost, but when you sacrifice the structural integrity of an instrument, then you're just buying garbage. So it would be to your advantage to understand the basic construction of acoustic guitars so you at least have an idea of what to look for.
For decent quality, you really shouldn't pay less than $150. Anything less, and you can almost guarantee you're buying garbage, unless you're buying used.
While there are some decent, inexpensive starting acoustics, you won't find them that cheap.
So if you feel that you must buy a starter pack, then purchase one from a reputable manufacturer who's known for their quality. 
Truth be told, however, you're better off just buying the guitar all by itself. There's no real advantage to an acoustic starter pack. 
Acoustic Electric Pack Quality
Acoustic electrics could go either way. You have to make sure that the guitar is structurally sound, and you also need to pay attention to what you're buying. 
For example, I've seen inexpensive acoustic-electric starter packs on Amazon, but when you read the fine print, they come with nylon strings. Imagine the disappointment!
If you're not sure what to buy, your best bet is to talk to a professional. 
Even if you are purchasing online, taking the time to call or visit your local music shop and ask a few questions can offer a wealth of knowledge that can keep you from making a costly mistake. 
Electric Guitar Pack Quality
Electric guitars are much more forgiving because while they may use cheaper woods or electronics, they're still constructed the same way; plus you get the amplifier too, which adds additional value to your package.
However, always read the fine print and don't assume that the amplifier is part of the package. 
I have seen instances where electric guitars are sold in a starter pack, and include the same gig bag, picks, and tuner, but don't include the amplifier. 
Are Starter Packs Cheaper Than Buying Separately?
Starter packs can be cheaper, but that really depends on your shopping list. Obviously, the bulk of your money goes towards the guitar, and amp if you need one. 
The other stuff is just fluff that you don't have to have.
For example:
You don't need an extra set of strings out of the gate. Simply wait to purchase them.

You could probably live without a tuner because most phones nowadays have an app you could use instead.

Gig bags aren't usually a necessity for new guitarists either. Most guitarists will tell you to keep your guitar within reach. You're less likely to play if you have to dig it out and set it up every time you get the urge.
If you're going acoustic, arguably, you could get by with just the guitar itself. At the very least, you could personalize your purchase with some cool picks and a strap that matches your personality.
For electric and acoustic-electric, the only thing you need to add is a cable and the amp. Everything else, truly you can live without and piecemeal the rest over time. 
Acoustic Guitar Packs – Worth It?
I'm of the mindset that for an acoustic guitar, all you really need is the guitar. I'd rather spend the extra money on a better quality guitar rather than purchase a starter pack. 
At most, you need a pick and a strap, and even that's not a must-have. But for twenty bucks I can have the coolest strap and an abundance of picks that I won't ever run out of.
Acoustic-Electric Packs – Worth It?
Acoustic-electric starter packs could go either way. In large, it depends on the quality of the guitar. If you're in the market for an acoustic-electric, your best bet is to go with a reputable brand. 
You can find decent acoustic-electric starter packs in the $250-$300 range. Anything less than that will likely result in poor quality.
Amplifiers in starter packs won't be performance grade, but you don't need a humongous amp unless you're planning on being on stage, in which case you wouldn't be shopping in the beginner's pool. 
Make sure you read the fine print and know exactly what you're getting. 
Avoid slotted headstocks because they won't withstand the tension of steel strings. Make sure you have decent bracing, and preferably some kerfing for structural integrity. 
Electric Guitar Packs – Worth It?
I'm sure someone out there will disagree, but from my vantage point, electric guitar packs are the only starter packs worth buying, especially when you don't have the necessary knowledge to make an educated decision about amplifiers. 
Or you simply have a hard time making decisions. It's hard enough to choose a guitar, but choosing an amp too can be pretty overwhelming if you're not sure what you're looking for. 
When I bought my first electric guitar I knew nothing about amplifiers. So for me, not only was it convenient, but it was comforting knowing that I wouldn't louse things up and make a purchase that I would later regret. 
I was essentially guaranteed that my guitar and amplifier would work together without any hiccups. That peace of mind alone made the starter pack ideal for me. 
Advantages and Disadvantages of Buying Starter Packs
The obvious advantage to buying a starter pack is that you're getting everything you need in one package at an affordable price. Most starter packages are designed with those on a budget in mind. This is particularly true with electrics and acoustic-electrics where amplifiers are involved.  
Because I didn't know anything about amplifiers, buying the starter pack ensured that I didn't make a mistake that would cost me either more money or worse yet, damage my brand new guitar and amplifier. 
The disadvantage to buying starter packs is you'll find out rather quickly that most of what you get is either garbage, or you won't use it.
Part of the fun in having a guitar is personalizing it, so most guitarists will instantly buy a cool-looking strap and some picks that they just can't live without. 
So, often the extras provided in your starter pack never get used.
In reality, all of the add-ons are relatively inexpensive items that are designed to make you feel like you're getting a good deal. 
Popular Guitar Starter Packs Right Now
I've had a good look around at what's available, and believe the packs listed below will give you reasonable quality for your money.
Acoustic Starter Packs
If you're really on a budget, you can get a good deal with the Ibanez IJV-50 JamPack Quickstart.
Ibanez Jam Pack Quick Start
For under $200, this is a dreadnought guitar with a spruce top and agathis back and sides. It features a mahogany neck with a rosewood fretboard and bridge.
Additional accessories include an electronic tuner, gig bag, guitar strap, and an accessory pouch.
Acoustic-Electric Starter Packs
A popular acoustic-electric starter pack for under $300 is the Epiphone PR-4E Player Pack. This is a mini-jumbo acoustic with a Venetian cutaway. 
It's built with a select spruce top and mahogany body with X-bracing. It also features a mahogany neck with a rosewood fretboard. 
It has a piezo element pick-up system with built-in electronics with boost and cut controls, phase switch, and volume controls, as well as a ¼" output jack.
It comes with an Epiphone Studio Acoustic-15 watt amplifier with a 6 ½" speaker that features a ¼" instrument input and an XLR (mic) cable input. 
The package comes with a gig bag, tuner, strap, cable, and picks. It also provides eMedia comprehensive online lessons. 
Electric Guitar Starter Packs
Squier by Fender
If you prefer a strat body profile, for around $290, you can't go wrong with the Squier Stratocaster pack.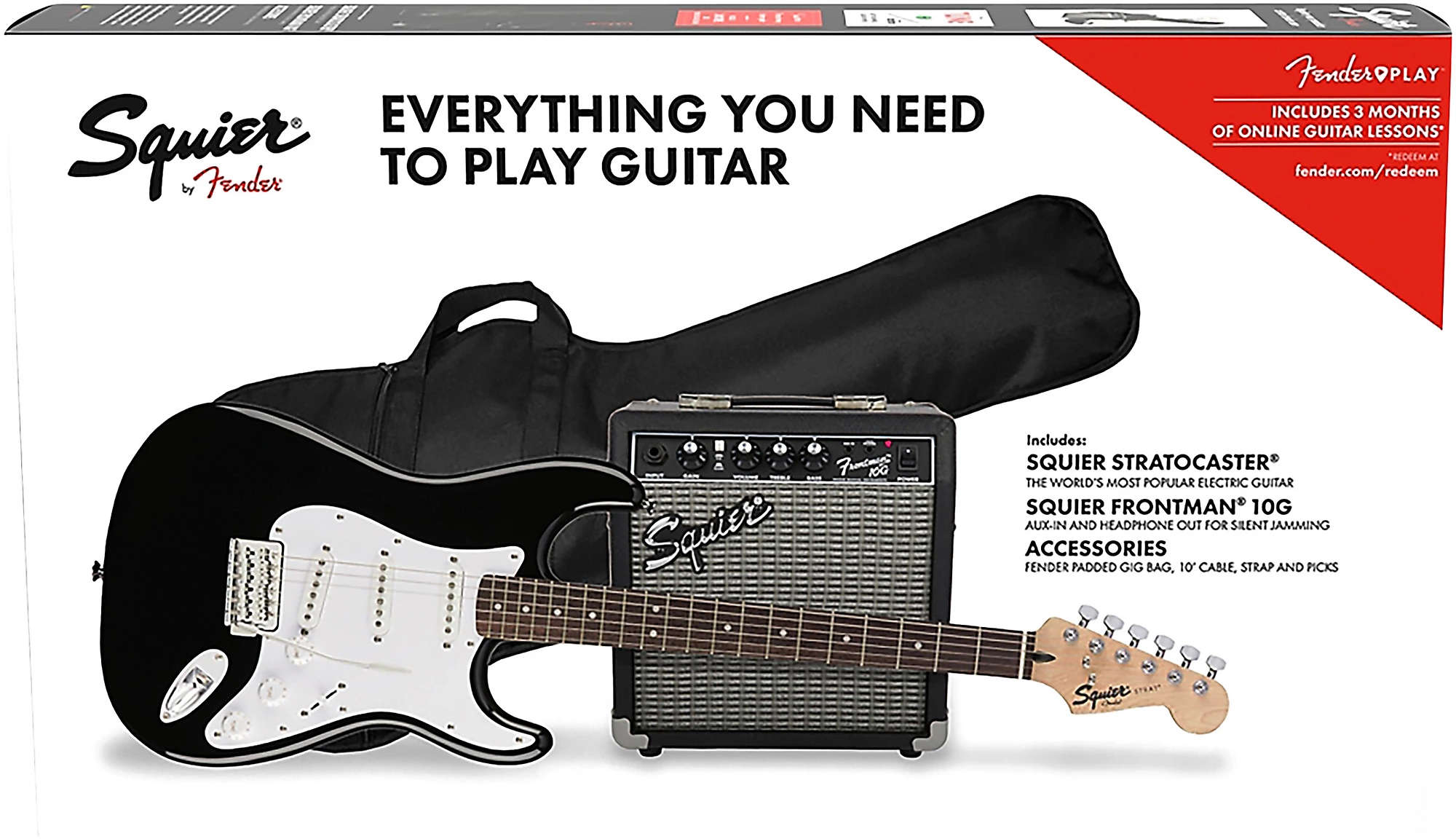 It has a solid poplar body with a vintage-style tremolo bridge, and three single-coil pickups with a 5-way switch. It has a maple neck with an Indian laurel fretboard. 
The pack includes:
The Squier Frontman 10G amp with an AUX input and headphone jack. 
Padded gig bag, strap, cable, and picks.
Free 3-month subscription to Fender Play online guitar lessons..
---
Epiphone
If you prefer the Les Paul profile, then for around $270, you may prefer the Epiphone Les Paul Electric Guitar Player Pack that comes with the Epiphone Les Paul Special II.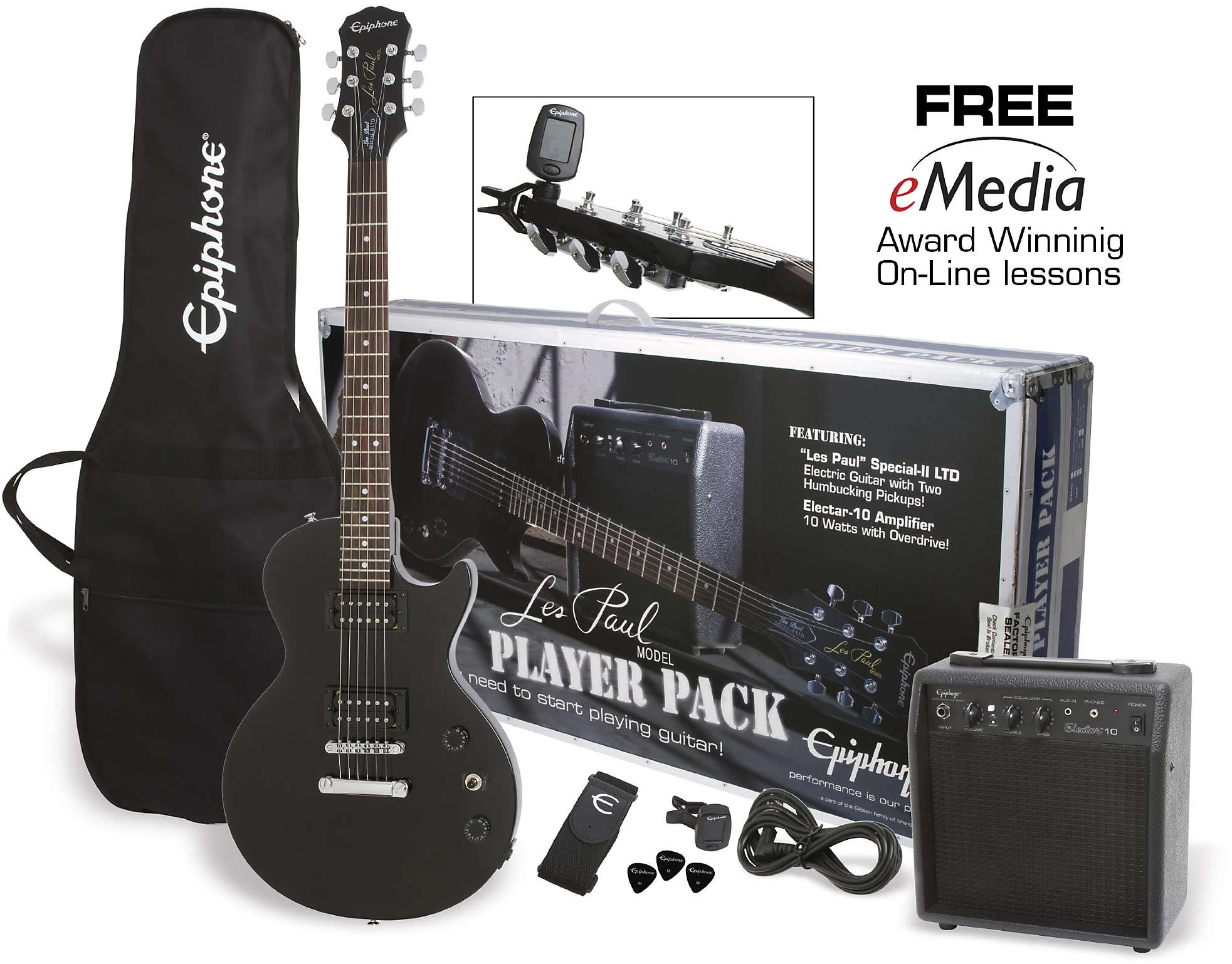 The LP II is a 24 ¾" scale size with solid mahogany body and neck, and a rosewood fretboard featuring two humbucker pickups with a 3-way switch. 
This guitar pack includes:
An Electar 10-watt amp with overdrive controls and a two-band equalizer. Not only does it have a headphone jack, but it also allows you to connect a music source such as an MP3 player or CD player, which is great for jamming along to your favorite tunes.
A gig bag, tuner, strap, cable, guitar picks.
Free eMedia guitar lessons online.
Building Your Own Starter Pack – What to Buy
There are advantages to building your own starter pack, one is that you can mix and match brands. When you buy starter packs, particularly in the electric arena, if you buy a Fender guitar, you also get a Fender amp.
If you do it yourself, you could buy a guitar in one brand and an amp in another, adjusting your costs where need be. 
For example, you could buy a used midrange guitar and a lesser quality amp, or vice versa, depending on what your needs are. 
Here are a few decent entry-level options that you can mix and match to suit your needs:
Good Starter Guitars
The Epiphone DR 100 is an extremely popular, good-quality beginner guitar. You won't get any bells and whistles, but you'll get a well-built select spruce top with a mahogany body and neck and rosewood fretboard.

For an additional $10-$20, you can purchase picks and/or a nice strap.
For about $30 extra, the Ibanez V70CE is an acoustic-electric dreadnought with a cutaway, select spruce top with mahogany back, sides, and neck – and rosewood fretboard.

It has nice binding around the body and a compensated saddle, which are upgrades from your standard starting guitar. It also comes in a cool blue burst or black finish. 
The electronics offer volume, bass, and treble adjustments. 
Combined with one of the amps below, you can have a solid package for around $300. While you sacrifice a few watts on the amp, you gain a much better guitar for around the same price.
Guitar cables can be purchased for as cheap as $5.
Maybe you're looking for something with a little more shred capability than what strats and LPs have to offer? 
You can get a Jackson JS Series Dinky JS12 with two humbuckers and 3-way toggle for $190. 

Take its upgraded 24 fret neck and combine it with an Orange Crush, and you get a better quality guitar and a better amp for around $300.
Good Starter Amps
Who doesn't like Orange Crush? 
For around $100, you can get their 12W, 3-band EQ, dedicated overdrive control, which also features their new CabSim-loaded headphone output that can also connect to a mixer or recording console. For about $25 less, you can get their 3W amp.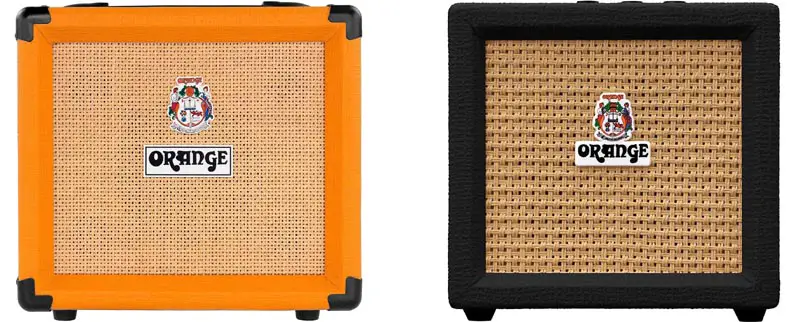 Orange Crush 12W Amp | Orange Crush 3W Amp
For as little as $45, the Rogue G10 is a great starter amp with a 2-band equalizer, master volume, and overdrive toggle switch.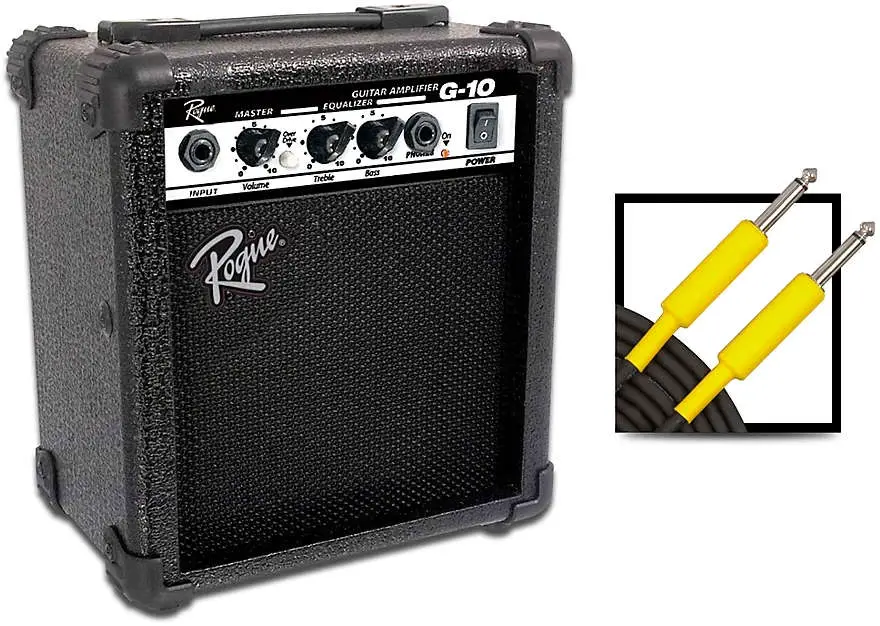 The Honeytone N-10 Guitar Mini Amp can be purchased for as little as $25.

Plenty of amps can be found between $25-50, and just remember a small amp is the best way to start. Amps sound best when the volume is cranked up, and a large amp is way too loud for learning to play at home when the volume is dialed up.
Better yet, buying used guitars or amps is another way to upgrade your purchase without overextending your budget. 
Final Thoughts
Guitar starter packs can be a convenient way to purchase your first guitar, but you have so many more options if you build your own bundle.
Packages offer affordability and convenience, but building your own gives you better quality and longevity.