Where Are Washburn Guitars Made? (Past & Present)
In the 80's and 90's Washburn was a huge brand played by many artists and has an interesting history of manufacturing locations, being made everywhere from the United States to China.
The quality of their guitars can vary greatly from extremely well made top-end models to entry-level models that have a basic build quality. Some argue that the country they are made in makes the difference, and that could be true to some extent.
Washburn guitars still make a few guitars in the United States since their main factory closed there in 2015, but most of their guitars are now made in Indonesia and China.
I dug a bit deeper to find out where some of their highly sought-after guitar models were made over the years.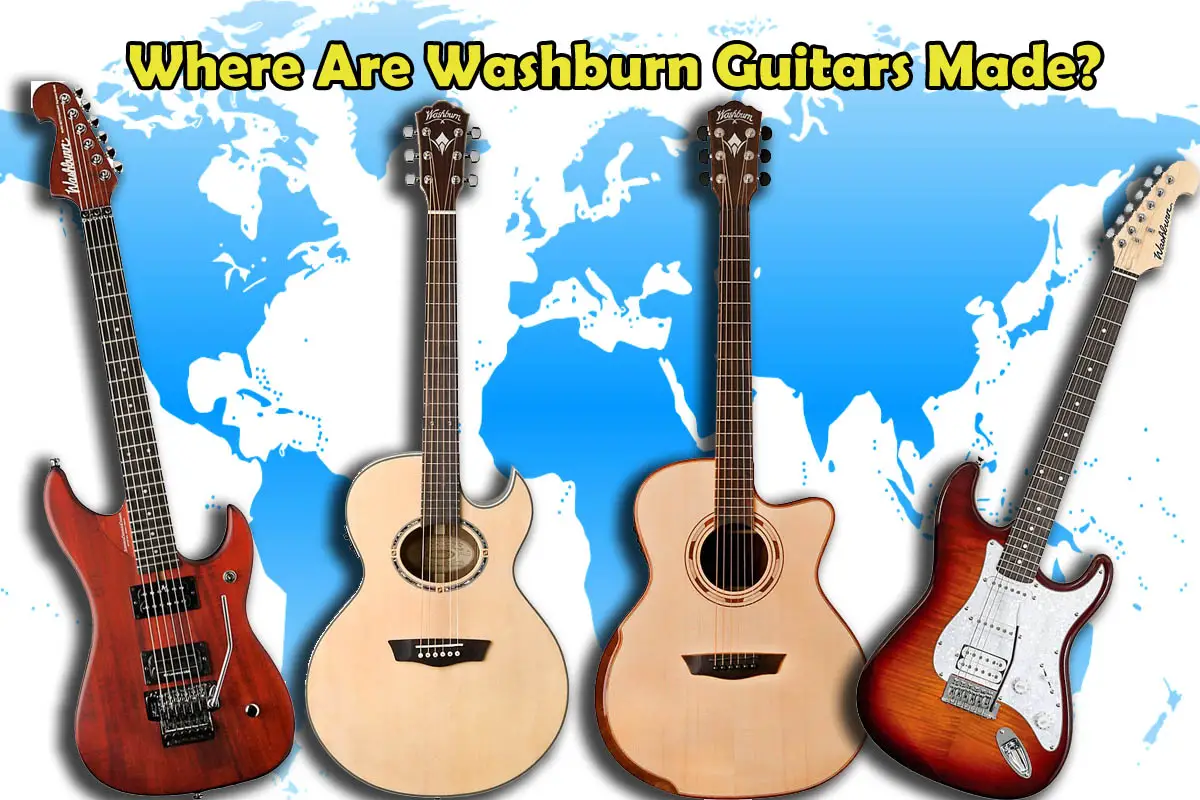 Washburn Company History (Really Short Version!)
Washburn was originally founded in 1883 in Chicago, Illinois, but did not make guitars until the early 1900's. By around 1940 Washburn had literally disappeared as an instrument maker.
In 1972 Beckham Musical Instruments (BMI Inc.) was founded, and started producing guitars with the Washburn name on them.
Fretted Industries Inc. acquired the Washburn name in 1977 for $13000, and ran the company for the next 40 years.
They were eventually bought-out by Canadian JAM Industries in the USA, and then acquired for $170 million by DCC (an Irish business group) in 2017.
Although Washburn started making guitars in the early 20th century, I'm sure you are more interested in the guitars made from the 1970's onward, so let's start there.
Where Have Washburn Guitars Been Made?
Washburn guitars (in modern times) were originally all imported from Japan, and eventually started production in other asian countries, before adding their US-made models in the early 90's.
All guitars with the Washburn name from 1974 to early 1990's were produced in Asia.
The interesting thing with Washburn is that no matter where they were made, they often ordered short runs of models, meaning that there are many very limited edition Washburn guitars. This often sets them aside from other manufacturers with large production runs, making many older Washburn guitars collectible and valuable.
Washburn has been more of a quality instrument importer than a producer. For this reason their guitars have been sourced from many different factories in Asia, and also a few different producers in the US.
Washburn Guitars Made in the 1970's
Beckham Musical Instruments sourced their early guitars from Japanese guitar maker Hirotsugu Teradaira's Yamaki company by Tereda..
Terada also produced instruments for Daion, and under their own Terada name.
Around 1974 a series of quality imported acoustic guitars, made in Japan by Terada was imported and had the Washburn name applied to them. These guitars were based on C.F. Martin and Co.'s designs, copied by Terada, and you will see "BMI inc" on the truss rod cover.
In 1976 Washburn introduced their first line of electric guitars, all made in Japan.
Washburn Guitars Made in the 1980's
From the late 1970's to mid-80's, Washburn introduced its first electric guitars, with most guitars made in Japan.
Eventually through a few changes of ownership, the company was renamed Washburn International in 1987, and started making higher-end short-run guitars in Chicago.
Washburn used many Japanese companies to make guitars for them, including Matsumoku, Daion, Chushin and Yamaki to name a few.
Some of Washburns most popular series guitars, the Stage series, were made at the Matsumoku factory as well.
In the late 80's Washburn moved production of their lower range of guitars to Korea, in an effort to keep costs down.
The Washburn Chicago (KC) Series was mainly manufactured in Korea by Samick from 1989 until 1992, however the KC90 and KC100 were made in Japan.
Washburn Guitars Made in the 1990's
In the early 90's production continued at Samick in South Korea, followed in 1992 by the opening of Samick's new factory in Indonesia.
From 1992 until August 2015 Washburn custom shop guitars were built in Chicago.
In the 1990's Washburn opened their own factory and custom shop in Chicago, where from 1992 – 2000 they produced very high quality guitars.
These lines included:
N4 Nuno Bettencourt
Wing SB Series
Mercury MG Series
Silverado LS Series
Laredo LT Series
Steve Stevens SS Series
Acoustic Guitars
From 1994 to 2001, only ten acoustic guitar models were built for Washburn in the United States, five by Tacoma Guitars (Tacoma, Washington) and five by Bourgeois Guitars (Lewiston, Maine). All other Washburn acoustic guitar models made during this period were imported.
Made for Washburn by Tacoma USA:
D-43 (2nd version) 1994-97
D-46 S Cheyenne
D-47 S Navajo
D-48 SW Comanche
R-310 K
Made for Washburn by Bourgeois USA:
D-51 SW Apache
D-55 SW Cherokee
D-56 SW Savannah
D-96 SW Paramount
R-312 K Presentation
Washburn Guitars Made in the 2000's
From 2002 to 2008 John Stover built four models for Washburn: the D-78, D-80, D-82, and D-84 dreadnoughts in the USA (these were all solid wood guitars).
The Washburn USA factory was closed in 2015, however a few models are still made in Cincinnati.
Since 2017 the vast majority of Washburn guitars have been made in Indonesia at the PT Cort factory, and China.
There are many factories in China now, and it is increasingly difficult to track down which ones are used. Guangdong province is home to hundreds of guitar companies, one of them that produces guitars for Washburn being the Sihui Huasheng Musical Instrument Company.
Washburn electric guitar series currently made in Indonesia:
Washburn N2 Nuno Series
Washburn SDFSB Deluxe
Washburn Sonamaster Series
Parallaxe Series (2020)
Washburn Guitars Custom Shop – Factory Tour (2009) 
Washburn Parallaxe Factory – First Production July 2013
Washburn Guitars – Player Opinions
Since the early 2000's, tracking down individual factories and models is near impossible unless you had access to Washburn's internal shipping documents. To be honest, it doesn't really matter as long as the guitar you get in your hand is a good quality for the price you pay.
Washburn earned themselves a stellar reputation for amazing electric guitars throughout their production runs in Japan, Korea, and the US, and these guitars are often sought after fetching good prices today.
When it comes to acoustic guitars, as long as you weren't looking at Washburn's entry-level models there are some rare finds available, especially from the early Japanese stock.
Washburn acoustic guitars manufactured from the early 70's to early 90's are considered superior in quality to more recent models, and some have become highly collectible.
In general Washburn electric and acoustic guitars have become treasured instruments by many owners, and the quality of Asian produced models has reached a high standard.
This wasn't the case when production first moved to Indonesia, and many people claim the first years of Indonesian Washburn guitars produced lower quality instruments.
If you have plenty of cash to splash, then go for a US-made Washburn and you will get the best quality. However for more modest budgets the Asian-made Washburn lines are still great sounding guitars that play well, and make great working guitars.
---
Sources
https://matsumokuguitarsandmore.blogspot.com/2017/06/japanese-made-washburns.html
https://www.mylespaul.com/threads/very-interesting-info-on-china-plant-supplying-gibson-epiphone-and-other-brands.160798/
https://www.acousticguitarforum.com/forums/showthread.php?t=266657