Are Guild Guitars Good Quality? (Worth Buying?)
Guild guitars have been around since 1953 and have been used by many famous artists, so they must be good …right?
Finding negative comments about Guild guitars is uncommon and guitar players on the whole love the sound of them, rating them as great value for money.
Unlike many other brands Guild doesn't cater to the cheap beginner guitar market, preferring to make good quality guitars at mid-range prices. Guild's focus on quality means they have built a reputation as a premium guitar brand, with many famous artists playing them.
Although Guild make some guitars that are great to start out on, they are really aimed more toward intermediate to advanced guitarists.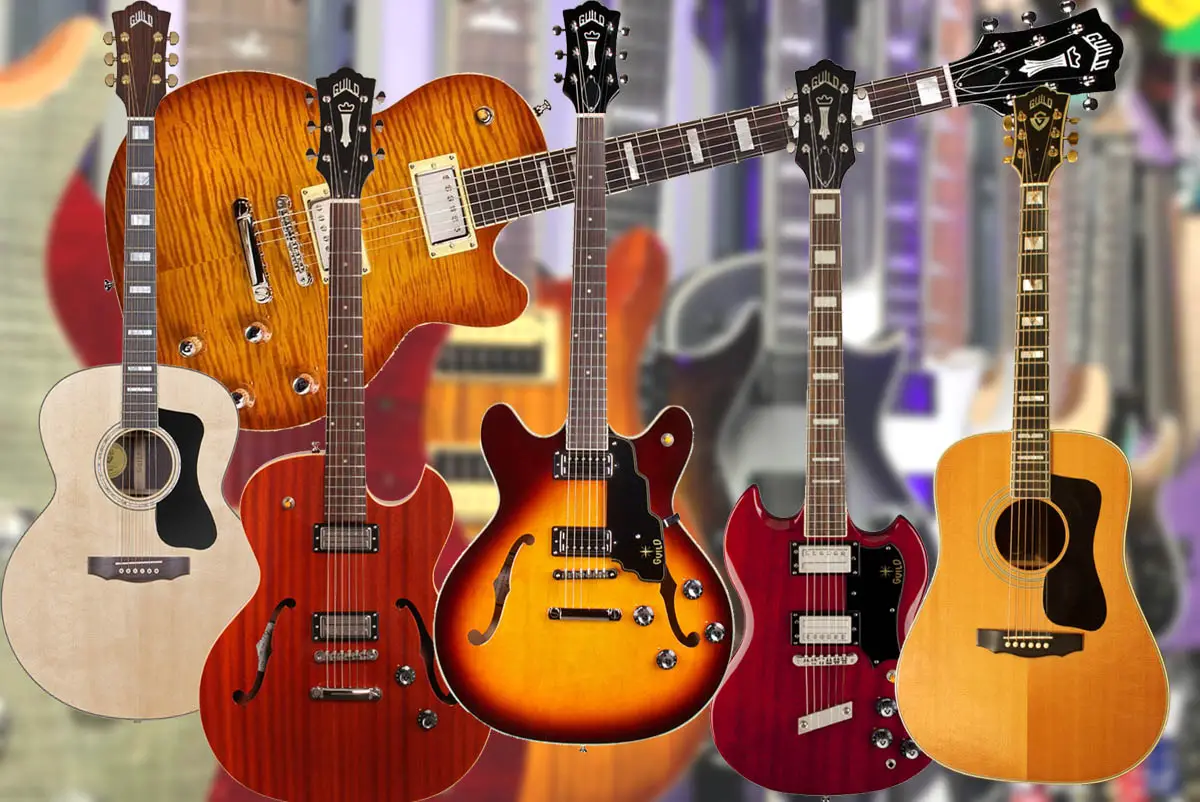 Let's take a deeper look to find out more about Guild's quality, what type of guitars they make, and what you get for your money.
If you're looking for a cheaper way to get started on guitar then take a look at our articles covering Yamaha guitars, and Cort guitars.
Where Does Guild Make their Guitars?
The Guild guitar company has been bought and sold a few times during its history, being owned at one stage by Fender and more recently in 2014 was acquired by Cordoba Music Group (CMG).
There have been some Guild offshoot brands, namely Madeira, Burnside, DeArmond, and GAD (Guild Acoustic Design). These brands were manufactured in factories in South Korea and China.
When Cordoba took ownership, they stopped making the GAD line of guitars, and opened two new lines named the Westerly Collection (acoustics) and Newark Street (electrics).
Cordoba moved the Guild factory from the Rhode Island Factory to Oxnard in California, where they manufacture the M, D, F, and F twelve-string acoustic guitars today.
Guild's Westerly Collection are currently made in China to high standards and reflect the original Guild guitars from the 1960's – 1990's, with quality wood solid tops. The difference is the price is much lower due to cheaper manufacturing.
The Newark Street Collection electric guitars are made in South Korea, Indonesia, and China depending on the model, with more models slowly being added to their US factory as it grows.
Are Guild Acoustic Guitars Good Quality?
Guild has earned themselves a good reputation as having guitars with quality that rivals Gibson, Taylor, and even the mighty Martin.
Although guitars of different shapes, sizes, and woods all have their own distinct tones, the sound of Guild guitars in general is often described as somewhere between Martin and Taylor.
Quite often guitar players with many guitars have a Guild guitar in their collection, and say it has a unique tonal niche that is different to others.
In days gone by Guild built a reputation of producing guitars that were great to play straight off the rack, whereas many other brands still needed some setup work done by a luthier.
When Cordoba moved the factory to California, they bought a stock of timber over from the old factory that had been aged for 10 years. This means the guitars currently made in the US factory should have great quality woods in their construction.
During Guild's Fender ownership, they were dedicated to producing high quality guitars, stating…
"This commitment means doing all the things that made Guild great in the first place: investing in the highest-quality craftsmen and equipment, and establishing close ties with the finest guitar players."
You will be hard pressed to find negative remarks about Guild guitars from any era, with players praising them both for the build quality and tone.
Asian-made Guild Quality
As we have stated, not all Guild guitars are made in the US, so how good are the models made in Asia?
Guild, not wanting to tarnish their stellar reputation have been very careful to select builders in Asia who can craft guitars with their required quality.
"Guild staff travelled to Korea to select the right builder who could faithfully reproduce the old Guild body designs that had been chosen as the basis for the DeArmond guitar line.

Tooling was designed and built specially for these guitars and was not selected off the cookie-cutter shelf that serves so often as the source of imported designs."
source: Dearmond® support
These days guitar parts are machined using CNC machines, and so the design can be replicated very precisely. Guitars are hand sanded and finished, and the Asian factories produce great quality instruments.
Finally, when guitar sellers receive shipments of guitars, they inspect them before selling to ensure the customer gets a quality instrument.
Are Guild Electric Guitars Good?
Guild's electric guitar lines include hollow bodies, solid bodies, and custom shop.
Their electric guitars never seemed to gain the recognition that some other brands did, and they are most known for their acoustic lines.
This is due in great to the Fender ownership of Guild, rather than any quality issues.
Fender had their own brand of electric guitars that were more heavily promoted, and so became well known in the hands of famous artists.
One Guild electric model that players rave about is the Starfire series hollow body, you can see it out in this video…
So while Guild electrics aren't so well known, they are a great quality and great sounding guitar still enjoyed by many players.
The newer Newark St. Collection's Bluebird is a modern take on a classic guitar, and is great for blues and rock style. Check It out here:
Who Plays Guild Guitars?
There's a list as long as three arms of well-known guitarists that have played Guild guitars. Here's a list of just a few of the most famous performers:
Jimi Hendrix : Left-handed F-212 12-string.
David Byrne (Talking Heads): Solid body Guild, and Guild F15-CE.
Stevie Ray Vaughan : Guild JF-65 12-string.
Slash (Guns n' Roses) : Double Neck Custom Guild.
Kim Thayil (Soundgarden) : Guild S-100.
Johnny Rzeznik (Goo Goo Dolls) : D-55s, F65CE, F47M Valencia, S7CE Custom, S4CE, DV-52.
Tom Petty : Guild D25 12-string.
Sheryl Crow : Guild M-85I Bass, B-301 bass.
Bryan Adams : F-50R.
Jeff Buckley : 1967 Guild F-50.
Eric Clapton : F-30, GF-60, S4CE/Songbird.
Mark Knopfler (Dire Straits) : Songbird.
Krist Novoselic (Nirvana) – Guild B30E Semi Acoustic Bass.
Brian May (Queen) : F512.
John Mayer : Starfire IV ST, M75 Aristocrat.
Pat Metheny : D40-C, F-50.
Bruce Springsteen : D-40SB.
How Much Does A Guild Guitar Cost?
There are many Guild guitars over $1000 for intermediate and advanced players. You don't need to spend that much on your first guitar as you still get great sounding Guild's for much less, starting at around $400 for entry-level. At the top level you can expect prices of around $4000.
Let's break this down into a few categories rather than just looking at all Guild Guitars lumped together.
We will just look at guitars more suited to beginner and intermediate budgets, and we'll also stick to models that are under $1000.
Do Guild Make Any Beginner Guitars?
Guild guitars have placed themselves in the market as a premium brand, so before we get started you should know that they don't produce any super-cheap guitars.
While Guild guitars aren't the cheapest, they do make some well-priced guitars suitable for beginner and intermediate players that sound really great.
If you want to spend a bit more to get a guitar that actually inspires you to play, then Guild can deliver.
Before you start looking it is a good idea to have a think about what type of guitar music you are drawn to, as this will help you choose a good model to suit you.
If you like 60's and 70's folk music, then you will like the mahogany Guild OM-120 (Guild Westerly Collection) with its rich bass tone and classic feel.
It has a slightly wider fretboard also which can make it a little easier to start on, as the strings have more space in between them.
People with shorter fingers, or young children may find the neck a little large to get their hands  around, so a different model may suit them better.
The Guild Jumbo Junior is a great choice for starting out on, having a well-balanced tone with its Sitka spruce top.
Being a compact guitar makes it really easy to handle, and it has a real bone nut that helps give a nice crisp sound and has great sustain.
Best Affordable Guild Acoustic Guitars
Keep in mind that these guitars can be used for any level of playing, so don't think a lower price makes them inferior models.
We won't look at 12-string guitars here, as they require too much finger pressure for new players – along with six extra strings to keep in tune!
Acoustic Guitars (Westerly Collection)
Guild OM-240E Acoustic-Electric (Classic)
This guitar is a mid-sized acoustic-electric with a sweet balanced tone. Being a smaller bodied guitar makes it easy to handle for older children and smaller adults.
The OM-240E features a solid Sitka spruce top with mahogany back and sides.
This guitar has a great classic look, with quality hardware like a bone nut and saddle,  and Guild's AP-1 pickup.
Guild D-240E Acoustic-Electric (Natural)
The D-240E is a very popular entry-level Guild guitar with a clean balanced voicing. It's a dreadnought acoustic, making it larger that the OM-240E which gives it a good strong sound projection.
Similar to other Guild acoustics, it comes with a compensated bone saddle for good intonation, and bone nut – both of which give the guitar good sustain.
Built with a solid spruce top, mahogany sides and arched back, this guitar sounds great plugged into an amp – with the Fishman designed AP-1 pick faithfully reproducing the guitars natural tone.
Guild M-240E Acoustic-Electric (Natural)
This guitar is a concert-style small body acoustic that has a nice punchy clean tone, and great sound projection through the large soundhole.
The top is solid Sitka spruce, which will sound even better as it ages with playing, with mahogany back and sides.
Equipped with the AP-1 pickup, and same quality components as the other Guild models listed above, this guitar produces a great sound for its size, and is easy to transport with the smaller size.
With a "C" shaped neck this guitar is great for fingerpicking and light strumming. This guitar is a traveller's favorite.
Electric Guitars (Newark St. Collection)
We don't really recommend electric guitars for beginners first starting out, as there are too many variables to think about once you add amplification.
That being said, if you're intent on getting an electric or you have been learning for a while, then here's a good Guild option.
You might wonder why we have only listed one electric here?
Guild don't specifically cater to the entry level guitarist with their electric guitar lines, so the price ramps up quickly for other models.
Guild Starfire I DC Semi-Hollow Electric
Guild's Starfire is the electric that has found the greatest following and is iconic of their brand.
The Starfire comes in four different finishes to suit all tastes, available in emerald green, cherry red, pelham blue, and vintage walnut.
The cherry red model has an arched mahogany top, with matching mahogany back and sides that give this classic looking electric a full rich tone.
Maple is used for the other three finishes, and they all feature a "U" shaped neck with an 18th fret neck-to-body joint.
The body  is a double-cut style, which allows easy access to higher frets.
Equipped with dual humbuckers, these guitars have a great blues, jazz, and rock sound, making them extremely versatile.
Best Guild Guitars Over $500 and Under $1000
Although there are many Guild guitars over the $1,000 mark, you can get some great sounding classic looking models for less money.
Here's a list of some good options if you are interested in spending a bit more to widen your options.
Guild Acoustic Guitars $500-1000
| Model | Body Style | Price Guide |
| --- | --- | --- |
| Guild F-250E | Jumbo | $590 |
| Guild D-120 | Dreadnought | $670 |
| Guild OM-120 | Orchestra | $670 |
| Guild D-140 | Dreadnought | $720 |
| Guild M-140 | Concert | $750 |
| Guild OM-150CE | Jumbo | $1000 |
Guild Electric Guitars $500-1000
| Model | Pickups | Price Guide | |
| --- | --- | --- | --- |
| Guild Aristocrat P90 | P90 Soapbar | $670 | |
| Guild Aristocrat HH | HB-2 | $800 | |
| Guild S-200 T-Bird | LB-1 | $850 | |
| Guild S-100 Polara | HB-1 | $900 | |
| Guild Starfire II ST | LB-1 | $900 | |
| Guild Bluesbird | SD SH-1/JB SH-4 | $1000 | |
Guild's electric guitar line doesn't go far beyond this list in price, and they top out at around $1,500. They are great value when you look at the construction quality, pickups, and other hardware.
Why Are Some Guild Guitars So Expensive?
As we discussed earlier, Guild's main claim to fame is their acoustic guitars.
They have never reached the cult status of Martin or Taylor guitars, and so generally you will find they are priced a bit lower, but really give good value for the money.
New Guitars
Although they are not as expensive as some guitars, there are some new models that are priced quite high up to around the $5,000 mark.
For this price you will get features like:
AAA quality woods.
Adirondack, spruce, rosewood, flamed maple.
Abalone & Mother-of-pearl inlays.
LR Baggs Anthem electronics.
Gold-plated machine heads.
Nitrocellulose lacquer.
Bone nut, saddle, and pins.
Handcrafted detailed finish.
Used Guitars
If you look on the used guitar market there are 1950's – 1970's classic models selling for up to $10,000.
For a similarly priced Taylor you might get a model that is 10-20 years old, compared to 50-60 years old and much rarer for the Guild.
For a vintage Martin guitar you could easily pay from $30,000 – $80,000, so in comparison aged Guild acoustics are relatively cheap.
Many of the used Guild's for sale are $5000 or less, and compared to Gibson's, Taylors, and Martin's of the same era, are well priced for what you get.
Buying a used guitar means you will get the benefits of aged wood that resonates better than when the instrument was new, and many players say you can't beat the sound of a quality aged acoustic guitar.
Sources
https://en.wikipedia.org/wiki/Guild_Guitar_Company
https://reverb.com/news/bringing-back-guild-a-look-at-the-new-factory-and-the-builders-behind-it