6 Best Acoustic Guitars for Female Beginners (Buyers Guide)
While guitars aren't specifically designed for men or women, it can be more challenging for women to find a comfortable guitar. Whether due to body stature and size, or anatomy, finding a comfortable guitar can be frustrating.
Knowing what to look for both as a beginner and as a female can certainly minimize your pain.
While there are always exceptions to the rule, female guitarists usually find a nice fitting acoustic guitar within a more narrow spectrum. Many female players can play full-sized acoustic guitars, but the majority find smaller bodied models more comfortable to play.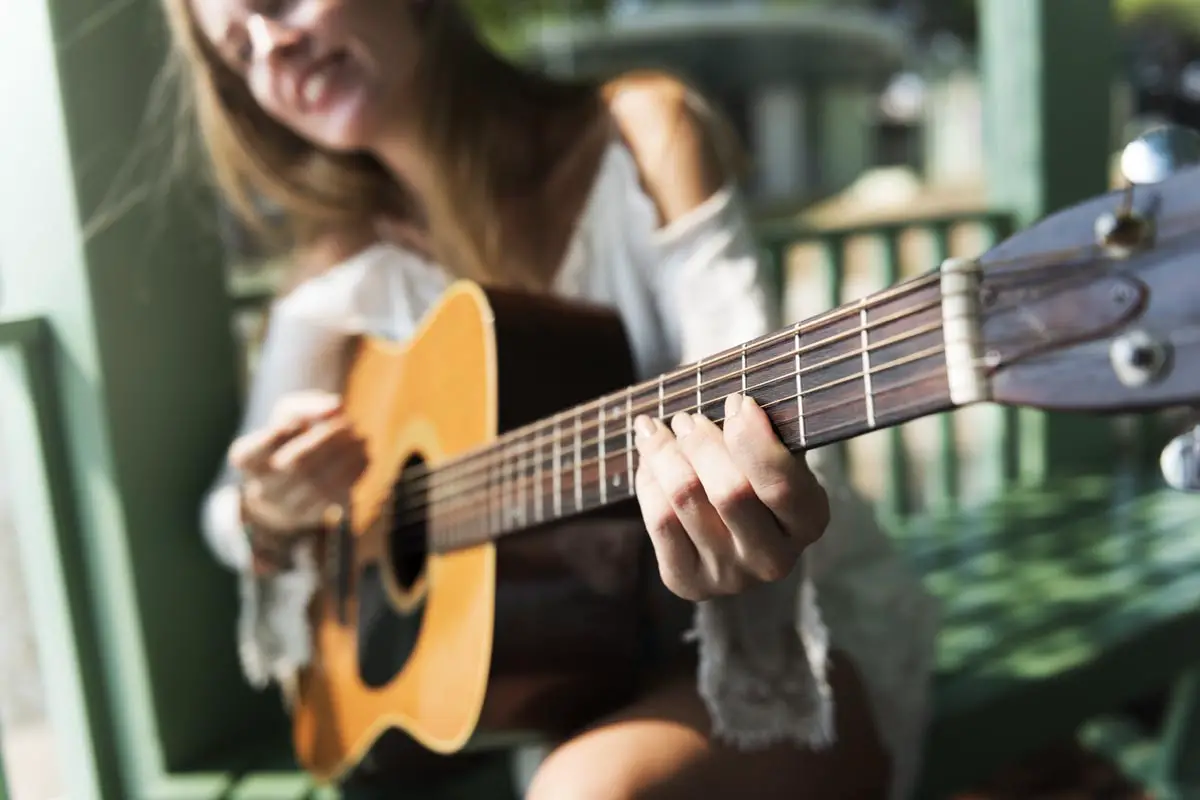 There are still quite a few choices when you're looking at smaller acoustic guitars. I've been through this myself starting out, and can help guide you toward finding a guitar that you won't regret buying later on.
What Types of Acoustic Guitars Should a Female Beginner Buy?
There are a variety of full-sized guitars to choose from, and the most popular among female guitarists include the Dreadnought, Concert, and Parlor sizes.
While there is no shortage of lady players using dreadnoughts or even jumbos, a good majority of women prefer smaller models because of the smaller bouts and shorter scale sizes.
It's really just common sense. Women are typically shorter and smaller than men, and they usually have smaller hands. Because of the smaller hands and bodies, it's easier for women to play smaller guitars.
In addition to the smaller body sizes, many of these guitars have shorter scale lengths ranging from 23.5 to 24". This places the frets closer together making them ideal for those with shorter arm spans.
Equally important is the width of the body. Even though they can be slightly more expensive, slender bodies are much easier to play for small-framed women; with the extra cost also giving you a higher quality guitar.
Thicker and larger guitar bodies often make you feel like you're climbing over your guitar. This often results in the lower bout biting into the upper arm creating much discomfort, especially with extended playtime.
A thin profile and smaller bout allow the guitar to fit better under the arm and can alleviate this discomfort.
Another thing female players can look for is guitars that have slightly rounded backs, which are easier to hold and fit better against the body.
What Is the Best Neck Size & Shape for Women?
For female guitarists, another important feature is the neck. Those with more narrow nut widths and rounded C-necks often feel more comfortable.
However, for women who enjoy melodies and solos, a larger radius with less curve is more ideal.
Those with small hands gain the most benefit from slimmer, thinner necks and smaller scale sizes.
Full-size guitars typically come in 38" or 41" so those with smaller features generally prefer the 38" because it compliments their body features better.
Dreadnought Acoustic Guitars for Female Players
The most common of all the acoustics, however, is the classical dreadnought. They are louder and more powerful than the smaller-bodied guitars, and they pack quite a punch.
Unfortunately, dreadnoughts are also big and bulky, and as such smaller women tend to shy away from them.
The general rule of thumb is that if you're over five feet and have a handspan of 170 mm or more, then you ought to be able to play a dreadnought without any difficulty.
However, as a 5' 2" female, in the seated position, a dreadnought comes close to my chin, which is way too high for comfort. So, while I am capable of playing a dreadnought, I don't want to because it's not comfortable.
With that being said, there are plenty of females that can handle a dreadnought without any problems at all. As always, it's a matter of comfort and playstyle. That's why it's always important to physically hold and try a guitar before you purchase one.
2 Best Dreadnought Acoustic Guitars for Female Beginners
Finding a good acoustic beginner guitar for under $200 is no easy feat, especially in today's market. However, there are a few that have developed a good reputation for themselves.
The Epiphone Songmaker DR100 and the Yamaha F325D are two dreadnoughts that can be purchased for around $170.
The Epiphone DR100 has a mahogany body with a spruce top. It has a rosewood fingerboard and chrome hardware. This is a full-sized, 20 fret guitar with a 25.5" scale length and 41" long. This guitar produces a nice, clean, bright sound.

As with any starter guitar, the strings are high out of the box, and will likely require a professional setup. However, the neck is comfortable and easy enough to learn proper fretting techniques and barre chords without difficulty.
Also a classical dreadnought, the Yamaha F325D is made with Meranti (a tropical wood from Southeast Asia) back and sides and a laminate spruce top.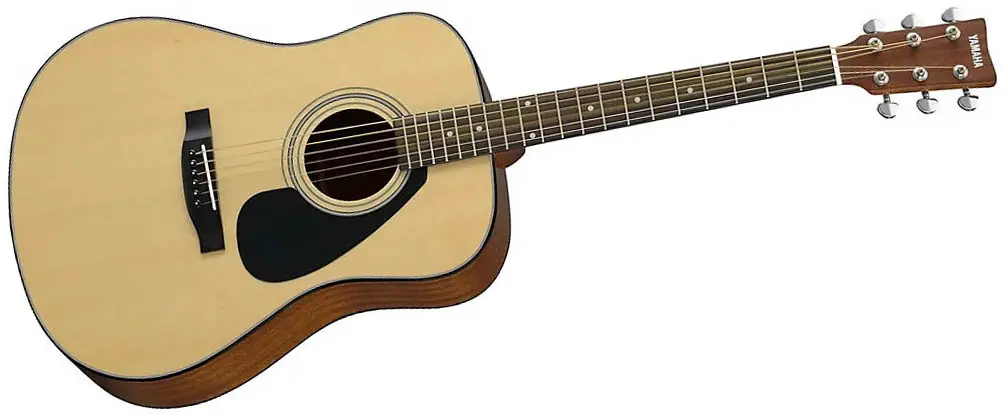 It has a rosewood fingerboard and bridge with chrome hardware. The neck is made of Nyatoh and is a little more pronounced, which may be difficult for smaller hands.
The F325D also has 20 frets, but is a little shorter with a 24.9 scale length, which works better for the smaller ladies. Sadly, it only comes in right-handed orientation.
The Yamaha F325D is known for being an excellent starter guitar and has a warm sound with soft lows and crystal clear highs.
A note of caution, however, laminate tonewoods do not age very well, but since it's only a starter guitar this shouldn't be too detrimental.
Concert Guitars for Female Players
Concert guitars, which are sometimes referred to as "O" guitars, are very similar to the dreadnought, but they aren't quite as big. They also offer a very defined waist, making them feel even smaller.
Concerts make great guitars for those that like to play while sitting. The prominent waist over the leg allows the guitar to sit lower than what a dreadnought would so it feels even smaller than what it is.
Concert guitars also have a similar tone to the dreadnought, but they have a slimmer design. They frequently come with a lower cutaway that gives easy access to the upper neck, which works well for those interested in playing lead.
Their shorter necks, magnified waist, and smaller bouts make them one of the most popular body types for female guitarists.
2 Best Concert Acoustic Guitars for Female Beginners
In my experience, Concert guitars are by far the most popular within the female guitarist community.
Two good models for female beginners include the Rogue RA-090 Concert Acoustic-Electric and the Ibanez Performance Series PC15 Grand Acoustic.
The Rogue RA-090 can be purchased for around $160, but don't let the price fool you. No doubt this is a starter guitar, and as such there are certain things to be expected, but this is an excellent entry-level guitar that has plenty of raving reviews.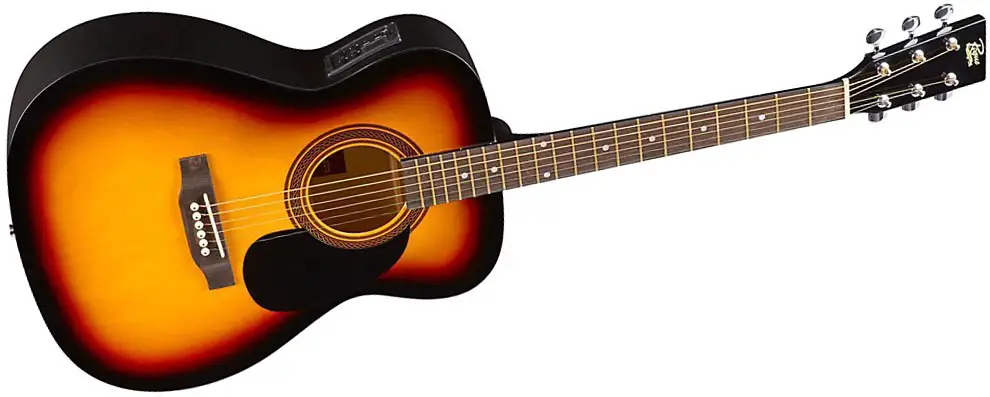 Specifically designed for young and beginning musicians, this guitar has plenty of projection with a balanced tone. It has 20 frets and a scale size of 25.4" and has a laminate whitewood body with a simulated rosewood fretboard.
The Rogue RA-090 comes with an Eden MET-A06 under-saddle pickup system with 3 band EQ tuner.
It also has really cool colors like green, blue, and red and can be purchased with or without a cutaway. This guitar plays and feels well with its Nyatoh C-shaped neck.
The Ibanez PC15 is slightly more expensive around $180, but with a name like Ibanez, you have the reputation that goes with it.

The PC15 has a mahogany back and sides with a spruce top and Nyatoh neck. The fingerboard and bridge are made of Nandu, and it has standard chrome hardware. The Ibanez PC15 is a 25" scale with 20 frets, and comes without a cutaway.
Like any starting acoustic, the turning machines can be a bit stiff, and the guitar itself will likely require a setup after purchase. But this guitar has good audio with rich, lively tones and is fun to play.
Parlor Guitars for Female Players
The smallest of all the six strings, Parlor guitars have narrow, elongated bodies and shorter scale lengths, which make them ideal for beginners in general.
The smaller bodies are more comfortable and the shorter scale length places the frets closer together making them easier to reach for smaller hands.
Parlor guitars offer a great midrange sound and are useful for those that enjoy fingerpicking, blues, and folk music.
The downside to the Parlor guitars is their necks generally don't extend beyond the 12th fret, so for anyone looking to play those higher octaves, then the Parlor might not be the best choice.
2 Best Parlor Acoustic Guitars for Female Beginners
Two really great Parlor guitars include the Ibanez PN12E Mahogany Parlor Acoustic-Electric and the Gretsch Jim Dandy Flat Top Acoustic.
The Ibanez PN12E Acoustic-Electric can be purchased for around $200. It has a mahogany top, back, sides, and neck with a gloss finish. It has a rosewood fretboard and bridge with chrome hardware.

It comes with the Ibanez AEQ-2T preamp, onboard tuner, and under-saddle pickup. It has a 4" depth with 18 frets making it super comfortable and easy to hold.
It has a smooth, even tone quality and is a great fit for smaller framed females.
For around $190, the Gretsch Jim Dandy is designed after the old-fashioned look of the '30s, '40s, and '50s. It's made from Agathis (a soft coniferous wood) back, top, and sides, which means it dings easily if mishandled.

It has a Nyatoh C-neck with a rosewood fretboard that has a semi-gloss finish and nickel-plated hardware. It's a 24" scale with 18 frets providing an open and warm tonality with a smooth playing feel.
The X-brace construction gives it a little sturdiness and delivers improved resonance, sustain, and projection that's warm and pleasing to the ear.
Final Thoughts
While there are plenty of guitar bodies and styles to choose from, most women find satisfaction with Dreadnoughts, Concerts, and Parlors. 
It's not very often that you get both quality and affordability with starter guitars, but these six models have made a name for themselves and have plenty of satisfied customers.
As always, it's just smart business to take the time to sit with a guitar and make sure it feels comfortable and plays well before you buy.