Are Ibanez Acoustic Guitars Good Value? (Buyer's Guide)
If you're in the market for a new acoustic, but aren't familiar with the abundance of brands within the industry, perhaps you've stumbled across the name Ibanez and wondered if they're any good?
Rest assured, they are! They have a full selection of instruments regardless of your play-style.
Ibanez' low-cost, high-quality guitars shot to the forefront of the American music market around the '60s and '70s as the quality of American guitars began to decline. Their never-ending innovation has given them an astounding reputation as one of the industry leaders in guitar manufacturing.
Finding the right one for you will depend on your skill level, your budget, and your play-style.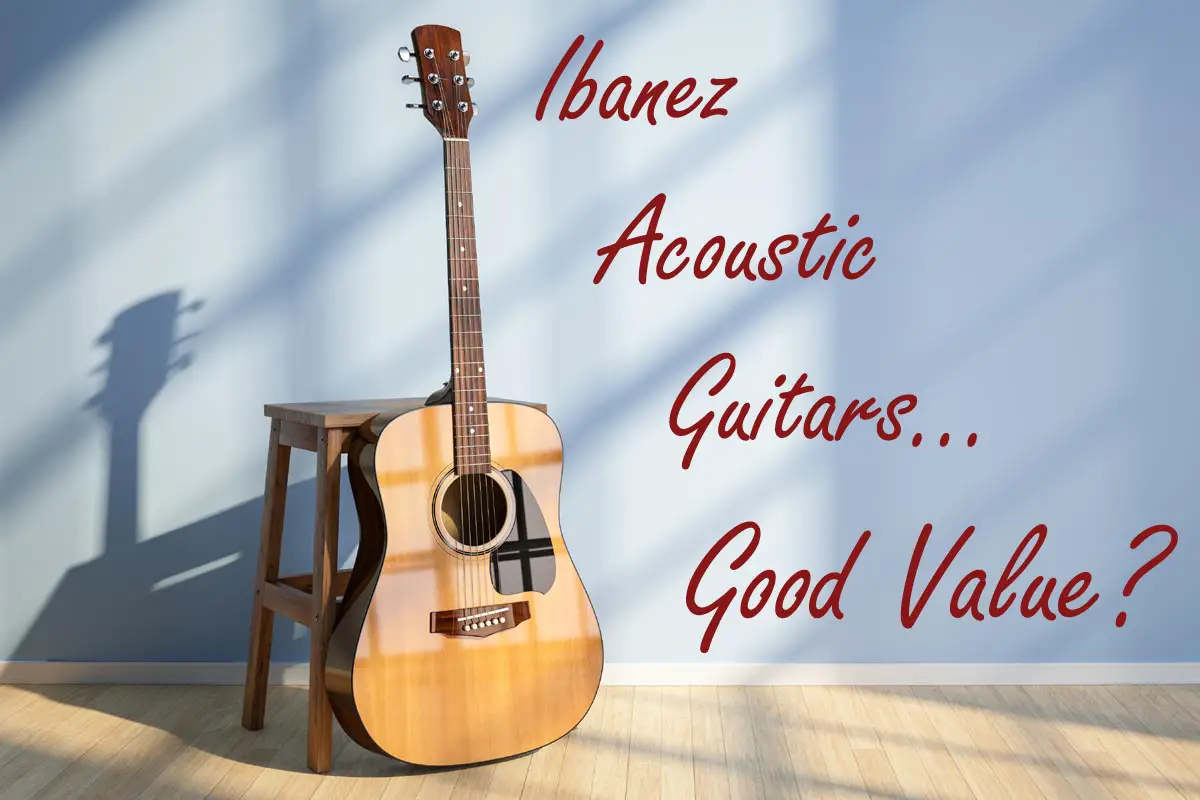 What Guitarists Think of Ibanez Acoustic Guitars
When speaking to guitarists about the best quality guitars in the industry, Ibanez is frequently part of the conversation. They are well-known for producing a diverse range of user-friendly guitars for just about any skill level. 
From beginner to professional alike, Ibanez has something to offer everyone. 
While Ibanez has a renowned reputation for their electric guitar necks, their acoustic necks are quickly becoming a fan favorite as well. They're designed for players of all skills and ages to comfortably grip with ease making them especially popular for beginners. 
Ibanez guitars are acclaimed for their comfort, low action, and easy playability. 
They are equally hailed for their economical costs, and they offer a wide array of affordable entry-level and mid-range guitars. Guitarists love the fact that they can simultaneously have both quality and affordability. 
Are Ibanez Acoustic Guitars Good Value For Money? 
Ibanez has a long-standing reputation for producing exceptional value at an insanely affordable price. When you consider what you get with any Ibanez purchase, it's hard to argue otherwise.
The quality of the construction is top-notch. They're comfortable, and they have a really great feel. 
They are easy to play making them ideal for beginners, intermediates, and professionals alike. Ibanez offers a full line of guitars from entry-level to professional, and you can bet the more you pay the better the quality. 
These guitars are easy to maintain, stay in tune, require little if any maintenance, and they sound absolutely amazing. What else could you ask for? 
Are Ibanez Acoustic Guitars Good Quality?
For decades, Ibanez has produced high-caliber guitars built with quality tonewoods, appealing looks, and dynamic sound. They command admiration for their construction, beautiful tones, and mesmerizing aesthetics. 
From their full-vine inlays to their violin finishes, guitarists take pride in these beautifully crafted instruments.
It's not too often that you get such quality at such affordable prices. Even Ibanez's entry-level guitars traditionally offer the luxuries of upgraded binding, kerfing, and solid bracing, as well as offering a step up in nuts and saddles. 
Their high-end guitars offer even better structural integrity, sound, and aesthetics and can go against any other premium brand in the industry. 
Are Ibanez Acoustics Made With Quality Woods? 
Ibanez uses the same traditional and exotic woods that most other guitar manufacturers use. From spruce, mahogany, and rosewood to nyatoh, okoume, and ovangkol you'll find an abundance of unique sounds and playing experiences for just about any style or musical preference. 
A good majority of their guitar bodies in the low to middle range are constructed with okoume, which is a highly durable wood that facilitates an increase in harmonic richness. 
Likewise, the majority of their fingerboards are crafted with ovangkol, which has stunning black highlights woven through a visually compelling brown. 
Ovangkol shares a dynamic tonal spectrum of deep bass, full mid-range, and articulate treble. 
From robust, warm, and rich to bright, crisp, and balanced, Ibanez has the full spectrum of quality tonewoods across the board.
Which Ibanez Acoustic Guitars Are Most Popular? 
These three acoustic guitars are between the $300-600 marks, most likely a little above a beginner guitar price tag.
Ibanez AC340 OPN Acoustic Guitar
Part of Ibanez's Artwood series, the AC340 OPN is one of the more popular acoustic guitars. The Artwood series was designed to offer traditional and modern combined into one instrument. 

The AC340 OPN offers a solid okoume top with a laminate okoume back and sides giving it an appearance similar to mahogany or sapele. 
The bridge, bridge plate, and X-bracing have been thermo-aged with high heat and pressure aging the wood in order to give it a mature sound that responds with better resonance and vibration. Additionally, it offers an upgraded bone nut and saddle offering a pleasant warm tone.
This guitar is considerably popular among beginners and younger players because it's scaled down nicely to fit smaller frames. It's somewhere in the neighborhood of a OOO / OM size, but a little deeper and scaled down to 24.96 inches. It offers a soft V-shaped neck making it easy to grip.
The AC340 OPN has an open pore finish and the appearance of a vintage-style guitar with a true vintage tone. Because its price is fixed in between a bottom entry-level guitar and a typical upgraded mid-range price, it makes an excellent choice for a quality starter guitar or a second guitar for an intermediate player.
Ibanez AEG70-VVH Acoustic-Electric Guitar
In the lineup for more than twenty years, the AEG70-VVH grand concert continues to be a popular model. With its AEG-style body and cutaway, it is known for its easy playability, thinner body, and skinny waist. 

This guitar has a flame maple top with 3-ply binding on the front and sapele back and sides. 
With a nyatoh neck and a walnut fretboard and bridge in conjunction with its beautiful violin shine, the AEG70 offers a full, vibrant, and robust tone with an extremely nice balance between the full-depth bass and warm, smooth treble. 
It also features the AEQ-TTS preamp system and T-bar II under-saddle pickup with equalized volume and tone control offering a natural acoustic sound. 
Ibanez AE295 Acoustic-Electric Guitar
The AE295 is another popular choice providing a desirable balance between a traditional and contemporary sound with a beautifully crafted full-length vine inlay and low gloss finish. 

Also crafted with an okoume top, back, and sides with an X-M bracing, the AE295 facilitates a clear low-end, with warm mids, and crisp treble. With a scalloped bridge, it provides improved vibration and resonance. 
It offers a thin C-neck with a rounded katalox fretboard and jumbo frets for a comfortable grip and easy fingering. 
Katalox, a popular substitute for ebony, mimics the dark tonality of the topical wood contributing to a strong bass and mid with clear highs.
For those looking for a spectacular plug-and-play, the AE295 has an AP11 magnetic pickup and pre-amp system with volume and tone control. 
Are Ibanez Acoustic Guitars Good For Beginners? 
Ibanez guitars are absolutely good for beginners first and foremost because you can trust that you are purchasing a quality build with a good reputation. You're practically guaranteed to get a great-sounding guitar at a very affordable price. 
Additionally, Ibanez guitars are extremely comfortable and easy to play with a great ergonomic design and thin easy-grip necks.
Many starter guitars from no-name brands have such high action making them virtually impossible to fully depress the strings. This results in beginning guitarists losing interest rather quickly because of the extreme discomfort, and borderline pain, in trying to force the strings to the fretboard.
With Ibanez, this isn't the case. Their low action is one of their prominent selling features, which makes these guitars popular regardless of skill level. 
Furthermore, when considering their quality, you simply can't beat the price.
Here are 3 great choices at nice low entry-level prices:
Ibanez IJV50 JamPack Quick Start Acoustic
One of the cheapest entry-level guitars in Ibanez's line, the IJV50 JamPack provides quick and easy access to all your guitar needs. For the first-time buyer, it supplies an electronic tuner, gig bag, guitar strap, and an accessory pouch.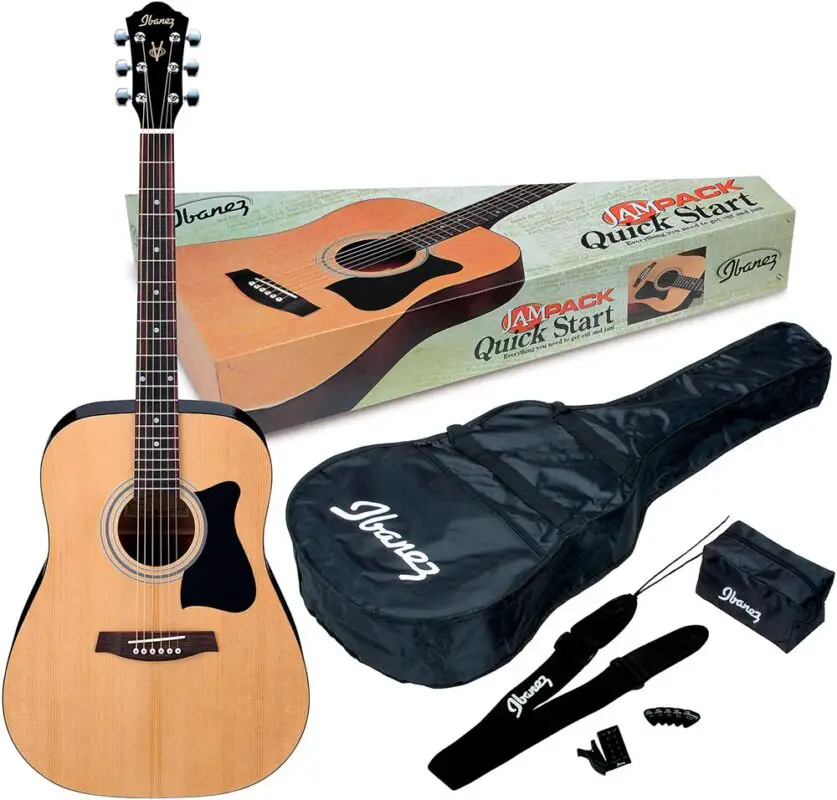 The guitar itself is constructed with a spruce top and an agathis back and sides with a mahogany neck and a rosewood fretboard and bridge providing a rich mid-low section.
The low action makes it easy to play for beginners. For a low-end guitar, it's well balanced and has great projection, not to mention a fantastic price. 
Ibanez PC12MH Acoustic Guitar
From Ibanez's Performance Series, the PC 12MH is a grand concert-style guitar featuring a sapele top, back, and sides. With a scale length of 24.96 inches, its nyatoh neck, nandu fingerboard, and open-pore finish give it quality construction, tone, and affordability. 

The open-pore finish optimizes string vibration for maximum potential. For a low-end guitar, the bass is good with strong mids and highs. It has superb action with great intonation. 
The minimalist design gives it a vintage aesthetic. It may come a little rough out of the box, as some guitarists indicate the frets are sharp and need filing, but with some TLC, you can have an incredible-sounding guitar at an astonishingly competitive price. 
Ibanez PF15 ECENT Acoustic Electric Guitar
A great value for an acoustic-electric beginner guitar is the PF15 ECE, which comes in black, sunburst blue, or natural. For less than $250, you get a finely crafted dreadnought with a cutaway. 

Built with a spruce top and sapele back and sides along with a nyatoh neck and nandu fingerboard, this guitar has a full balanced tone with robust projection and volume. 
It comes with an AEQ2T preamp system with under-saddle pickup and a 2-band equalizer. It has soft, mellow lows, a strong mid-range, and tinny highs offering a nice balance for a variety of play styles.
Final Thoughts 
If you are in the market for a new guitar, Ibanez offers some of the best guitars on the market for all types of musicians. Their reputation exudes quality, affordability, excellent craftsmanship, and phenomenal intonation. 
Ibanez deserves to be at the forefront of the conversation when discussing some of the best brands in the industry, especially for hobby players that don't want to spend thousands of dollars on their guitars.