Are Mitchell Guitars Good Quality? (Worth Buying?)
Mitchell acoustic and electric guitars are good looking instruments at a price that everyone can afford, but are they really worth considering for your New Guitar Day?
If it just came down to looks, you would presume they are mostly good quality for the price, but there is more to consider when it comes to buying a worthwhile guitar.
Mitchell guitars are rated quite well by most people who buy them, and are considered good value for money. This can vary a bit depending on the model and price, with a few becoming quite popular with beginner and intermediate guitarists.
I went into Guitar Center to check out a few models myself, and combined this with research into owners opinions of Mitchell guitars to find how they compare to other known name brand guitars in the same price range.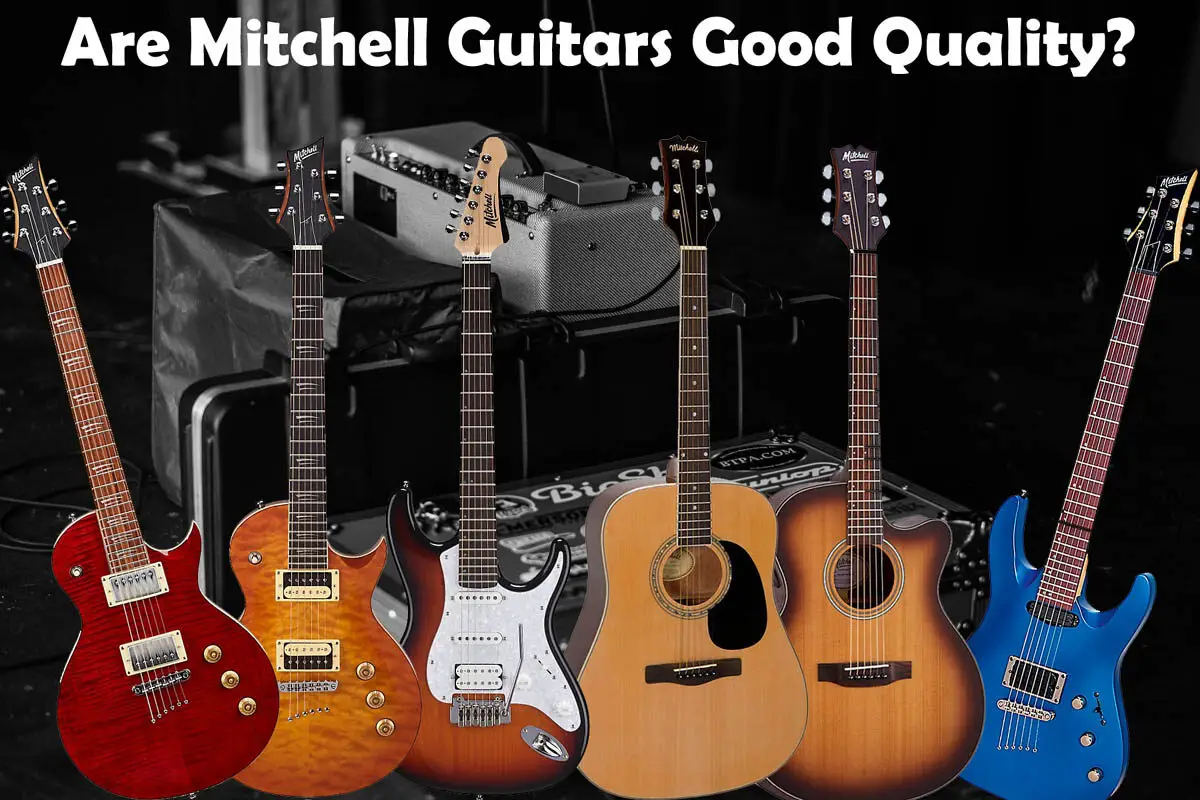 Is Mitchell a Good Guitar Brand?
Mitchell Guitars first production was in 1986, and is a brand owned by Guitar Center, named after their founder Wayne Mitchell in his honor.
Although Mitchell doesn't have the big name of other brands, they have developed a line of guitars that hold their own against any others in their price bracket.
Comparing Mitchell to other guitars in the $100 to almost $500 price range, they offer a similar quality of sound and finish.
Like many cheaper guitars on the market, Mitchell's lower-end guitars can be hit-or-miss, but on the whole it seems like they have more hits than misses, and are essentially well-made instruments.
If however, you're looking for a guitar brand that is played by big artists, and has a name that will give them great resale value – at this stage you are out of luck.
This could change in the future though, as Guitar Center's latest push to sell some models at crazy cheap prices has sales really pumping, and guitarists are surprised by the features and quality they are getting.
Where Are Mitchell Guitars Made?
The majority of Mitchell guitars are made in China, and although the general quality seems to have improved through the years, it's worth picking a few up and playing them to make sure you get a good one.
At this time it seems the only Mitchell guitar not made in China is the Mitchell Modern Single-Cutaway Electric Guitar, which is manufactured in Vietnam.
How Well Are Mitchell Guitars Made?
This can depend on the model and price you pay at the counter.
Entry Level Acoustic Guitars
If you're looking at the cheaper models like the O120CEWPM Auditorium Acoustic-Electric, you probably have a 60% chance of getting a reasonable-sounding and decently-made guitar, and a 40% chance it won't be.

Players who get the good ones love them, however for others you will hear comments like; sharp fret-ends, buzzing, dry fretboard wood, and a rough surface on the bridge.
Despite this, even some of these guitarists decided to do a little work of their own on the guitar, put some new strings on it, and were then happy that it was a good beginner guitar.

Mitchell's cheaper acoustic guitars come with plastic bridge saddles, and tuners that aren't so smooth or easy to tune with, but this can be expected of all cheap acoustic guitars.
Midrange Acoustic Guitars
Once you get into Mitchell's 'midrange' acoustic guitars in the $300 price range, the story changes, and guitarists are mostly enthusiastic about the condition these models come in.
Looking at the T333E-BST Mahogany Auditorium Acoustic-Electric Guitar, you get features fitting for this price, like a solid mahogany top, better soundboard bracing, and a Fishman pre-amp and pickup.

There are still a few misses at this level, but the majority of owners say these guitars are made with quality woods, the open-pore finish giving them a quality feel, and the electronics producing a great amplified sound.
Higher Range Acoustic Guitars
Mitchell have pulled out all the stops here, and for around the mid $400 range they offer quilted ash, and torrefied spruce, which really make these guitars shine beyond their asking price.
Their top-end guitars are finished as well as more expensive instruments, and have a modern contoured top edge for comfortable playing.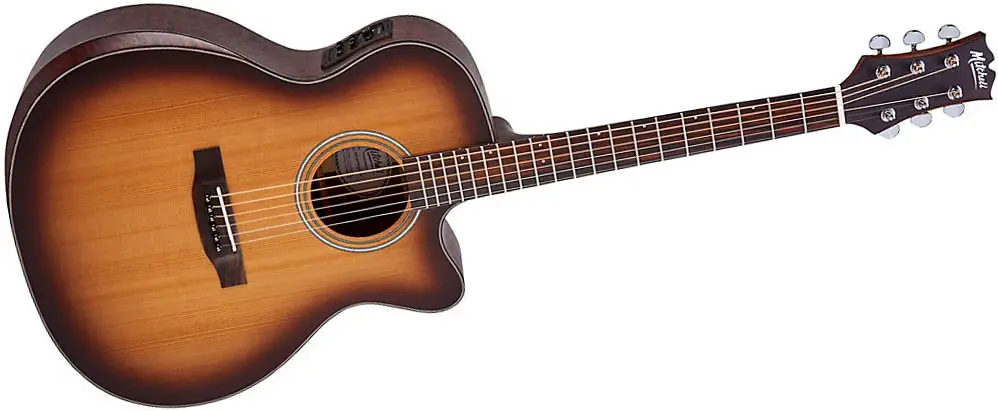 They are solidly constructed and well-setup out of the box for most players, however don't expect to be getting a thousand dollar-plus guitar.
The model I picked up was well made with no obvious flaws, but I'm sure you could find tiny imperfections if that matters more to you than the playing experience.
Entry Level Electric Guitars
The Mitchell MD200 Double-Cutaway Electric Guitar is a popular model somewhat superstrat, with a string-through body, and Les Paul style tunomatic bridge.
With this range it's a 50/50 if you will find a good one. The materials are similar to other brands in this price range, with a basswood body and rock maple neck, and it's not so much the materials that can be a fail as it is the construction quality and finish.
Many buyers of this model say the fret-ends are sharp and stick out, uneven frets with string buzz, low neck pickup volume, and rough finish.
The good thing is that when you get a good MD200, it's really well made for such a low price.
Midrange Electric Guitars
If any guitar is going to put Mitchell on the map it is their Mitchell MS450 Modern Single-Cutaway Electric Guitar which is normally around $400.
For this price you get Mitchell's answer to the Les Paul, with far fewer duds and more happy buyers.
The materials list is quite impressive for this price, with a mahogany body, flamed maple top, Tusq nut, alnico humbucker pickups, and locking tuners.
Guitarists regularly comment that this guitar looks great, and has quite a good quality finish for the price, and love the fact that this is a set neck guitar.
Really, for this price you won't find a better constructed and finished guitar, and there is a great chance you'll get one that plays well with a nice low action straight out of the box.
Do Mitchell Guitars Sound Good?
Acoustic Guitars
If you are looking at the budget end with a plywood top, you'll get a solid guitar that can take a few knocks, but it won't sound that great.
Mitchell's lower-end acoustic guitars have thin bodies, and when coupled with a plywood top there is any magic in the air, just a cheap boxy sounding guitar – you expected otherwise?
This can depend on how developed your musical ear is though, and if you've never played before these guitars still sound good enough to get started on for a nice low price.
That's not to say Mitchell's better acoustic guitars don't sound good. Once you move up the range you start getting spruce tops which give you a cleaner sound with more projection.
Picking up a few in GC I have found my personal preference is definitely the higher-end guitars, just because the sound is richer with a deeper tonal resonance.
Acoustic guitar sound can be a highly individual thing though, and unless you have many years of playing experience you are likely to enjoy the tone of Mitchell's midrange guitars.
Electric Guitars
The cheaper Mitchell MD200 guitar, while not well balanced between the pickups, is still a good sounding guitar for the price.
The humbucker is quite hot, and with a quiet neck pickup you need to crank the volume to get a good tone.
The coil split function is a plus that really helps to get the most from the bridge pickup, making this guitar reasonably versatile for tone.
Once again, the MS450 stands out for sound quality and you'll find they have a nice warm tone, but not as hot as many other humbucker pickups.
Add some gain through the preamp though, and they really light up and give you a great rock sound. They sound good enough to play small gigs with, and for the price you can't go wrong.
I would also highly recommend picking up a Mitchell MD400 if you're interested in the MS450, as the sound quality is at least on par. Either one of these two guitars will make most players very happy to own, and they punch out a great sound.
Are Mitchell Guitars Good For Beginners?
Many Mitchell guitars have thin bodies, which makes them easy for beginners to get their arms around. Their more expensive acoustics have a contoured arm rest which makes them a nice comfortable playing guitar.
With Mitchell electric guitars they have fairly thin, fast necks; great for small hands and if you want to learn faster playing styles.
If you are starting out and have a little more cash to spend, then Mitchell is a great choice since you can get a solid playing guitar that will likely sound better than other brands at that price.
I'd recommend placing Mitchell guitars on your list if you are buying your first guitar, and to pick up a couple in store to see how they feel and sound when you give them a strum.
If you are looking at the cheaper models pick up a few before deciding, since some of them could be duds. If they feel hard to hold strings down on, or you get string buzzing, then move on to another.
For new players looking to get maximum bang for buck, then Mitchell acoustic or electric guitars will be at least a match for any other brands on the market.
Where Can You Buy Mitchell Guitars?
Since Mitchell is a Guitar Center brand, yes you guessed it – they are sold at Guitar Center. They are also available from Musicians Friend online stores, which is also owned by guitar center.
For another in-store seller where you can try them out, Walmart have also started stocking Mitchell guitars.
Mitchell Guitars – Should You Buy One?
If you're in the market for a cost-effective guitar that you can play and enjoy without too much worry of damaging it, then Mitchell is a good pick.
Mitchell guitars should probably be rated higher than they are, and I think people are just starting to discover this.
If you are in the market for a solidly built low priced guitar then Mitchell are well worth looking at, but make sure to try a few out in person, or use Guitar Center's return policy if you get a dud.
For those players who like the idea of buying a cheap platform that they can modify and improve on, then you really can't go wrong with Mitchell electric guitars.