Where Are Yamaha Guitars Made? (Past & Current Models)
Back in the 1960's Yamaha started making guitars in Japan at their Hamamatsu factory, however they now manufacture their guitars world-wide.
Similar to many other guitar companies, Yamaha branched out to other countries as the years rolled by to produce affordable guitars that anyone could buy.
Factories in some countries are intended to serve the local market, as is the case with India who have a population rivaling China – and where guitars are becoming increasingly popular.
Many guitar manufacturers go to great lengths to hide the countries and factories where their guitars are made, and Yamaha's history of manufacturing plants isn't so easy to track either.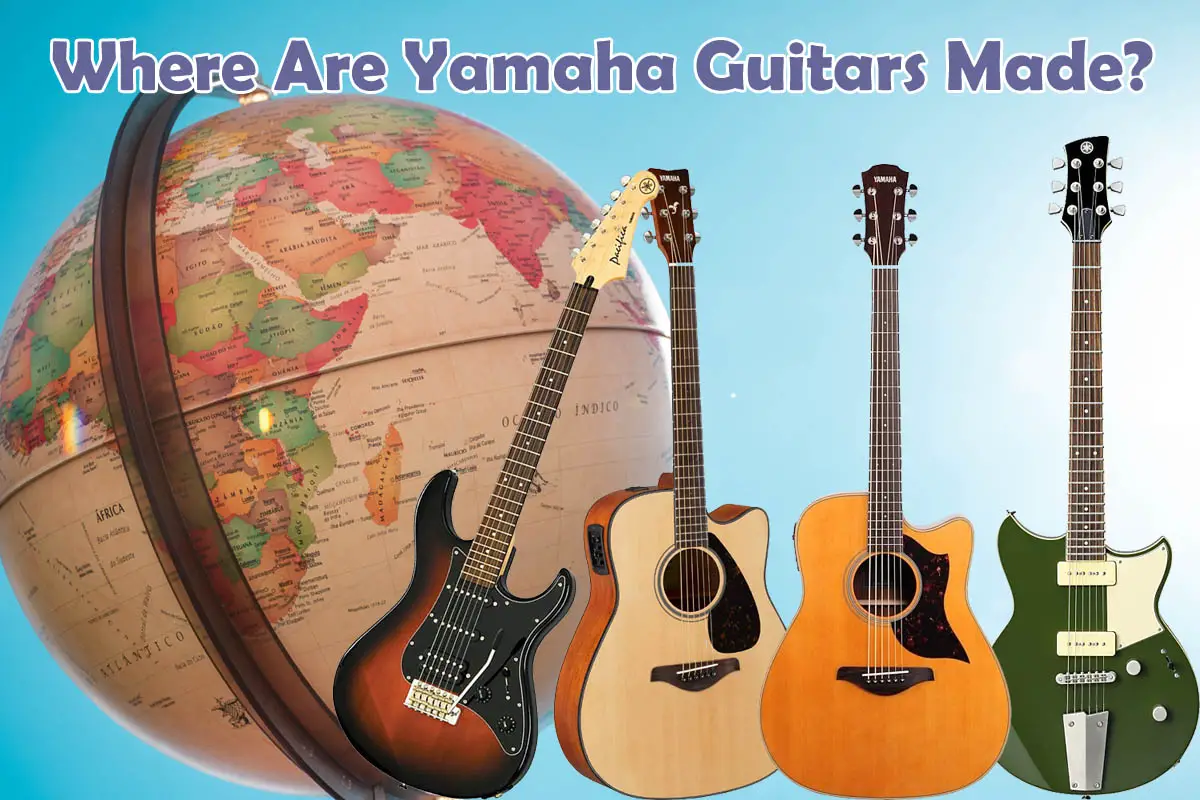 Where Are Yamaha Guitars Made?
In the early days since 1946 Yamaha started making acoustic guitars in Japan at their Tenryu/Wada Factory.
Yamaha are presently making guitars in many different countries, and for the most part they maintain excellent quality controls. These countries include Japan, Indonesia, China, and the most recent is India.
Where Yamaha Guitars Were Made: 1960's
The Production Custom Shop was opened at Hamamatsu, Japan in 1966 where Yamaha truly started making their own guitar designs not copied from overseas models.
Yamaha's first true folk guitar, the FG180 was built in Japan, with this guitar series becoming known as Red label guitars and known for their high quality.
The first Yamaha electric guitars were also produced in Japan, named the SG2 and SG3 models and were almost all sold in the Japanese market. They also produced their first SA series hollow body electric guitars, the SA15 and SA50.
The first series of GC series flamenco guitars, and G series classical guitars were also first produced in Japan during this time.
Yamaha Guitars Made In the 1970's
From around 1971 many Yamaha acoustic guitars were made at the Kaohsiung factory in Taiwan (known as "Green" Label – or parchment color), and include the l series, and FG (Folk Guitar) series.
From the late 1970's Yamaha produced G-model classical nylon string guitars in Taiwan also.
Japanese Yamaha electric guitars continued through this time such as the SG series, SR series stratocasters, and the unusual SX series.
During the 70's Yamaha also transitioned from the FG series to the more upmarket L series acoustic guitars, which became popular with many famous artists.
The L series wasn't made available outside Japan until 1978, and were made in Taiwan until 1984.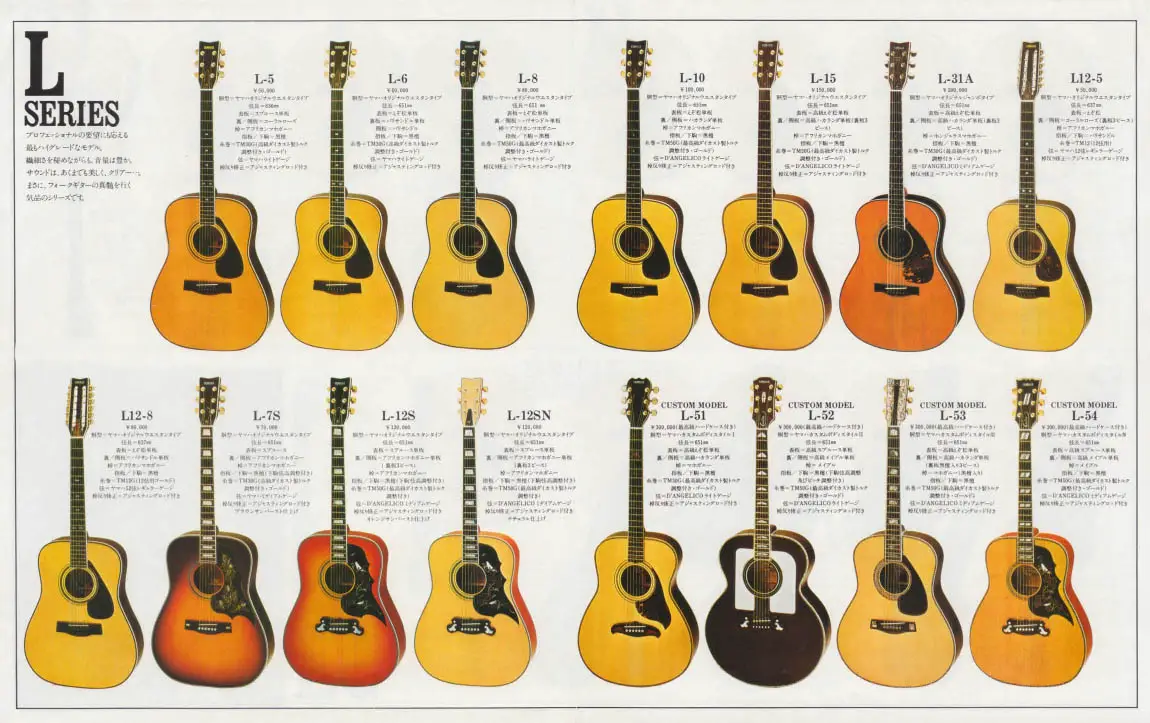 Yamaha Guitars Made In the 1980's
In this decade Yamaha also opened a plant in Taiwan, where they started producing FG series acoustic guitars, the Eterna EC to EF series of folk and classical guitars, and also some electric guitar lines.
Many identical FG models were produced in both Japan and Taiwan at this time.
From 1987 Yamaha started making the RGX and RGZ series electric guitars in Taiwan, both being similar to other manufacturers 'superstrat' models.
The RGX and RGZ models continued to be mostly made in Taiwan until 2005 in a wide number of configurations. Yamaha produced other electric guitar lines in Taiwan through the 80's such as the Image Standard.
During this decade the AES electric guitar series was produced in both Korea and Taiwan.
The 80's saw more Japanese made Yamaha electric guitars like the ST stratocaster series, SL Les Paul series, SR stratocasters, and early versions of the SA hollow body series which were made in Taiwan from the SA900 model onward.
Also made in Japan were the Studio Lord (SL) series until around 1982, and the Session I and II series.
Yamaha Guitars Made In the 1990's
In the 90's Yamaha introduced the Pacifica electric guitar models, produced in their new Indonesian factory YMMI (Yamaha Music Manufacturing Indonesia) which is still in operation today.
The well known Yamaha CPX Series of guitars started to be made in Japan, and continue to today.
The famous Yamaha Pacifica models started in 1989, but really took of during the 90's with production starting in Japan.
Yamaha produced two versions of the Pacifica in the USA, named the USA1 and USA2.
Where Yamaha Guitars Are Made Now
Moving into the 200's and beyond, Yamaha produces higher-end acoustic guitars and some bass guitars in Japan.
Yamaha's top-end A Series have all been made in Japan since 2011.
Yamaha now manufactures their guitars in a variety of places like China, Indonesia, and Japan where their custom shop makes the Yamaha GC82 Handcrafted Ceder classical guitar selling for $10,000-18,000.
Here's a video of inside Yamaha's Indonesian guitar factory, the commentary is in Thai, but it gives you a great inside look at their processes:
The Red label guitars are still made at the Nippon Gakki plant in Japan, including models such as the FG140, FG360 and FG730.
In 2001 Yamaha introduced a new guitar design they called the Silent Guitar, making it at their Indonesian factory. Later versions of the silent guitar have been produced by Yamaha in China.
From 2015 onward, Yamaha have made the Revstar range partially made in Japan, with their design based on classic cafe racer motorcycles both in color and form. 
The Yamaha SG, SA, and Revstar models are made in Japan, with other Revstar models made in Taiwan.
Yamaha also produce some of their Grand Concert Series such as the GC22 and GC12 models at their factory in Hangzhou, China, alongside the L and LL Series acoustic guitars.
Their newest facility was opened in Kanchipuram India in 2019 , and previously in 2018 they built a musical instrument plant in Bekasi, Indonesia at a cost of $43 million. Most of these models will be sold in the local market, with only a few distributed to other countries.
Where Are Yamaha Guitars Designed?
Yamaha have two custom shops, the first and oldest is in Hammatsu, Japan opened over 130 years ago.
The newest is based in Calabasas, California – known as Yamaha Artist Services (YASLA) where they perform R&D on new models to eventually be made on their factory floors.
Yamaha Guitar Factories: Hangzhou & Hamamatsu
Yamaha Guitar Serial Number Resources
http://yamahavintagefg.com/history-of-the-yamaha-fg-1966-1981-us-models/
https://www.yamaha.com/yamahaguitars/AcousticGuitarSerialNumberSystems.pdf