Esteban Guitars – Are They Good Quality & Worth Buying?
Esteban guitars have a colorful history, mainly resulting from the charismatic salesman behind the guitars.
These guitars were advertised as a cheap and easy way for anyone to learn guitar, with a focus on appealing to children and adult hobbyists. 
While I might not go as far as calling Esteban a charlatan, these guitars were advertised as something they were not, despite the convincing advertising.
I had a deeper look inside the Esteban guitars to find out exactly what what to expect if you come across a used model.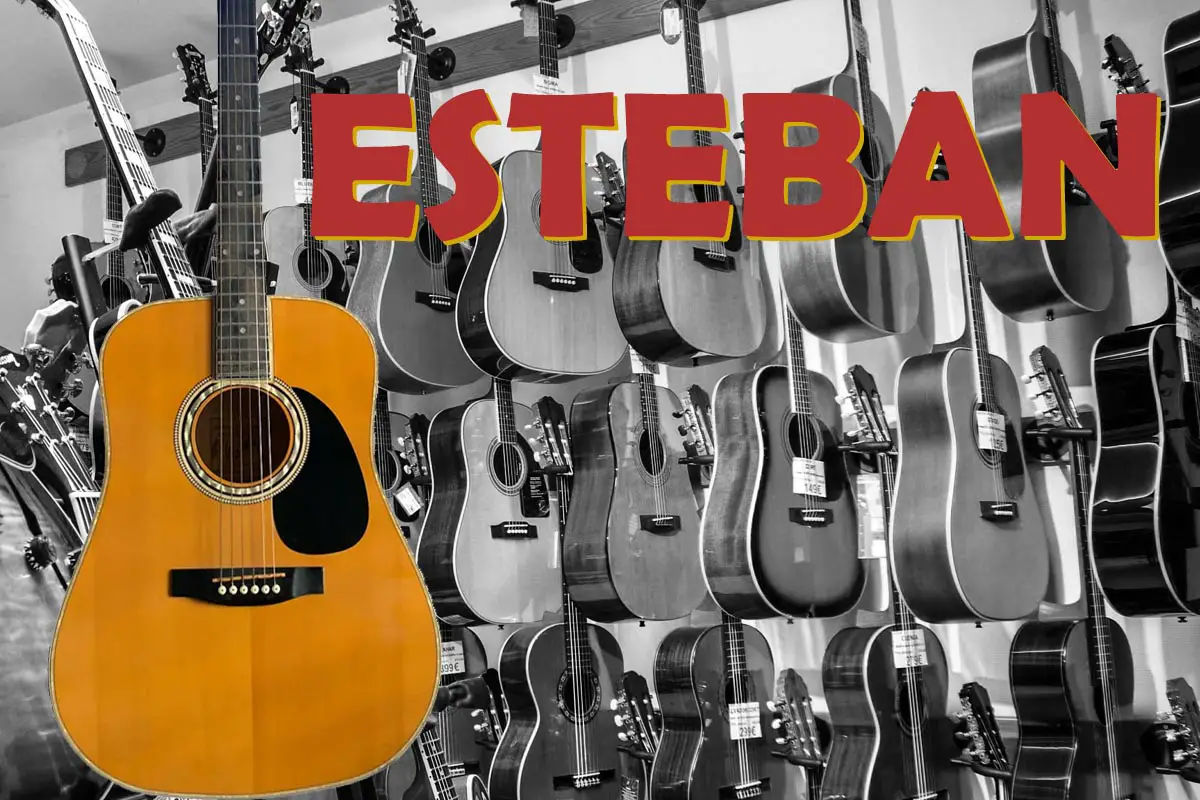 Who Made Esteban Guitars?
Esteban Guitars began appearing on TV infomercials in the early 2000s claiming to be "made the same as $1500 guitars" while only costing around $100. 
The man behind the name was classical guitarist Stephan Paul, who went by the stage name Esteban. A somewhat unknown performer who'd meandered around the classical guitar scene in the '70s before being involved in a car crash that left him unable to perform.
He reappeared in the late '80s but it wasn't until the turn of the century that Esteban would achieve commercial success. If you have ever seen Esteban play, you will know that he's actually a very good musician.
Catching the eye of the inventor of the "Miracle Mop" sold on the Home Shopping Network, due to his natural charisma, Esteban became the face of a series of budget guitars advertised for beginners. 
Each guitar came with an assortment of Esteban videos designed to teach you how to play guitar. Featuring Esteban himself.
With his newfound success, Esteban would go on to sell thousands of guitars as well as have his CDs enter the Billboard charts.
But the legacy of Esteban isn't looked back on favorably by guitarists – in fact many people believe that Esteban guitars are the worst guitars EVER made! 
What Models Did Esteban Make?
Esteban made 2 mainline guitars named the American Legacy Collection. These guitars included the Esteban AL-100 and the Esteban AL-200.
Both guitars were very alike however the AL-200 was the "Master Class Cutaway" edition and featured some 'luxury' cosmetic enhancements. 
Regardless of the model, all of Esteban's guitars were electric acoustic guitars, this means that they featured a jack input that allows you to plug your acoustic guitar into an amp.
Esteban also made a kid's sized guitar called the Esteban Children's Classical. This guitar was advertised to feature everything the full-sized guitars had only on a smaller scale. Estaban also made sure to include a mother of pearl inlay around this guitar.
What Do Guitar Players Think of Esteban Guitars?
Estaban guitars are a bit of a running joke for experienced guitar players online.
There are many reviews online of people voicing their disappointment with Esteban to put it lightly. Some of the more colorful responses include:
"I returned this guitar after the frets fell off. FOR THE LOVE OF GOD AND EVERYTHING HOLY….. DO NOT BUY THIS GUITAR"
"I cut my fingers on the frets. I had to spend Christmas morning in the emergency room getting stitches. The doctors looked at me like I was a complete lunatic since I was covered in blood and paint from the fretboard, and screaming about how Esteban ruined my Christmas."
"I don't play guitar, I only bought this for my boyfriend who was picking up guitar. He saw what a deathtrap it is and dumped me. Meanwhile, Sally goes out and buys him a Gibson Les Paul Custom and a Marshall stack and he now loves her. In short, this guitar is so bad I lost my boyfriend to it. Don't buy."
Some people do voice their sympathy for beginner guitarists who were 'conned' into buying one of these low-quality instruments.
Unfortunately, the market they were sold to were people that had little knowledge of guitars and the infomercials were very convincing. 
Are Esteban Guitars Even Playable?
Esteban guitars can be playable of course, but the question is how long are they playable for, and are they more difficult to play than other guitars?
A common complaint about the playability of Esteban guitars is that the fretboard isn't set up very well. This issue reportedly makes playing notes and chords higher than the 5th fret either very difficult and sometimes painful, if not impossible.
For a guitar aimed at a beginners' market, this is pretty inexcusable. Beginner guitars should be designed to make playing as easy as possible.
This makes these guitars a terrible representation of what playing the guitar is supposed to feel like. 
Are Esteban Guitars Well Made?
On paper, Esteban guitars sound well made. The materials they're made of aren't considered low quality. The problem with these guitars is that they aren't put together well. 
These guitars are made of very low-quality materials that make them prone to falling apart with minimal use.
Craftsmanship is an important element in building guitars and if you cut corners it doesn't matter what materials went into it, it'll still fall apart eventually. 
Woods
Esteban guitars are made of various woods with the body being made of a combination of spruce wood on top and rosewood on the sides, while the neck is made of maple.
Esteban also emphasizes the use of mother of pearl around the edge of the guitars, even on the kid's version.
When asked how he managed to get mother of pearl on the kid's guitar, during an infomercial he replied "I always do it for the kids, it's beautiful".
Tuners
Esteban guitars come equipped with chrome sealed tuners. Like the ones, you'd find on most mid-range acoustic guitars.
Level of Finish
The level of finish present on Esteban guitars is where things go pear-shaped. While the mother of pearl edges and Rosette inlay look nice, most of it is for show. 
People have reported receiving brand new Esteban guitars that reek of varnish, this often implies a quick and cheap way to make imperfections and low quality woods look more expensive than they are.
The frets are also prone to completely fall off as if they were thoughtlessly glued on.
Are Used Esteban Guitars Worth Anything?
There's a saying that if you buy an Esteban guitar you'll have it for life… and not because you want to! Esteban guitars are notoriously hard to re-sell. 
After the hype around these guitars died down and people started to realize just how unplayable they were nobody wanted anything to do with them. Online second hand Esteban guitars are abundant and inexpensive. 
Even if you're a beginner and are looking for a cheap guitar to practice on you'd be doing yourself a disservice by buying one of these guitars. 
You are better of spending an extra $50-$100 and getting yourself something that feels like a real guitar because buying one of these seems to put people off ever picking up a guitar again.