Epiphone vs Fender – Which Electric Guitar is Better?
Fender are one of the most well known and loved guitar brands, used by famous artists worldwide for many decades.
Epiphone, although a well known brand, aren't considered in the same league as Fender. However is that just general perception – or is there more to it?
Epiphone electric guitars are cheaper than most Fender's, more at the price of Fender's sub-brand Squier. If you pay top dollar for a genuine USA made Fender you will get a great quality product that performs well. Epiphone electric guitars provide great quality consistent with their lower prices, and are gig-worthy well-built guitars.
With so many models to choose from in these two brands it's not an easy choice unless low prices are your primary motivator. Epiphone currently excel at making low cost good quality instruments perfect for beginners and intermediate players.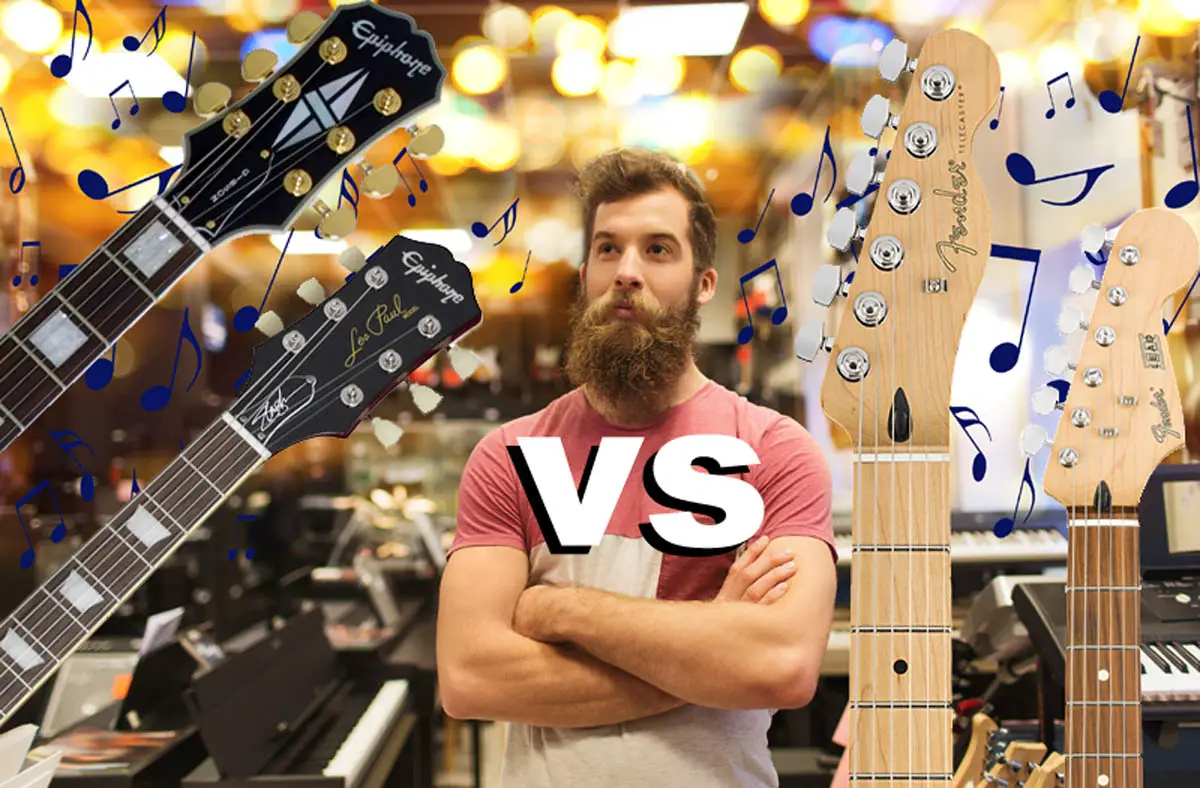 In this article we are going to take a look at what you get for the money in each brand. Specifically, we will look at guitars at the same midrange price points, as obviously comparing an expensive guitar to a cheap guitar proves nothing.
Visual and Brand Appeal
There is no doubt that Fender have nailed their brand appeal, with every guitarist instantly recognizing their body and headstock shapes.
Fender also have that classic sound that we have come to know through decades of famous artists using them to play our favorite songs.
Epiphone have been around as a company for a long time, but by the 80's had all but disappeared as a respected brand, until around 1986 when the brand was resurrected.
This was during the peak of electric guitar popularity and by this time Fender was firmly established with famous artists, etched into the minds of music lovers everywhere.
If brand name is what matters most for you, then it's likely you would choose Fender over Epiphone before looking any further than the decal on the headstock – but what if you are open to more possibilities?
Epiphone vs Fender – Price Ranges
Looking purely at price, Epiphone completely wrap up the lower end of the range compared to a genuine Fender electric guitar, and have plenty of models on offer starting from around $150-200.
In the upper price range Fender have plenty on offer, but Epiphone only offers one model at the high end of the scale, being the Epiphone USA Casino Hollowbody Electric Guitar. If you want a high quality hollow-body electric guitar like the Beatles played and have over $2500 to spend, then this guitar is hard to beat.
At the mid point of around the $650-900 range there is a section of crossover where you will find the lower-end Fender models and the higher-end Epiphone series, and this is where we can draw the best comparisons.
This clearly puts us in mid-range guitar territory for our comparison, as these prices are certainly well beyond starter guitar prices, giving you instruments perfectly capable for live gigging.
The Epiphones in this range are typically their Artist and Phrophecy Series, and are a great option if you are after a Les Paul or rock-inspired Gibson shape with a set neck design.
Fender offer the Player Series at around the $700-800 mark, and although a solid guitar, can be a bit visually pedestrian compared to similar priced Epiphones.
Guitar Body Styles
Epiphone and Fender vary greatly in their body shapes, and often choosing one over the other comes down to individual preference.
Fender continues to do what Fender does best, and that is to make tried and trusted guitar models that stick to their winning formula, no need to re-invent the wheel.
Buying a Fender means you know what you are getting, with their familiar Stratocaster, Telecaster, and Jaguar designs basically unchanged for many years.
If you like the telecaster shape, then it's worth taking a look at the Fender Special Edition Custom Telecaster which comes with a flame maple top, having more of a PRS inspired shape with an appealing woodgrain finish.
Switching to Epiphone is pretty much the same thing, except due to being owned by Gibson you will find their traditional Les Paul, Firebird, and SG shapes.
If you're more into hollowbody electrics then Fender have very little on offer, and what they do offer is above the $900 price range.
For a hollowbody within $600-800 you would probably look toward the Epiphone Broadway Village, Casino Archtop hollowbody, or Emperor Swingster hollowbody.
These give great value for money with solid builds that you can pick up and play instantly, and have a visually pleasing look.
Alternately you can find Epiphone's copy of the the ES-335 for around $550, and they are an affordable way to get a highly playable version of an expensive classic that you would be happy to cart around live venues.
Build Quality Comparison
Looking at the build quality of any electric guitar you would expect to get a better guitar for more money, and generally this holds true.
If a company has a good reputation and knows they can sell their instruments for high prices, then they are happy to invest more into higher grade woods, hardware, and manufacturing time to ensure their products are top quality.
Fender clearly put effort into making sure their top of the range USA made guitars are truly great quality, but this comes at a high cost on the retail shelf – and not everyone can afford that.
Mexican made Fenders have developed excellent quality over many years, and the current Player Plus series has stepped up the stakes again with great finishes and enhanced hardware.
Most Epiphone electrics are currently made in China, and considering their factory opened in 2004 they have now amassed a wealth of experience, evident in their recent models
Many guitarists now comment that Epiphones made from 2020 onward have really stepped up in quality, besting many other brands at their price-point.
Comparing the two brands in the most recent years, and it's clear that Epiphone have stepped up their quality to easily match Fender electrics in the same price range.
When it comes to the finish, both brands do a great job by using modern electrostatic painting techniques in their factories. They give a consistent polyurethane finish that protects the guitars well, with almost flawless appearances.
Body and Neck Construction
In the lower price ranges both Fender and Epiphone use woods that produce good musical tones, however don't have have the same fine appearance of expensive guitars.
Epiphone electric guitars regularly use Mahogany for the bodies, laminated with other woods like ash, maple, poplar, sapele, and alder.
Their Les Paul and SG series, along with many others have 3-piece laminated bodies featuring a laminated top cap. Fretboards are commonly made from Indian laurel, rosewood, ebony, or Pau Ferro.
One thing Epiphone offer that Fender (mostly) don't is set neck guitars. Whether this is an advantage really comes down to personal preference.
Fender commonly use Alder for their guitar bodies, with some models featuring an aged cherry top which really gives them a nice visual kick.
There is a roughly even split of neck/fingerboard materials on Fender electrics, with either solid maple, or maple with Pau Ferro .
If you are hell-bent on a Fender and want a set neck, check out their Special Edition Custom Telecasters.
With modern construction techniques it's unlikely that you would ever need a neck reset on a set neck guitar, and neck pockets are tight for bolt-on necks – meaning they still produce great sustain.
Fretboard and Neck Shape
Epiphone tend to use a 12" radius fretboard, and their slim D profile neck, with some models featuring an asymmetrical slim taper, designed for comfortable and fast playing.
Fender electric guitars feature their modern C profile neck with a medium feel, and mostly use a 9.5" radius fretboard, that has a slightly narrower feel at lower frets than Epiphone models.
Fender's Special Edition Custom Telecaster once again stands out among their other series as being more 'Gibson' oriented, having a Mahogany neck with Indian Laurel fretboard, and a much flatter 15.75" radius.
When it comes to fret finish, Epiphone higher-end guitars have more attention to detail than cheaper models, with a Plek process run over the frets to get a perfect finish.
Fender guitars, like Epiphone, usually play well straight out of the box, and you could probably buy one and take it gigging the next night.
Some guitarists have complained about sharp edges on Fender frets, however it's likely that in dry environments the wood shrinks slightly, leaving fret edges slightly exposed. If you're handy with a fingernail emery board this can be easily fixed.
Hardware Comparison
Bridge and Tremolo Units
Fender have recently upgraded the bridge on their new Player Series, which has replaced their well established Standard Series. They feature a 2-point tremolo with bent steel saddles, and now set them up as floating bridges – great for some players and not for others.
It's easy to lock down the bridge by increasing the spring tension on the trem block, but it takes a bit more know-how to set up a floating bridge, so a floating setup from factory can only be seen as a positive thing.
The Jazzmaster and Jaguar Series use Fender's traditional tremolo bridge setup.
Epiphone use their LockTone Adjustable Tune-O-Matic Bridge, which like Fender's bridge setup gets the job done reliably.
There are pros and cons on both sides of the fence, however the Epiphone zinc cast bridge could slightly bend over time, not having the strength of the steel Fender unit.
Some Fenders come with die-cast block saddles, however this would only affect tone, as the base plate is steel.
Tuners
Epiphone higher-end guitars feature a mixture of sealed and open tuners, depending if the guitar is modern or vintage styled, and are high quality 18:1 ratio tuners.
Regular tuners used are Epiphone vintage duluxe, and Grover rotomatic, with Grover locking tuners offered on higher models in their electric guitar range.
Fender use a mix of tuners, all stamped with the Fender logo. They offer die-cast sealed tuners, and vintage style covered tuners on models intended to replicate vintage models.
In the crossover price range between the two brands, you won't find Fender offering locking tuners.
The Nut
Epiphone electrics tend to use GraphTech Tusq nuts, which is a good quality hard material similar to bone, with self-lubricating properties to keep strings in tune when using tremolo and string bends.
Fender use synthetic bone for the nut material, and essentially it's a hard plastic that gives a much better tone and tuning stability than cheap softer plastic.
The Fender Special Edition Custom Telecaster uses a graphite nut, great for keeping the strings in tune, but debated amongst players for the tonal differences it produces.
Pickups & Electronics
Epiphone electrics in our price range start to offer options like push-pull switches with coil-splitting, and pickups with alnico magnets rather than the cheaper ceramic bar pickups of low end models.
Considering that Epiphone is a subsidiary of Gibson, it's not surprising that quite a few of their guitars feature Gibson pickups like in their Les Paul Tribute guitars. Across their signature models you will find a good range of well-known pickup like Seymour Duncan, EMG, and Kinman.
A more recent Epiphone in-house developed pickup is the ProBucker series which are designed to the same specifications as original Gibson humbuckers, and have developed a reputation for great tone.
Epiphone's Prophecy Series all come with a duo of Fishman Fluence pickups, giving a hum-free single-coil texture.
Fenders in this range all offer Alnico II, III, and V pickups, coming in a variety of configurations.
Most of the cheaper Fender electrics have simple coil-switching and tone controls. The more expensive Player Series start giving you features like a 2-way toggle phase switch, and dual humbuckers with coil-split switching.
Fender's Special Edition Custom Telecaster uses Seymour Duncan PAF style humbuckers, again making this series stand out as something different in Fenders offering.
Any Extras?
Epiphone includes hardshell cases with their artist series guitars.
Resale Value
When it comes to selling used guitars due to the reputation of Fender it's far more likely a geniune Fender will hold more resale value than an Epiphone electric.
If you want to buy a guitar to sell again few years down the track, then Fender will put more bucks back in your pocket for your next purchase.
What To Choose?
Epiphone have a wider range of colors and finishes, with a wider selection of pickup brands, and offer more switching choices in general. When it comes to hardware Epiphone give a great range of choices, and some good quality stuff too.
Fender have those classic guitar shapes widely loved but don't offer them in a great range of colors, and they stick mainly to their single-coil roots that give them their undeniably classic tones.
What Fender provide is a solid musical platform that is designed to function well, and with branding that help them hold their aftermarket value.
Looking at the quality of each brand, it's really a tie with their latest models. Electric guitar making has really matured over the last few decades, and now you will often get the kind of quality you might have expected from a much more expensive instrument 20 years ago.
Choosing one over the other may well come down to heading into a guitar shop, and spending some time playing both. Whatever you choose, if you're looking in this price range you will get a killer guitar whether it's Fender or Epiphone.